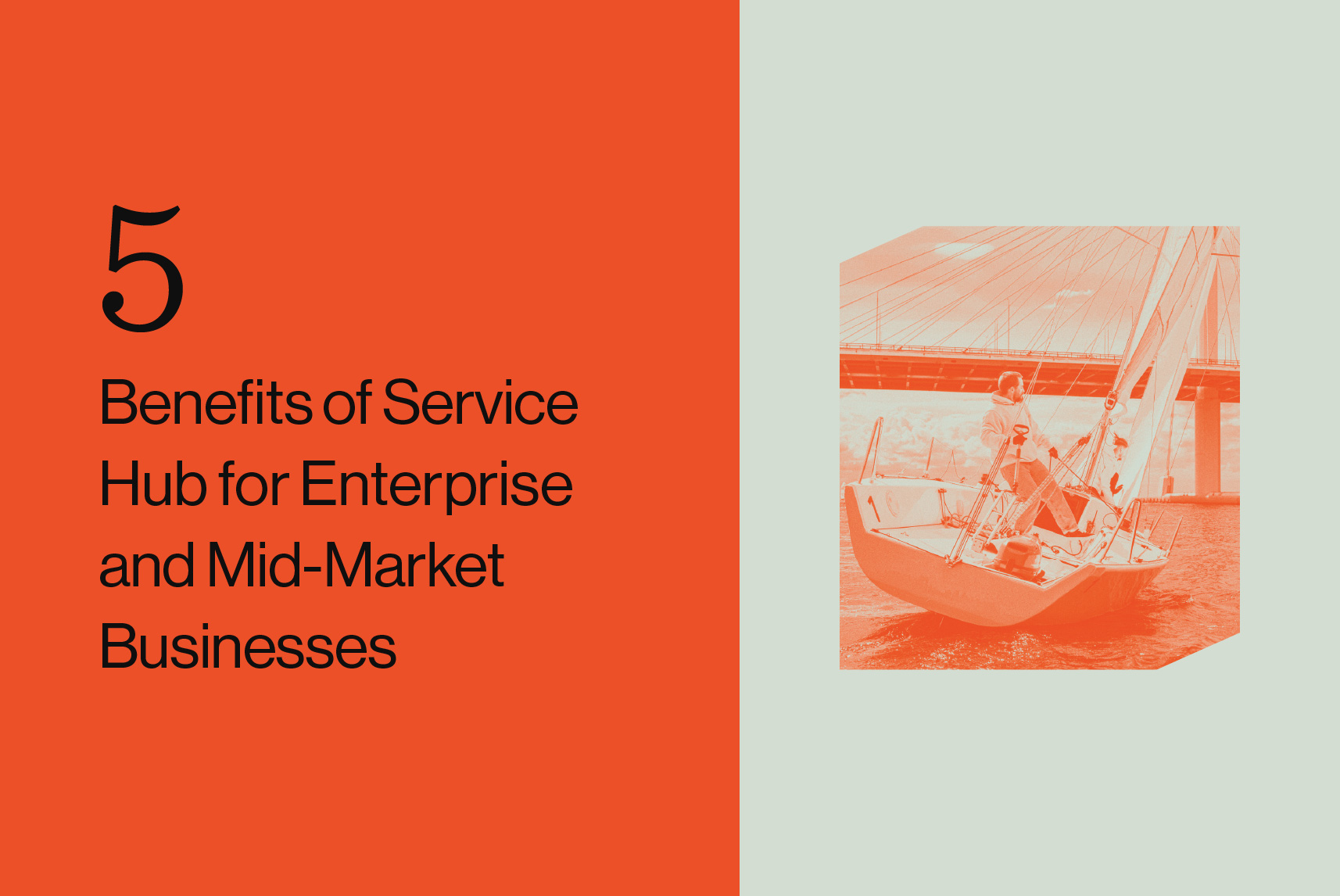 Many providers claim their software products streamline customer service for enterprise and mid-market businesses. So why go HubSpot?
This is the question that more than 150,000 HubSpot customers had to answer when analyzing customer service technology providers. Here at Mole Street, our customers have had to answer the same question.
This article summarizes the knowledge Mole Street gleaned from our customer success stories and Elite HubSpot partnership to explain why enterprise and mid-market businesses should choose HubSpot Enterprise and its Service Hub.
Why Go HubSpot?
HubSpot helps companies deliver a better customer experience through its customized CRM platform. HubSpot enables businesses to offer a cohesive, customizable, and connected customer experience across sales, marketing, and service teams.
The advantages of HubSpot Enterprise include:
1. Single source of truth
While each hub is powerful on its own, true company-wide alignment happens through connected hubs. As an all-in-one tool for content, messaging, automation, data, and reporting, HubSpot places your customers at the center of your business. As the single truth source, HubSpot allows teams to spend more time building deeper customer relationships that drive greater profitability.
>> Discover how Mole Street helped an eLearning company connect many disparate dots to create a unified view of its Marketing and Sales processes.
2. Easy to use
All modern CRMs use automation, but very few balance it adequately with usability. HubSpot's platform is easily the most intuitive on the market. Despite users having access to hundreds of features at their fingertips, the interface is clean and sleek, and the navigation is anticipatory. Creators of landing pages, forms, emails and more especially enjoy the user-friendly, drag-and-drop functionality afforded by the editor.
3. No-code customization
Speaking of usability, one of HubSpot's top highlights is that it is simple to customize. In fact, the customization of objects within the HubSpot CRM is so easy that, unlike Salesforce or Zoho, you don't need a development team to support it — no code is required.

An added bonus? Triggering workflows based on custom objects is a snap, as is reporting on insights specific to them.
>> Related Read - HubSpot Workflow Best Practices for Lead Nurturing
4. Extensive ecosystem
The HubSpot ecosystem provides access to trusted solutions partners, website themes and templates, and apps for everything from data syncs to ABM. Earlier this year, HubSpot announced that more than 1,000 integrations were available via its app marketplace. The news came fewer than two years after the marketplace passed the 500-app milestone, solidifying HubSpot's dedication to creating an ecosystem that benefits both users and partners alike.
5. Business growth
When it comes to technology for business growth, HubSpot's Enterprise tools are uniquely positioned to help enterprise and mid-market organizations transition into larger-scale operations. For example, the CRM Suite starts at:
10,000 marketing contacts for the Marketing Hub Enterprise

Additional marketing contacts are sold in increments of 10,000 from $100.00/month

10 paid users for the Sales Hub Enterprise

$120/month per additional user

10 paid users for the Service Hub Enterprise

$120/month per additional user
It also includes the CMS Hub Enterprise and the Operations Hub Enterprise.
>> Related Read - What Are the Benefits of HubSpot Enterprise?
Why Go HubSpot Service Hub?
HubSpot Service Hub provides essential customer service communication channels, including chat, email, and in-app phone connectivity. Reviews show that enterprise and mid-market business users utilizing HubSpot to service their customers via the Service Hub Enterprise-level plan enjoy the following advantages: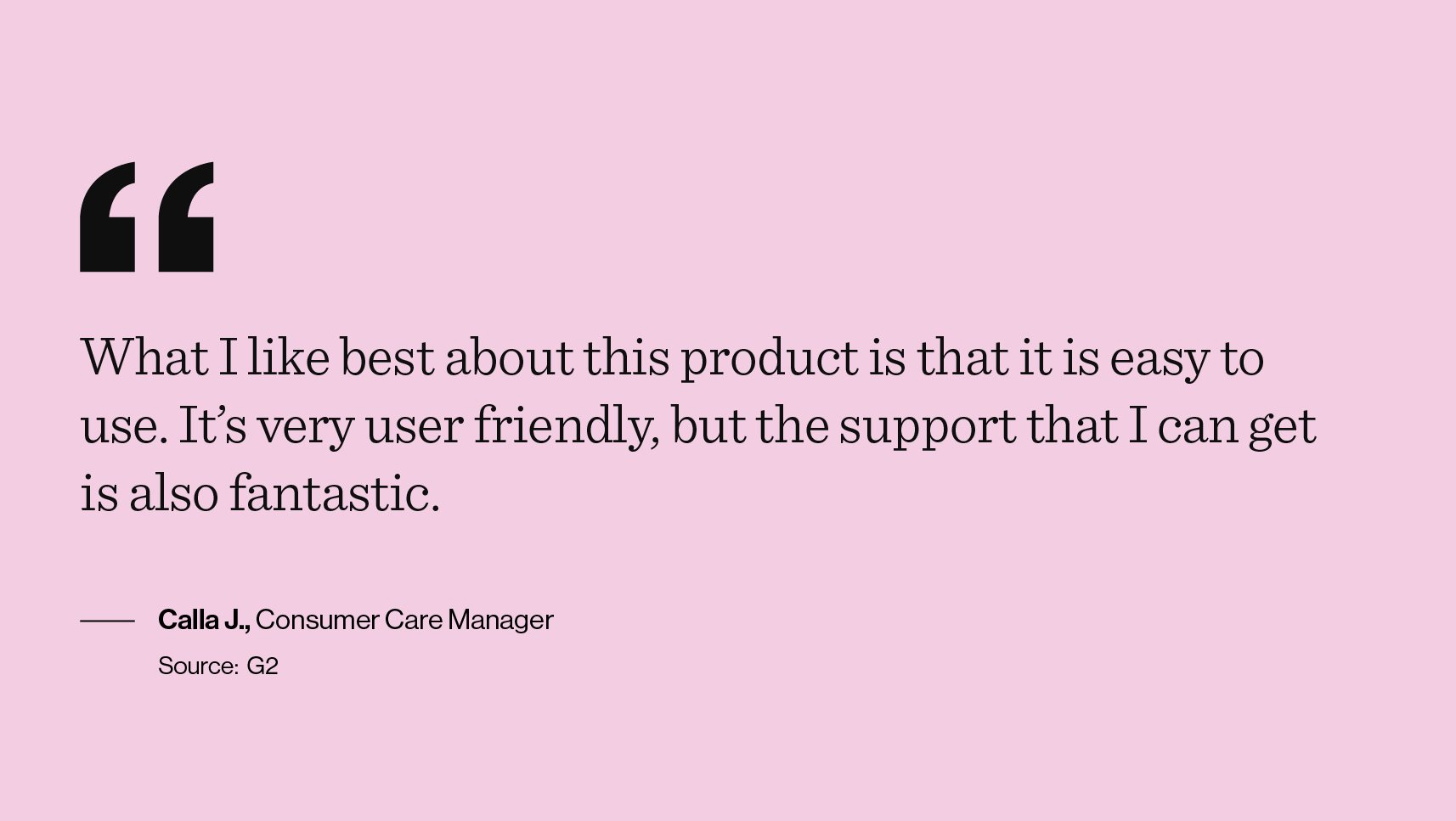 5 HubSpot Benefits for Customer Service
1. Reliable support
At the time of this writing, HubSpot Service Hub earned 8.9 out of 10 for "Quality of Support" on the review site, G2.com. Multiple individual user reviews depict positive support experiences with HubSpot. One such video review states, "What I like best about this product is that it is easy to use. It's very user friendly, but the support that I can get is also fantastic."
HubSpot excels in providing reliable support, thanks in part to resources such as:
Knowledge base
Smart and busy self-starters appreciate the HubSpot Knowledge Base. A quick search uncovers an answer to just about any question you might have. This proactive, DIY support tool is useful for troubleshooting on the fly.
Community
The HubSpot Community is robust. Whether it's getting set up or figuring out the best way to customize HubSpot Service Hub for your needs, there are more than 85,000 community members ready to answer your questions online.
Solutions partners and providers
The HubSpot ecosystem currently boasts over 6,000 solutions partners and providers who are able to assist with everything from onboarding and implementation to ongoing consulting.
2. Intelligent ticketing
Ticketing management can make or break customer service. HubSpot Service Hub offers robust ticket pipeline capabilities (similar to HubSpot's deal pipeline) that show at a glance what stage each service ticket is in so nothing falls through the cracks. Advanced ticketing features include:
Multiple ticket pipelines
Multiple pipelines can be created to separate service tickets for different revenue lines. This allows service team members to activate in accordance with any line-specific areas of expertise.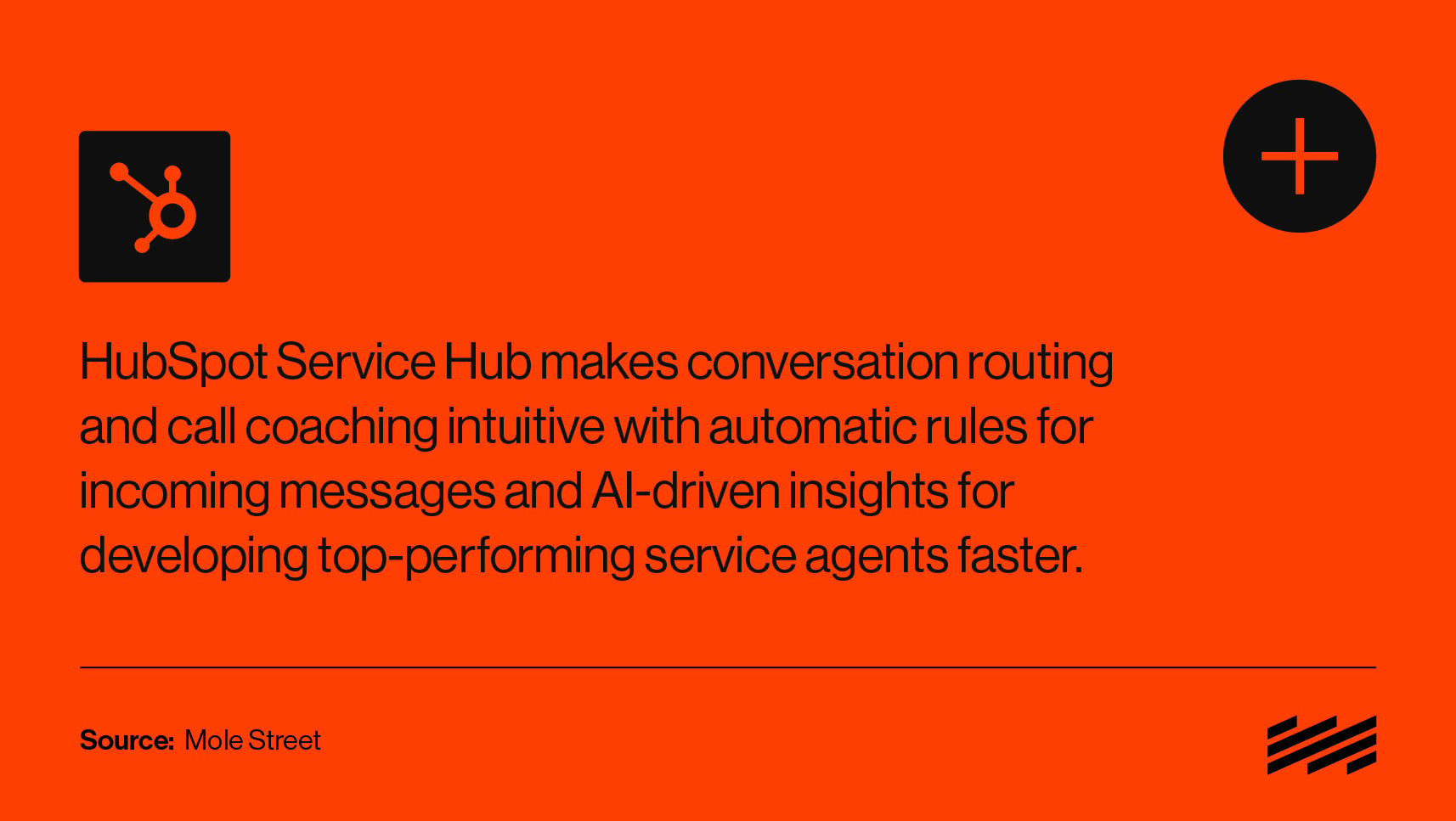 Ticket automation
Set reminders, trigger notifications, enroll customers in nurturing workflows, or create deals by implementing automation. Your service team will thank you for eliminating time spent on these manual tasks while keeping your customers happy.
3. Intuitive conversations
HubSpot Service Hub makes conversation routing and call coaching intuitive with automatic rules for incoming messages and AI-driven insights for developing top-performing service agents faster.
Conversation routing
Conversations is a tool in HubSpot for viewing, managing, and replying to incoming messages from multiple channels in one shared inbox. This allows you to track conversations from a central location with your Facebook Messenger, email, and website requests syncing into your shared inbox for simplified reporting and team distribution.
In addition, you can create tickets from each conversation to track a customer's experience with your business, and set up multiple inboxes for multiple teams. For example, you can designate a sales inbox to manage inquiries about pricing and packaging and establish a customer service inbox for your service team to manage incoming support requests. You can also create custom views in shared inboxes using ticket and conversation details to help teams organize and prioritize their work.
The default setting is for incoming conversations to be left unassigned in your inbox for your team to triage. However, if you're assigned to a Sales Hub or Service Hub seat, you can set rules so that conversations are automatically routed to the right user or team, expediting customer service solutions.

If you're assigned to a Sales Hub seat, you can also reduce duplicated efforts across emails with a feature referred to as "agent presence in the inbox". This smart feature shows you when another agent or representative is viewing the same email or replying to it.
Conversation intelligence
Customer conversations are a treasure trove of actionable insights. But as call volumes increase, manually sourcing these insights can be overwhelming and time-consuming.
AI-powered conversation intelligence relieves this burden by automatically taking notes and providing deeper insights into your team's calls. Connect with customers directly from your device with inbound calling that automatically uploads call data into your HubSpot CRM. Leverage voice data to keep your finger on the pulse of your customer experience. Then make data-driven decisions to affect outcomes and ensure consistency.
4. Customer relationship building at scale
As your business grows, your service team members will need to focus more sharply on the support tickets where they can add the most value, instead of providing input that can be automated or answering questions that can be solved online.
Help desk automation
Reduce manual, tedious processes with powerful built-in automation — from ticket prioritization and notification triggers to automatic deal creation and sequence enrollment.
Knowledge base
Empower your customers to self-service by supplying the information they need at their fingertips via a search-engine-optimized knowledge base of support articles, videos, and documents. Leverage built-in analytics to continually improve your knowledge base content over time, and enjoy a reduction in the number of incoming support requests.
Customer portal
Provide a branded customer service portal for a seamless customer experience. Customers can submit and track their support requests and conversations in real-time, maintaining communication through a constant flow of information.
Chat
Improve team capacity with a 24/7 chatbot that can direct customers to the information they're looking for and automatically create tickets.

Assist customers instantly via an integrated live chat system that automatically routes users to the right person on your service team, complete with contextual conversations to improve the customer experience.

At the end of your chat sessions, you can learn how customers feel about your interactions with instant feedback, which you can then report on and trigger automation based on the scores given.
SLAs
Service Level Agreements (SLAs) can be assigned at a ticket level for quick and easy monitoring and reporting of crucial metrics like "time to first reply" and "time to close".
Surveys and analytics
Better understand how your customers feel about you with a range of pre-built surveys and tools that enable you to track important metrics like net promoter score (NPS) and customer satisfaction. Automate follow-ups according to customer responses.
Deepen customer relationships and improve retention with custom surveys featuring multiple question types in a flexible template. Glean valuable insights into what your customers really think while capturing their candid feedback directly in your HubSpot CRM.
Ready-made reports provide you with critical details to track and analyze vital customer service metrics like customer satisfaction scores (CSATs), SLAs, chat wait times, and support volumes.
5. Effective team management
Enterprise and mid-market companies need seamless team management and advanced communication tools to meet key objectives. HubSpot's Enterprise-level Service Hub plan has the necessary features to support your strategic business goals.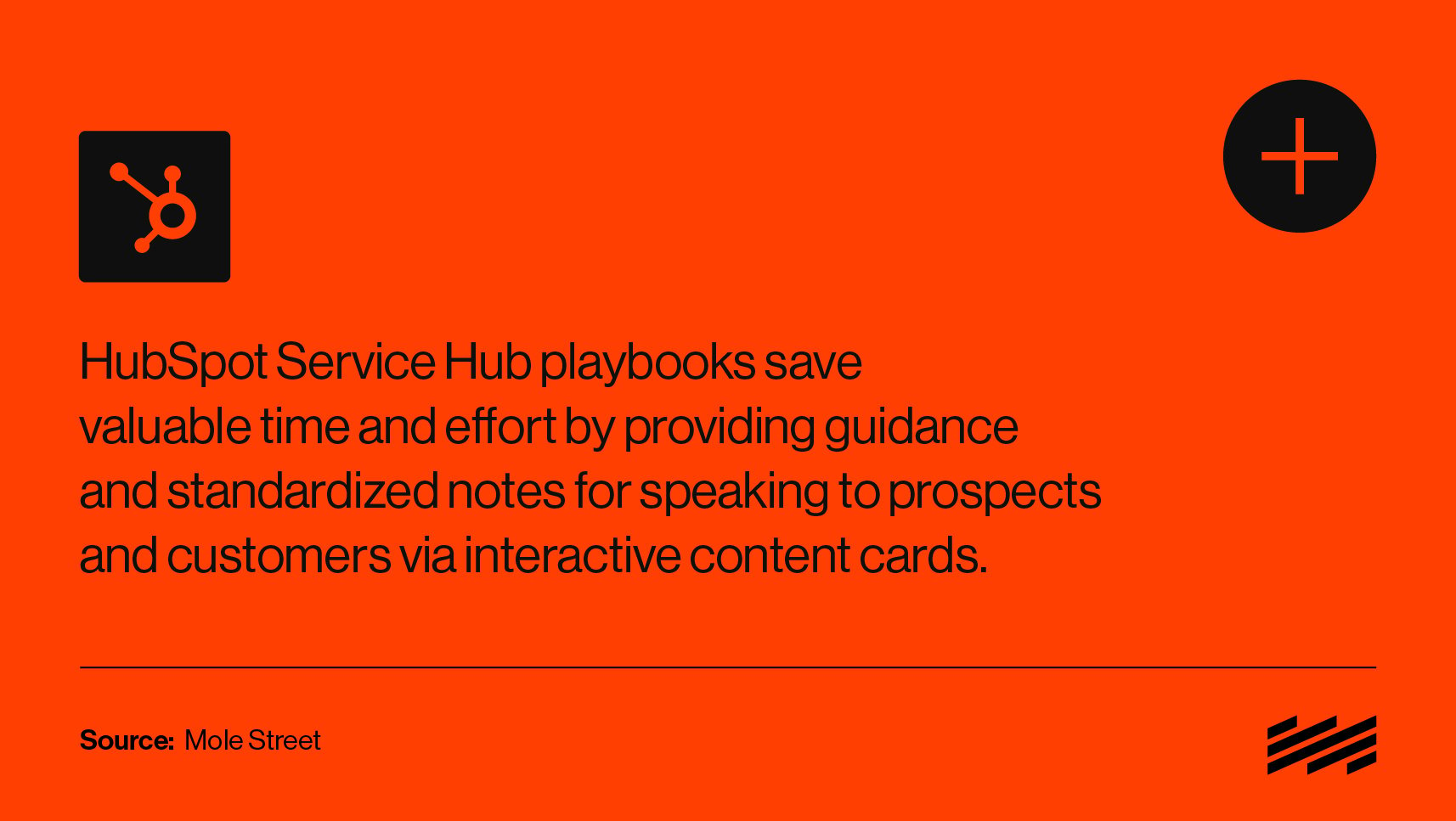 Playbooks
As your team grows, so do your coaching responsibilities. Playbooks save valuable time and effort by allowing you to provide guidance and standardized notes for speaking to prospects and customers via interactive content cards appearing directly in contact, company, deal, and ticket records for your team members to reference.
Single sign-on
In today's highly digital world, convenience and security are paramount. Single sign-on (SSO) enables you to give your team members one account to securely access all the systems in your company. Long story short: SSO means fewer passwords to remember and protect.
Designated user roles
Ensure the right people can access the tools and features they need. HubSpot super admins and users with "add and edit users" permissions can customize permissions for new and existing users in your account, view permissions histories to track permission changes over time, restrict edit access to properties to specific users, assign content access to specific users, and even create sets to provide the same permissions to multiple users in one fell swoop.
Is HubSpot Service Hub Right for Your Business?
Still unsure if HubSpot Enterprise and its Service Hub are the right software products for your organization? Or maybe you're wondering how to make the most of your HubSpot investment?
Schedule a call with our team — we're happy to evaluate your unique business needs and offer our team's expertise.