Benefits of this solution for enterprise clients; aligning people, processes and technology with the power of HubSpot.
Originally published July 2020. Updated December 2022.
As your company scales, you need tools that can handle your growing sales and marketing demands. HubSpot, known for its Growth Suite of marketing, sales, and customer service tools anchored by a CRM, has developed more powerful versions of their software in the form of Marketing Hub Enterprise and Enterprise Sales Software.
Enterprise companies utilizing similar enterprise-level solutions – or current HubSpot customers who are currently using HubSpot's Professional grade solutions – and may be looking to scale ABM, take action on buyer intent data, and keep all your prospects in the funnel. Doing so would place you in great company – businesses such as DoorDash, Atlassian, and SurveyMonkey are all HubSpot enterprise customers.
In this article, we'll cover the top benefits of HubSpot'sEnterprise-level solutions for your consideration.
What is HubSpot Enterprise and What's Different?
HubSpot is a CRM (customer relationship management) software company that integrates marketing, sales, and customer service tools into an all-in-one solution for businesses to grow their online presence. HubSpot Enterprise is the most sophisticated suite of tools in the HubSpot Growth Platform. It allows enterprise companies to ramp up their marketing initiatives, gain visibility into data, and close deals more efficiently with insightful, easy-to-use, permissions-based features not available in the Free, Starter, or Professional tiers.
Should I Use HubSpot Enterprise?
With its wide array of powerful features for enterprise companies – most notably the seamless connection between sales and marketing tools – HubSpot Enterprise should strongly be considered for your business's marketing, sales, and/or customer service needs. Enterprise companies will see enormous benefits with HubSpot's enterprise software compared to their professional-grade software, and to other players in the marketing and sales software ecosystem.
10 Benefits of HubSpot Enterprise
HubSpot has a suite of enterprise-level software, most notably for marketing and sales. The array of features in these marketing and sales solutions – as well as the reliability and functionality of these features – make HubSpot's Enterprise Hubs worth your consideration.
Let's review each of them separately: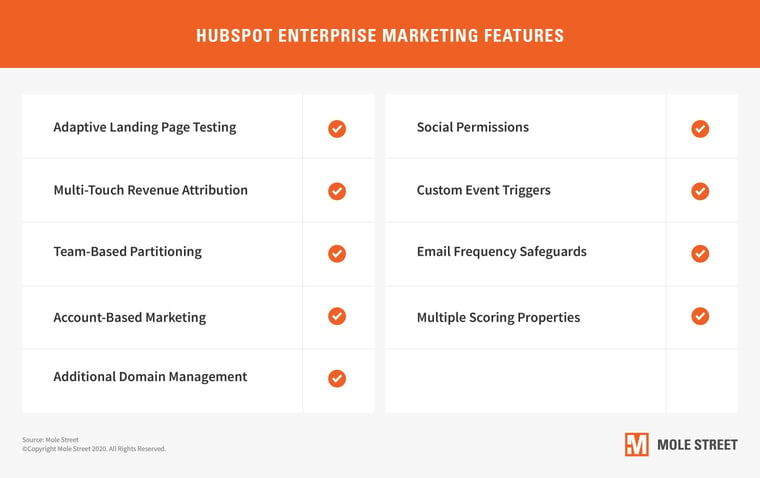 1. Essential inbound marketing features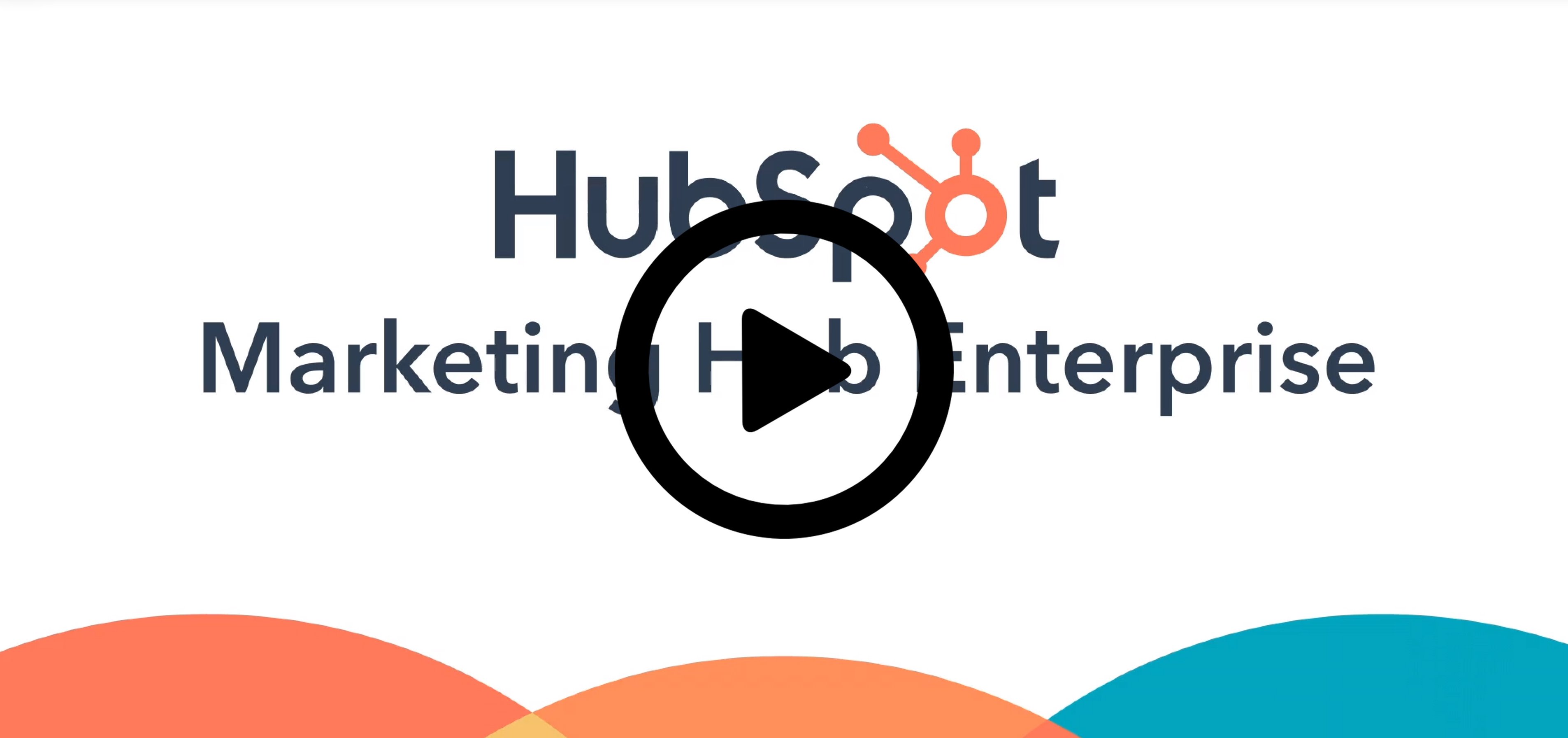 HubSpot's Marketing Enterprise Hub has all of the features included in the Free, Starter, and Professional tiers of their marketing software. These tools include:
Landing Pages and Forms
Blogging
Email Marketing
Bots and Live Chat
Calls-to-Action
A/B Testing
Custom Reporting
Regardless of a company's size, these features remain imperative for marketing teams in 2020. Any enterprise-level marketing software should be equipped with these aspects at the very least to provide companies with the necessary tools for lead capture, nurturing, and deal closing.
2. Adaptive testing
A/B testing is a crucial element of optimizing your website in the era of digital marketing, but enterprise websites get thousands or even millions of visits each day. This means that running an A/B test on high-traffic web pages can result in thousands of submissions during the test when traffic goes to the lesser-performing variant(s).
With adaptive testing, HubSpot uses machine learning to calculate each variant's conversion rate and direct traffic to the variants of your landing pages' A/B tests that are converting the best. This way, after you set up a test on your website, the stronger performing variant(s) will automatically receive more views than a lower-performing variant, giving you test results you can feel confident in while growing the number of contacts you convert every day.
3. Multi-touch revenue attribution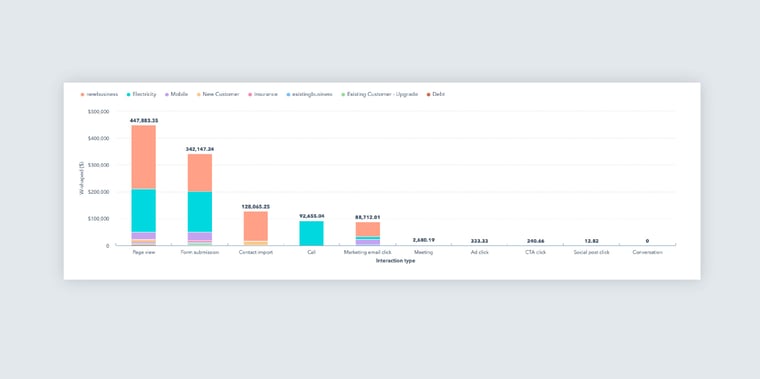 With so many interactions between the stages of stranger to customer, marketers need to know which campaigns, social media posts, and content offers play a crucial role in the buyer's journey.
HubSpot Enterprise's multi-touch attribution reporting connects customer interactions with all of your marketing campaigns and content to tangible revenue numbers. These metrics can give your marketing department insights in which actions are with investing in when it comes to closing more deals and growing your customer base.
4. Team-based partitioning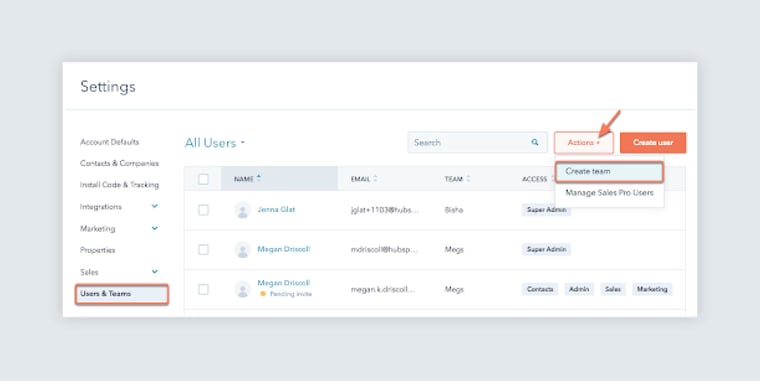 Enterprise marketing teams tend to have dozens or even hundreds of marketing employees.
But as the saying goes, you don't want too many cooks in the kitchen.
The last thing you want is for someone on your social media team to accidentally make edits to a product page, or someone from your product marketing team to mistakenly un-publish your most-read blog post.
The team-based partitioning feature in Marketing Hub Enterprise allows admins to control which teams have access to which pages so that nobody stumbles their way into creating a massive website error.
5. Account-based marketing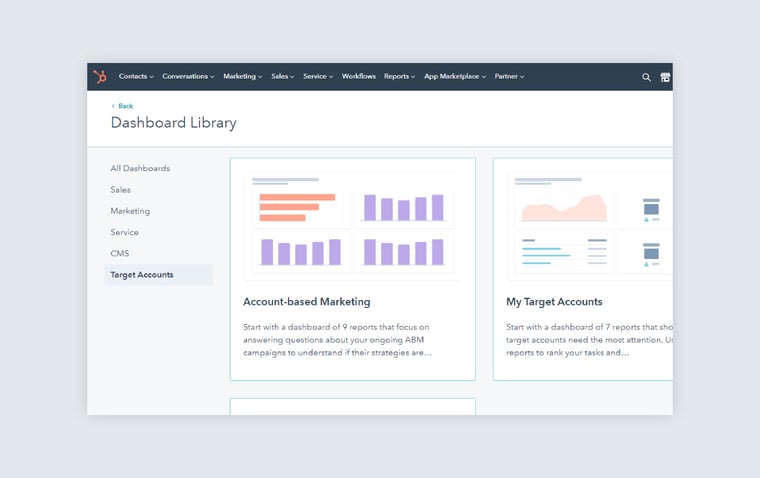 Larger companies often have the ability (and incentive) to go after other specific, larger companies via account-based marketing (ABM).
With HubSpot Marketing Enterprise, companies' sales and marketing teams can work together to set up ideal client profiles, which HubSpot's ABM software will score so teams can prioritize which accounts to go after and why.
While a relatively new feature in the HubSpot software, HubSpot's ABM feature is poised to be a huge player in the enterprise ABM market. For example, according to Capterra, industry leader Terminus lacks key features like analytics, lead scoring, and lead nurturing – which are all elements of HubSpot's core Marketing Hub features.
6. Manage additional domains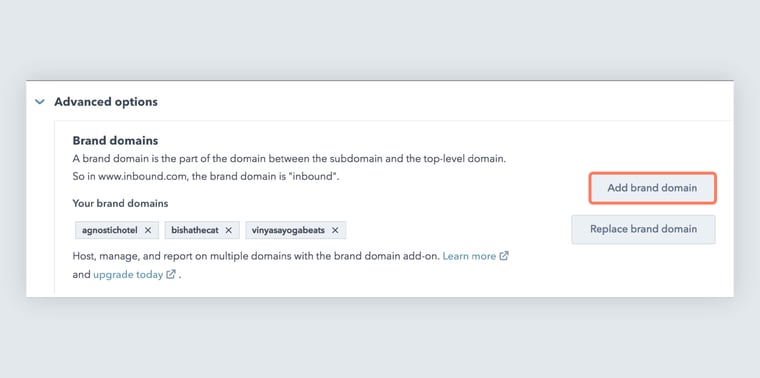 If you acquire a company and want to keep its name, or if you launch a new product that you would rather see have its own website, the multiple domain management feature of Marketing Hub Enterprise is ideal.
These domains will live on their own, but will be accessible under one user account (so long as users are granted permissions by an admin). Note that this feature is an add-on for the enterprise-grade software, but makes site management for multiple domains significantly more doable – especially when you can compare multiple sites' analytics all in one place.
7. Social permissions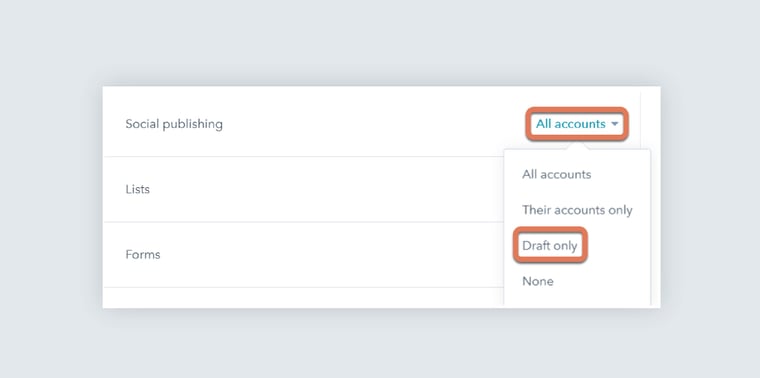 Household name organizations are not immune to social media flukes. Just ask the American Red Cross, which still maintains notoriety for an accidental tweet in 2011 where an employee wrote about #gettingslizzerd with a couple four-packs from Dogfish Head.
Usually, we'd tell you to be like the Red Cross. Now is not one of those times.
HubSpot's enterprise-level social media software allows admins to grant draft-only permissions to those who shouldn't be publishing tweets and social posts, reserving the power to send messages to your thousands of followers to a select, trusted few on your team.
8. Email frequency safeguards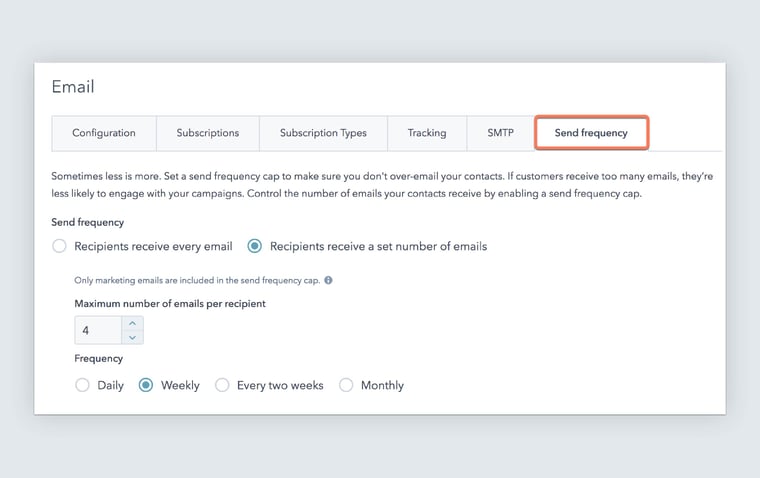 You hate unwanted email – and so do your leads and clients. Even existing users will have a negative customer experience if they're always getting bogged with emails.
To preserve the brand you've worked so hard to build as helpful, authentic, and genuine, HubSpot protects contacts from getting an inbox full of emails from your business. Enterprise clients of HubSpot can limit the number of emails a contact is eligible to receive in a given time frame to avoid that fateful unsubscribe.
9. Custom event trigger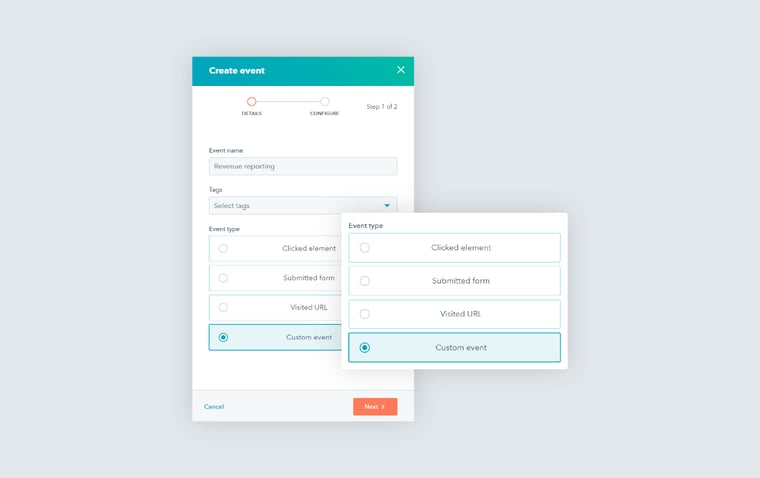 Inbound is all about reaching the right people at the right time.
Custom triggers ensure messages, notifications, and emails are sent when website or app visitors take a specific action. For example, your e-commerce website can use a custom trigger event when a user abandons his shopping cart so that user gets a reminder email to finish his purchase.
This feature integrates with reporting and event funnels so that the effects of these messages are tracked for your team to analyze and gauge their effectiveness.
10. Multiple scoring properties
Customized lead scoring helps you set goals and consider factors that make sense for your business, and HubSpot knows this. With the option for multiple scoring criteria "based on any data point in your HubSpot account," you'll be able to develop scores that help you build lists and trigger marketing automation with confidence.
As a result, your sales team can prioritize the highest-intent leads first and wait for low-scoring leads to spend more time with your brand before reaching out.
HubSpot Sales Enterprise Features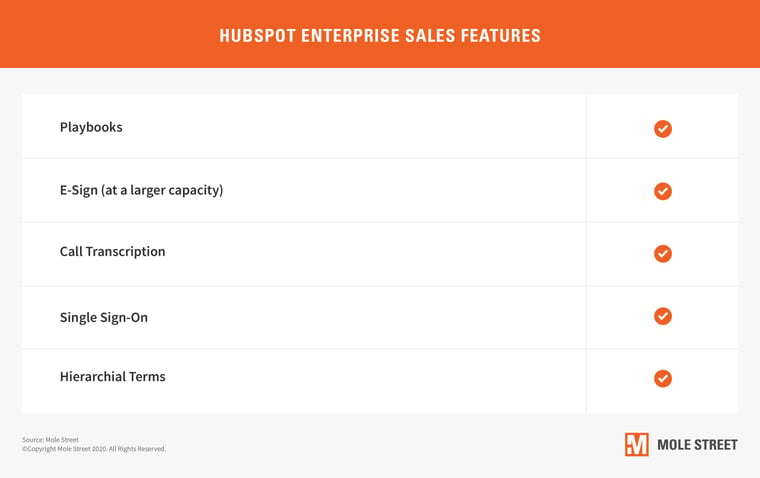 1. Playbooks
The more your company scales, the more important it is to ensure a consistent buying and selling experience.
To mitigate the risk of an all-over-the-place sales team, HubSpot's enterprise sales software equips salespeople with universal collateral to make the sale – such as battle cards, call scripts, and how-to guides within the software.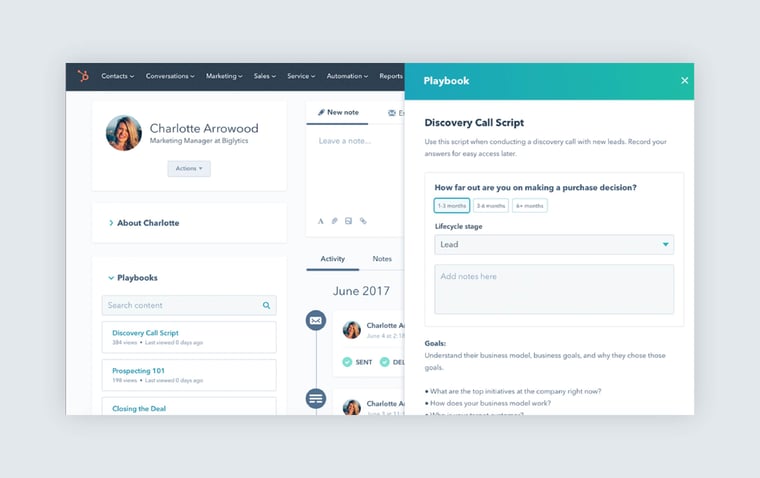 2. eSign
Give your prospects (and your legal team) peace of mind by collecting legally-binding electronic signatures from your new customers right within HubSpot. There's even an auto-populate feature to reduce human error by pulling field info straight from your CRM.
Electronic signatures save you time since your clients won't have to mail, fax, or print and scan signed documents. Instead, approval happens instantly, allowing your customer onboarding and install teams to get to work faster.
E-sign is available starting at the Professional tier, but Enterprise allows for more e-signatures each month. See how it works on this HubSpot knowledge base article.
3. Call transcription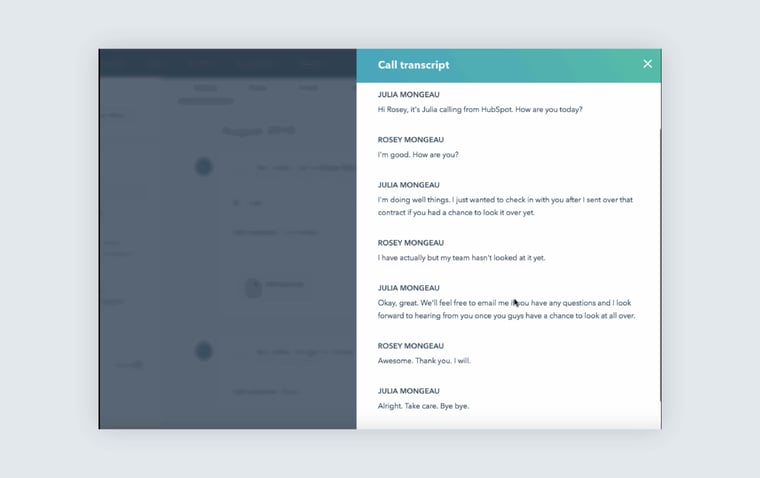 For win-loss review, employee training, and a better understanding of your prospects, call transcription in HubSpot's Enterprise software is a time-saving tool for your sales team.
As transcriptions are automatically saved in each contact's timeline, you'll be able to review your prior conversations to draw conclusions and uncover prospect needs after the phone call ends. HubSpot even labels each transcript's quality as good, fair, or poor so you can review the words in each transcript with an appropriate amount of caution or confidence.
4. Single sign-on (SSO)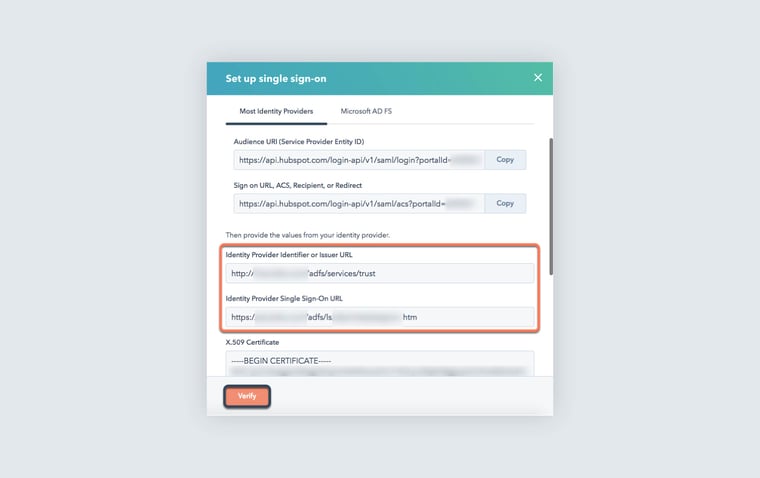 We all know salespeople are short on time – so much so that something as simple as single sign-on can save time for salespeople by allowing them to access their HubSpot account with universal login credentials.
HubSpot also posits this sign-on method as more secure and as a way to control who has access to your company's HubSpot account. Added security also comes from two-factor authentication and having fewer passwords to manage, protect, and potentially forget. SSO, by extension, also saves time for your company's administrators, as they'll need to manage fewer password resets.
5. Hierarchical teams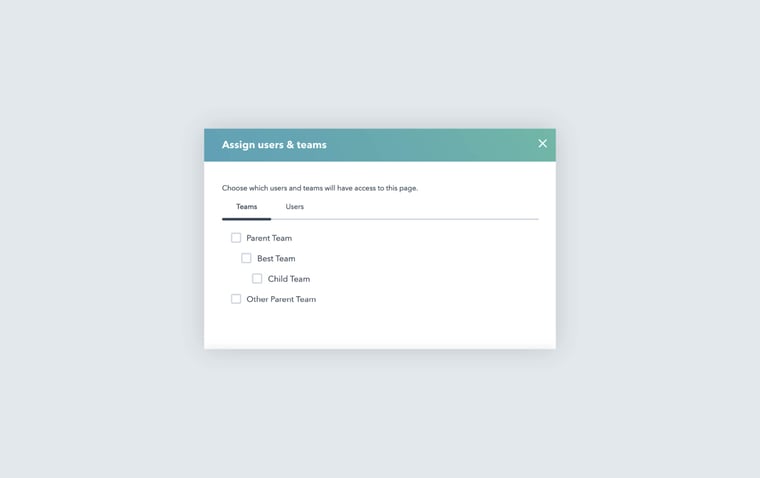 Enterprise sales teams are huge – divvied up by region, product, or any other factor that your business has deemed the best fit.
HubSpot's enterprise-level sales software encourages its users to structure their teams within the software that align with that organizational structure. This feature is yet another example of how HubSpot's enterprise features are built to be customized by the end user for maximum efficiency and the best possible use of its tools.
6. Other essential sales features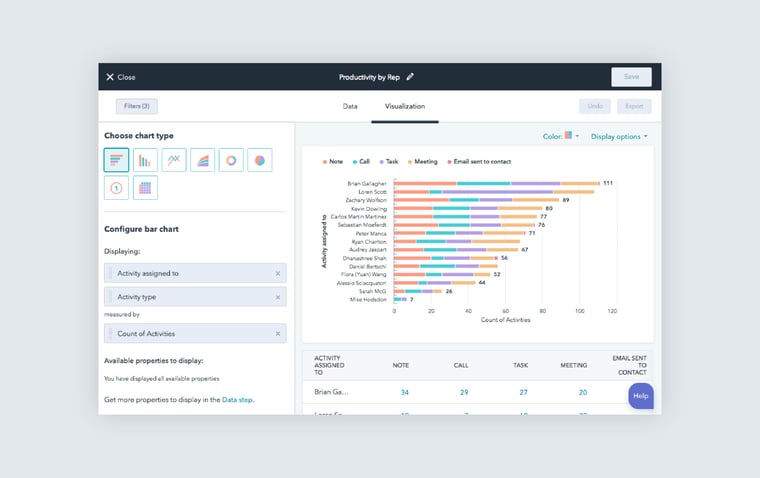 Outside of these top-tier features, HubSpot Sales Hub Enterprise comes with the elements reflected in the other grades of sales software, including:
Custom Reporting
Calculated Properties
Meeting Scheduling
Live Chat
Goals & Reporting Dashboard
These fundamental tools ensure that your salespeople still have access to the basics that will help them close deals – just with a little more benefit from the added enterprise-level upgrades.
Should You Upgrade to HubSpot Enterprise?
If you're excited by the prospect of HubSpot's enterprise-tier tools – or if you're a current HubSpot customer happy with the product but ready to advance – it might be time to upgrade from Professional to Enterprise levels for Sales, Marketing, or both.
Should you decide that this is the best step for your company, consider working alongside a HubSpot Agency Partner or with a dedicated HubSpot Consultant to ensure you're utilizing HubSpot's powerful solutions alongside today's most tactical inbound sales and marketing best practices.
Click here to get in touch with a representative of our Platinum HubSpot Solutions Partner Program Agency.