HubSpot Service Hub vs. Zendesk: What to Know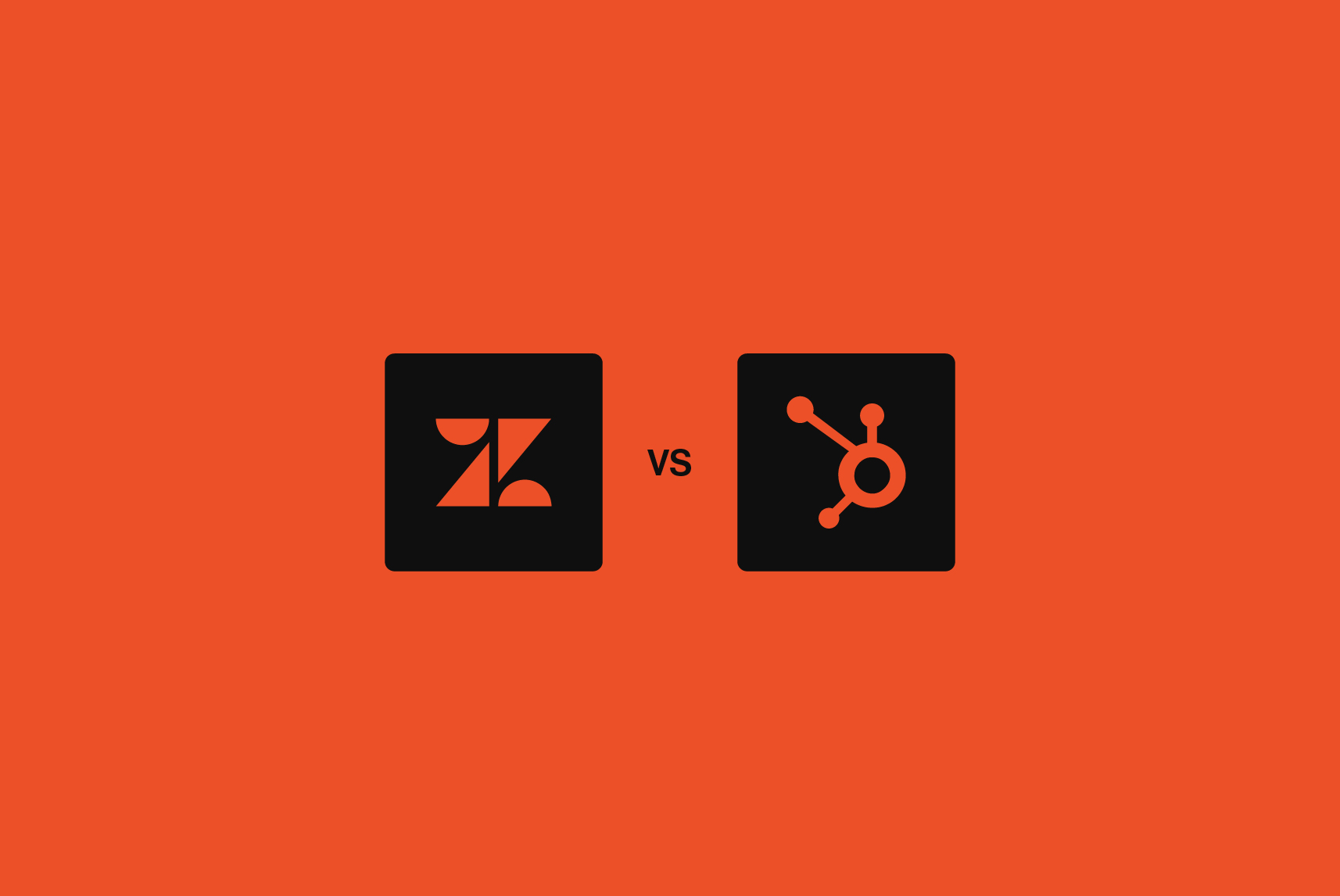 If your team isn't focused on anticipating and understanding the needs of your customers, your company and brand could, inadvertently, be providing poor customer experiences — the kinds of experiences that result in costly churn.
The good news is that the right software can alleviate most customer mind-reading challenges, ensuring your team delivers relevant, cohesive experiences at every stage of the customer journey.
In this article, we'll compare the features, benefits, and costs related to two popular customer service software solutions — HubSpot Service Hub vs. Zendesk Suite — to help you determine which is the right fit for your business.
We'll also check in with Mark McCarthy, Principal HubSpot Consultant for Mole Street, and other HubSpot users to get the inside scoop on what to expect when transitioning to a new customer service software solution. Let's dig in!
Zendesk vs. HubSpot: What's the Difference?
While both HubSpot Service Hub and Zendesk Suite can help centralize an organization's customer service and support, only one helps enhance the customer experience from start to finish. In this section, we'll explore that key difference along with other important aspects that set each software solution apart. But first, let's meet our two contenders:
What is HubSpot Service Hub?
HubSpot is a cloud-based customer relationship management (CRM) platform designed to help small to enterprise-sized businesses increase leads, accelerate sales, organize contacts, and provide best-in-class service to customers. HubSpot's suite of software hubs include Marketing, Sales, CMS (Content Management System), Operations, and Service.
Launched in 2018 and refreshed with new and improved features in March 2022, the HubSpot Service Hub equips businesses with tools and capabilities built to strengthen customer relationships, align to the front office, and improve service efficiency.
What is Zendesk Suite?
Zendesk is a cloud-based CRM platform offering omnichannel support and help desk tools to organizations of varying sizes. Like HubSpot, Zendesk offers a suite of tools that support both the sales and service sides of a business.
The Zendesk Suite was launched in 2018, and bundles together the service's Support, Guide, Chat, and Talk capabilities. Zendesk Support acts as a digital help desk, allowing businesses to collect, track, prioritize, and solve customer service tickets.
HubSpot vs. Zendesk: which is better?
When it comes to features and benefits, both customer service software solutions have plenty to take notice of. However, there is a clear winner when comparing each of the following attributes: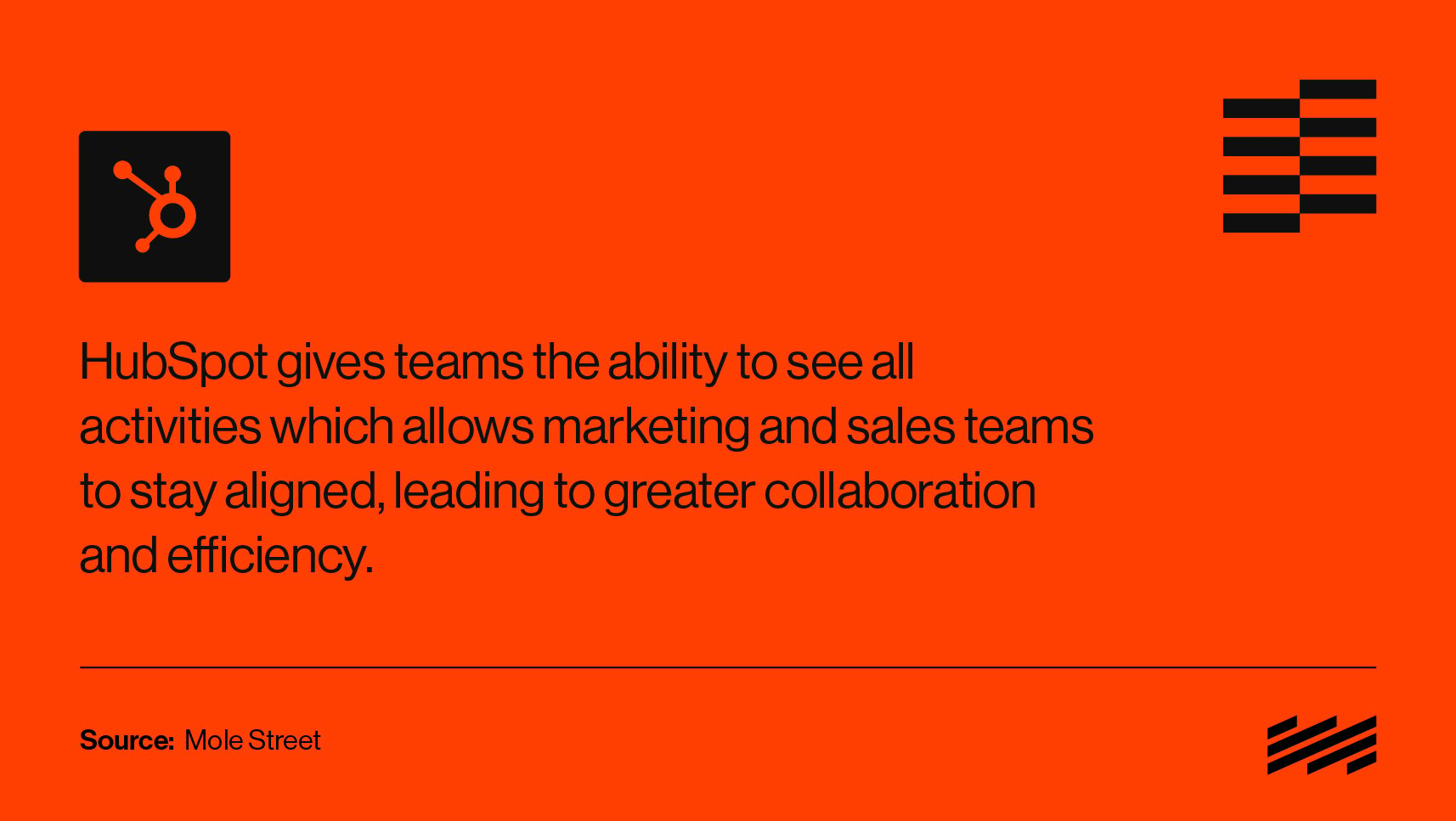 Does it improve efficiency?
Software is meant to make life easier, right? HubSpot Service Hub makes life easier for service teams by affording them with efficiency-boosting tools like customer service automation, service level agreement (SLA) management, omni-channel messaging, a mobile inbox, and a customer portal.
In addition, efficiency is gained with HubSpot Service Hub through its connectivity to marketing and sales activities, giving service teams full transparency into customer-facing communications and allowing them to deliver more relevant, cohesive customer experiences.
What to expect with HubSpot Service Hub
"If you're a customer service agent on a call, you can know if the person on the other end of the line looked at a specific email or saw a text that was sent. This gives you the ability to have a much stronger and more efficient conversation with a customer." - Mark McCarthy, Principal HubSpot Consultant for Mole Street
Zendesk Support and Zendesk Suite offer tools like SLA management and customizable ticket layouts that are needed by advanced help desk-style support teams, but Zendesk lacks the ability to wholly align all front-office teams on a shared interface. Fostering cross-functional collaboration can be key to building efficiency within this setup, but it's not guaranteed.
HubSpot, in contrast, gives teams the ability to see all activities — not just those performed by them or members of their team. This 360-degree view of customer interactions means marketing and sales teams are always aligned, leading to greater collaboration and efficiency. Rather than communicating through a disjointed tech stack involving multiple tools, everything happens within HubSpot. The result is a more seamless customer experience.
Winner: HubSpot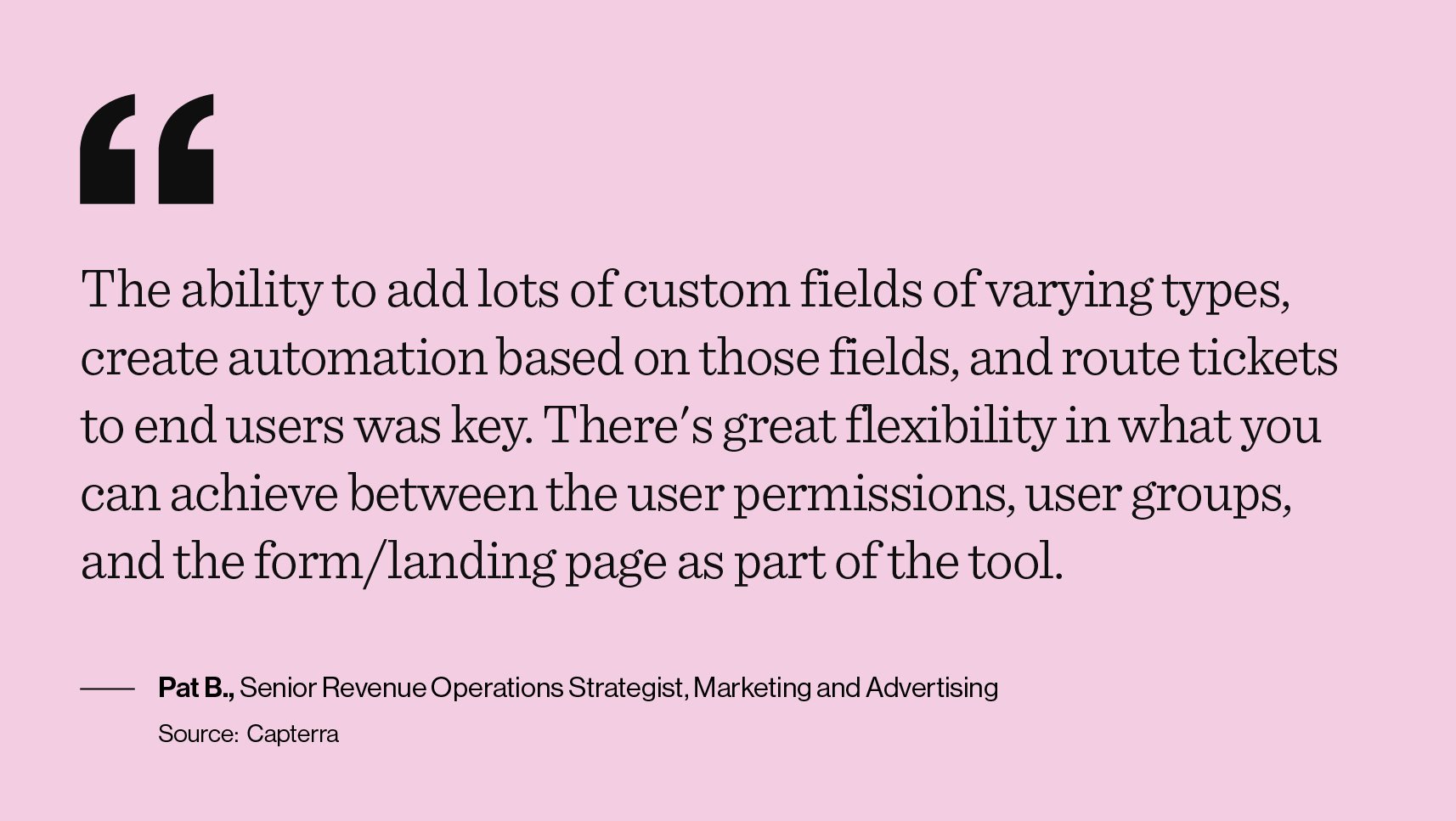 Does it offer flexibility?
With software, flexibility comes in the form of customization. Higher tiers of HubSpot Service Hub afford the ability to customize objects, records, surveys, dashboards, and more. This provides necessary customization for your business while preventing unnecessary complexity from being introduced into processes.
Zendesk's higher tiers also offer the option for advanced customization. The only caveat is that, with Zendesk, a conscious effort to limit complexity must be made or the efforts required to manage the system become unwieldy. That being said, these complex configurations make Zendesk a leader among larger, more siloed service teams that don't require full sales and marketing visibility for their customer support teams.
Winner: Zendesk
Is it easy to use?
As of August 2022, Zendesk has received an average of 4.3 out of 5 stars for ease of use on the technology review site Capterra.com. However, individual user reviews cite cons related to usability, such as having to "spend a lot of time figuring out how to use the dashboard" and that the overall "training and learning cost is high".
As of August 2022, Capterra.com reviews give HubSpot Service Hub a slight edge for ease of use, ranking the software at an average of 4.4 out of 5 stars. Individual users review cite pros related to usability, including that the platform makes it "easy to retrieve all of the information on a customer." One company reports being "able to scale it from a 200 customer support to a 160,000 enquiry platform within 3 weeks, which made a huge impact." In fact, the HubSpot Service Hub interface is so user friendly that the software's capabilities are often underestimated.
Just because HubSpot is easy to use doesn't mean it can't do powerful things. It's an intuitive software that provides agility in ways that don't obstruct the flow of business.
What to Expect with HubSpot Service Hub
"Zendesk defines a Ticket as a problem or request you need to solve from your customer. HubSpot defines a Ticket as any process you want to track the status of towards completion. While support requests are a textbook use case for Tickets no matter the platform, the versatility of the Ticket object in HubSpot shines through because it's connected to everything else in your front office anchored by the CRM." - Brandon Kirsch, Service Hub Overlay Specialist at HubSpot
Winner: HubSpot
Does it provide quality support?
As of August 2022, HubSpot scores 8.9 out of 10 for "Quality of Support" on the review site, G2.com. Multiple individual user reviews depict positive customer service experiences with HubSpot. One such video review states, "What I like best about this product is that it is easy to use. It's very user friendly, but the support that I can get is also fantastic."
HubSpot excels in providing quality support, thanks in part to the following resources:
Smart and busy self-starters appreciate the HubSpot Knowledge Base. A quick search uncovers an answer to just about any question you might have. This proactive, DIY support tool is useful for troubleshooting on the fly.
The HubSpot Community is robust. Whether it's getting set up or figuring out the best way to customize HubSpot Service Hub for your needs, there are more than 85,000 community members ready to answer your questions online.
Solutions partners and providers
The HubSpot ecosystem currently boasts over 6,000 solutions partners and providers who are able to assist with everything from onboarding and implementation to ongoing consulting.
Zendesk comes in with a score of 8.4 out of 10. However, multiple individual user reviews depict poor customer service experiences with Zendesk. One such review states, "Support is hard to get a hold of and takes a while to respond. The auto-bot is not as helpful as speaking with a real person. When I do reach a person, they often send an article instead of working with me to resolve the problem. We also have intermittent issues with call quality and the agent not being able to answer calls or the call drops."
Zendesk support resources include:
Also designed for self-starters, Zendesk help features quick search functionality for finding answers to questions among its Zendesk updates, Community, Policies & programs, and Developers sections.
Nestled within Zendesk help are the Gather community forums boasting more than 4,932 active members, 64,041 comments, 21,392 posts, and 35,271 votes.
Zendesk now has just over 360 partners available to help businesses with implementation, development services, training, data migration, and more.
Winner: HubSpot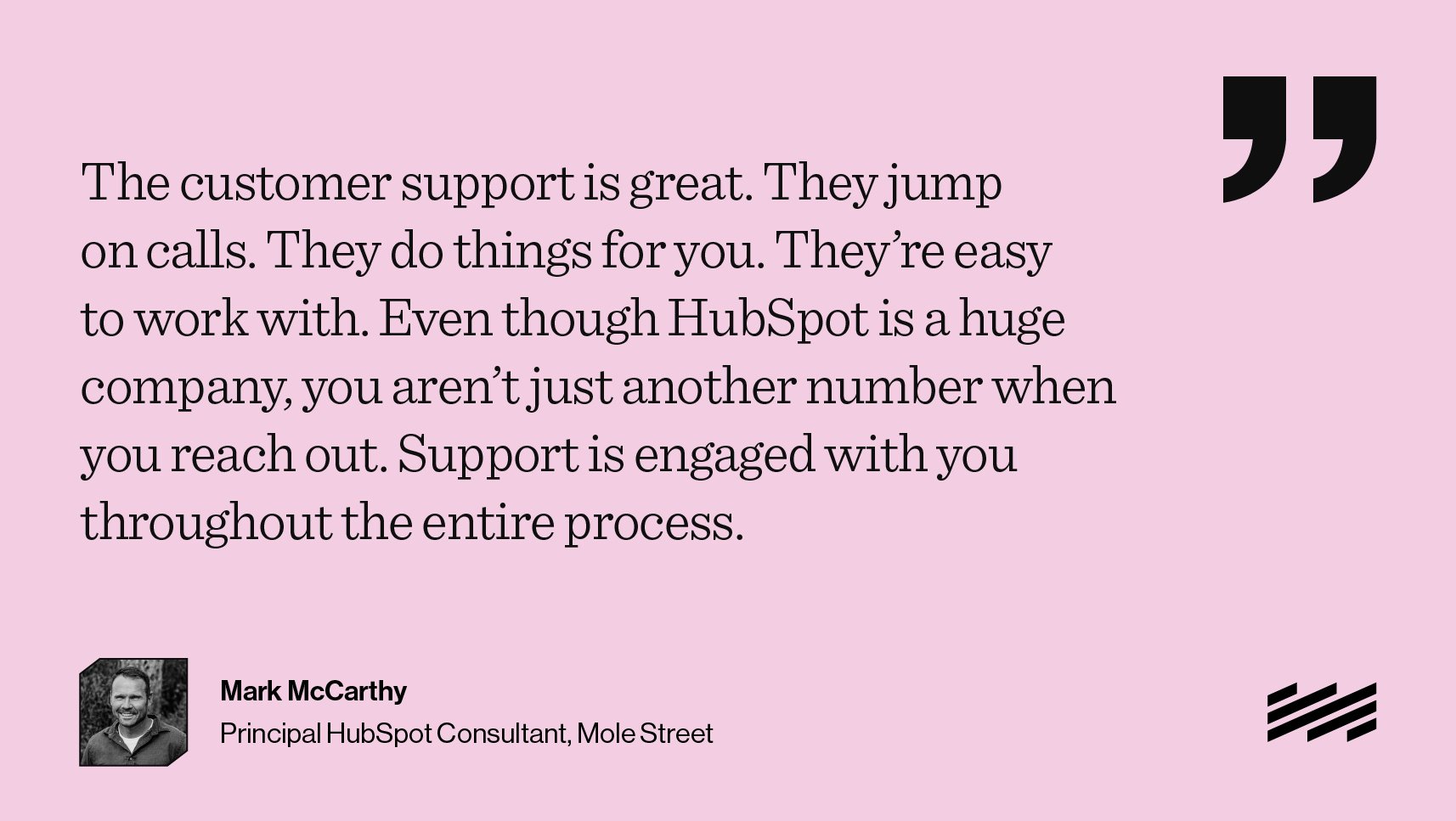 What to Expect with HubSpot Service Hub
"The customer support is great. They jump on calls. They do things for you. They're easy to work with. Even though HubSpot is a huge company, you aren't just another number when you reach out. Support is engaged with you throughout the entire process." - Mark McCarthy, Principal HubSpot Consultant for Mole Street
Does it integrate well with other applications?
Both HubSpot and Zendesk integrate natively or via third-party platforms with many different applications, including several industry-leading technologies — such as Salesforce and Oracle® Cloud — that may or may not already be part of your company's existing tech stack.
When you compare integrations by the numbers, HubSpot has nearly 1,200 applications in its directory, including more than 100 applications dedicated to service. Some of the most installed customer service applications to date are Facebook Messenger, SurveyMonkey, and Intercom.
Zendesk offers more than 1,300 applications in its directory. The overwhelming majority of these applications relate to Zendesk's support features. Fewer than 100 applications are for the Zendesk sales and chat features.
Winner: Zendesk
What are the differences in price?
Depending on the configuration, list prices for HubSpot Service Hub and Zendesk are comparable. The current monthly subscription price for the Growth tier of the Zendesk Suite is $79 per customer service agent per month. For HubSpot Service Hub's Professional tier, the cost is $80 per customer service agent per month, starting with 5 agents for $400 per month. With HubSpot, product bundling options are also available.
Both HubSpot and Zendesk offer access to non-agent users. (HubSpot calls these users "free users", and Zendesk calls them "light agents.") HubSpot offers unlimited non-agent users, whereas Zendesk limits the number by tier. This means that, when using Zendesk along with a separate sales tool, additional Zendesk agent seats need to be purchased to allow sales to access support data. This can increase the total cost of Zendesk.
Winner: HubSpot
What to Expect with HubSpot Service Hub
"If you're already a HubSpot customer, all the data is there. Why wouldn't you sit Service Hub on top of that, instead of pushing all that data to another service platform and having your tech team manage two different integrations between two different systems? The best part is, you can create your own HubSpot product bundle to ensure you get the exact tools you need." - Mark McCarthy, Principal HubSpot Consultant for Mole Street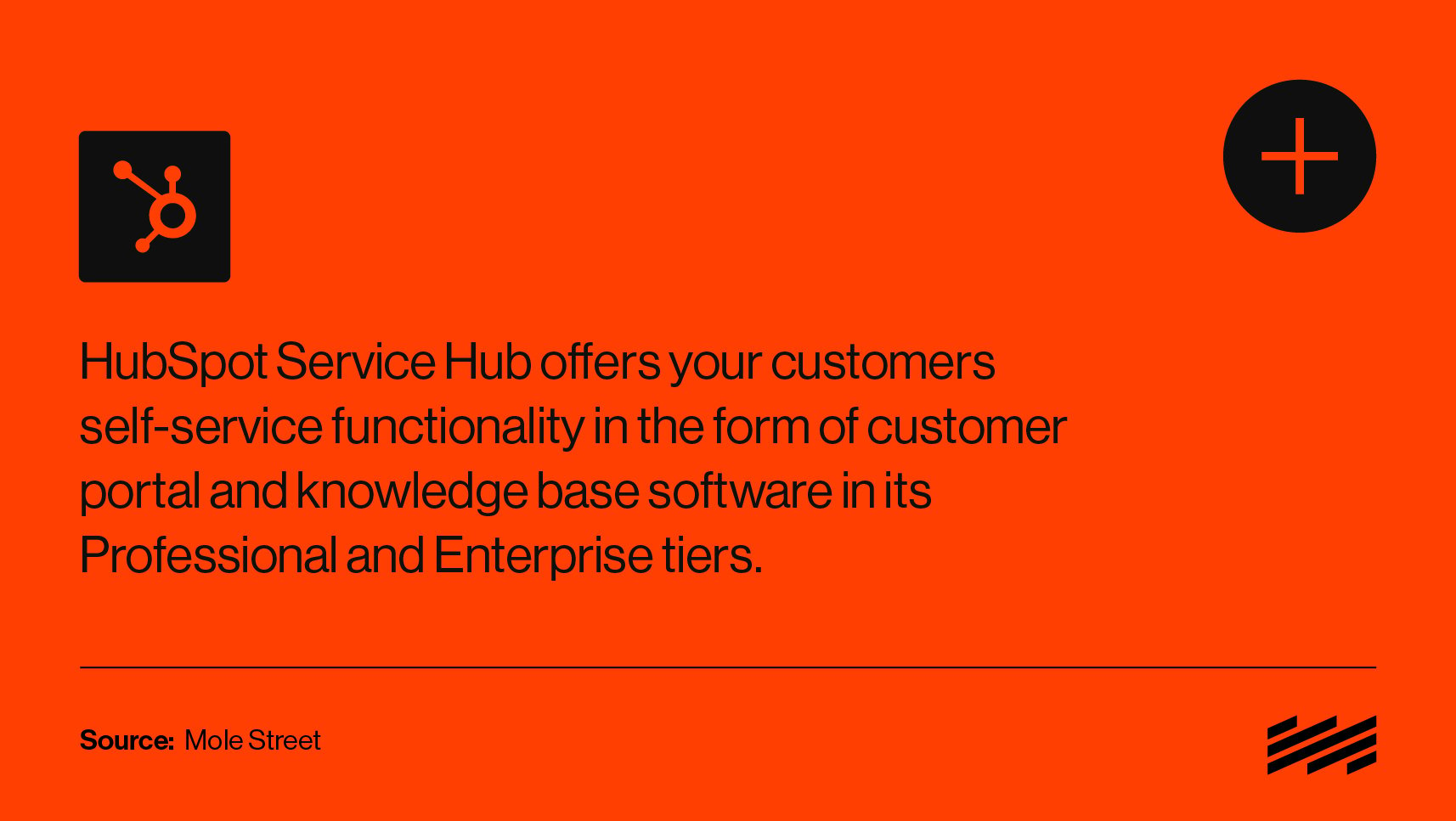 Does it empower self service?
Many customers today prefer self-service support. HubSpot Service Hub offers your customers self-service functionality in the form of customer portal and knowledge base software in its Professional and Enterprise tiers.
The knowledge base articles you author come with multilingual and single sign-on (SSO) capabilities. They are also structured to rank well in search, while HubSpot's built-in reporting dashboards measure the articles' impact on your web traffic and can also be used to measure their effect on your call and chat volumes.
Connected to your shared inbox, the HubSpot customer portal keeps ticket conversations going, provides your customers with access to your proprietary knowledge base, and can be customized to create an optimal customer experience.
Zendesk Suite offers self-service help center functionality called Guide in each of its tiers. Customer or client portal functionality is available in the Growth, Professional, and Enterprise tiers.
The help center articles you author come with SSO capabilities. Once you have configured your help center to support multiple languages, you can add translated versions of the articles. All articles posted within your help center are structured to rank well in search, and Google Analytics can be used to track web traffic to your help center.
Connected to your agents' individual email inboxes, the Zendesk client portal enables customers to check the statuses of their support requests, review updates to their knowledge base and community contributions, and track content they're following. It can also be customized to match your branding.
Winner: HubSpot
What to Expect with HubSpot Service Hub
"When you're fielding 1,500 tickets a day, imagine if you were not able to communicate the progress of those tickets to your customers like you can with Service Hub sitting on the same platform as Marketing Hub. It would generate calls from all these customers wanting updates on their tickets." - Mark McCarthy, Principal HubSpot Consultant for Mole Street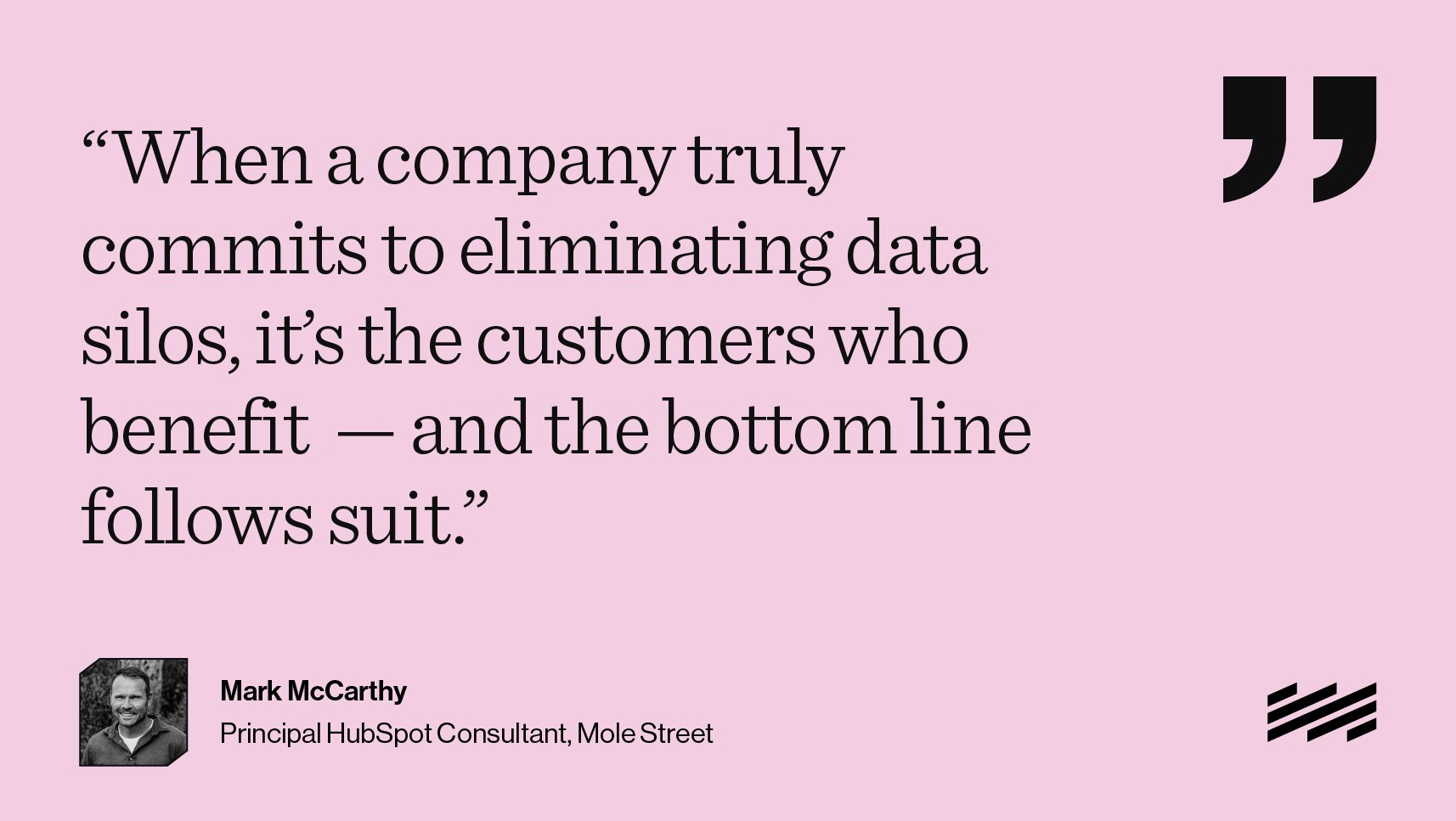 Does it enhance the customer experience?
Much of the power of HubSpot Service Hub lies in the HubSpot ecosystem. By allowing service-related data to live under the same umbrella as marketing and sales data, your company and brand can deliver a more relevant, cohesive experience at every stage of the customer journey. In other words, the HubSpot ecosystem aligns customer communication across teams and lets your entire front office share ownership of your customer communication strategy.
While Zendesk Suite keeps the lines of communication open between your customers and your service team, the customer experience can be disjointed because front office teams aren't owning a shared customer communication strategy. With a varying approach, ultimately it's the customer experience that suffers.
Winner: HubSpot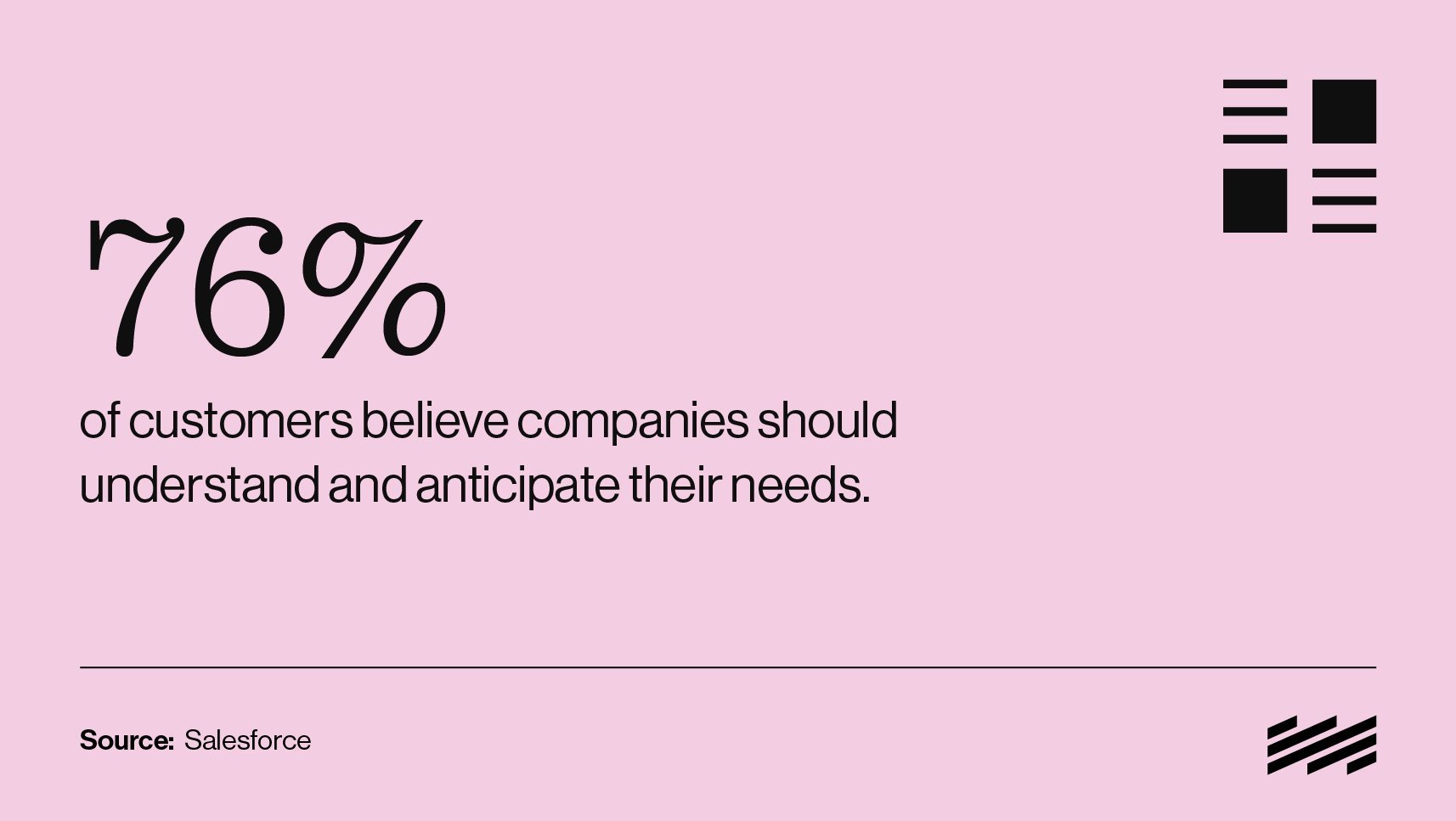 TL;DR
Customer experience is everything — and recent research only solidifies its importance.
A State of the Connected Customer report reveals that 76% of customers believe companies should understand and anticipate their needs. And, according to PwC, 59% of customers will abandon a brand after several poor experiences.
At the same time, Harvard Business Review estimates that it's up to 25 times more expensive to acquire new customers than retain existing ones. In fact, CallMiner reports that $35.3B is lost every year by U.S. businesses due to customer churn caused by avoidable customer experience issues.
The most important nugget of wisdom to take with you is that disparate data creates a disparate customer experience. If you're ready to deliver a relevant, cohesive experience at every stage of the customer journey, contact Mole Street today to dive deeper into your technology needs.