10 Questions With Erin Pearson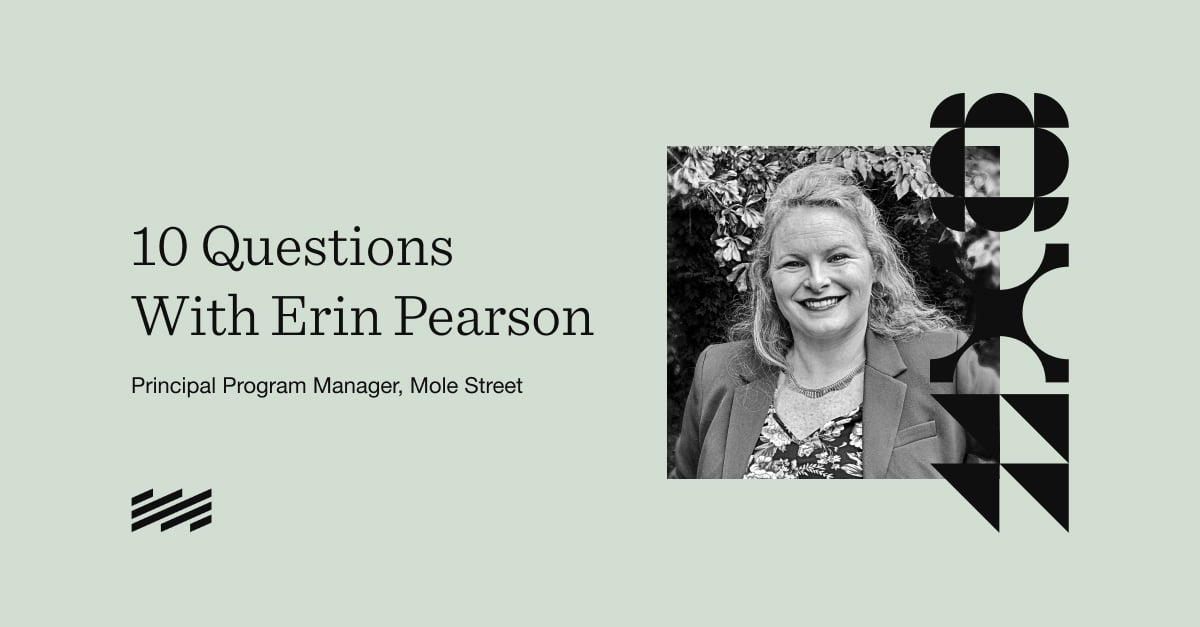 We're shining a spotlight today on one of our very own, Erin Pearson, Principal Consultant, Program Management for Mole Street. Erin leads cross-functional teams on business strategy and growth initiatives, bringing to bear her extensive experience in omnichannel marketing and communications. Let's get to know Erin and how she supports clients at Mole Street.
1. How would you sum up your expertise?
I serve as a trusted advisor, steering strategies aimed at optimizing an organization's presence across the digital ecosystem.
Central to this endeavor is the pivotal role played by a company's website. A harmonious integration between the website, marketing, sales, and service departments is crucial for generating revenue. My extensive background across these domains equips me with a comprehensive understanding. Leveraging this expertise, coupled with my proficiency in HubSpot, I offer strategic guidance to ensure clients set and achieve their growth-oriented objectives effectively.
Moreover, I specialize in lifecycle strategy formulation, crafting enduring digital frameworks that cater to the entire customer lifecycle. These holistic strategies are designed to bolster both conversion rates and customer retention, ensuring sustained success.
2. What type of work do you lead at Mole Street?
I act as a trusted client advisor, consulting with businesses on solutions to guide strategy and drive growth initiatives.
3. What types of clients do you support the most?
Medium-sized businesses focused on optimizing their digital experience for their employees and their customers.
4. What is a current project you're working on?
I'm guiding a large financial institution through a major digital transformation, migrating multiple systems into HubSpot while also leading their brand and website refresh. This major effort builds efficiency for all teams within their organization and provides a holistic picture of their audience to provide better insights and guidance to growth.
5. What do you enjoy most about your work?
I find real satisfaction in seeing my work make a difference.
I thrive when brainstorming and putting plans into action that actually move the needle for a business. It stimulates my creative side.
Moreover, witnessing the direct correlation between my efforts and the achievement of our goals keeps me hooked and fuels my passion for this field. The dynamic nature of the work keeps me engaged and motivated, allowing me to continually learn and adapt, which I find immensely gratifying.
6. What is your super power?
I take pride in my resourcefulness, akin to MacGyver's problem-solving approach (the original with Richard Dean Anderson). There is always a new challenge, be it optimizing digital strategies, cultivating seamless collaborations across departments, or discovering innovative methods to enhance online presence and drive revenue. These challenges keep me sharp (like a Swiss Army knife) and seeking creative solutions to achieve impactful outcomes is both fun and rewarding.
7. What's one Mole Street value that has special meaning to you? Why?
Accountability, because it's an important part in finding growth and success.
8. What's inspiring you now?
I find inspiration in stories, especially ones with character development and clever narrative. A recent story that comes to mind is "The Invisible Life of Addie LaRue" by V.E. Schwab.
9. What is one fun fact about you?
I find joy in traveling, entertaining, new experiences and also in doing nothing at all. I'm equal parts active and lazy and very happy with both of those parts.
10. Where can we catch more of your expertise?
I co-hosted this webinar with HubSpot that dove into best practices around website migrations. Check it out! We covered how to navigate the "unknown unknowns" that come with a CMS migration.