Zendesk HubSpot Integration: Step-by-Step Setup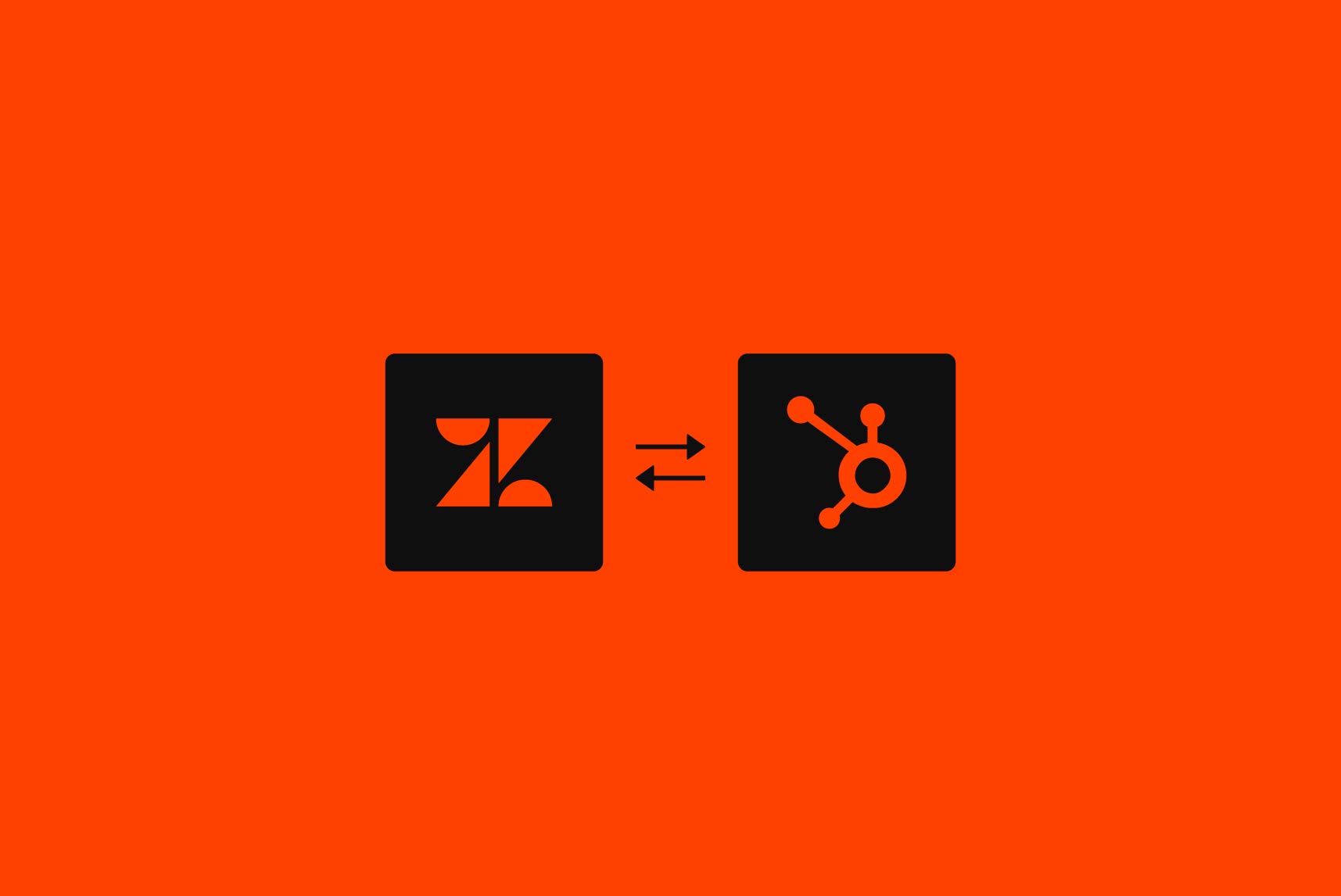 This step-by-step guide walks you through setting up and integrating Zendesk with HubSpot.
By following these steps, you can effortlessly connect customer data from Zendesk to Hubspot Contacts and Companies to create a truly centralized source of truth for how leads and customers behave throughout your pipeline.
How to Connect Hubspot and Zendesk
Every business has unique integration needs. Companies that need data to flow in real-time or under certain conditions, for example, benefit from fully customizable HubSpot and Zendesk integration options.
When connecting HubSpot to Zendesk, there are three integration routes for users to choose from. Each can work in conjunction based on the setup required to meet business goals, and include:
One-Way Sync: Data is only shared from Zendesk to HubSpot
Two-Way Sync: Data is shared between Zendesk and HubSpot in real time
Conditional Sync: Data is shared based on conditions set by the user
Each option requires its own setup process which we'll cover next.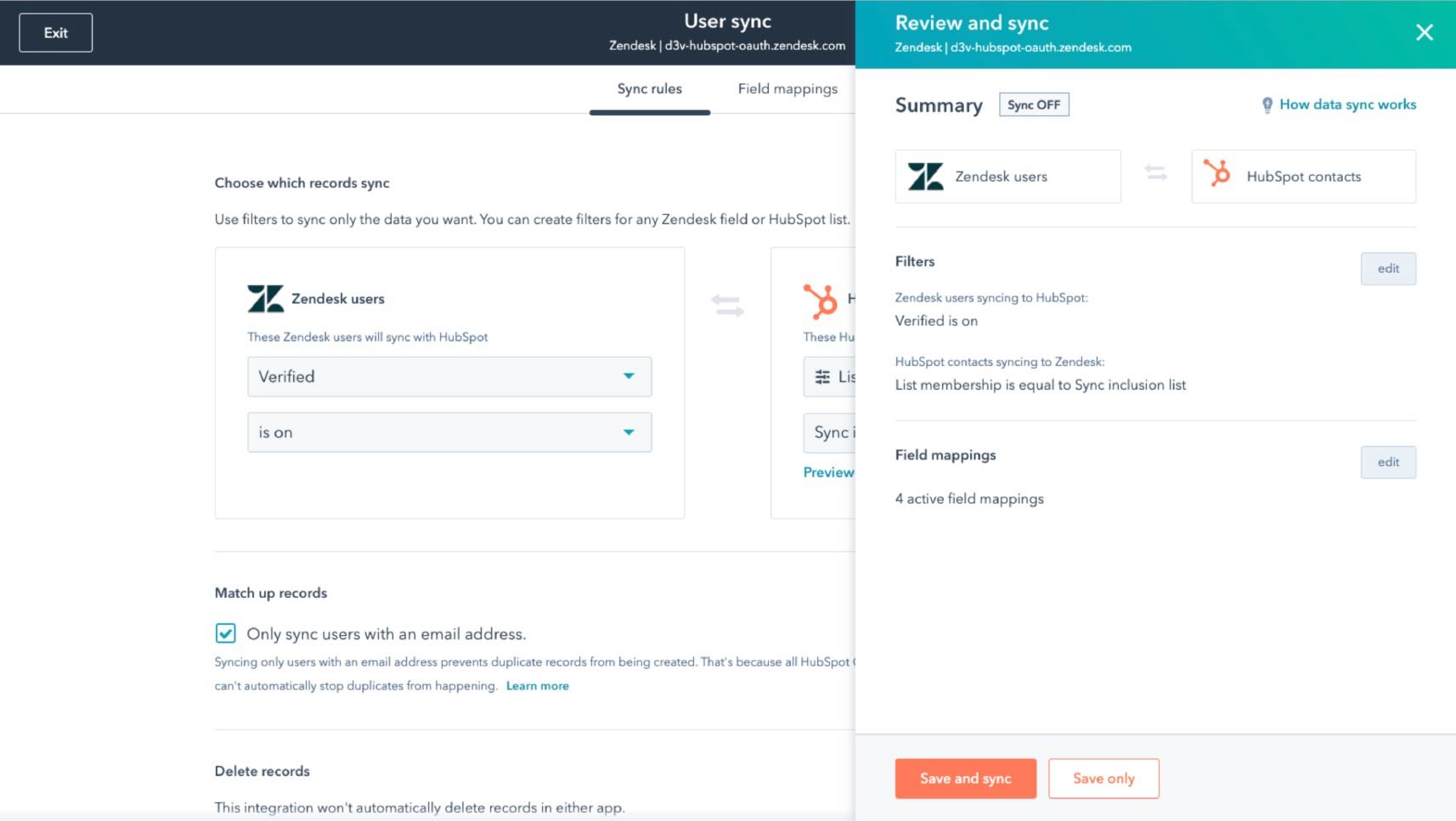 Complete Flexibility in Syncing HubSpot and Zendesk
Native Integration: One-Way Sync
The one-way sync of ticket information is a Zendesk-designed direct integration. When tickets are created in Zendesk — as well as when they are updated or closed — the update will push over to HubSpot as a timeline event for the contact with the associated email address. If a contact does not already exist for that email, one will be created.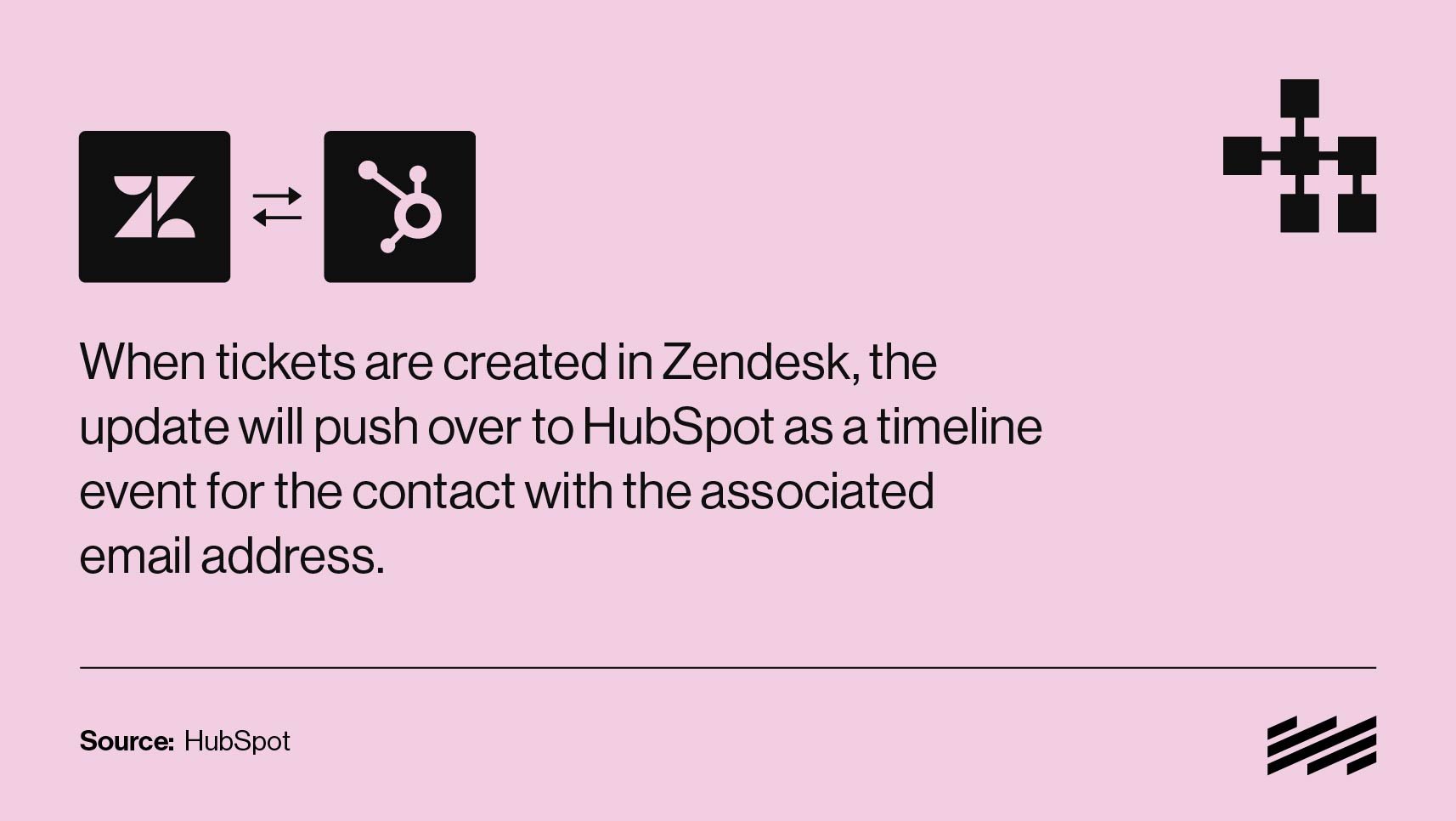 How to connect the integration:
Enter your Zendesk subdomain
Authorize the Zendesk app
Allow access to the HubSpot app
Authorize Zendesk to use your data
A few things to note:
This will not sync HubSpot data to Zendesk, only Zendesk data to HubSpot.
This will not create or sync Ticket objects, it will only create a timeline activity on a Contact object.
Zendesk chat is not integrated with HubSpot (i.e it will not create HS Conversations). You can put Zendesk chat onto HubSpot pages using the embed code if desired.
This will not fully sync users from Zendesk, but if the requester for a new ticket is not in HubSpot as a Contact, a new contact will be created (with the requester's email address, not their name).
Data Sync: Two-Way Sync
This is a HubSpot-created integration that operates as part of the HubSpot Data Sync tool. This two-way integration will sync HubSpot Contacts with Zendesk Users and HubSpot Companies with Zendesk Organizations. This can be used in conjunction with the native one-way integration.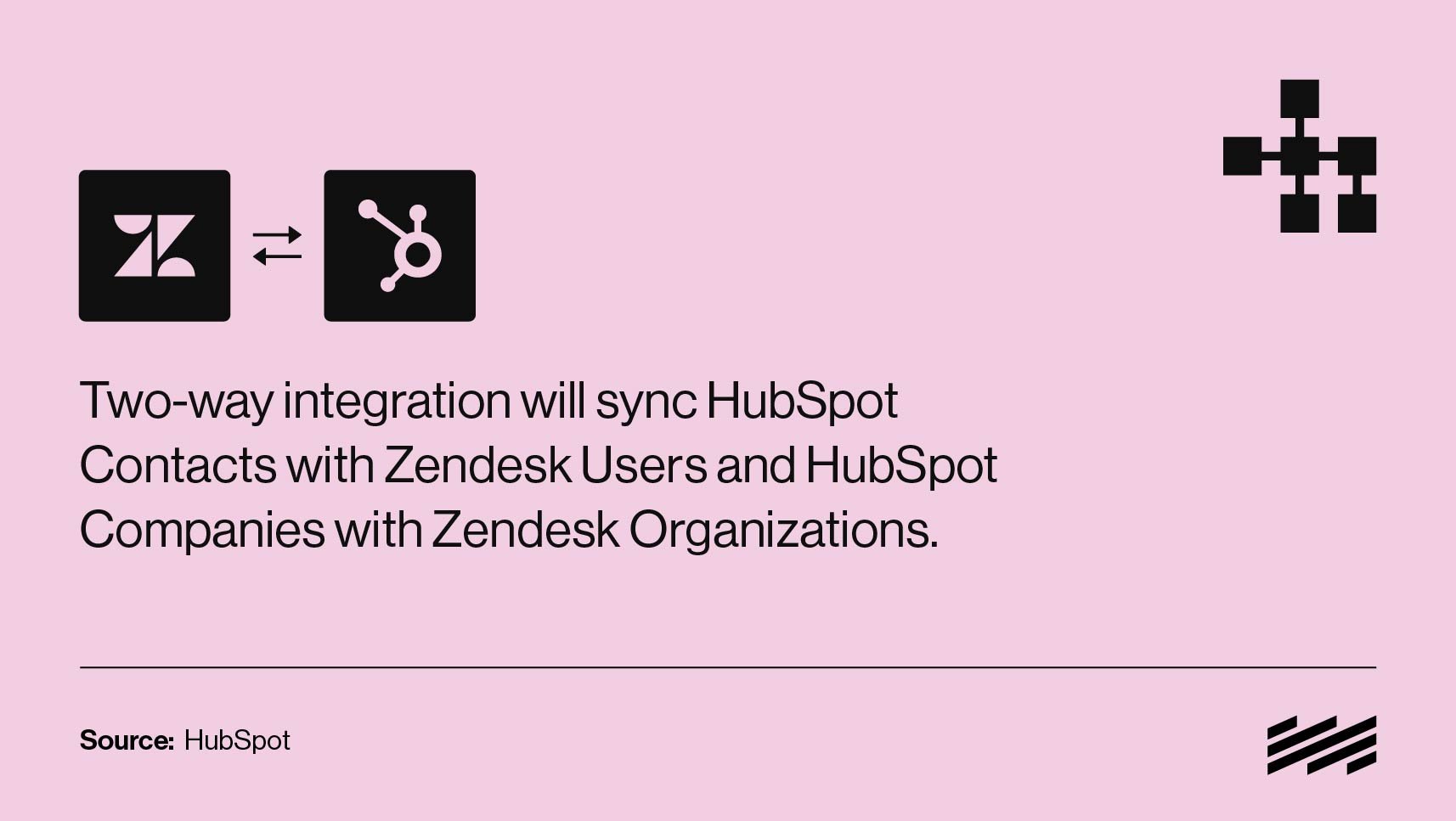 How to connect the integration:
In your HubSpot account, click the Marketplace icon marketplace in the main navigation bar, then select App Marketplace.
Search for and select the app you want to connect to.
In the top right, click Install app.
In the dialog box, log in to your app account.
Review the requested access permissions, then click Allow. You'll then be redirected back to the app page in your settings.
A few things to note:
Operations Hub is required to customize the field mappings. The defaults are name, email, phone number, and associated company for Contacts/Users; Name and Domain for Companies/Organizations. Any other HubSpot properties would require Operations Hub in order to be synced with Zendesk.
Tickets are not synced.
Third-Party iPaaS Options: Conditional Sync
Zapier and similar iPaaS applications can connect HubSpot and Zendesk in more creative ways by utilizing their respective APIs. For example, a HubSpot support form submission can be configured to create a Zendesk ticket, or a new HubSpot ticket could create a corresponding Zendesk ticket (or vice-versa).
Zapier and similar solutions have an additional cost associated with them. The full possibilities of this option are dependent on the available triggers and actions for both apps.


Popular Hubspot Zendesk Workflows
The following are the most widely used workflows for HubSpot to Zendesk integrations:
Create Zendesk Tickets From New Hubspot Form Submissions
Update Hubspot Contacts From New Zendesk Tickets
Add Contacts to Hubspot From New Users In Zendesk
Update Zendesk Tickets When Hubspot Properties Change
Add Contacts to Hubspot Workflows From Zendesk Tickets

Supported Triggers and Actions
Triggers
New Company: triggers when new company is available.
New Contact: triggers when new contact is available.
Company Recently Created or Updated: triggers when a company recently created or updated.
Contact Recently Created or Updated: triggers when a contact recently created or updated.
Line_item Recently Created or Updated: triggers when a line_item recently created or updated.
Product Recently Created or Updated: triggers when a product recently created or updated.
New Deal: triggers when a new deal is available.
New Email Event: triggers when all, or some specific new email event is available.
Email Subscriptions Timeline: triggers when new email timeline subscription added for the portal.
New Engagement: triggers when new engagement created.
Actions
Add Contact to List: adds a contact to a specific static list.
Create Company: creates a Company in HubSpot.
Create Contact: creates a Contact in HubSpot.
Create Associations: creates associations between objects.
Create Calendar Task: creates a new calendar task.
Create Engagement: creates a new Engagement for a contact in HubSpot.
Create Social Media Message: creates and immediately publishes a message on a specified social media channel.
Create Deal: creates a Deal in HubSpot.
Add Contact to Workflow: adds a contact to a specific workflow.
Get Company: gets a Company.
Follow this link for a full list of triggers and actions possible through the Zendesk to HubSpot integration.
HubSpot Zendesk Integrations Tailored to Your Business
No matter what your Zendesk Hubspot integration goals are, we'd love to help you meet the challenge. We understand the frustrations associated with improperly configured integrations. This is why so many of our clients come to us, as an experienced HubSpot Solutions Partner, to ensure that critical integrations are done right the first time.
We'd love to help your team get set with the right Zendesk HubSpot integration for your goals. Have any questions about the HubSpot Zendesk integration? Schedule a call with one of our HubSpot Consultants today.