Salesforce to HubSpot Migration: What to Consider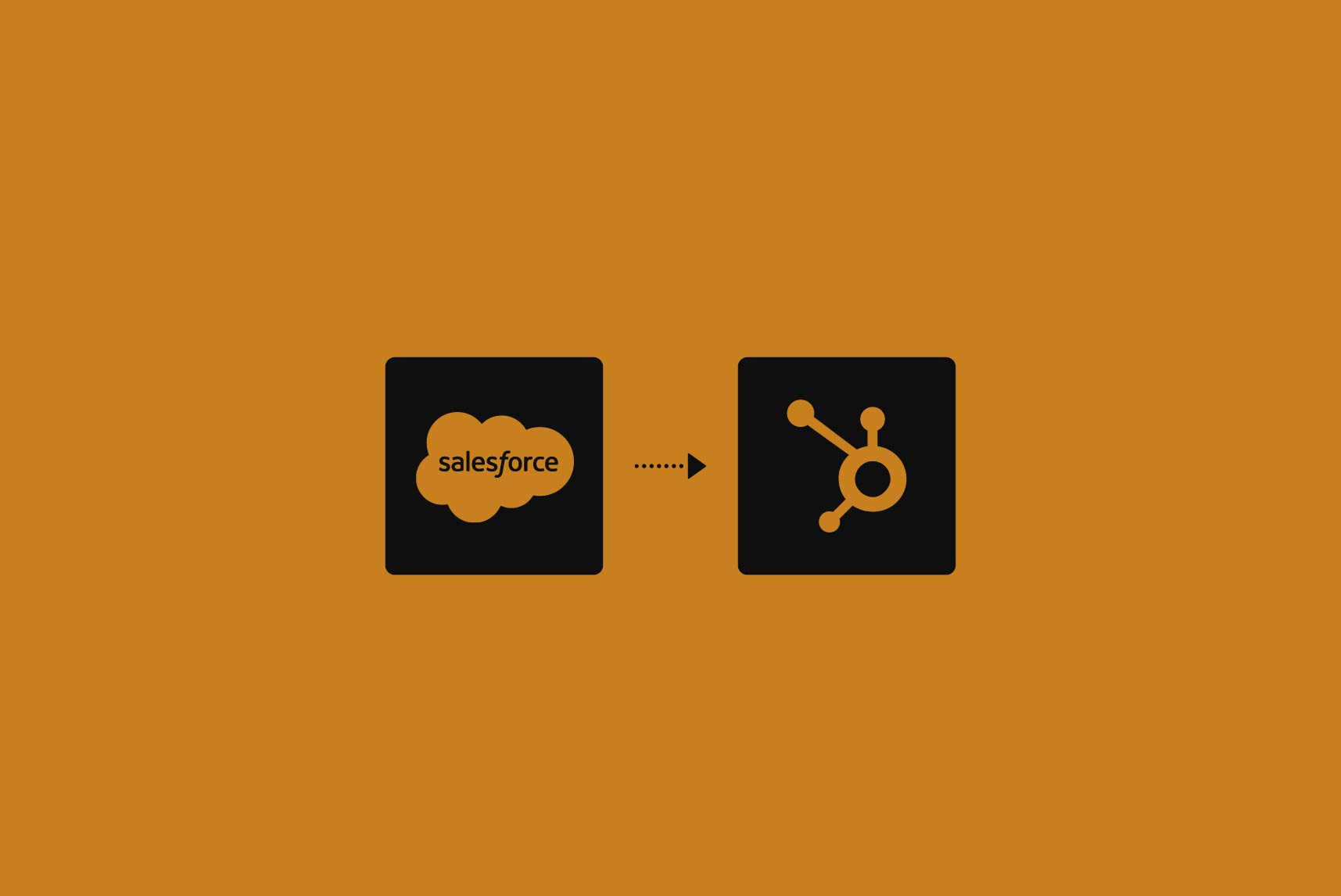 Why Salesforce vs Hubspot?
Ten years ago, scaling businesses assumed there was only one CRM option: Salesforce. But today, a decade later, marketing and sales leaders have several viable options to choose from. HubSpot continually ranks at the top of the CRM list, which isn't surprising, especially considering the company's commitment to customer support, product innovation, and multiplying use cases spanning countless industries and customers.
What are some of the advantages of choosing HubSpot over Salesforce? User experience is a great place to start. Dubbed, "Powerful, not overpowering," HubSpot makes simple tasks like logging a call or creating a new custom property faster, easier, and more intuitive than the experience on Salesforce.
For sales and customer service teams, this means greater adoption and utilization of the CRM. Even more compelling? HubSpot's robust and free Knowledge Base and Academy feature training and support resources, including:
Video courses
Articles
Interactive content
Certifications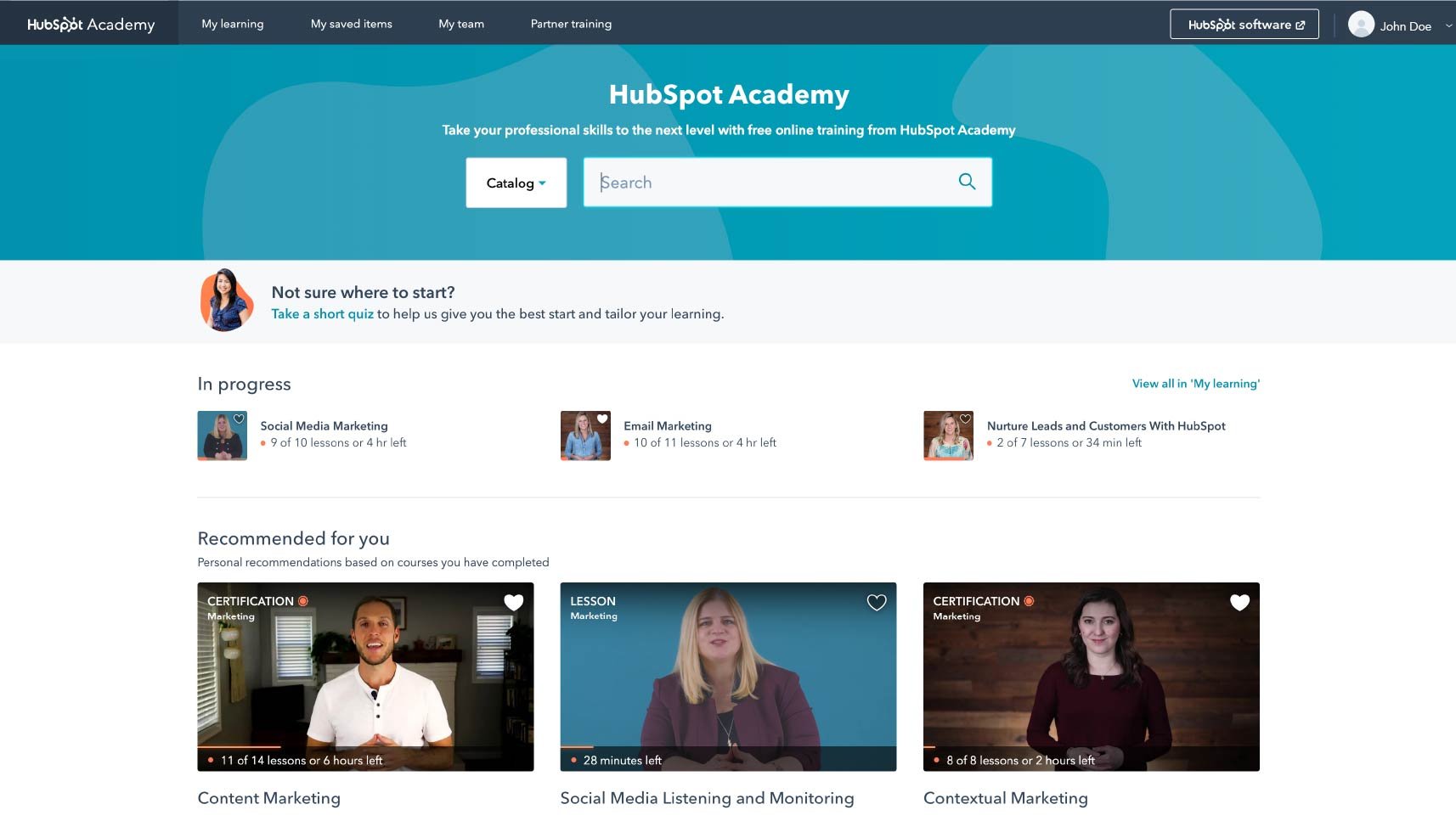 On the back end, HubSpot's platform exists under the same umbrella, meaning its different Hubs (Marketing, Sales, Service, CMS, Operations) are all built on the same underlying code base. Salesforce, in contrast, builds its suite of products by acquiring companies. Which means each of its offerings is built with unique coding structures that are cobbled together under the Salesforce umbrella after the company is acquired and absorbed into the Salesforce platform.
Rather than combining a series of disparate systems and technologies along the original core CRM (Salesforce), HubSpot's uniform code base allows for a simple to use, reliable CRM that empowers scaling businesses to align marketing, sales, operations, and service teams. The result? Accurate attribution data that informs easy-to-understand reporting and analytics dashboards. Instead of spending time learning the complex architecture that Salesforce requires, HubSpot customers get the core tools needed to start reporting on results and drawing actionable insights immediately.
HubSpot is well-reviewed for being user-friendly. Operations and IT teams find it easy to set up and employees are empowered to make changes without having to rely on IT. HubSpot's developer-friendly API is flexible and currently features over 500 native integrations that work out-of-the-box.
Ready to Switch to HubSpot? Do it the Right Way
If you're considering a move from Salesforce over to HubSpot, there are two routes to making it happen.
1. Hubspot-Led Migration
You can work directly with HubSpot's onboarding team. They'll guide you on best practices and share resources on how to migrate the data — but you'll need an internal technical team that is experienced in data migration (or willing to learn). HubSpot's onboarding team will NOT migrate data for you.
2. Partner-Led Migration
You can opt to work with an outside certified HubSpot solutions partner that can take a more active role in the CRM migration. Partners are able to extend your team's bandwidth, or dig in and do the heavy lifting for you, while also providing user training, onboarding, and consulting. By developing a strategic migration plan that takes your specific business objectives into consideration, they can help ensure data is migrated accurately without interruption to your business operations, and that your team is up to speed on how to use your new HubSpot CRM.
How to Prepare to Migrate from Salesforce to Hubspot
Create a Change Management and Communications Plan
When switching from Salesforce to HubSpot, an important (and often under-indexed) aspect of a CRM migration revolves around the people who will be affected and involved in the change. Getting team buy-in and communicating your migration plans and objectives is a critical part of switching to a new CRM. Solicit feedback and field questions from as many relevant stakeholders as possible to ensure, from the outset, that all process and data considerations are reviewed prior to migration work kicking off.
Organize and Plan Out Your Records Migration
After communicating the change internally, you'll want to identify all data elements that will be moved over to the new CRM. Answering these questions can help you start organizing your data:
Which exact types of information (fields, properties, etc.) related to your Contacts and Companies will you migrate?
Is there an existing pipeline of sales opportunities that will be moved over? How are the lead stages identified and created in the current system?
Which Lists and Campaign labels need to be transferred over to HubSpot?
Will you need to map associations between varying CRM records as part of your data migration?
Do you have Custom Objects in Salesforce that you want recreated in HubSpot?
Do you have Customer Journeys or any other internal automated workflows running that need to be recreated in HubSpot?
Run a Pre-Migration Data Cleanse
Purge unnecessary, out-of-date data, including inactive contacts, unused properties/fields, and old email templates or nurture workflows.
Export a CSV file of any Closed/Lost Opportunities you want to keep record of, even if you won't be migrating them.
Run a check for duplicates on all records you'll be migrating: Contacts, Companies/Accounts, Deals/Opportunities.
If you plan on keeping Salesforce CRM and integrating with HubSpot Marketing Hub:

Will the data flow in both directions (known as a "two-way sync") on creation of a Contact record and other subsequent Contact activities? Or will data flow in only one direction?
If a contact is deleted in one system, should it automatically be deleted in the other?
Will you be trying to pass Closed / Won Opportunities in Salesforce to HubSpot in order to build Multi-Touch Attribution Reports in HubSpot?
Map Out Your Data
Before beginning any of the technical work required to migrate your company from Salesforce to HubSpot, it's crucial to have full visibility into all the different systems that will be involved once your data is moved over to HubSpot CRM.
Using flowcharts or some type of visual aid, you'll need to map out your data by displaying all of the systems your team is using, which data properties will be syncing to the new system, and what direction(s) that data will be flowing. Other items to factor in with your data mapping include:
Defining which system is considered the source of truth for reporting purposes
Establishing which triggers will initiate the data exchange from one system to another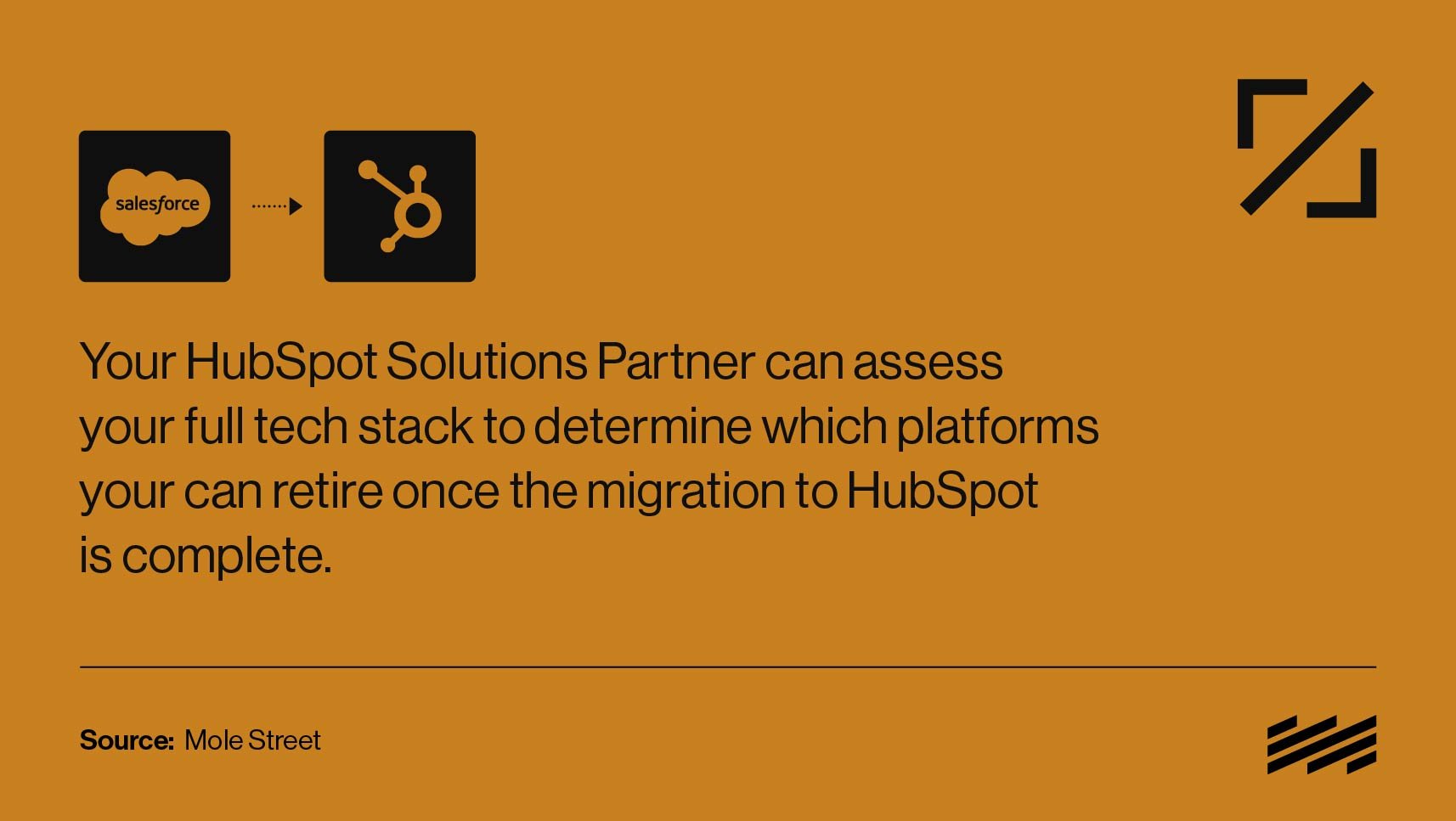 Reassess Your Tech Stack
If you've made the decision to migrate from Salesforce to HubSpot, there may be additional opportunities to consolidate or optimize the technologies your business subscribes to.
Many customers don't realize the variety of different features or use cases that HubSpot can solve for. By working with a HubSpot Solutions Partner, you can assess your full tech stack and determine which softwares/plugins you can retire once the migration to HubSpot is complete.
Migrate the Data
There are two paths you can take to accomplish the actual migration of your company's data. The first path employs the official Salesforce <> HubSpot integration, which requires both systems to be running simultaneously. More information can be found here: Import Salesforce records
The second option is to download a single (or multiple) CSV file and import the file(s) into HubSpot manually.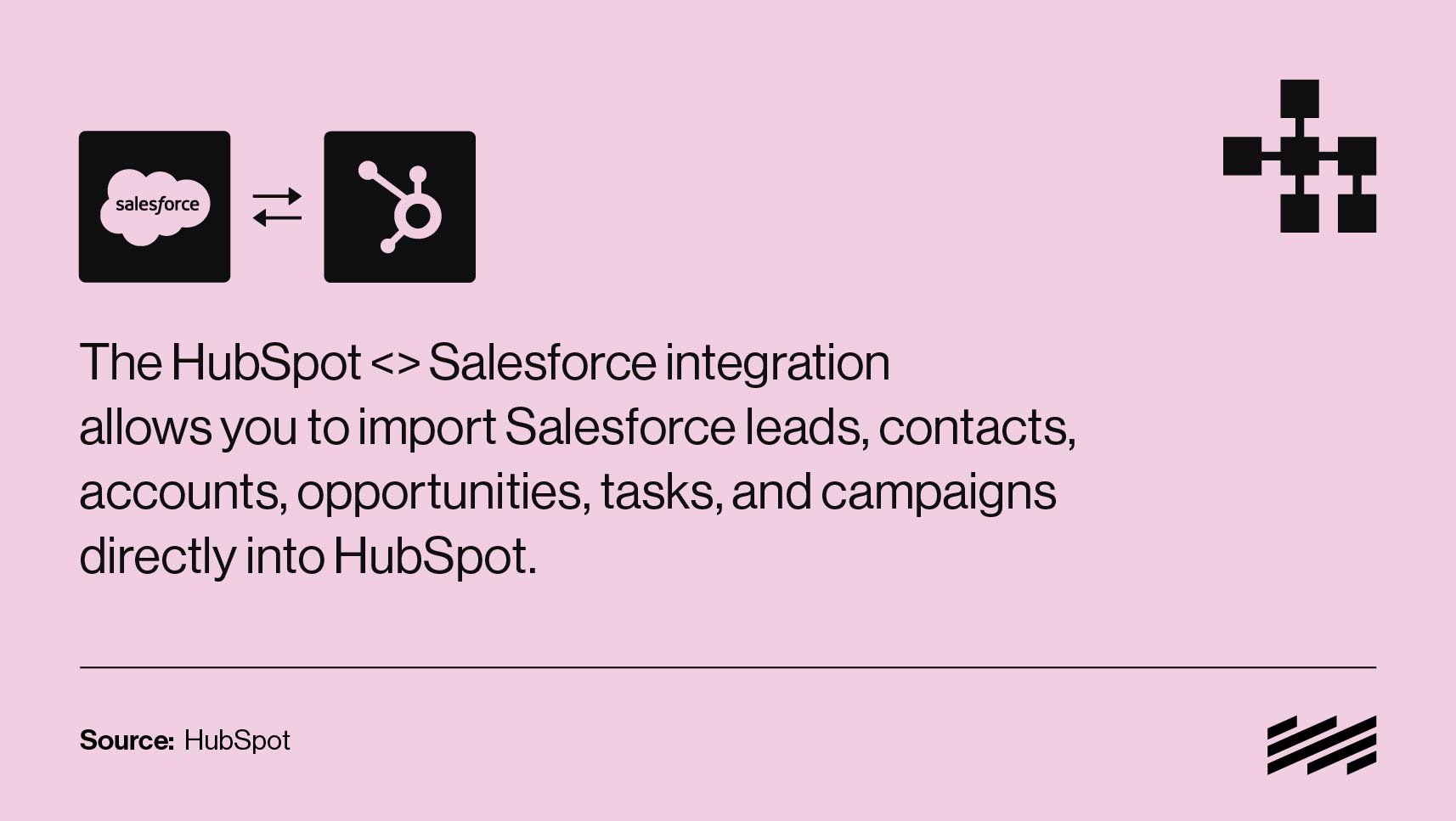 Optimize Workflows with Automation
After the data has been entered into HubSpot, you can use the Workflows tool in a variety of ways. Workflows can be used to trigger internal process automations, as well as external communications or actions with your Contacts. You can apply Workflows to clean or organize your data in the HubSpot CRM, or to build or recreate different automated steps in your customer journey. Before beginning Workflow builds, you should start with a strategic plan that identifies all of the necessary Workflows — as well as specific triggers to initiate an automation — and the exact actions and elements required to complete the Workflow successfully.
Define, Build, and Modify Necessary Reports
During the transition, you can pull data from HubSpot's Custom Reporting tools to make sure there aren't any gaps of coverage in reporting out on sales and marketing activities. Your HubSpot partner can build custom reporting dashboards to track the metrics that matter to your team and business — from sales/contact attribution to website analytics and more. By integrating Google Analytics to HubSpot, users can review pertinent data from both sources on one single screen.

Create a Backup Export
Before any technical work begins, you'll want to back up all of the data to be transferred. It is best practice to create a backup dataset of all key data you plan to migrate from Salesforce to HubSpot. Doing this will help your team catch any irregularities that might occur during migration (typos, loss of data nuance, human inputting error, etc.) so you don't lose any data for good.
Estimate the Migration Price
The cost of migration will first depend on how you choose to migrate the data (see "Ready to Switch to HubSpot? Do it the Right Way" section above). If you opt to work with a HubSpot partner, it is important to first identify the quantity and types of CRM data you plan to migrate. A migration projection that involves 50,000 contacts and 10 email sequences will be far less complex than a project with 1M+ contacts, dozens of email automations, hundreds of internal or process-related automations, complex mappings, and numerous integrations to other third-party systems.
Set Your Team Up for Success
There are several compelling reasons to make the switch from Salesforce to HubSpot. Whether Salesforce is too complex for your team to manage without the aid of a Salesforce administrator, you've faced struggles in attempting to implement the platform to its full use case over multiple years, or you're ready for a more nimble, intuitive user experience for your marketing team and sales reps — there are many reasons why companies are making the leap.
Whatever your reason, our team of expert HubSpot Consultants and Implementation Specialists can help you rip off the bandaid and migrate your data to HubSpot in a timely, strategic, organized way. Our team is familiar with the intricacies of data migration and experienced in setting up the Salesforce <> HubSpot integration when appropriate. And once you're fully moved over, we're able to train and show your team all the best practices for their specific job function so you get the most out of your new CRM investment.
Are you about to make the switch from Salesforce to HubSpot? Reach out to us today!