HubSpot CRM Integrations: The Ultimate Guide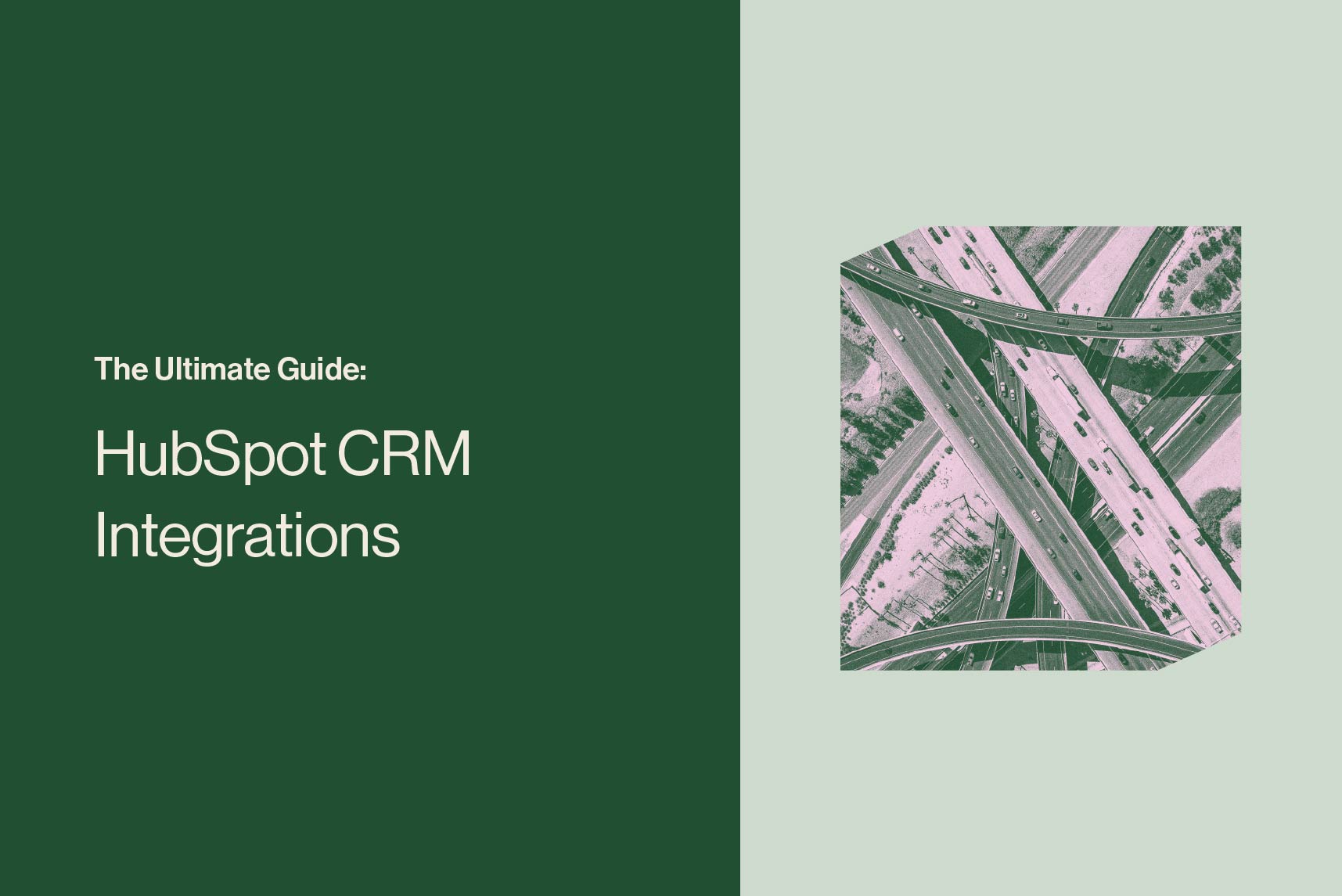 While the standalone capabilities of the HubSpot platform are powerful, greater value emerges when it's integrated with other tools. HubSpot CRM integrations play a pivotal role to expand the core functionalities of HubSpot, ensuring that businesses have the tools they need to achieve their goals.
HubSpot CRM integrations can seem complex. We break it all down to help businesses understand why and how to integrate other tools with HubSpot. The following guide covers the most important integrations we've used in partnering with high-growth organizations.
What Are HubSpot CRM Integrations (and How Do You Get Them)?
HubSpot integrations are the bridge connecting the HubSpot platform with myriad other systems. There are primarily two types of HubSpot integrations: marketplace integrations and custom integrations.
Marketplace integrations are pre-constructed solutions, either developed by HubSpot or third-party organizations. These integrations are certified by HubSpot and largely plug-and-play, allowing users to easily connect other platforms or tools to their HubSpot account.
Custom integrations require a more tailored approach. Businesses might opt for custom solutions when they have specific needs that aren't addressed by the available marketplace integrations. In these cases, collaboration with a development team or an agency, like Mole Street, becomes necessary to design and develop the custom integration.
Getting a HubSpot integration is a straightforward process. It depends on the type of integration you're interested in – marketplace or custom. Here's a quick overview of the steps to get a HubSpot integration.
How to Get an Integration from the HubSpot App Marketplace:
Research. Visit the HubSpot App Marketplace. Browse the available integrations, filtering by category, integration type, or specific business needs.

Choose. Once you've identified an integration that fits your needs, click on it for more details.

Install. On the integration's detail page, click the 'Install' or 'Get App' button. The process typically involves granting permissions and linking accounts.

Configure. After installing, you may need to configure the integration based on your business needs. This could involve setting up sync preferences, mapping fields, or defining workflows.
How to Build Custom HubSpot Integrations:
Identify needs. Determine what specific needs you have that aren't met by existing marketplace integrations.

Resource the effort. If you don't have an in-house development team, consider hiring a supporting resource experienced with HubSpot.

Develop and test. The developer or agency will develop the integration, ensuring it communicates seamlessly between HubSpot and the other system. Rigorous testing is vital to ensure data integrity and functionality.

Implement. Once tested, the custom integration is deployed in your HubSpot environment.
Why Use HubSpot CRM Integrations (and Who Needs Them)?
Nearly any business can find value in integrations. They are virtually fundamental to HubSpot deployments. HubSpot CRM integrations eliminate the tediousness of switching between multiple platforms. They simplify tasks, automate actions, sync data, consolidate processes – the list goes on! To summarize, there are three primary reasons a business would use a HubSpot integration.
User-based integrations. This type of integration ensures that team members have the right information when they need it. By consolidating data from different tools into a singular view, businesses empower their employees to make informed decisions promptly. For instance, with the Zendesk integration, a sales or support representative can instantly see the history of tickets raised by a customer they're communicating with. This immediate access to information can lead to better interactions and resolutions.

Process-based integrations. Streamlining and automating routine tasks can significantly enhance operational efficiency. With process-oriented integrations, businesses can eliminate redundant steps, reduce the chances of human error, and save time. The HubSpot email logging integration is a good example. Instead of manually updating each email interaction into the CRM, the integration ensures that email communications are automatically logged. This automation ensures that the CRM remains up-to-date without imposing additional tasks on the users.

Reporting-based integrations. Data-driven decision-making requires a comprehensive view of metrics. Reporting integrations pull together data from multiple sources to provide a holistic view of performance, operations, and customer interactions. For example, integrating Shopify with HubSpot can let a company cross-reference purchase data with customer interaction timelines. This combination of datasets enables businesses to derive insights about purchasing behavior, time-to-purchase, and other key trends.
As you can probably see, HubSpot CRM integrations are instrumental to enhancing user capabilities, automating processes, and improving data analytics and insights.
What Are Some of the Most Popular HubSpot CRM Integrations?
The HubSpot App Marketplace is brimming with integrations to choose from. We would write a book if we covered them all! Instead we've curated some of the most popular and effective integrations that likely can address your business need. And, if the standard integrations fall short, there is always the custom route as we described above.
Without further ado, here's a closer look at some of the most popular HubSpot CRM integrations.
Top HubSpot CRM Email Integration Options
Connecting HubSpot with another email system lets you easily sync email conversations, track email performance, and score and segment your contacts.
Outlook HubSpot CRM Integration
With HubSpot's CRM integration with Outlook, you can track and sync email communications, log conversations directly in your CRM, and gain immediate access to insights right in your inbox. It alleviates manual data entry, ensuring timely follow-ups and a coherent record of interactions with prospects and customers.
ActiveCampaign HubSpot CRM Integration
One- or two-way sync is possible from ActiveCampaign to HubSpot. This integration shares contacts, companies, and opportunities between ActiveCampaign and HubSpot in real time. For instance, whenever a contact is added or updated on ActiveCampaign, the details will be sent to HubSpot automatically, updating the matching contact or creating them if they don't exist yet.
MailChimp HubSpot CRM Integration
The email marketing prowess of MailChimp combines with HubSpot. This integration simplifies audience segmentation and personalized marketing. You can monitor subscriber behaviors, synchronize contact lists, and develop campaign strategies based on your CRM data for more personalized outreach.
Top HubSpot CRM Social Media Integration Options
Social media integrations reveal key insights about target audiences from both paid and organic efforts, and help streamline and automate posting.
HubSpot CRM Facebook Integration
HubSpot's Facebook integration comes into play if you're running Facebook ads. The integration syncs leads from your Facebook ads to HubSpot, allowing you to better track the user journey from Facebook to your website and see richer data about your leads. The data lets you better refine ad targeting and optimize campaigns based on CRM-derived insights.
HubSpot CRM LinkedIn Integration
Tailored for B2B businesses, the HubSpot-LinkedIn integration lets you view LinkedIn insights on your contact and company records in HubSpot. You can also send InMails directly from HubSpot.
HubSpot CRM X (Formerly Twitter) Integration
With the HubSpot-Twitter integration, you can manage your Twitter, now X, presence from HubSpot. Publish tweets, develop a social calendar, and bulk upload tweets that can be set to automatically post on your specified dates and times.
Top HubSpot CRM Sales Integration Options
These integrations are central to sales enablement efforts.
HubSpot CRM Salesforce Integration
Salesforce is HubSpot's most popular, longest standing, and most robust integration. While many businesses consolidate their sales and marketing efforts completely onto the HubSpot ecosystem, others are using HubSpot to support marketing, and Salesforce to support sales. In this case, the integration is table stakes for syncing data, eliminating manual data transfers, and gaining cohesive management and measurement of prospect and customer interactions.
Here at Mole Street, we build the HubSpot-Salesforce integration often for our clients. Because businesses need to map specific data fields and choose a source of truth, the integration can be complex and technical, which is right in our wheelhouse.
Related Read - Salesforce to HubSpot Migration: What to Consider
HubSpot CRM Microsoft Dynamics Integration
Integrating the HubSpot CRM with Microsoft Dynamics unites marketing automation with robust CRM functionality. This connection drives a two-way sync of contact, company, and deal data, enriching customer profiles and enabling personalized engagements. Sales teams gain deeper insights into customer journeys crafted in HubSpot, while Dynamics users benefit from enriched lead data.
HubSpot CRM QuoteWerks Integration
The HubSpot-QuoteWerks integration aligns the proposal and quoting process with customer relationship management. Users can generate quotes directly within HubSpot, pulling product and pricing information from QuoteWerks. With real-time quote delivery and status tracking, sales teams can follow up effectively, while the management gains visibility into the quoting pipeline for better forecasting.
HubSpot CRM PandaDoc Integration
Streamlining sales document processes becomes a breeze with the HubSpot-PandaDoc integration. You can generate proposals and contracts right from HubSpot, and flow in deal data. You can then send the document from HubSpot and manage signatures.
HubSpot CRM Dropbox Sign (formerly HelloSign) Integration
Using Dropbox Sign? HubSpot integrates with that, too. HubSpot's Dropbox Sign integration lets you send a contract from within HubSpot, auto-fill data from HubSpot properties directly into templates, and see a contact's interactions with the contract.
Top HubSpot CRM ERP Integration Options
HubSpot offers many critical integrations to successfully connect enterprise resource planning (ERP) platforms.
HubSpot CRM NetSuite Integration
The HubSpot-NetSuite integration connects HubSpot's marketing, sales, and service data with NetSuite's enterprise resource planning (ERP) capabilities. Automated workflows can trigger actions between platforms, aligning sales and accounting while providing detailed analytics. Custom field mapping and bi-directional data flow support tailored solutions for complex enterprise business processes.
HubSpot CRM Epicor Integration
There are a number of integrations that connect the HubSpot CRM with Epicor. These integrations let businesses sync their ERP data with HubSpot customer information and interactions. For instance, businesses can sync Customers from Epicor to HubSpot as a Company, and sync Companies from HubSpot to Epicor as a Customer. Changes made to Epicor and HubSpot are updated simultaneously. Significant customizations are available to meet the needs of enterprises across myriad industries.
HubSpot CRM Odoo Integration
The HubSpot CRM and Odoo integration connects HubSpot's inbound marketing platform and Odoo's suite of business applications, including sales, inventory, and project management. Default field mappings help businesses begin setup quickly, with significant customization possible with Operations Hub Starter and up.
Top HubSpot CRM Customer Success Integration Options
Similar to sales enablement, customer success is another major area where HubSpot offers several robust integrations.
HubSpot CRM Zendesk Integration
The HubSpot-Zendesk integration is another popular integration that we handle at Mole Street, usually for large enterprise organizations that may have different tech stacks across departments. The HubSpot-Zendesk integration combines Zendesk's ticketing capabilities with HubSpot's CRM insights. It syncs ticket data, tracks user interactions, and provides a holistic view of the customer, ensuring proactive and personalized support.
Related Read - Zendesk HubSpot Integration: Step-by-Step Setup
HubSpot CRM Sakari Integration
The Sakari integration for the HubSpot CRM provides a robust SMS messaging solution directly within the HubSpot platform. Users can send and receive text messages to contacts, using HubSpot's contact lists for targeted, personalized communication. The integration supports marketing efforts with SMS campaigns, sales engagement with quick follow-ups, and customer service with timely updates.
HubSpot CRM OneSignal Integration
HubSpot CRM's integration with OneSignal enhances the ability to engage customers through targeted push notifications. By connecting OneSignal's mobile and web push notification services with HubSpot's contact data, businesses can deliver personalized messages based on user behavior and preferences. The integration allows for automated notification campaigns triggered by user actions and segmented based on HubSpot data.
HubSpot CRM Slack Integration
I'm a big fan of the HubSpot-Slack integration. You can get HubSpot notifications, so no critical CRM update goes unnoticed. You can also search and create HubSpot records, and reply to live chat conversations—directly within Slack.
HubSpot CRM Drift Integration
The HubSpot-Drift integration lets you push data from Drift conversations to HubSpot. Businesses can sync contacts, view the HubSpot contact record while chatting with the contact in Drift, and then tailor follow-up outreach based on a certain activity, like viewing your pricing page. You can also create workflows or send emails based on Drift conversations.
How Do You Integrate Apps with HubSpot?
As you can tell, there are a plethora of HubSpot integrations out there, developed to suit myriad business needs. So how should you start to integrate a given app with HubSpot? Get organized. Integrating apps with HubSpot, at its core, is an exercise of organization. Here are some tips to streamline the process.
Never lose sight of your goal. For instance, say your objective is to generate better reports using data across tools, to guide certain decision making. Be sure to plan for report creation once the integration is complete. Bake this part into your project plan and timeline, so your organization is aligned with you on the intention and expected results of the integration.

Spend 60% to 75% of your integration effort on data identification and mapping. Examine the data in the platform you're aiming to integrate. Determine which pieces of information need to be transferred to HubSpot. Identify specific fields from the source platform and map them to their corresponding fields in HubSpot. This step is vital to the success of your integration.

Allot for data validation and cleanup. Dirty data is inevitable. You'll likely encounter duplicates or partial data during your integration project. This makes the cleanup step indispensable. Create a sandbox, test, and validate the data. Ensure that the data being moved to HubSpot is accurate, complete, and actionable.
Integrating apps with HubSpot requires meticulous planning, execution, and validation. While the process might seem daunting, you'll find success by taking a purposeful and structured approach.
How Do Integrations Work with HubSpot's API?
HubSpot's API is the lynchpin of all integrations – whether out-of-the-box integrations available in the marketplace, or custom integrations. The process always anchors to HubSpot's API, for two reasons.
First, the connection via the API ensures that integrations are standardized. Regardless of who is creating the integration — whether it's Salesforce or a niche software company — the way they pass data to and from HubSpot remains consistent.
Second, when businesses think of building a custom integration or even manually migrating data via the API, they can be assured they're leveraging the same robust mechanisms as any of the major integrations available in the marketplace.
While the API is the necessary bridge between platforms, HubSpot's API documentation is also vital to empowering developers. It's like having a detailed manual for building a bridge between two islands. The way Salesforce, for instance, communicates with HubSpot, based on this "manual," can guide other developers and businesses wanting to achieve similar integrations.
Where Can I Find Developer Support for HubSpot Integrations?
There are several great resources for developer support for HubSpot integrations.
Creator or provider of the integration. They often have specialized knowledge about how their product interacts with HubSpot and can provide assistance.

HubSpot Developer Slack Community. This channel is ideal for developers who want more in-depth support or to engage with a broader community. Developers can share their challenges, ask questions, and get advice from peers who have faced similar issues.

HubSpot expert or technology consultancy. Sometimes the goals and challenges are too vast and complex for a solo developer or a small team. In these cases, partnering with a HubSpot expert or a specialized consultant can be critical to success. They bring in-depth knowledge and experience, to guide you through the nuances and ensure that your integration meets your business goals, runs smoothly, and avoids costly pitfalls.
HubSpot integrations for mid and enterprise organizations are a major part of our work at Mole Street. We encourage you to learn more. Explore Mole Street's HubSpot integration services. Put our HubSpot Technical Consulting team to work enabling communication between HubSpot and your marketing, sales, and customer success tools. Schedule a time to discuss your project with us. We're happy to help!