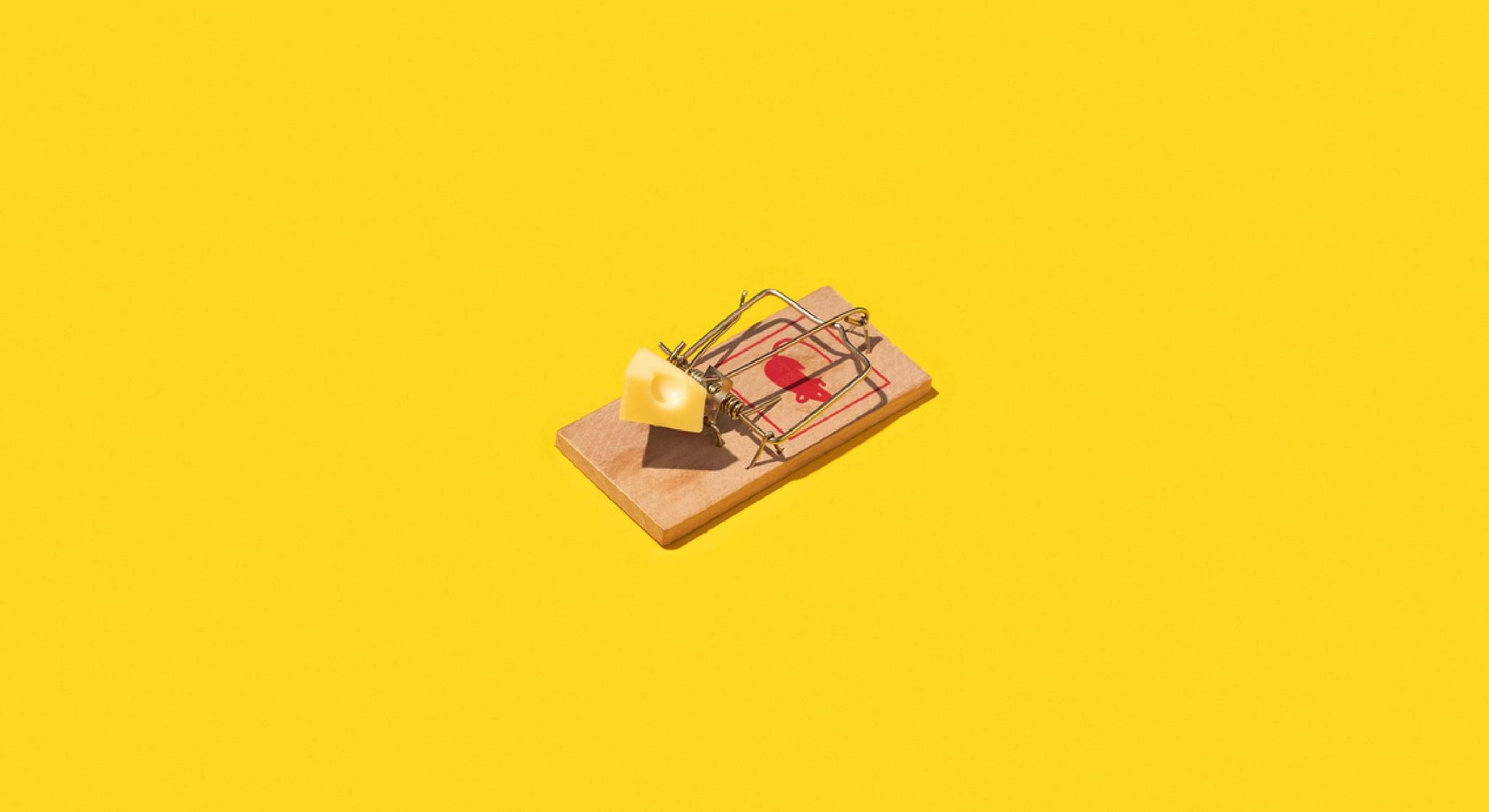 Get Started with HubSpot's SEO Tools
Originally published September 2020. Updated August 2022.
Does this sound familiar? Your content marketing strategy has had some fits and starts.
You've got dozens of posts on your blog – some of which are ranking for relevant keywords and bringing in organic traffic – while others could certainly use a tune-up.
You've been able to convert a good portion of your website visitors into contacts through content offers, but are certain you could convert more with better traffic and a bigger overarching strategy.
Your marketing team relies heavily on data from Google Analytics and lacks visibility into "what's working."
It's time to tie your strategy together with a fully-realized SEO strategy that boosts your website's domain authority, captures more qualified traffic, improves time on page, and assigns intent and lifecycle stages to each and every page on your website.
Untapped SEO potential is an enormous opportunity cost for your company. Organic search makes up more than 50% of web traffic sources, and if your company can improve its SEO standing, you can see that share of traffic increase without taking away from the net traffic number from other sources.
To get the ball rolling, you can start addressing some of these opportunities by incorporating SEO into your content marketing strategy with the free tools, lessons, and resources available with HubSpot.
In this post, we'll speak on some of the best HubSpot SEO tools – what they are, how to use them, and how they can be a benefit to your company's marketing strategy.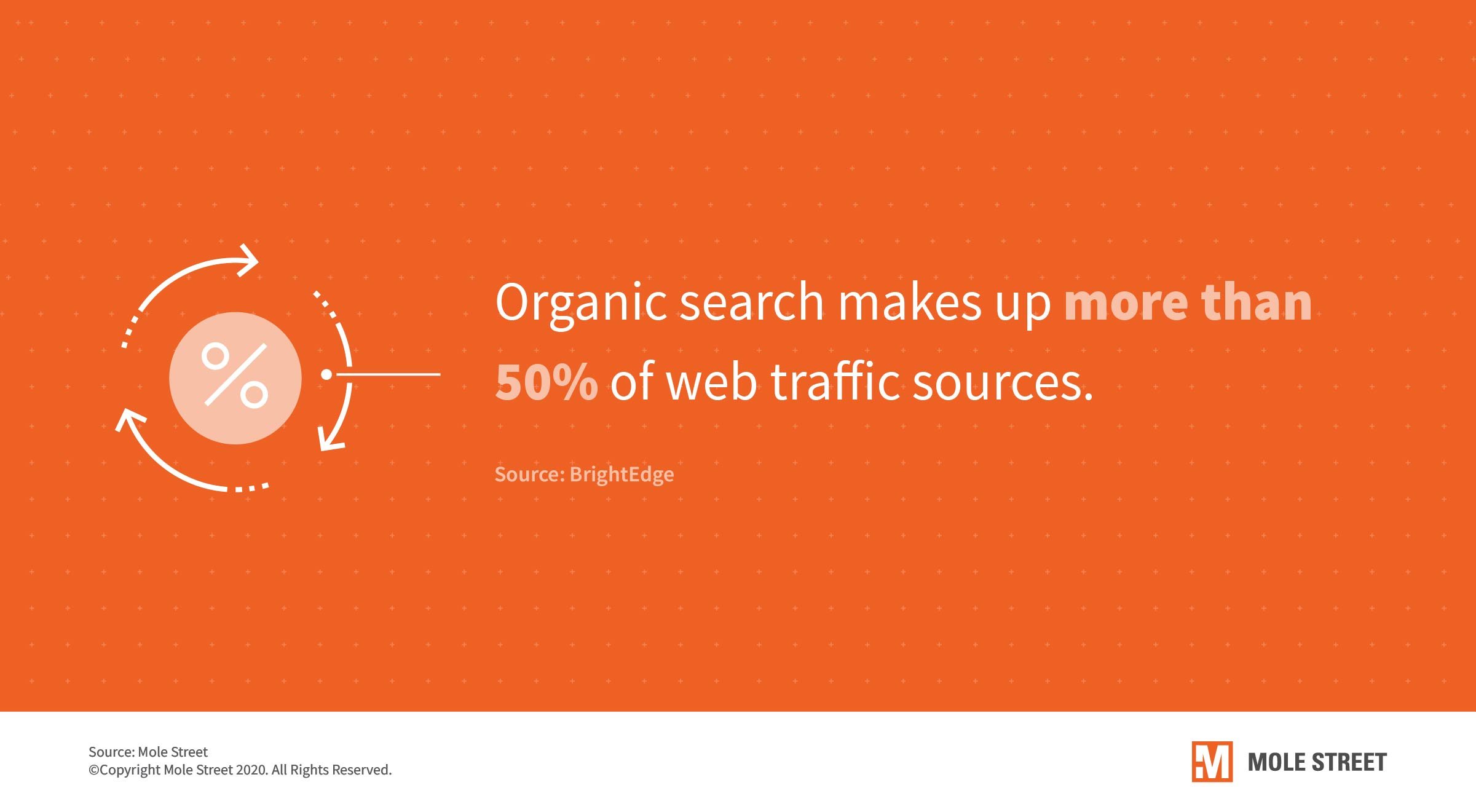 Is HubSpot Good for SEO?
The HubSpot platform is full of features that are great for SEO. The HubSpot Marketing Hub includes a built-in SEO tool, while its CMS Hub lets you build website pages with reminders to help you optimize each page for search. There are also free resources that your marketing team can learn from, such as the HubSpot Website Grader tool and free SEO courses on HubSpot Academy. Our favorite HubSpot SEO tools – which we'll go over in detail below – are:
HubSpot Website Grader
HubSpot SEO Tool
Optimize Panel
Free SEO Resources
SEO Training Courses
SEO Blog Content
Let's start off with a baseline on how strong your site is from the perspective of key website elements. HubSpot's Website Grader is a free online tool that generates personalized reports based on the following key criteria:
Performance. The tool will analyze your site's page size, requests, speed, and key SEO metrics.
Mobile Readiness. The tool will check if your website is equipped to serve mobile users the best experience.
SEO. The tool will determine if your website is easy to find – both by humans and search engines. It checks for factors like page index, meta descriptions, content plugins, and descriptive link text.
Security. The tool will check if your site is secured for your users. It checks to see if your site runs securely on HTTPS and has secure javascript libraries.
By using this tool, your opinion on your website will either be affirmed or invalidated – but either way, the Website Grader provides you with specific areas of improvement in all of the categories above, which you can then forward to your website team.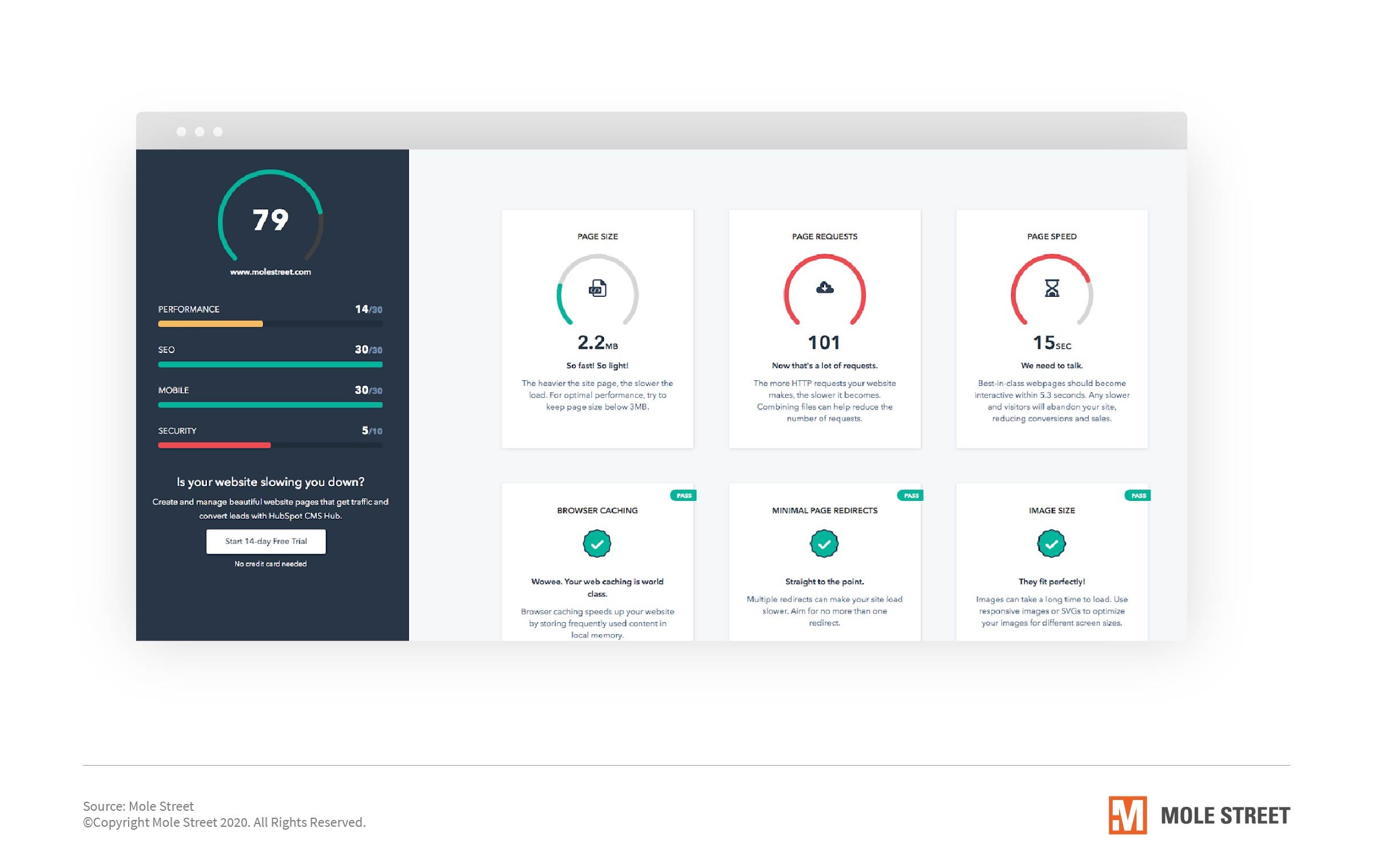 How to Use the HubSpot Website Grader
Head on over to https://website.grader.com/.
Enter your company's website URL alongside your email address.
Almost immediately, your website score from 1 to 100 – alongside a detailed overview of your website's strengths and areas of opportunity – is presented to you.
Review the Performance section. Note which areas have room for improvement – factors like page speed and image size can have a significant effect on SERP ranking and bounce rate due to the quality of user experience.
Review the SEO section. Like in the section above, note if anything is performing poorly.
Review the mobile section. With mobile traffic steadily on the rise, you'll want to see if Website Grader flagged any issues your mobile website visitors are facing.
Review the Security section. Search engines want to send users to safe and secure websites, so see if you have the proper boxes checked here.
Go over your recommended next steps. Website Grader lists out the most impactful changes your website team should make immediately for stronger SEO and a better website experience.
Users of HubSpot's SEO Marketing Software have access to a suite of features in the SEO Recommendations tool to improve search engine optimization for all pages hosted on your website. However, those with a Marketing Hub Professional or Marketing Hub Enterprise account will have access to the SEO Topics SEO keywords tool as well. We'll explain how to use both of these tools below.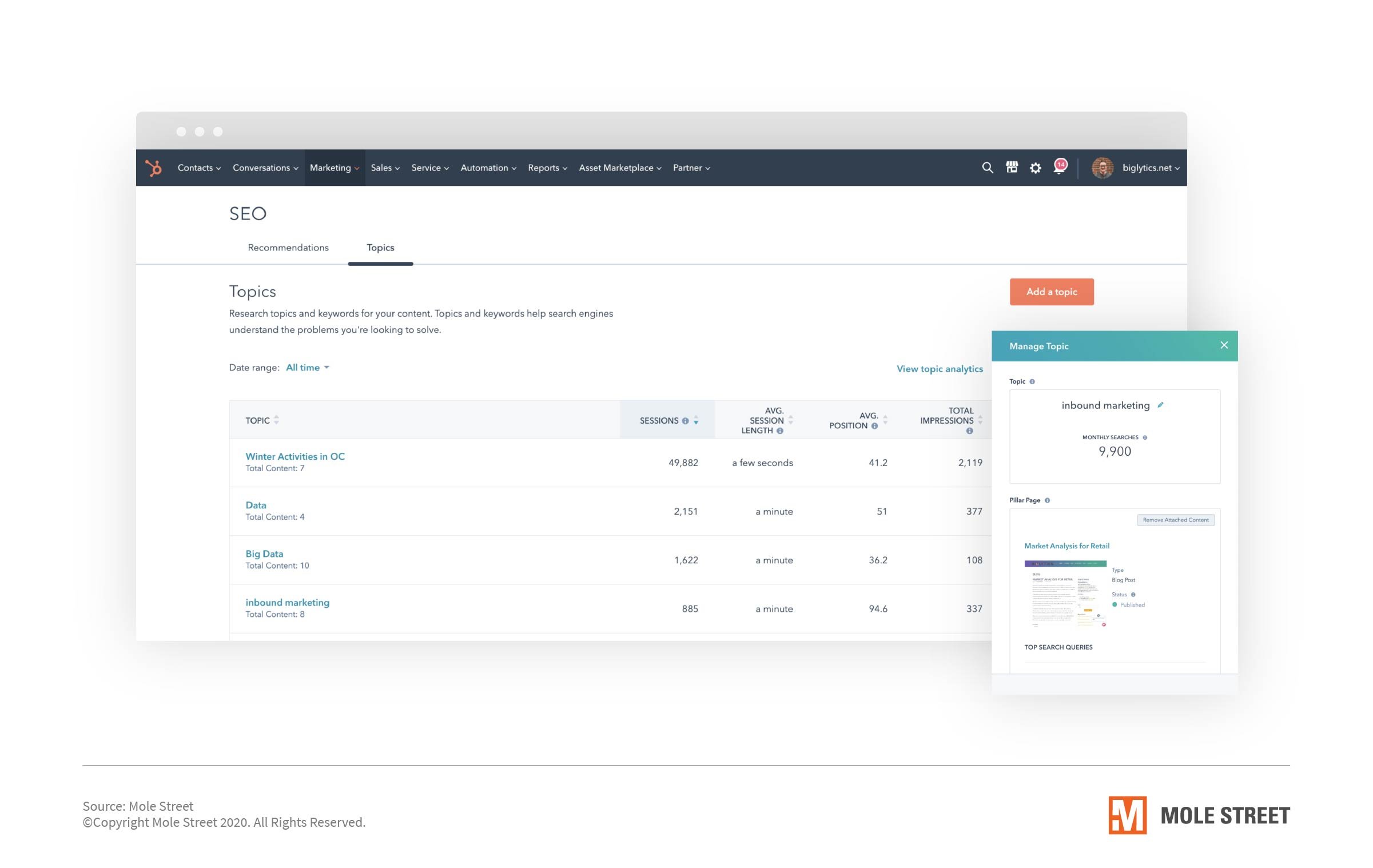 How to Use the HubSpot SEO Recommendations Tool
Access the SEO Recommendations tool by navigating to "Marketing" > "Planning and Strategy" > "SEO."
Click "Recommendations."
Choose the domain for which you want to see SEO recommendations.
Click "View Recommendations" to see an all-inclusive list of action items
Bonus Perk: These recommendations are organized by priority to help your team focus on high-impact improvements first.
Click "View Pages" to single out which pages have opportunities that need to be addressed.
Click "Fix in Editor" and make the outlined changes to your website pages.
Check out up-to-date instructions from HubSpot, in addition to how to optimize content that is not hosted on HubSpot.
How to Use the HubSpot SEO Topics Tool
Navigate to "Marketing" > "Planning and Strategy" > "SEO."
Click "Topics," then "Add a Topic."
Enter the topic that you want to write about, then click "Add." Relevant SEO metrics such as MSV and keyword difficulty will appear for you to review and consider.
To add a keyword to the tool, click the button next to the term, then click "Create Topic."
Your blog posts are more effective when part of a pillar page, so if you plan on associating a cluster post with a pillar, follow these steps.
Click "Attach Content URL."
In the "Pillar Page" search bar, type the URL or blog post name of the pillar page you want to assign this post to.
If you want to assign the keyword to a new pillar page, click "Create a Post," choose a content type from the dropdown, enter the title of your new pillar page, and click "Create."
Check out up-to-date instructions from HubSpot on how to use the HubSpot SEO Topics tool.
Related Read - How to Choose the Best Keywords for SEO: 5 Tips
3. Optimize Panel
The Optimize Panel is a feature in the HubSpot content editor. The tool flags a variety of potential SEO issues before somebody on your team publishes or updates a blog post or website page. You won't have to do any navigating outside of the editor for the page you want optimized here – this is a feature on all pages to give you post-specific optimization ideas.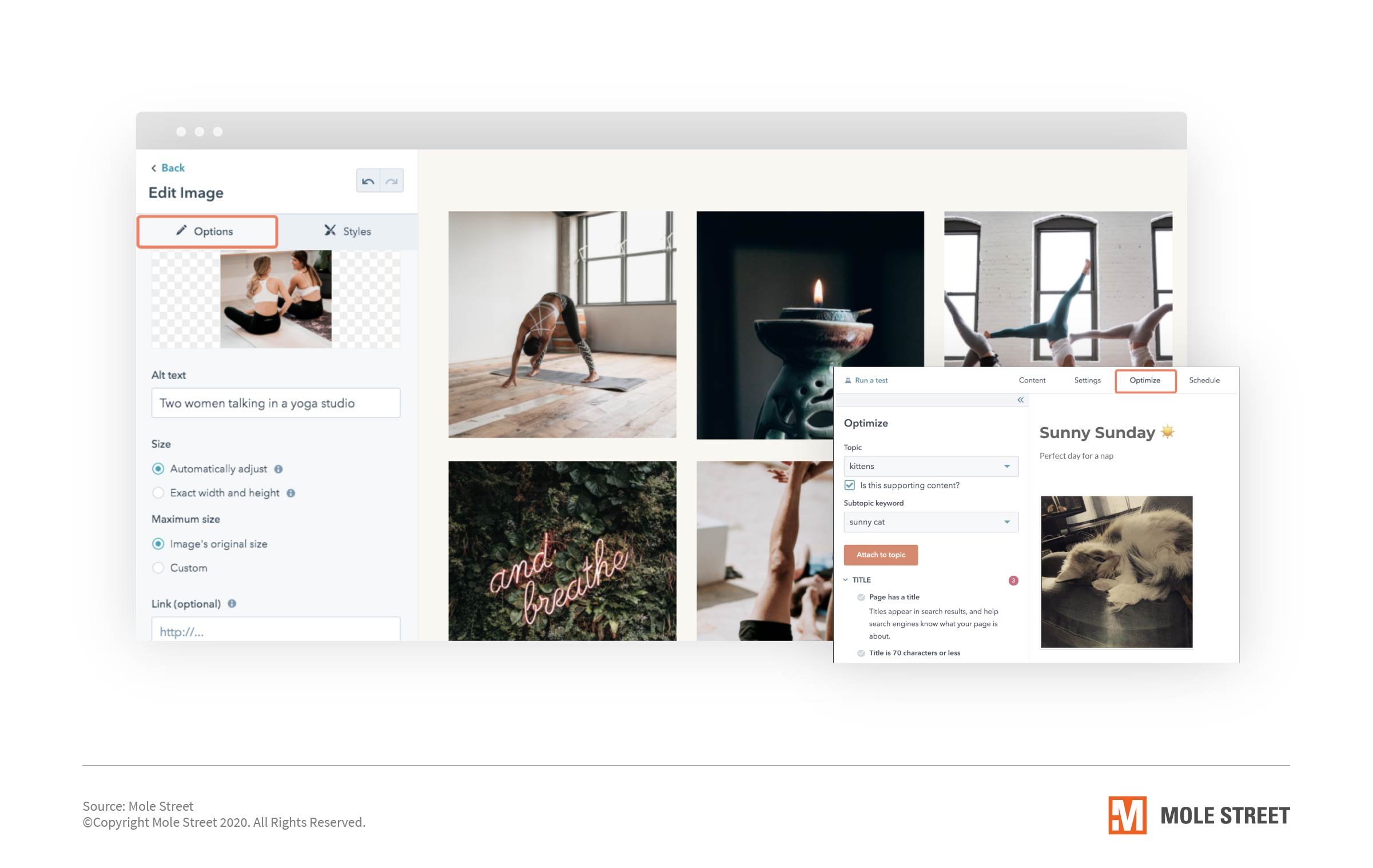 How to Access the Optimize Panel from a Page or Post
Go to the blog or website page which you want to optimize for SEO.
Click "Edit" to access the back-end of the page.
Click "Optimize."
If you see red next to any of the dropdowns, click the dropdown to see what improvements need to be made.
Attend to the lingering SEO issues and then publish or update the page.
Check out this page for up-to-date instructions on the Optimization Panel from HubSpot.
On top of the resources available to HubSpot users and customers, HubSpot has also made multiple free resources – like kits, templates, guides, and ebooks – available to those who aren't currently utilizing HubSpot software.
These resources compile industry-leading insights into an actionable piece of content for your team to learn from and customize in a way that's best suited for your business.
You can review their entire library of SEO-related content offers – but if you're short on time, here are a few of our favorites.
Technical SEO Glossary: For the emerging SEO specialist that needs to get more comfortable with terminology, this glossary defines important ideas in layman's terms.
HubSpot Academy might be known best for its Inbound Certification, but it also offers students the chance to become well-versed in all things SEO.
The flagship HubSpot SEO Course, SEO Training Course: Building Sustainable Traffic for Business Growth, is only an hour long – but packs in fifteen videos over the course of three lessons, teaching you:
How to Find the SEO Strategy that Fits Your Business
Link Building for SEO: Scaling Your Backlink Strategy
How HubSpot Uses Blogging to Rank #1 on Google
Aside from this course, HubSpot Academy offers several other SEO lessons. Among those most helpful include:
Building a Guest Blogging Strategy Powered by SEO
Optimizing Your WordPress Site for Better SEO
The Fundamentals of an Effective SEO Content Strategy
Each of these courses and lessons is less than an hour long, meaning your team can strengthen its SEO skill in a matter of minutes.
Also, did we mention every course on HubSpot Academy is free?
The HubSpot Blog is known for its industry-leading content in the Marketing field – particularly with regard to the topic of search engine optimization.
HubSpot has published dozens of blog posts about SEO, providing rundowns and step-by-step walkthroughs of some of the most essential SEO topics.
HubSpot is always posting new SEO-related content to its Marketing Blog (so take a moment to subscribe!), but we've rounded up a few of the posts we've found most helpful in learning more about search engine optimization best practices:
Best Practices for SEO
Outside of HubSpot, there are other resources, tools, and articles to help you improve your website experience and rank higher in search engine results pages.
We've covered the topic of SEO extensively on the Mole Street Blog – here are some of the posts we think will be most beneficial to your organization's marketing strategy:
How to Build a Content Marketing Strategy: Discover how SEO and blogging roll into a grand content marketing strategy for your business, as well as some steps you can start taking immediately.
Improve Your SEO Strategy
To truly scale your SEO initiatives and generate more ROI from your website, consider working with a growth marketing agency like Mole Street. We're well-versed in SEO and help companies test and analyze SEO marketing strategies that work for them.
As a HubSpot Agency Partner, we're also equipped to help you make the most of your HubSpot software and utilize the HubSpot SEO tools and resources to better your business. Learn more about how Mole Street can help your company.
>> Have you yet to realize the ROI from your HubSpot Professional or Enterprise software plan? We can help! Explore our HubSpot Consulting Services.