As any good salesperson will tell you: "Words matter."
And, as any good SEO will tell you: "Keywords matter most."
That's because the entire success of your inbound marketing strategy and sales depend on your choice of keywords for Search Engine Optimization (SEO).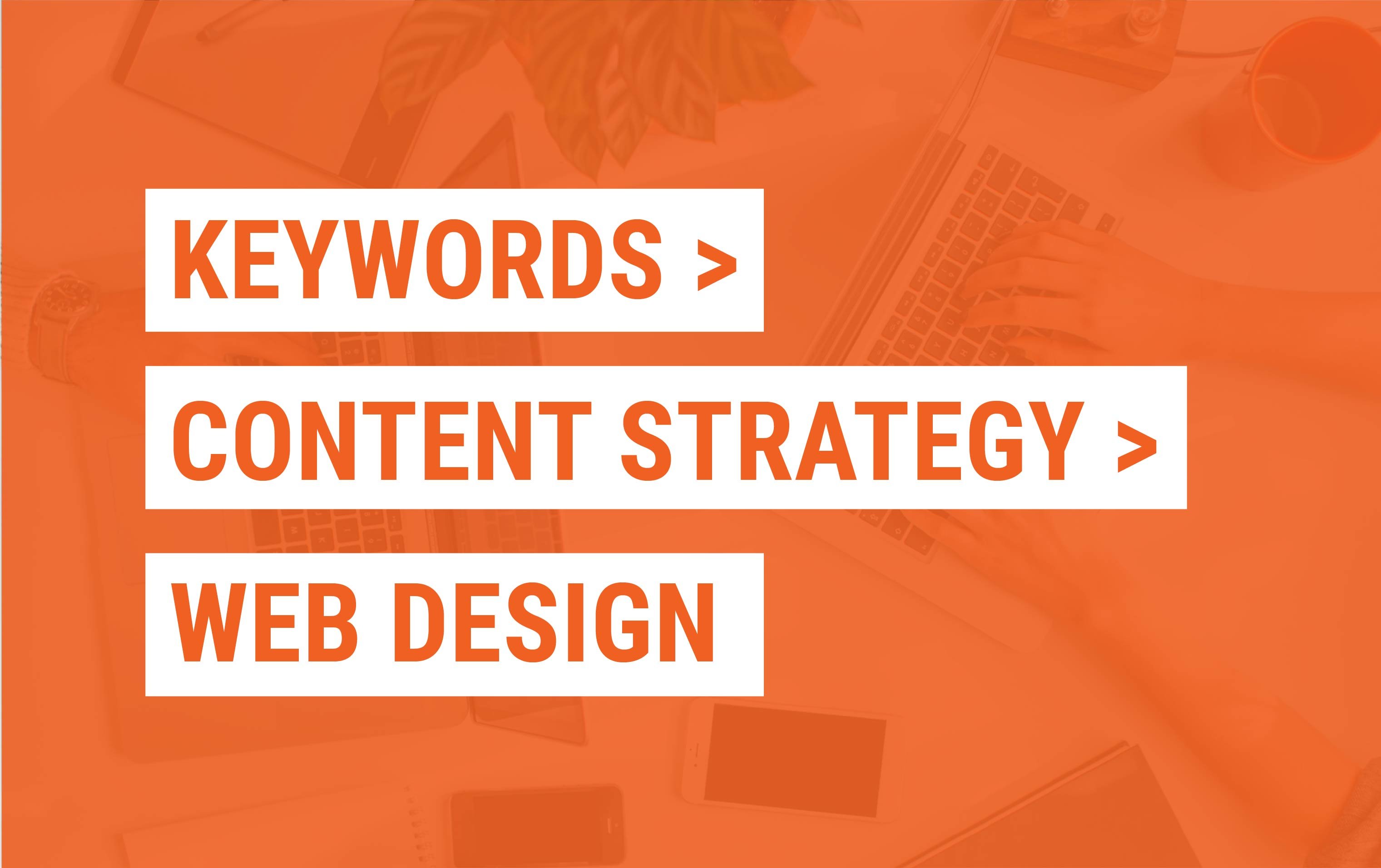 You see, despite what most people think – the ones not ranking on the first page – keywords are really the first thing you should consider before designing your website and content strategy.
Why, you may ask?
Well, because sales matter. Right?
At least, we think so.
As a growth marketing company, Mole Street is built on the premise of connecting marketing to sales. And we can assure you keywords are still hugely important to growing your organic traffic.
What this means is, while the words you choose to persuade a customer can be the difference between making a sale vs. not making a sale, your choice of keywords for SEO can literally be the difference between someone finding you online vs. online obscurity.
To help put the reason why into perspective, just consider some of these eye-opening SEO statics for organic searches: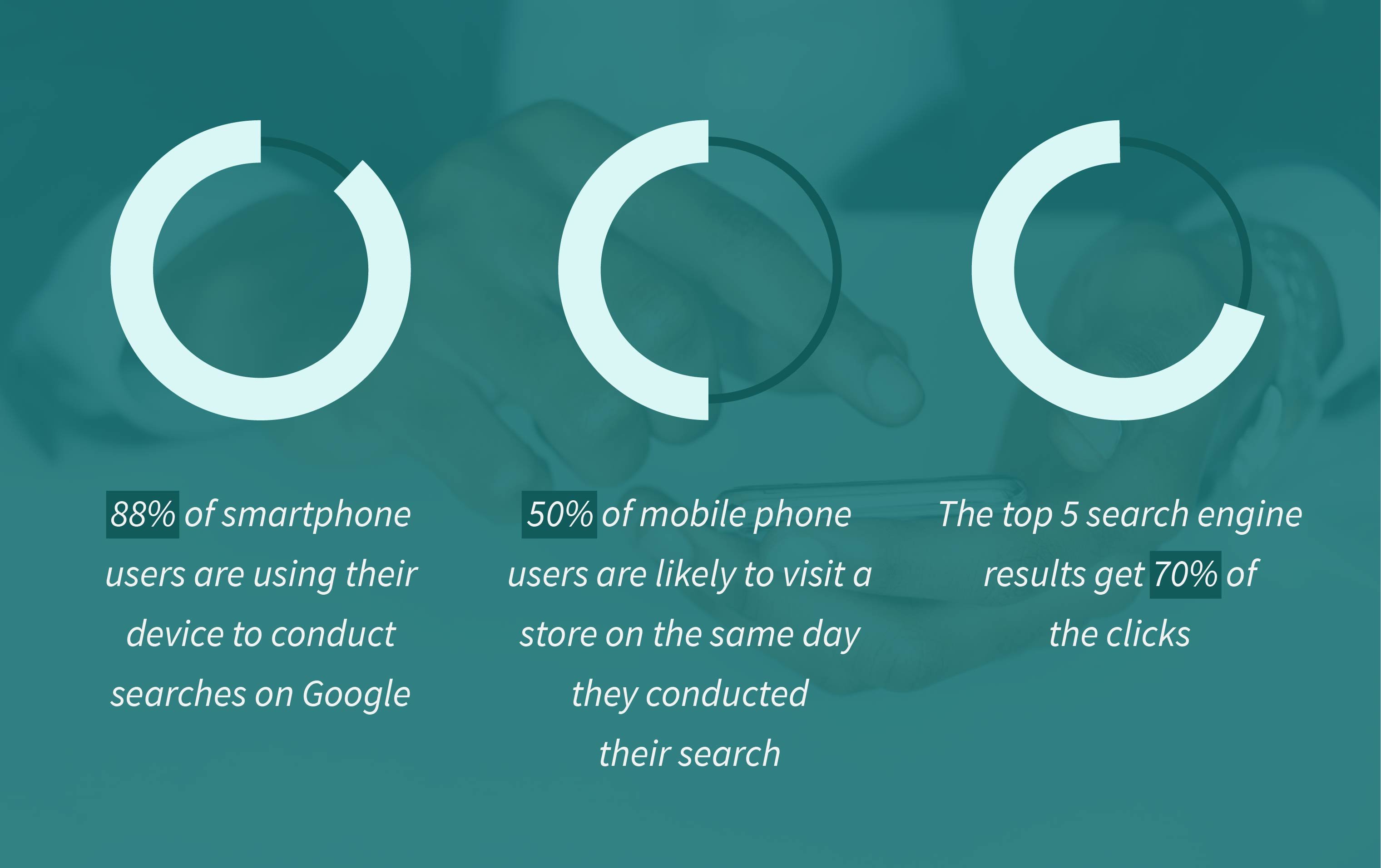 One of the key takeaways here is that people who are searching online are the most motivated people who reach your website (or not). And if they're looking for a product or service, there's a good chance they're looking to buy it or do business with you.
For that reason (and also because we think Simon Sinek's Start with Why is really on-point), we're compelled to shed light on the reasons why keywords should really be your starting point.
Because once you understand why, the how becomes so much easier.
Keywords on your website define your why
Before we get to how SEO works, it's simply important to keep in mind that the purpose of a search engine (e.g., Google) is to deliver the most useful content to users.
Note: Google is extremely customer-centric.
To quickly summarize how it operates, Google searches through the web 24/7 with its online spiders, indexing all of the content online (which is expanding faster than space), and ranking everything according to how relevant it is to a searcher's query.
So how does your WordPress website stand out in today's online world?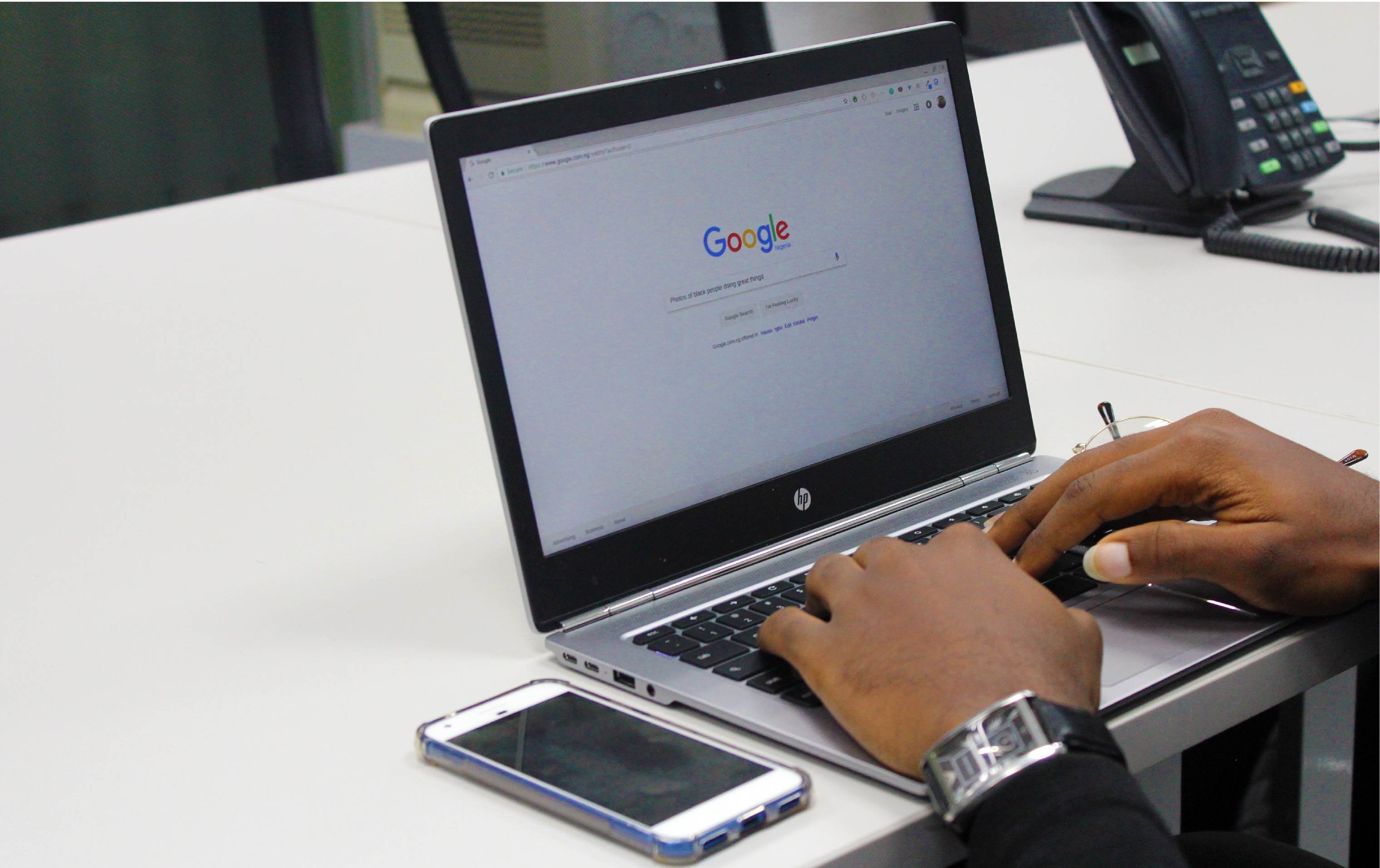 A brief history of keywords for search
Just to be clear, when we say keywords, we can mean one of two things that someone might use for an online search:
1) A single keyword, or head term such as "marketing" for example
2) A phrase, or long-tail keyword such as "marketing agencies in Philadelphia"
In the early days of SEO, digital marketers organized their content around specific keywords or phrases relevant to their products or services, which was all fine and good.
Users could enter specific words into a search engine and if their query matched your keywords, they'd land on your site. But then, marketers began to try and trick search engines by using "keyword stuffing" as opposed to actually providing quality content for users.
To counter, Google's algorithms got smarter and started penalizing websites for having their keyword account for more than approximately 5% of all the words on a page.
Today, even more sophisticated search algorithms are changing the way keywords are associated with content. In other words, it's not just about the keyword. It's more about how well your content solves the searcher's query (using keywords).
Even still, by using the same language people use when searching, you help Google see you as a more relevant option.
Matching a buyer's keyword intent with your business
When a person types in a query to the Google search bar, they're in a different frame of mind than someone just scrolling through their social media feed (e.g., Facebook).
Searchers have a question in mind or they're trying to find something specific. So instead of just randomly surfing, searchers are looking with intent.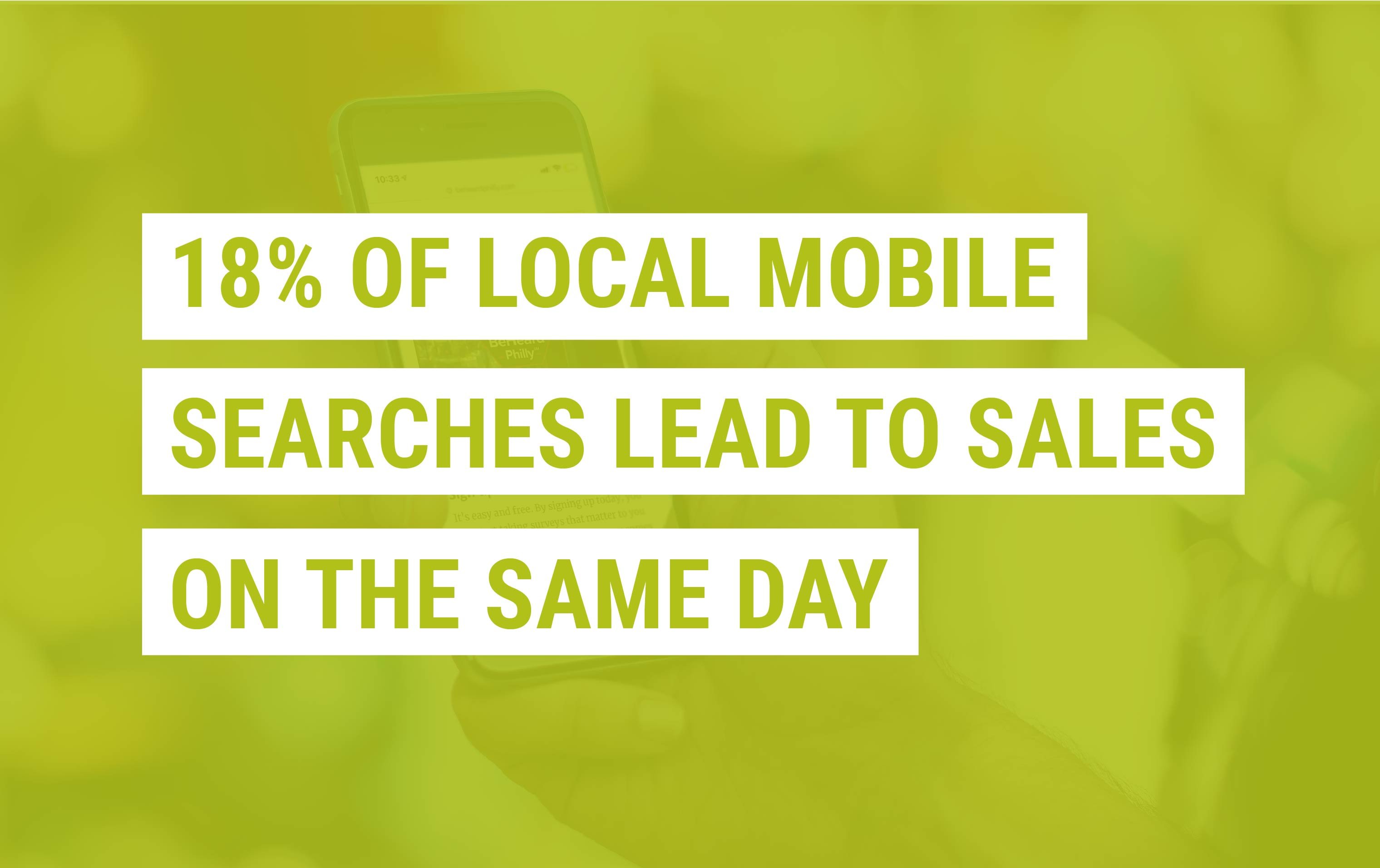 If a user is searching for information and your site provides it, you've got a much better chance of converting that online browser into a customer or at least starting a customer relationship with email marketing.
But in order to let them find your business, you need to be using the same kind of language that searchers are using. And, you need to help Google understand what your business is about.

Having said that, Google algorithms are now so smart that they are able to recognize context and even synonyms. So it's important that your website addresses the problem a searcher intended to solve rather than simply using the exact keyword phrase the searcher used.
Using highly relevant keywords
Technically speaking, SEO keyword research is the process of determining through data analysis, which actual search terms people enter into search engines.
The insight you can gain from honing in on these search terms can help inform your content strategy and marketing strategy, as well your custom website design.
If you've ever heard the expression, "the riches are in the niches," this is where narrowing down your keywords can be so valuable.
By figuring out which keywords are highly relevant to customers and which ones you can rank competitively for online, you can start to clearly define your niche.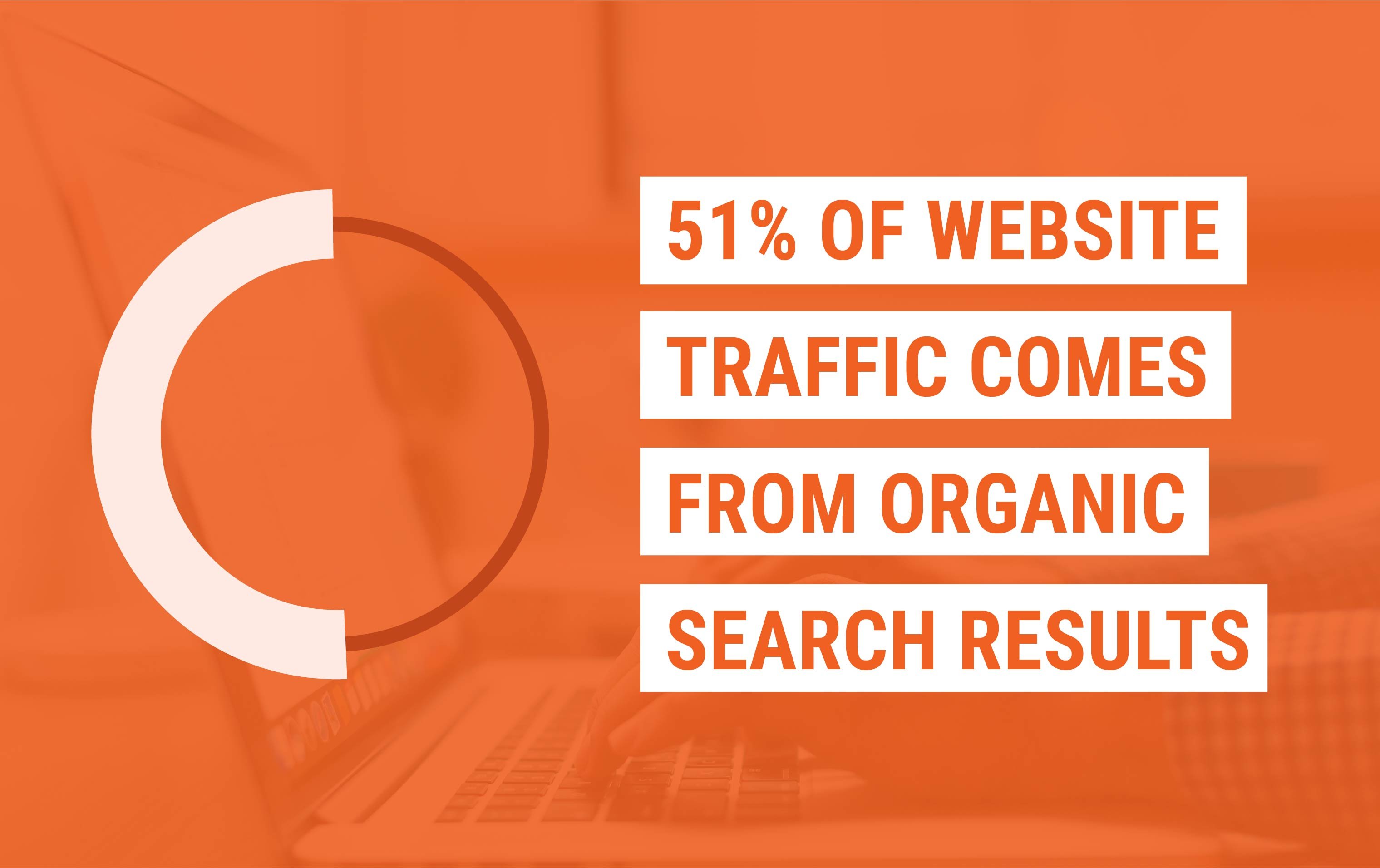 Note: While you can cast a wider net with a single keyword or head term such as "marketing," you would have a harder time ranking competitively for it since it is so generic.
Instead, for our agency, we would have a better chance of ranking with a long tail keyword phrase such as "marketing agencies in Philadelphia," because it's more specific.
This is especially important when you're running a smaller business. By establishing yourself as a thought leader for a specific niche or topics, you can start building your presence online and ultimately compete against bigger competition.
What's more, not only will define your keywords help you attract the maximum numbers of visitors to your site, it can increase the quality of traffic. Because really, your business objective with SEO is to generate more targeted traffic – quality leads that convert into sales – as opposed to just getting random traffic.
The bottom line is, search engines are what can send you the most valuable traffic – if your keywords and content are relevant to what online users are looking for.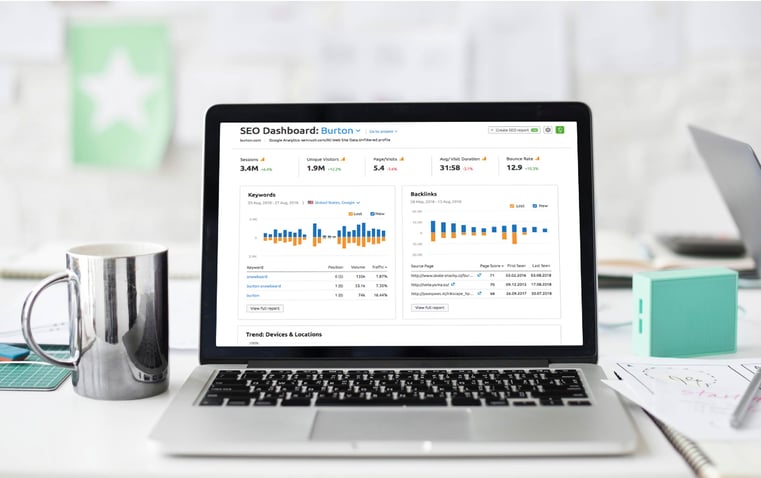 How do keywords shape your website content?
When we talk about keywords for SEO, we're referring to the most relevant search terms that can help increase the quantity and quality of traffic to your website.
Content marketing on the other hand, is focused on using valuable and relevant content to persuade people to take a favorable action in the form of a click or conversion.
Since your marketing efforts are organized and expressed by words and content, the two must work hand-in-hand in order to be successful.
The important thing is not to put the cart before the horse.
If you start creating content built around randomly chosen keywords that are irrelevant to what your audience is searching for, you're wasting valuable time and money.
Choose your keywords wisely
For the purposes of this post which is to explain why your keywords should shape your content and website – and not the other way around – we won't get into the nuts and bolts of how to do keyword research.
There are already many good blogs, including the recommended link above that suggest starting with free resources such as Google Adwords or Google Analytics. However, this can still be an intimidating process for those of us who don't want to get caught up in the weeds.
As a HubSpot agency partner that designs custom WordPress websites for our clients, we can tell you it may be well worth your while to integrate HubSpot for an easy all-in-one solution.
Why HubSpot makes content creation easier
Just to highlight how SEO keywords and content strategy are linked, HubSpot's SEO tool was formerly called Content Strategy. So if you're a HubSpot user, you have one of the best SEO tools already at your fingertips created by a world leader for inbound marketing. It can help you easily discover and rank for the topics that matter to you and your customers.
By using HubSpot with your WordPress website, you can create clusters or groupings of topics, web pages and blog content related to your core topics, otherwise known as you cornerstone content. When trying to rank well for the central topics your site is built around, creating cornerstone content is your best bet.
The SEO tool will even suggest topics that will help build your online authority for topics in search engine results.
What's more, you can even track the ROI of your efforts.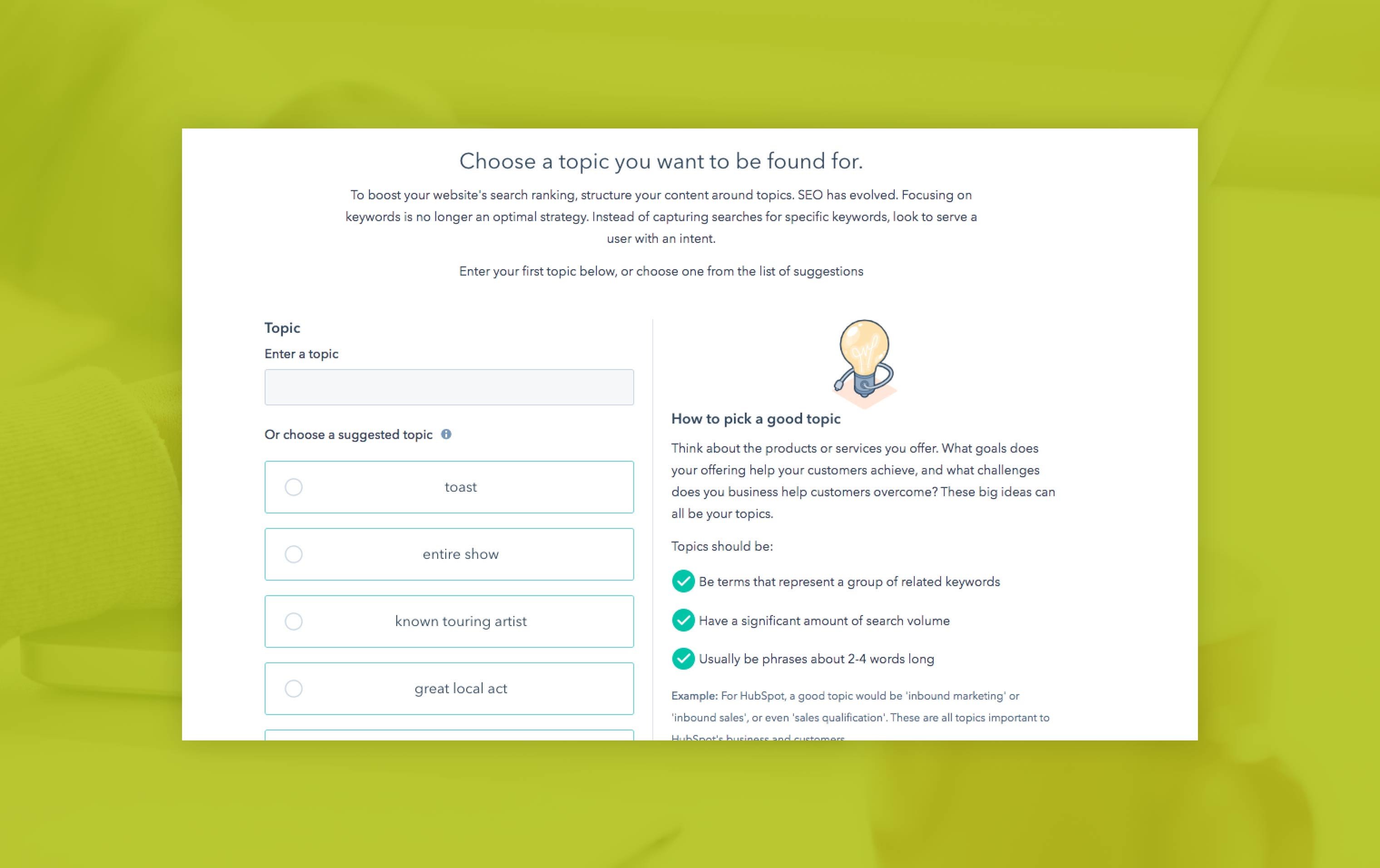 Keyword intelligence
Once armed with the knowledge of keywords that are relevant to your niche, you will then have the superhuman ability to create highly relevant content that helps your site visitors.
You can begin speaking the language of your audience and satisfy their needs, whether it is on your landing page, a blog post or social media.
Moreover, using the right keywords isn't just about organic search results.
Smart content marketers receive benefits from creating audience-focused content as well as by social media exposure and sharing. This is because optimizing your social media enables you to build a profitable audience and earn higher search rankings.
In other words, it's all good.
Keywords summary
The secret to traffic generation, paid or organic, is investing in what delivers the most relevant traffic to your landing page. This is because relevant traffic has a higher level of awareness and therefore, a higher intent to convert.
To rank well on search engines, you will need to create high-quality content and plan strategically to think about how all of your content will fit together in the long-term.
This means starting with the proper keyword research.
Just remember, as smart as Google algorithms have become, you still need to make it easy for Google to see you as the most relevant solution to people's search.
The flipside of this, thankfully, is the words you use to make it easier for Google to understand what your business is about also makes it easier for humans.

If you have any questions at all about SEO, keywords, or how to make it all easier with HubSpot, get in touch with the Digital Services Team at Mole Street today!