How to Build a Content Marketing Strategy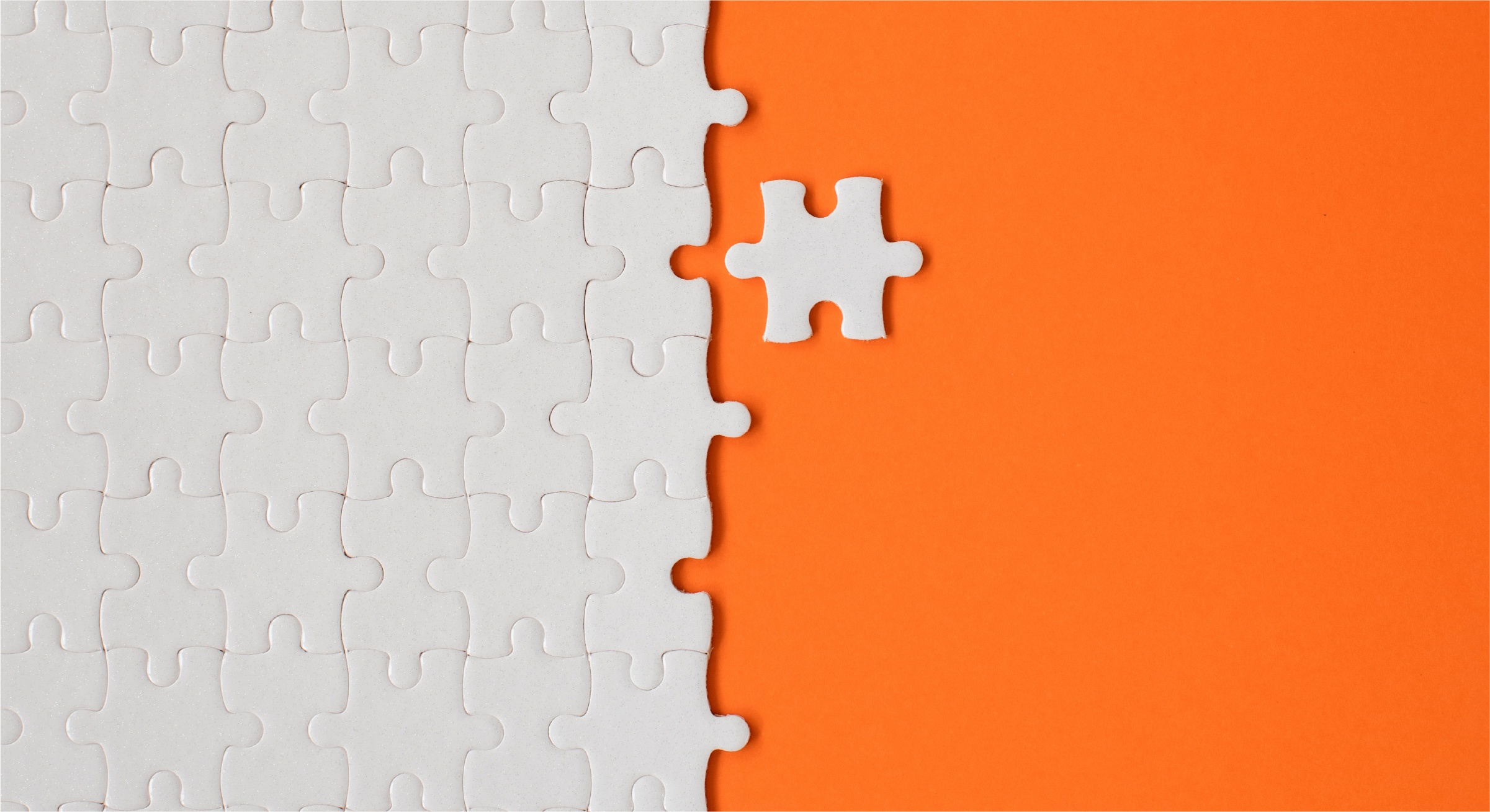 Creating an inbound content strategy for your business?
To become and remain a trusted, highly trafficked publication in your industry, you need to develop a content marketing strategy that balances:
User Demand: Volume, difficulty, and intent data from multiple sources, such as email, organic search, and social media.
Subject Matter Expertise: Acknowledgement of the areas you're expected – and qualified – to speak on.
Sales Enablement: Tie-ins with your product and sales teams' goals to generate ROI from your content.
Good content marketing aligns user wants and wishes with stakeholder goals. This means moving away from the strategy of blogging about what you think will resonate with your audience and using data to support your content strategy while setting up clear conversion paths for your readers.
Your marketing mix is likely composed of both paid and organic initiatives, which makes complete sense. There is an abundance of marketing channels that only require spend for the people and software used to create them, such as blog posts, organic social media content, and video marketing.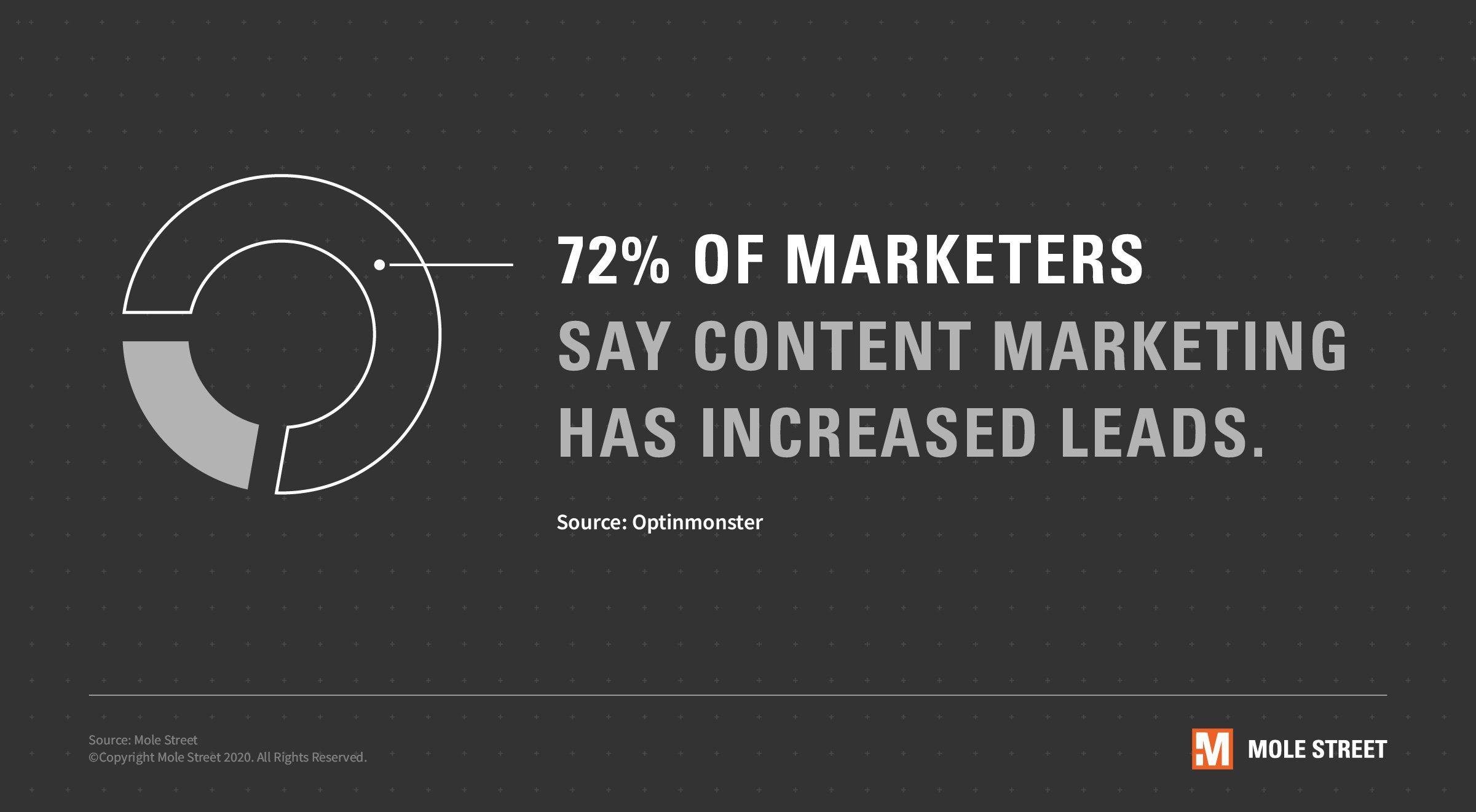 Legitimizing a content strategy is a big step for a business, but it's one that pays off. But don't believe us at our word – we've got the numbers to back this claim up:
So, how exactly can a company formulate its content strategy, scale output, and connect content marketing activity to tangible sales and ROI numbers?
In this article, we'll highlight how to do just that.
A Step-by-Step Guide to Creating an Inbound Marketing Content Strategy
What Is a Content Strategy?
A content strategy is a company's process for planning, creating, publishing, and analyzing content. Marketers strategically align their companies' content to different stages of the buyer's journey and the goals (also known as "jobs to be done") associated with each stage. An effective content strategy incorporates multiple formats, including video, ebooks, blog posts, interactive content, case studies, infographics, whitepapers, and podcasts.
How to Build a Content Strategy That Drives Leads
It's one thing to plan and execute a content strategy. It's another thing entirely to develop a content strategy that's intentionally designed to generate leads for sales with content that speaks to your buyer personas in the right way at the right time.
Here's our recommended framework for taking your content strategy to the next level.
Free Download: Content Marketing Checklist
Step 1: Determine Your Goals
Gone are the days of blogging for the sake of blogging. Elevating a content strategy requires setting goals and holding your team accountable for hitting them.
Every piece of content you produce should have a goal in at least one of the following areas. Read on to learn more about the common goals in content marketing (and how your business can set them).
Traffic/Views
Your goals here should be based on monthly search volume from an SEO tool like SEMRush or ahrefs. Each post should have an individual traffic goal, leading up to your blog's overall traffic goal.
As your blog gains credibility in the form of domain authority, you can expect traffic to increase over time, so be sure to factor organic and audience growth over time.
Downloads/Submissions
This goal is ideal for content offers, such as eBooks and templates, in addition to multimedia content like podcasts. Goals should be based on existing download metrics. Establish a baseline standard, improvement goal, and approach for implementation and testing.
Net New Leads, Contacts Generated, and Conversion Rate
A more granular level of downloads/submissions, this goal ultimately serves into larger company goals such as revenue and closed deals, as generating qualified contacts is an essential cog in the inbound methodology.
These goals are typically based on reverse engineering from these larger company goals. For example, if the sales team needs 1,000 closed deals by the end of the year, and their close rate is 1%, then you need to produce 100,000 qualified leads to meet that goal.
Attributable Revenue
For nurturing leads further down the pipeline, use a marketing automation software with attribution reporting and/or campaign analytics features to determine what revenue the content has generated.
This goal is normally considered from the perspective of ROI of your marketing budget – encompassing salaries, production costs, and promotion costs.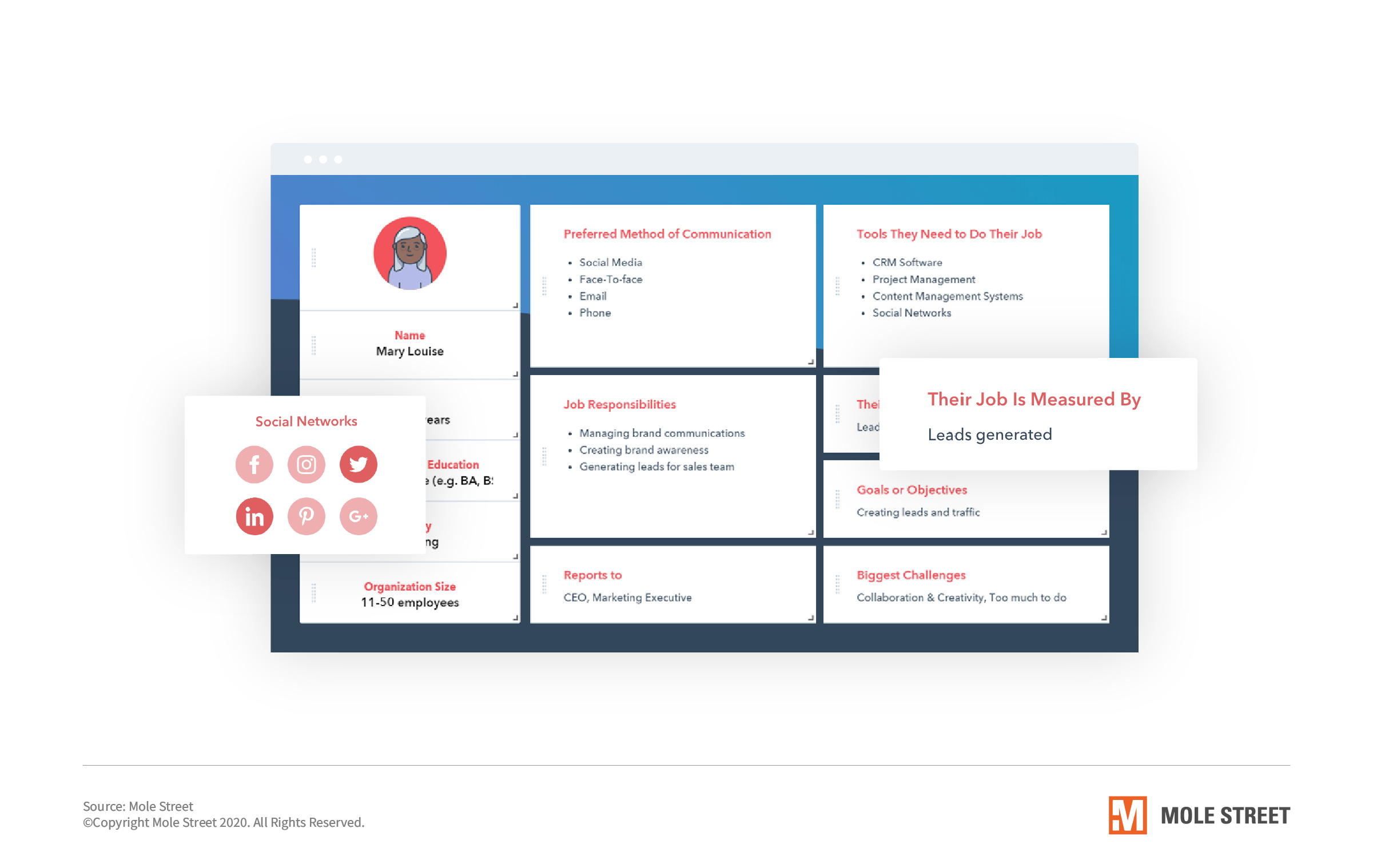 Step 2: Create Your Buyer Personas
If you haven't already done so, you need to develop buyer personas for your business in order to succeed in inbound marketing. These semi-fictional representations of your customers help you better understand who you're selling to, which in turn helps you focus on what kind of content they want and need.
Keep in mind, these buyer personas should be a collaborative effort between your sales and marketing organizations. Since your sales team is on the front line, it has the anecdotes to combine with your team's market research that helps you build those personas.
Step 3: Complete a Content Audit
All of your historical content might not be the prettiest or most impressive, but that doesn't mean there aren't lessons to learn. That's why we suggest running an audit on all of your existing content – from your video library to your blog backlog. Export all data from your existing content into one spreadsheet, and answer the following questions about the content that you've created:
Which content continues to perform well month-over-month?
Which content did well at a time, but no longer delivers the results it once did?
For lower-performing content, should it be updated, replaced, or deleted?
How is content broken up by format, topic, and relation to the buyer's journey?
Which content must be promoted more by the marketing team?
Which content should be utilized more by the sales team?
Mapping each piece of content to a purpose – and ridding your library of content that serves no purpose – adds legitimacy to your brand and its editorial nature, ensuring the content you produce is high-quality, relevant to your readers, and helpful for existing (and future!) customers.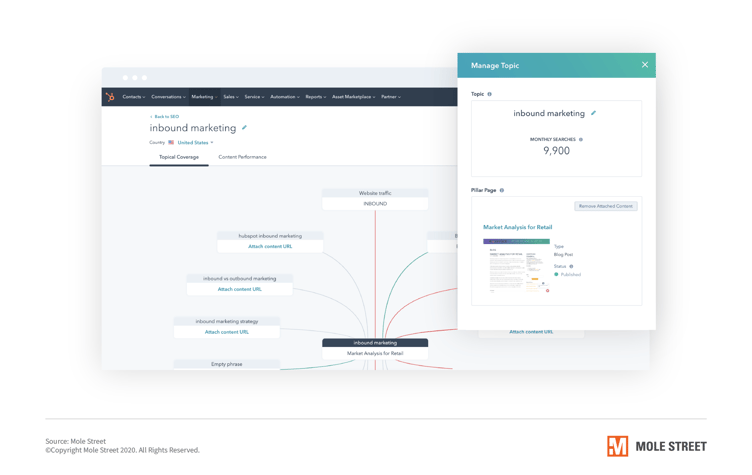 Step 4: Conduct a Gap Analysis
After auditing what content you have, your next step is to identify what content you don't have.
To be a leading content producer in your industry, you'll need to create content that appears to a wide, qualified audience – so while it's understandable that you may have missed a blog topic or eBook idea up until now, it's time to fill in your content gaps with a gap analysis.
Some ways you can go about generating new content ideas are:
Scoping out the competition. See what your competitors are posting on their blogs, social media accounts, and YouTube channels.
Follow industry publications. Make a Feedly of relevant industry leaders to see what topics you should be addressing with your content.
Identify the opportunity. High search volume does not always equal high intent, so make sure you use a software like the HubSpot Content Strategy Tool to identify keyword gaps for relevant content topics.
Host customer interviews. Your customers are fully invested in the industry, so talk to them, see what matters the most in their eyes, and decide if there's an opportunity to make content around it.
>> Have you yet to realize the ROI from your HubSpot Professional or Enterprise software plan? We can help! Explore our HubSpot Consulting Services.
Step 5: Decide on Content Channels
Not all content channels are created equal.
Content channels – or the way you promote the content which you've created – should be prioritized by their efficiency and effectiveness in getting your content out to your desired audience. Content channels are broken down into three categories:
Owned channels, like your blog, website, and social channels.
Paid channels, like influencer relationships and paid search and social ads.
Earned channels, like social shares and backlinked mentions in publications.
For all content that lives online, your choice of channels rolls up into your company's digital content strategy – the employment of content such as web pages, blog posts, PPC, and downloadable assets like eBooks. Digital content strategy also encompasses other tactics such as SEO content strategy and social media content strategy, where companies use search keyword planning for search engines and social media engagement planning, respectively, to get content in front of more Internet users and generate leads.
So, which content channel is the best? Sadly, we're not the ones to answer that – you are. As with your content audit, you should evaluate the worth of each of these channel types (and each of the channels within each type) based on existing performance and engagement. For example, if your Instagram audience is not growing as expected, it may be more worthwhile to develop your LinkedIn presence instead. As your company grows, you'll be able to dedicate more personnel and resources to more channels, but at this stage, it's better to master a few channels than to be "okay" in many.
Step 6: Decide on Content Types
During your content audit, you should have uncovered a commonality among your highest-performing content. With that knowledge, determine which content types – from blog posts, to podcasts, to downloadable whitepapers and templates – should be prioritized.
Much like deciding on content channels, deciding on your content types should be an exercise in prioritization. You should come out of this analysis with:
A list of total and average views and engagement for each content type.
How each content type plays into your sales pipeline.
How much of each content type you can produce on a monthly basis.
Which content types do and don't make sense for your business to invest in.
Unfortunately, this analysis may result in stopping or slowing down on the creation of content which you're passionate about, but recentering your content output based on this analysis is an extremely worthwhile activity.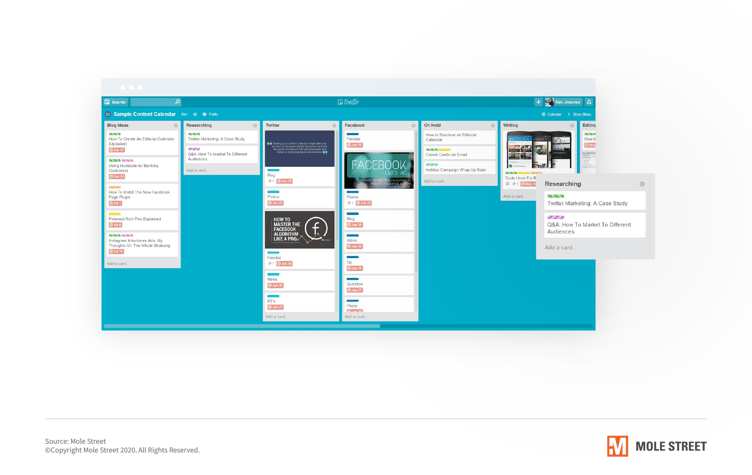 Step 7: Create a Content Calendar
Once you've determined which content you want to create, and on which channels you'll promote your content, organize and document your cadence with a content calendar.
Your content calendar – typically on a spreadsheet like Google Sheets or on a shared online tool like Trello – should be your team's way to collaboratively plan for content releases. Your calendar should be organized by each channel, with each entry on the calendar noting the content's:
Name.
URL.
Topic.
Campaign (or product tie-in).
Release date and time.
Additional notes.
Once the format for your calendar is set, share it with any stakeholders in the company and the marketing team to get their feedback and keep them clued in to when content will be released and promoted.
Step 8: Structure Team Responsibilities and Process
At this point, you should have all the pieces into place to run with your new lead-generating inbound content marketing strategy. This means it's time to delegate the tasks you have on your plate to the rest of the marketing team. Formalize a process for all stages of content marketing, including:
Ideation: Set clear standards and guidelines for what content should be created and why, such as minimum monthly search volume or tie-in to a new product.
Creation: Develop a brand style guide to ensure all content meets your company's standards for tone, language, and design.
Review: Institute a rigorous QA process to ensure that all content published by your marketing team is grammatically correct and serves the purpose for which it was created.
Promotion: Determine the criteria for which content is promoted on which channels. For example, blog posts might be promoted on all social media channels except for Instagram, which you decide to reserve for people and culture updates instead of content promotion.
Analysis: Set a timeline and process for when and how content is analyzed after its publication.
Step 9: Report and Analyze
Since each piece of content has a concrete goal, make a point to analyze your content regularly from an engagement, conversion, and traffic perspective to see if it meets your expectations.
If there is a discrepancy between your performance goals/projections and your actual results, it may be worth readjusting your goal-setting process for your content, or revisiting some of the steps on this list to see if you should be creating different content types and/or promoting it on different channels – but the only way to find out is if you analyze those results.
Download the Content Marketing Checklist
The content marketing process is multi-faceted, but ultimately rewarding from an ROI and customer retention perspective.
To help you keep your process organized, download Mole Street's Content Marketing Checklist. It's organized for each step of the content process, from ideation to promotion. Download the checklist now to ensure you have a smooth, consistent content creation process for your team.