HubSpot vs. WordPress: A CMS Comparison Guide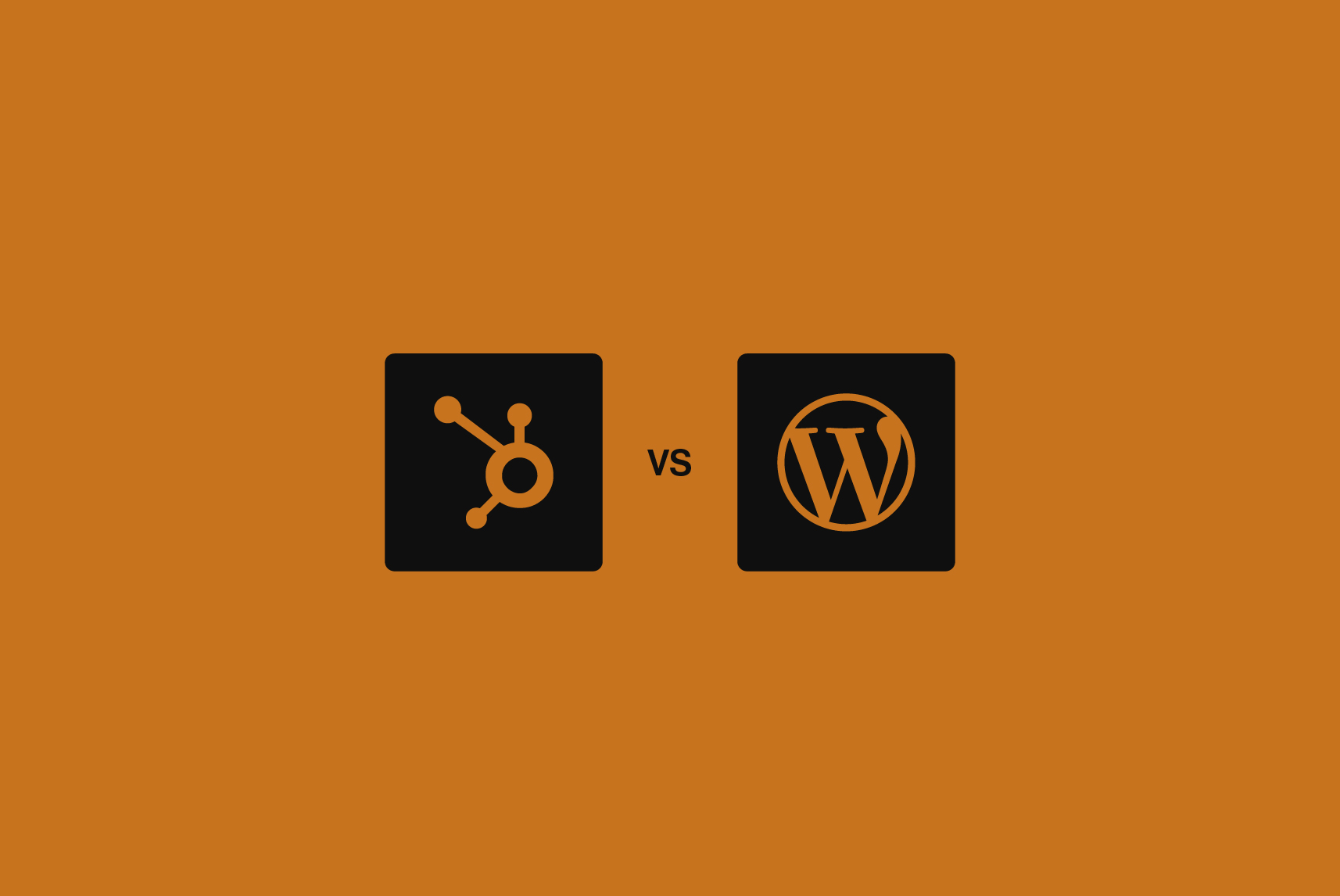 Should you migrate your blog from WordPress to HubSpot? Discover why other companies are moving to the HubSpot content management system (CMS).
A dynamic and easy-to-use CMS is essential for enterprise- and mid-market-level businesses creating content online. When it comes to choosing a CMS, most organizations decide between HubSpot and WordPress.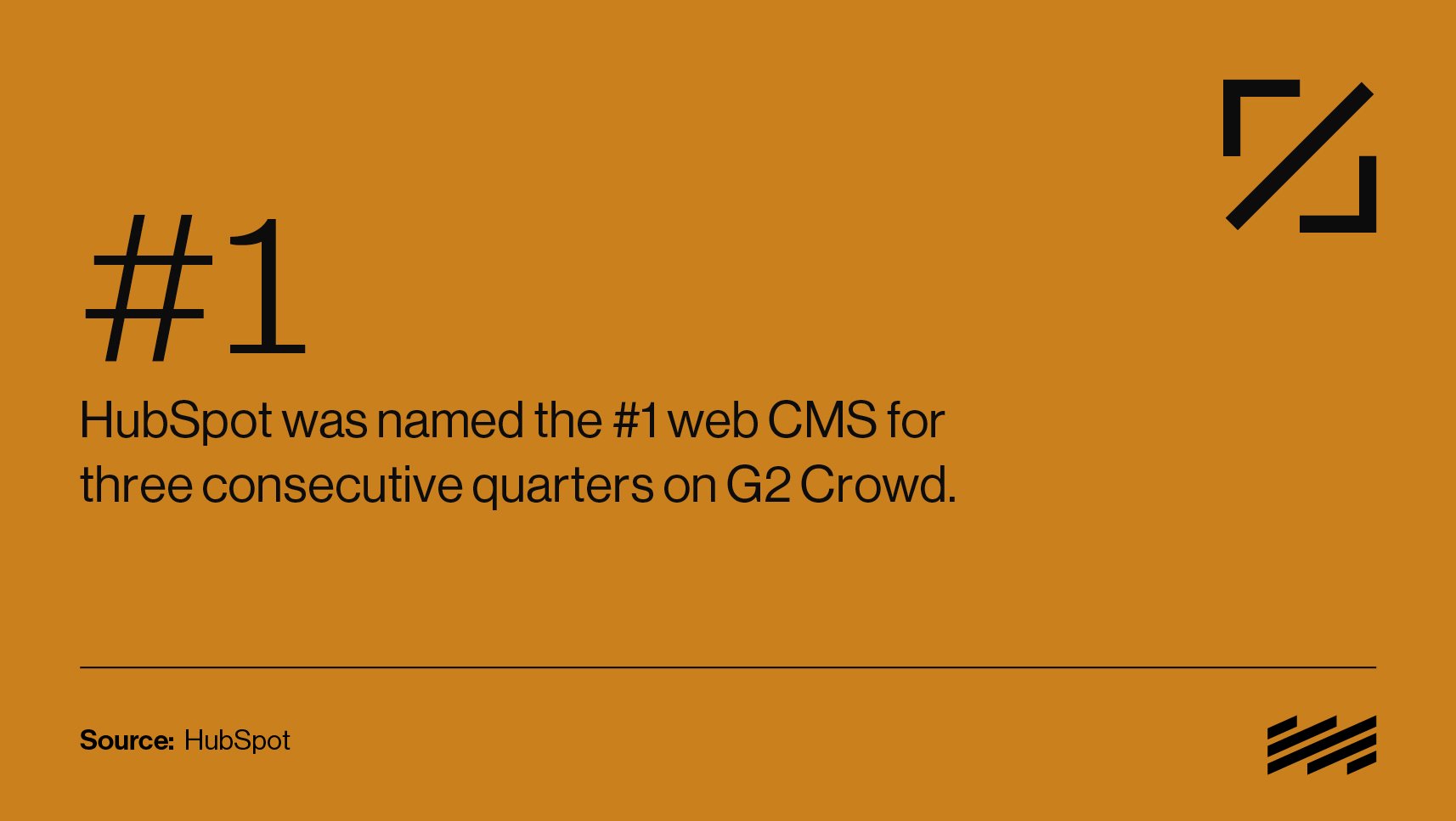 With more than 75 million websites built on the platform, WordPress has traditionally been the default choice for creating business websites. Interestingly, however, die-hard WordPress users are now switching over to HubSpot, which was named the #1 web CMS for three consecutive quarters on G2 Crowd. So why are so many people making the switch?
Both website builders are feature-rich, with tools to scale content output and support a world-class content marketing program. So which CMS is most suited to your business?
This comparative guide explores the main differences and similarities between HubSpot and WordPress to help you decide which CMS is suitable for your company.
HubSpot vs. WordPress
Those in the business of blogging to attract inbound leads will likely be concerned with a few key areas when comparing the HubSpot CMS to WordPress:
Page design
Blog editor
Plugins
SEO capabilities
Lead conversion
Attribution reporting
Governance
Hosting and security
Pricing
To settle the current HubSpot vs. WordPress debate, we'll look at each of these areas and determine which CMS comes out on top.
The feature: page design
Page design is where the primary function of both platforms largely overlaps.
For both HubSpot and WordPress, the ability to purchase and utilize page themes is available, meaning that you can build off a pre-built design scheme for a small fee. Both platforms also offer a drag-and-drop feature, so you don't need to rely on a developer or designer to make minor changes to your website.
The winner: HubSpot
Here's why: One HubSpot feature not available in WordPress is adaptive testing.
This feature makes it possible to run A/B (or multivariate tests) right in your CMS to test the comparative effectiveness of colors, copy, calls-to-action (CTAs), and other web page elements. It lets you see where small changes can boost engagement and conversion rates.
HubSpot's CMS Hub Enterprise utilizes an AI-powered testing feature. It compares up to five different page variants, automatically selects the best performing, and then shows this top performer to more website visitors. This feature should enable quicker, more effective website tests.
Adaptive testing is the key differentiator and will help make page designs more impactful.
The feature: blog editor
WordPress started as a blogging platform, so it naturally has an impressive blog editor. While not its native primary function, HubSpot's blog editor is an excellent challenger.
While both platforms are easy to use and seem similar at first glance, HubSpot wins in the user-friendly category for its seamless drag-and-drop editing functionality and polished user interface within the CMS.
You can edit HubSpot blog content with the look and feel of your website in the background. Meanwhile, WordPress requires you to open a separate tab to preview what content will look like as you make changes to your website. A small but impactful difference in user experience can make or break your team's ability to keep projects moving forward.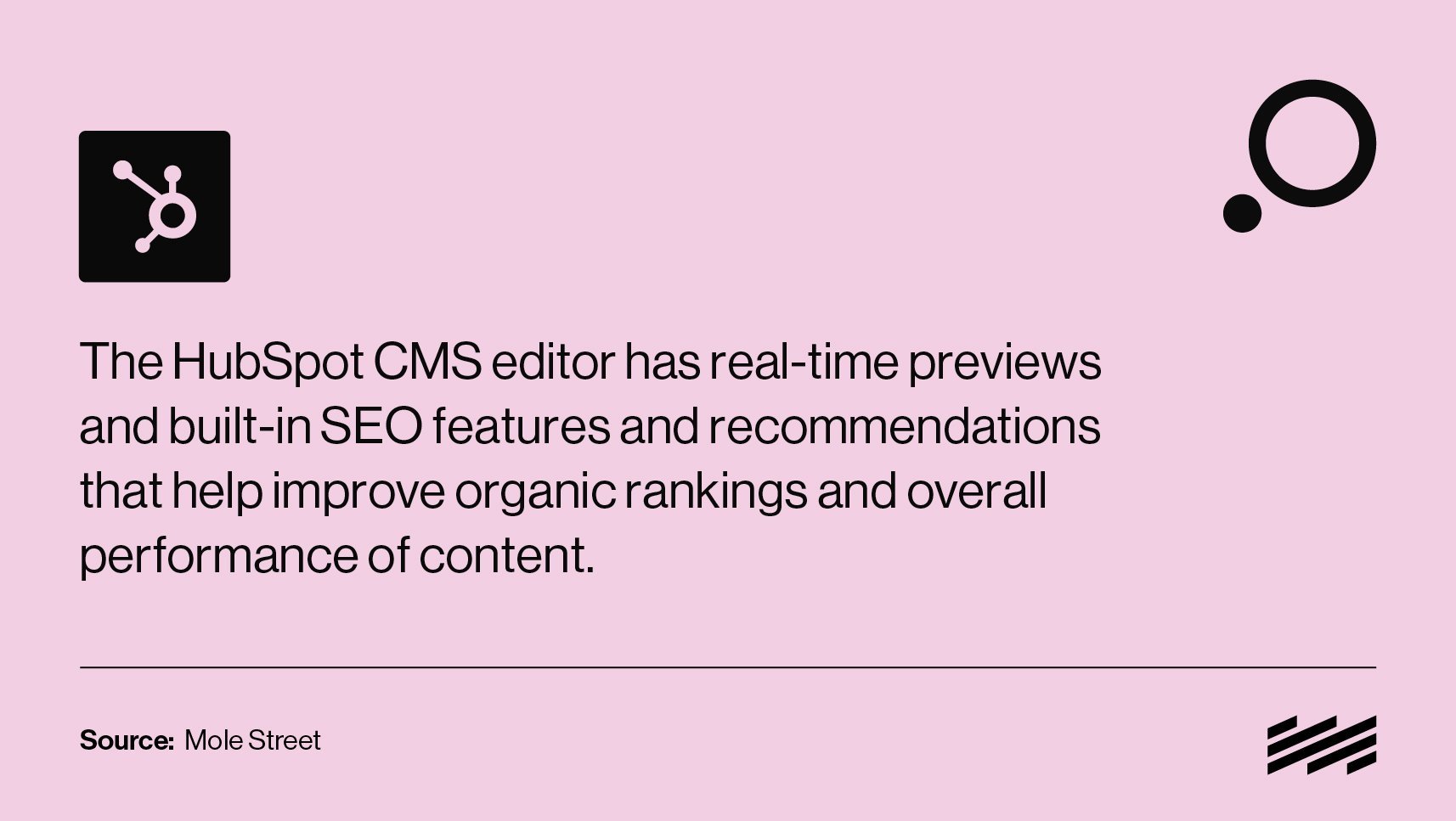 The winner: HubSpot
Here's why: While both options are relatively similar, HubSpot's editor edges out the win for its real-time previews and built-in SEO features. WordPress allows for the addition of SEO plugins to complement the blogging tool, but HubSpot's built-in SEO recommendations help improve organic rankings and overall performance of content.
Some of our favorite HubSpot SEO features include:
HubSpot Website Grader
HubSpot SEO Tool
Optimize Panel
Free SEO Resources
SEO Training Courses
SEO Blog Content
Want to learn more about the best HubSpot SEO tools? Take a look at our guide.
The feature: plugins
Plugins are a WordPress-specific feature — they don't exist on HubSpot. However, HubSpot does provide integration solutions with popular apps to work around this gap.
Because WordPress is open source, developers can utilize any plugin they choose to ensure their website functions as needed. For example, they can add an online payment plugin to eCommerce websites.
Costly and difficult-to-maintain plugins require constant updating by the publishers to assure proper functionality as WordPress, web browsers, and device manufacturers make software updates. Possible security risks can also surface when using older plugins, potentially negatively impacting a site's functionality.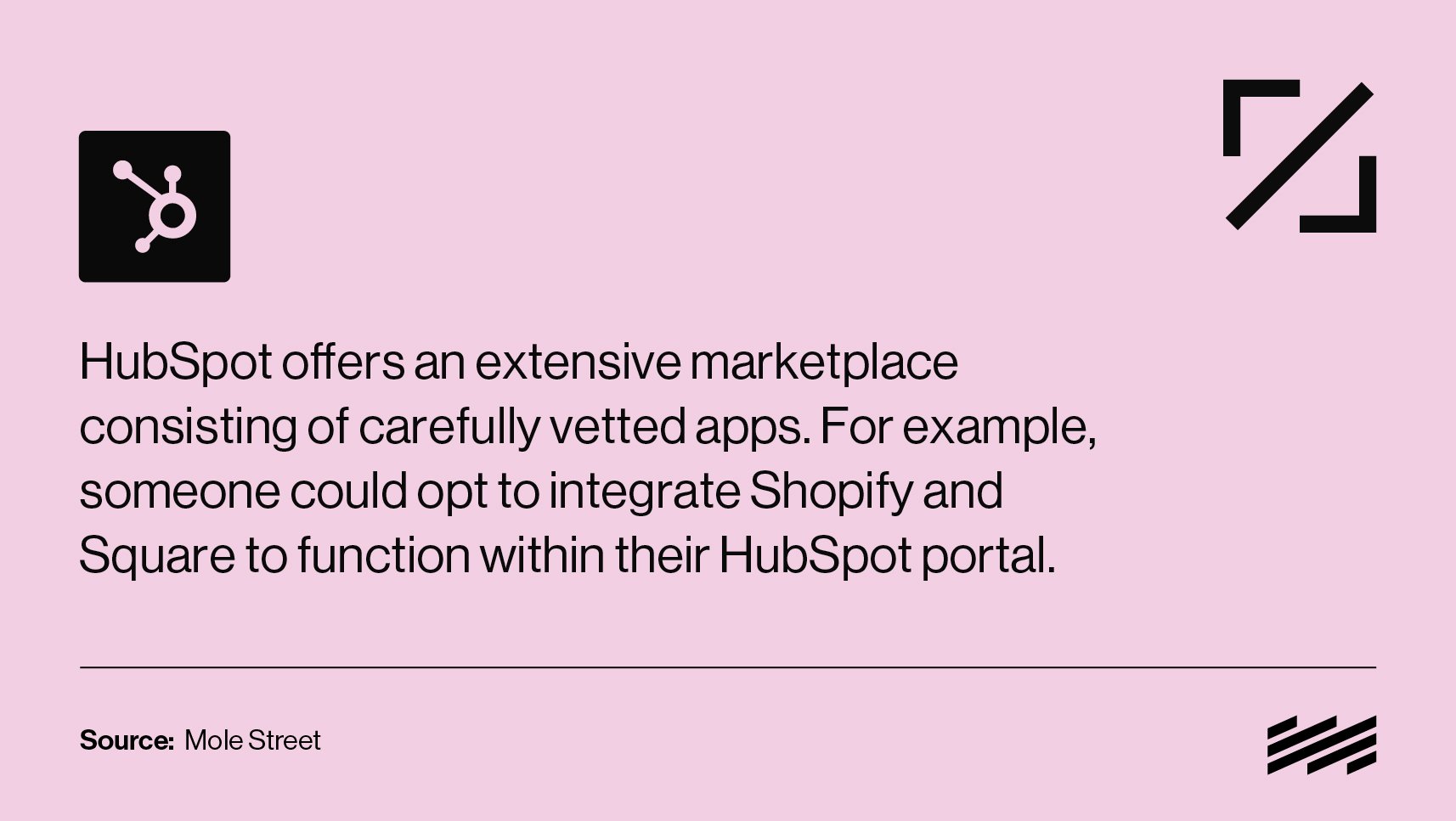 While HubSpot does not have plugins, it offers an extensive marketplace consisting of carefully vetted apps. For example, in the eCommerce example outlined above, someone could opt to integrate one of HubSpot's approved eCommerce apps — Shopify and Square — to function within their HubSpot portal.
The winner: WordPress
Here's why: The win in this category goes to WordPress. After all, plugins are one of the main advantages of an open source platform and provide users the ability to select any solution that best fits their needs, regardless of whether their CMS approves of its use or not.
The feature: lead conversion
Converting web traffic into contacts and leads is one of the primary purposes of a website. When it comes to HubSpot vs. WordPress, how does each platform make this possible?
CRM integration - Both WordPress and HubSpot integrate with a CRM – but with one catch. WordPress requires an administrator to set up the integration between the CMS (WordPress) and the CRM that a company uses. HubSpot, on the other hand, is a CRM — meaning all website activity including clicks and conversions will be available for you to analyze natively. By including the CMS and CRM on a single platform, web activity performed by contacts can be tracked at a highly granular level. WPEngine even suggests utilizing HubSpot as a CRM for your WordPress site.
Landing pages - The good news is that both HubSpot and WordPress allow you to publish unlimited landing pages. Launching a new page to promote a product or content offer comes at no additional cost to users of either platform.

The downside is that publishing an effective landing page on both CMS platforms requires design and development to an extent. HubSpot users can design and develop their own landing pages or select a paid theme from the HubSpot marketplace. With WordPress, users need to add a plugin or enlist the help of a designer and developer to build a custom page.

Since plugins add an extra layer of work to maintain landing pages over time (as plugin and WordPress software updates are rolled out), we're giving this category over to HubSpot..
Forms - These vital tools for converting website visitors give potential customers a path to request a demo, subscribe to content, or download a premium asset. Forms are a built-in feature in the HubSpot CMS and work by sending user data submitted in the form to be logged straight into the built-in CRM. With WordPress, forms require a plugin to use and coordinate data to sync with a CRM.
CTAs - Calls-to-action are built-in features in HubSpot. This gives users the freedom to design, build, and place global or one-off CTAs throughout a website. In addition, HubSpot users can analyze the effectiveness of every CTA placed on the site to understand which CTAs are driving the most results.

CTAs are also available in WordPress. However, CTA button design and placement depend on the WordPress theme or image you select for your business. Performance tracking typically requires the use of custom events in Google Analytics.
The winner: HubSpot
Here's why: In all four areas explored above, HubSpot emerges victorious due to its native solutions that allow for seamless contact creation, landing page publishing, and granular-level attribution reporting for lead generation.
The feature: reporting
HubSpot's reporting is built in and connected to the CRM, allowing you to see views and contact submissions on each page over a customizable time frame. Analyzing activity to bubble up actionable insights is so straightforward it's downright easy, and HubSpot even provides automated insights in some areas of its platform.
HubSpot CMS users can also access and analyze their Google Analytics data within HubSpot dashboards to view more in-depth reporting.
WordPress has no built-in analytics feature. Instead, users must use a third-party reporting or analytics tool like Google Analytics.
The winner: HubSpot
Here's why: HubSpot gives users the option to use native reporting capabilities or view Google Analytics dashboards. This integrated option requires no additional setup or outsourcing to Google Analytics. On the other hand, WordPress pigeonholes users into using a third-party option.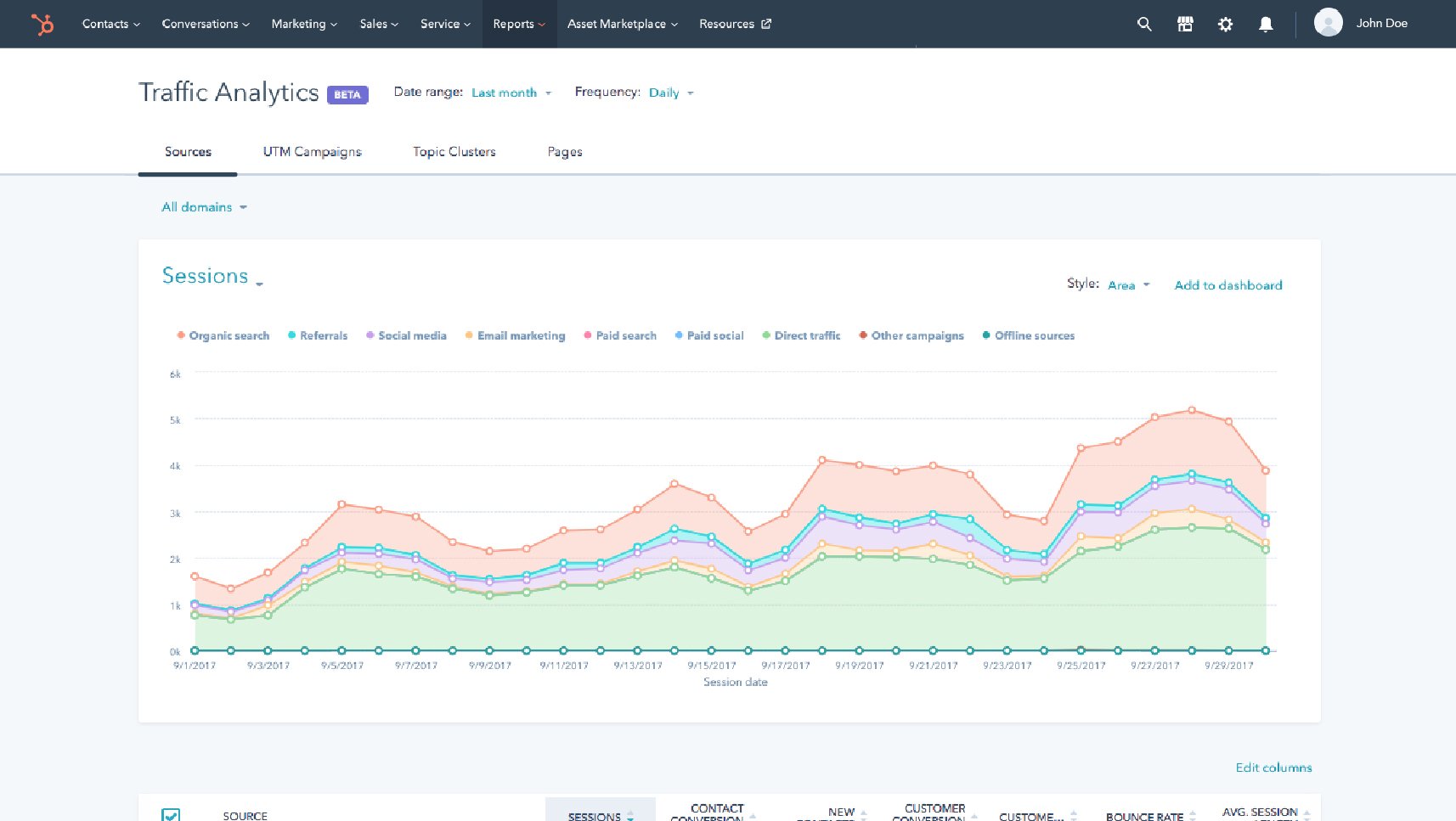 The feature: governance
Who calls the shots? As your team increases in headcount, you need to ensure that:
Everyone who needs to use your CMS has the appropriate level of access
Team members have limited permissions based on publishing rights, admin options, and security clearances
Let's take a look at governance with WordPress vs. HubSpot.
WordPress
WordPress allows for an unlimited number of admins, with a further breakdown of roles as follows:
HubSpot
HubSpot has a slightly different setup for permissions. Users can either be added individually or by bulk upload.
Rather than granting someone a "role" in HubSpot like in WordPress, a Super Admin grants individuals or teams permissions to view, edit, and publish. With HubSpot, you must pay per admin.
To get a clearer understanding of HubSpot's governance structure, take a look at this permissions explainer video.
The winner: WordPress
Here's why: Both tools have similar abilities in granting permissions. But we give WordPress the slight edge since admins don't cost an additional fee. However, HubSpot gets bonus points for grouping permissions by teams.
This feature simplifies the process, as admins can add a user to a team, automatically granting them that team's permissions.
The feature: hosting & security
When it comes to hosting (and the security native to it), WordPress users have hundreds of providers to choose from — including WordPress itself. Popular hosting providers include WP Engine and WMPU DEV. Each provider comes with varying pricing plans and levels of advanced security.
For HubSpot, you can connect your externally-hosted website to the CMS or host your full website with HubSpot by setting up a redirect in your DNS provider. HubSpot has extensive security procedures to safeguard data — from application security and data center protections to software security.
The winner: tie
Here's why: HubSpot and WordPress have advanced security options through external or internal hosting platforms. The two are somewhat interchangeable in this category.
The feature: pricing
HubSpot's Professional CMS pricing currently starts at $369 per month when billed annually. The Enterprise CMS costs $990 per month. This fee includes hosting and the ability to purchase themes from the HubSpot Asset Marketplace.
WordPress, on the other hand, is free. However, as with HubSpot, customers will need to pay for themes, which may run up to $200. Users also need to pay for hosting ($3.95 per month), and plugins which can cost up to $1,000.
The winner: WordPress
Here's why: Simply because the CMS itself is free.
The Verdict — HubSpot CMS vs. WordPress: Which Platform is the Winner?
To recap, let's take a look at a brief round-up of HubSpot vs. WordPress — the pros and cons.
HubSpot pros and cons
On the upside, HubSpot features:
Page design with adaptive testing
User-friendly blog editor with built-in SEO tools
Marketplace of vetted apps
HubSpot is a CRM
Unlimited landing pages
Built-in lead generation functions
Built-in analytics and reporting
Excellent security
However, it does have some limitations:
It doesn't support plugins
Extra admins may accrue additional fees
CMS prices start at $369 per month
WordPress pros and cons
WordPress benefits include:
Customizable blog editor
Open source with optional plugins
Unlimited landing pages
No fee for extra admins
The CMS itself is free
However, there are some disadvantages:
Admins must integrate WordPress with a CRM
Lead generation functions require plugins
No built-in analytics feature
SEO tools are more limited
Plugins can introduce security risks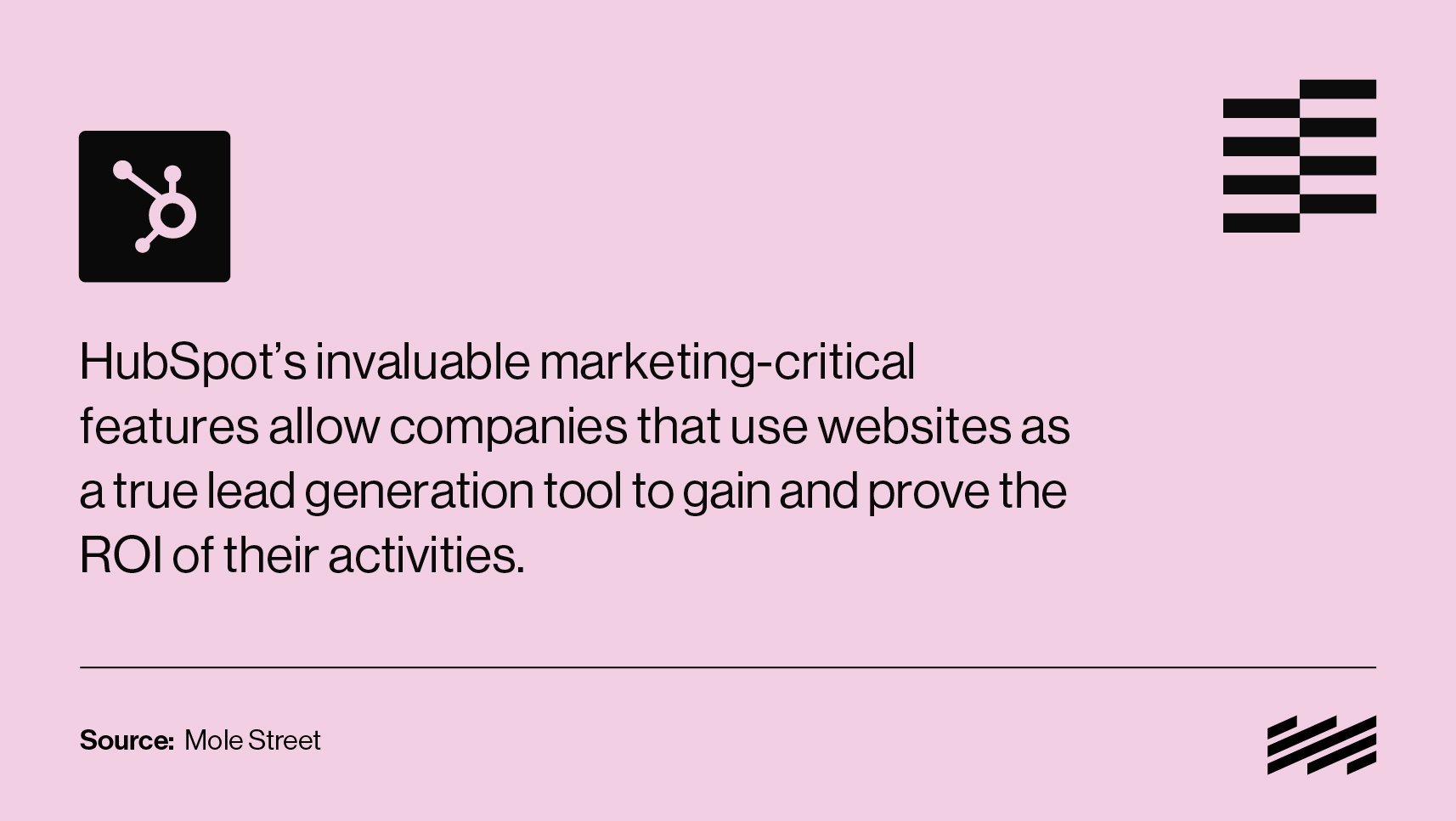 The overall winner: HubSpot
Here's why: HubSpot has been our only recommendation to clients in the enterprise and mid-market space since we started using it.
HubSpot is a dream for marketing professionals and a valuable tool for sales teams. From its helpful native tools, automation, and reporting options to its ample SEO lead generation and software synchronization capabilities, we find it's a versatile CMS that caters to the needs of most organizations.
While we appreciate the open-source functionality of WordPress, HubSpot's invaluable marketing-critical features make it worth the cost. These features allow companies that use websites as a true lead generation tool to gain and prove the ROI of their activities.
Some of the HubSpot features we value most are:
CRM integration - Because it's also a CRM, HubSpot allows you to track viewer engagement in the transition from visitor to customer.
Lead conversion - HubSpot's lead conversion tools drive new contacts to your CRM.
Reporting - HubSpot's reporting helps you uncover valuable insights — such as revenue and contact attribution — to improve a website's user experience and performance.
Dynamic content - Smart content based on visitor demographics and behavior — or strong conversion performance — automates multiple marketing activities and collects insights.
Security - Many features are native to HubSpot, eliminating common security risks associated with plugins.
Switch to HubSpot With an Elite HubSpot Agency Partner
Migrating to a new CMS can seem daunting. But in our experience, the HubSpot CMS is immensely powerful, and we can't imagine doing our marketing without it.
While we're big proponents of HubSpot here at Mole Street, we also recognize that companies need to make the transition quickly and efficiently. We want you to spend more time creating remarkable content and less time migrating it.
As a HubSpot partner agency, we help companies transition to the platform and hit the ground running with their new CMS.
To discover how we partner with your organizations to make the most of HubSpot's CMS, download our free guide or reach out to learn more about our services.