Building and Sustaining a Healthy Company Culture through Periods of Rapid Growth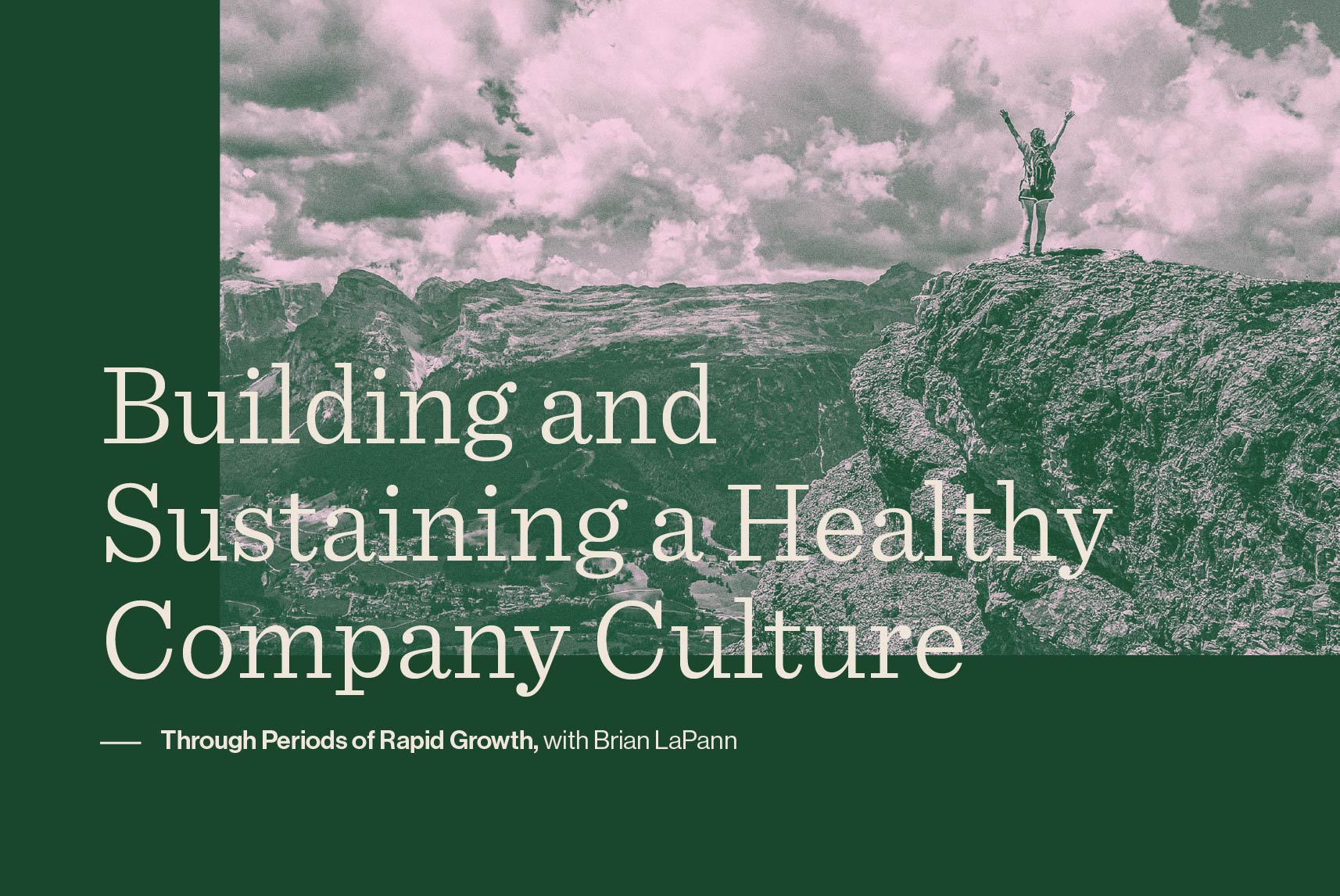 Easier to talk about than to build and sustain, a company's culture is perhaps half determined by the people who work there: the humans sitting behind the screens in the office or in their homes.
The other half? We'd postulate that it has to do with a company's leadership and their commitment to defining and upholding a set of shared values.
Company culture is the heartbeat of an organization and is influenced by the alignment, shared values, and chemistry that evolves as people come together — whether in one location or dozens — to work toward a common goal.
When a team's values, goals, attitudes, and systems are all in sync, the culture is palpable. The indelible effect of a strong, unified culture is obvious to even outsiders. A supportive, thriving culture attracts talent and clients alike while also aiding in the retention of key employees.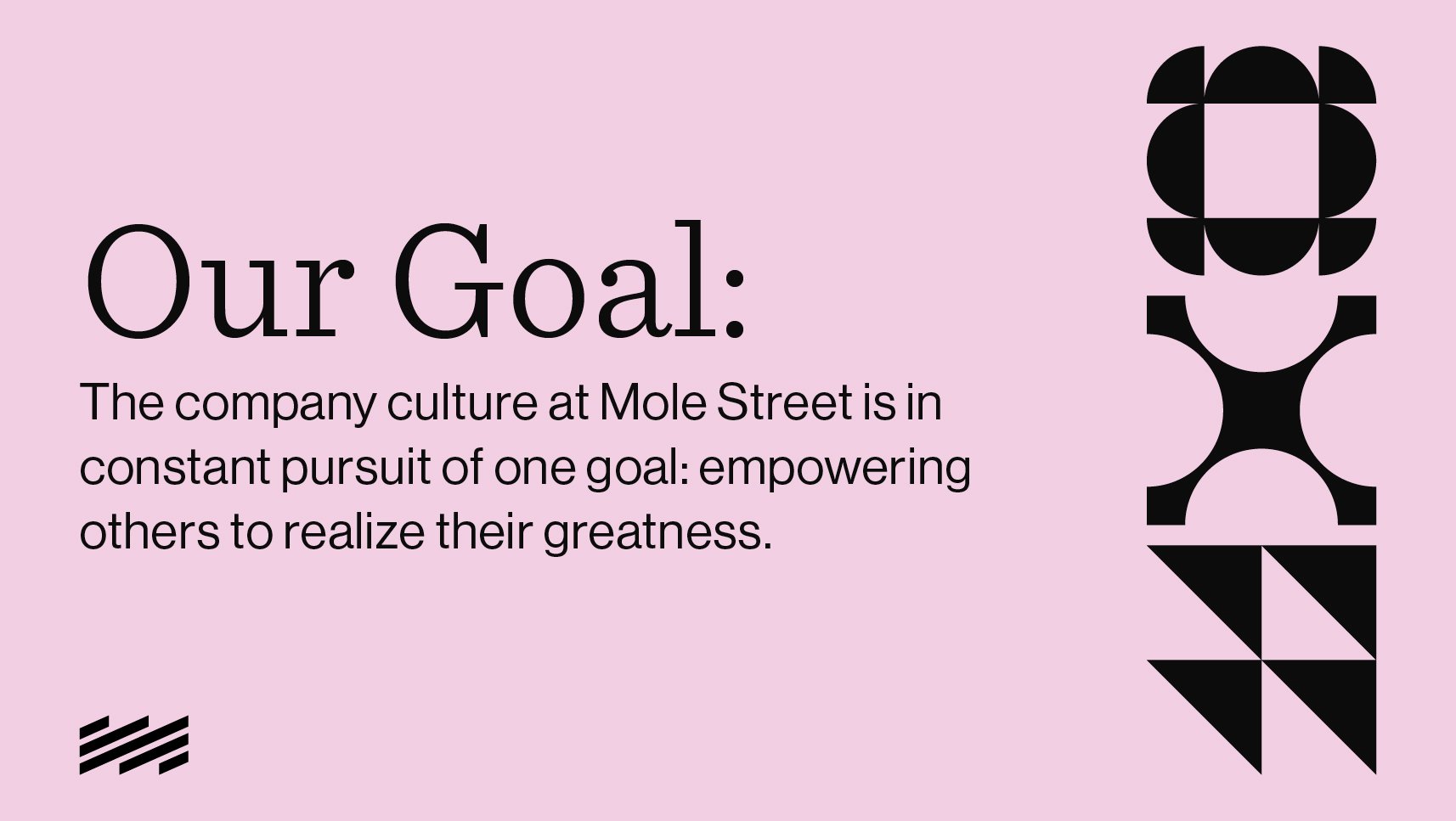 The company culture at Mole Street is in constant pursuit of one goal: empowering others to realize their greatness. Journey with us as we unpack how Mole Street is building, maturing, and sustaining a positive, healthy culture in its most rapid years of growth.
It Starts From Within
The most powerful company cultures are born from intention. When leadership takes the reins and sets out a course to encourage team member participation in forming the culture, everyone has a vested interest and plays an active role in ensuring the culture's continued maturation and success.
Defining Company Values
While there's not a preset template for how to launch culture-building efforts, Mole Street was compelled to begin building our culture by identifying and defining our values and mission. Ultimately, these values guide our hiring decisions, client relationships, and how we work through challenging times.
Our current values have evolved somewhat from those defined by our co-founders over a decade ago. We recently went through a digital transformation and in the process, took inventory of our values and updated them to better reflect our present state and future endeavors.
Mole Street's Values
Joy: Not everything in life and work will make you happy. But no one else can steal your joy.
Authenticity: A Mole is honest, real, and true.
Curiosity: Keep pursuing answers, exploring technologies, and following thoughts that lead you to innovate ideas. Ask more questions.
Grit: Sometimes it's jumping high. Other times it's digging in. A Mole knows how to focus, roll up their sleeves, and get their hands dirty.
Growth Mindedness: Listen. A Mole is teachable, open, and receptive to opportunities to expand talent and abilities.
Accountability: We do what we say we are going to do.
Clarity: Think deeply and communicate simply.
In everything Mole Street does — from hiring and team member onboarding to navigating complex issues — these seven values serve as our guide.
Empowering Team Members
After laying the important groundwork of defining our values, we set out to empower everyone on the team to contribute to and benefit from Mole Street's culture.
Recognizing that each Mole has unique talents and abilities, the executive team encourages team members to contribute ideas for how best to build and maintain a strong bond between colleagues.
Today, everything from celebrating birthdays and praising each other on our team "kudos," to sharing weekend adventures and pictures on a shared Slack channel, was a direct result of empowering individual team members to take ownership of the company culture.
Keeping the Team Informed
At Mole Street, everyone on our team knows where every prospect sits in the sales pipeline. Each one of us is intimately familiar with the quarterly and annual goals set by the executive team, and we all have insight into profitability.
Why, exactly? Because it was decided early on that leadership would be committed to keeping the team informed. That doing so would be an important part of our culture, and it would help individuals take additional ownership of their role in Mole Street's successes and struggles.
Team members receive regular formal reviews, SMART goals to achieve each quarter, and always know where they stand within the organization as it relates to their performance and areas where things could be improved. By keeping the team informed, none of us are bystanders to the company's success: we're all actively a part of it.
Committing to Good Benefits
Providing employees with a good benefits package is an important part of building a healthy company culture. From generous paid time off to fully paid health insurance and wellness programs — modern-day company benefits are a major factor in attracting new talent and retaining existing team members.
Benefits leave a lasting impression on employees and certainly can have a positive or negative impact on company culture. At Mole Street, we value our employees and recognize they are sons, daughters, moms, dads, sisters, and brothers with entire lives that exist outside of working hours. Our benefits are designed so everyone can give it their all at work and at home.
Unplugging for a Connected Culture
Like many businesses today, Mole Street is a remote company with team members located throughout the United States and South America. Recognizing that maintaining culture requires extra effort when the team isn't in-person at an office everyday, Mole Street Principals Brendan Walsh and Brian LaPann are committed to in-person team events.
In March 2022, our Florida team members gathered in Palm Beach, Florida, for a day of co-working and a weekend of relationship building. It was so impactful that the decision was made to send any team member who could attend to HubSpot's annual Inbound conference in Boston in Q3 2022.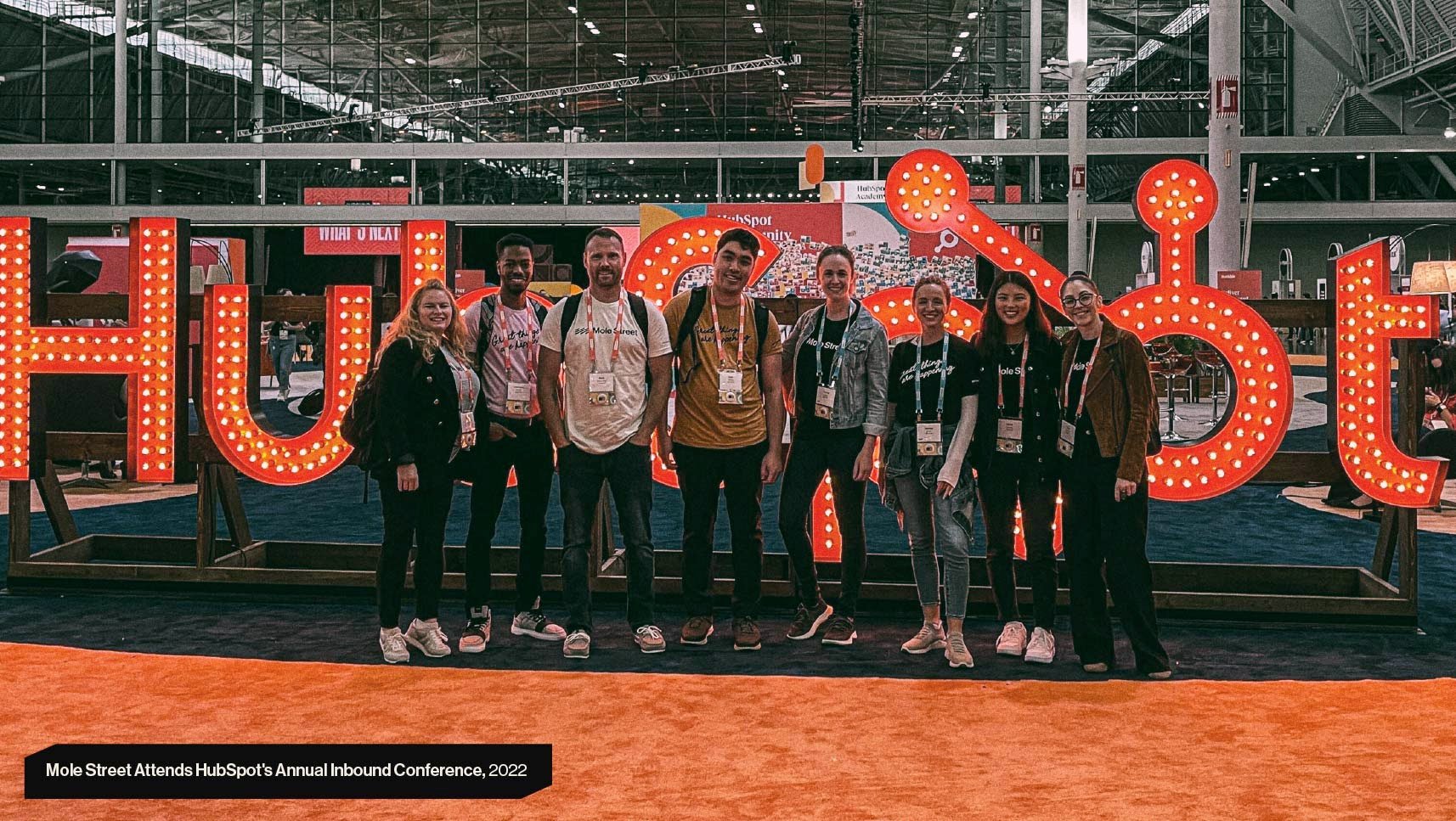 The result was four days of powerful team building that could not have been accomplished through computer screens. Of course, there was plenty of learning, networking, and professional growth that took place during that week in September. Connection was a prominent theme by speakers at the conference, and culture was the center of several sessions — including those led by HubSpot's CEO Yamini Rangan and Co-founder Dharmesh Shah, as well as Dr. Jane Goodall.
Even with the many benefits afforded by working remotely, there is something to be said about unplugging and getting face-to-face time with coworkers. Magic happens when we come together, which is an integral part of our culture at Mole Street.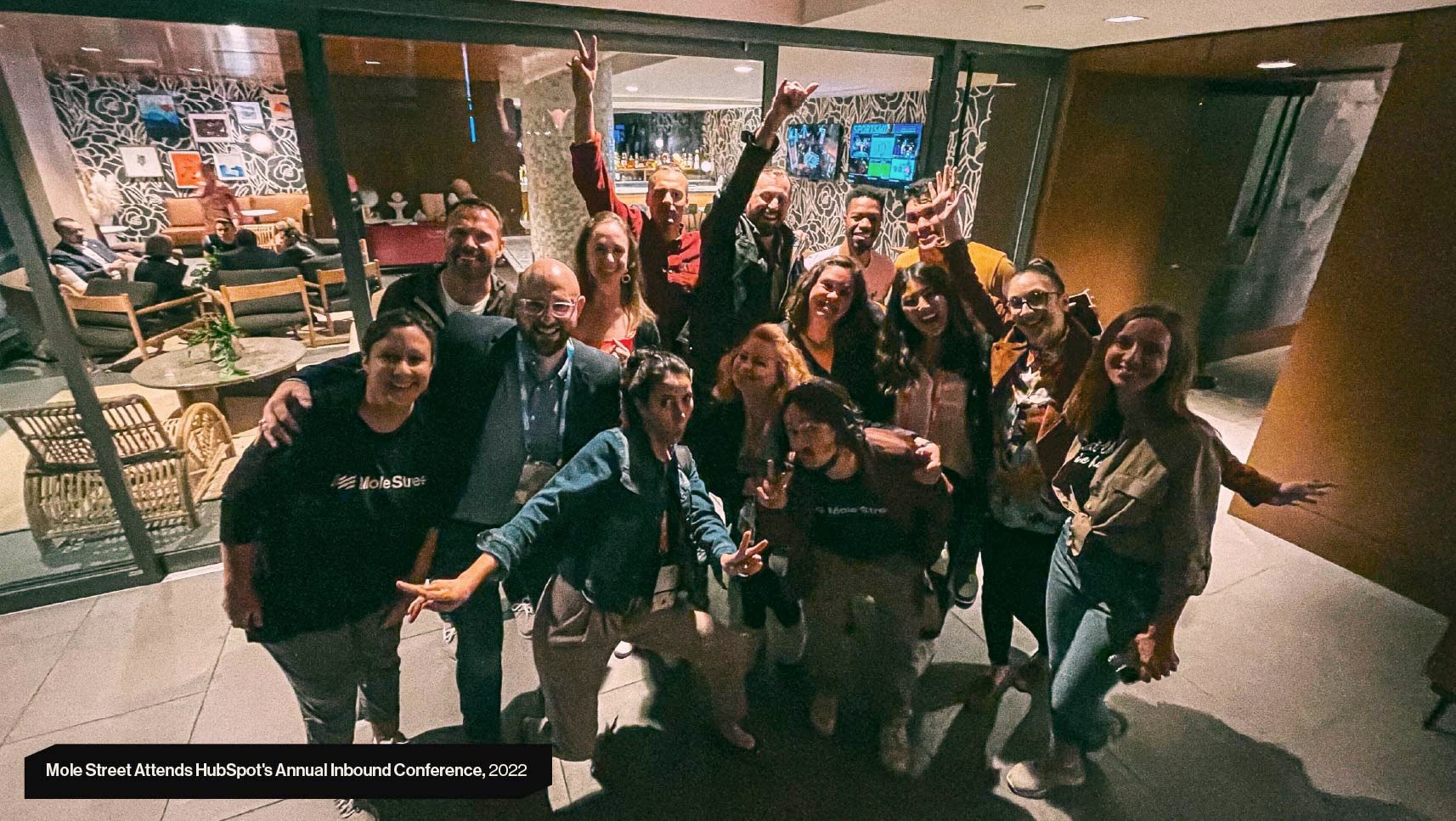 Staying Together When We're Apart
Building a positive company culture within a remote environment isn't easy, but it's not impossible. As a team, we've found fun ways to stay connected when we're physically apart. Some of the initiatives our team has adopted to foster a stronger culture include:
Party planning committee — Mole Street's newest addition to culture building, this group plans happy hours, parties, and other events for the team.
Virtual holiday parties — Last year we took a Zoom-based pizza-making class and made homemade pies together, virtually.
Kudos Slack channel — When one of us wins, we all win, and so we acknowledge and celebrate as a team.
Weekend Slack channel — We share our weekend adventures, family milestones, and when our kiddo breaks his first board in karate. If it's important to one of us, it's important to all of us.
These are just a couple of the ways we stay connected as a team when working from home. And while it's true that it's more difficult to build a healthy culture remotely than when you're in-person everyday, it's a challenge we're happy to accept because we've seen and experienced the outcome it has on our business, team members, and client efforts.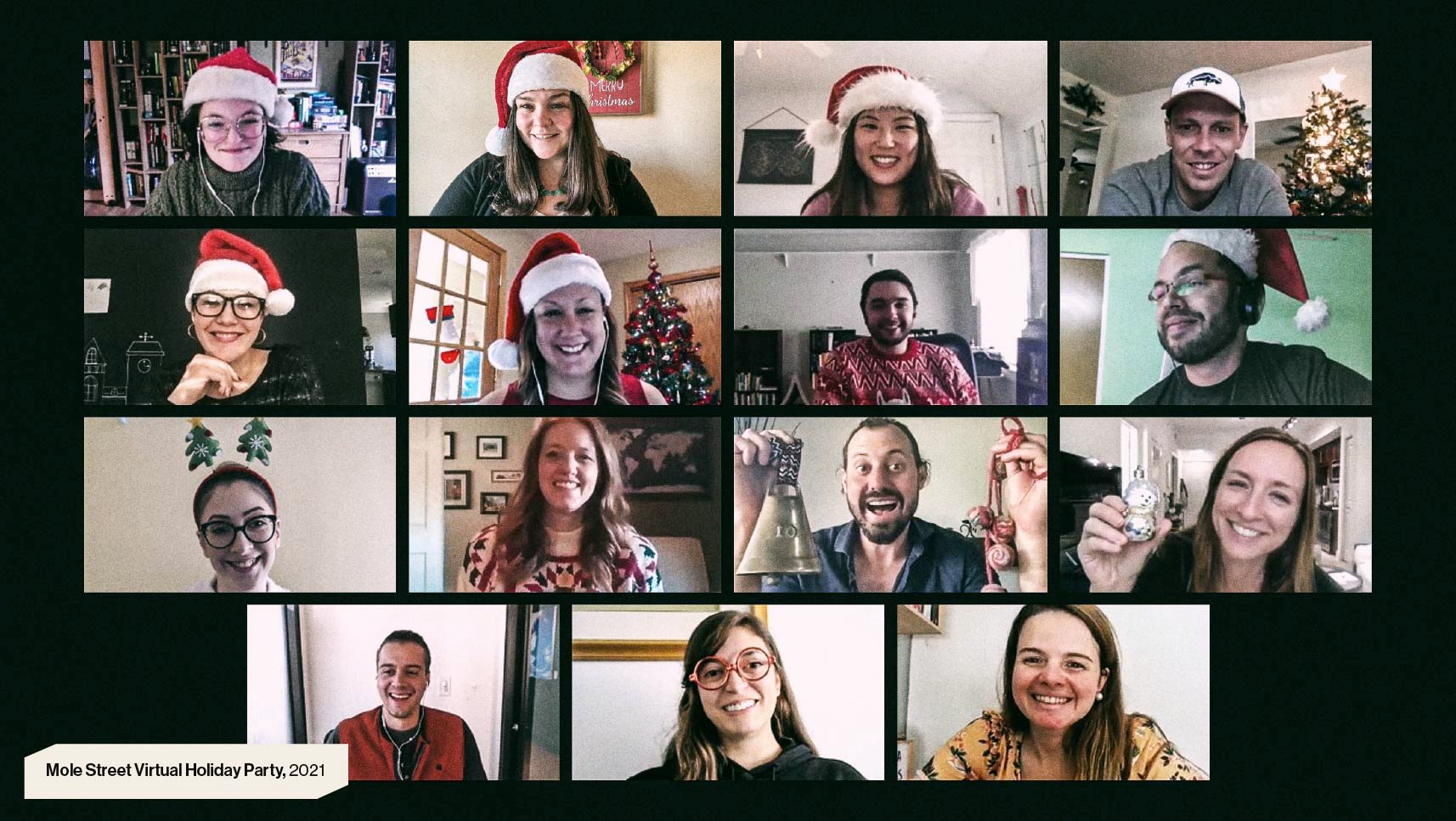 Empowering Others to Realize Their Greatness
Earlier in the article, we talked about how Mole Street's company culture exists to pursue one overarching mission: empowering others to realize their greatness.
Everything we've done to build our company culture ties directly back to this objective. The values, systems, processes, and yes — even company events — are all designed to help us achieve our greatness.
Mole Street is a remotely connected team of strategists, technologists, and designers that thrive on empowering others to realize their greatness. Care to join us? Check out our open positions to see if there's an opportunity for you to join the MoleStreet mission!