16 Tips on How to Allocate Digital Marketing Budget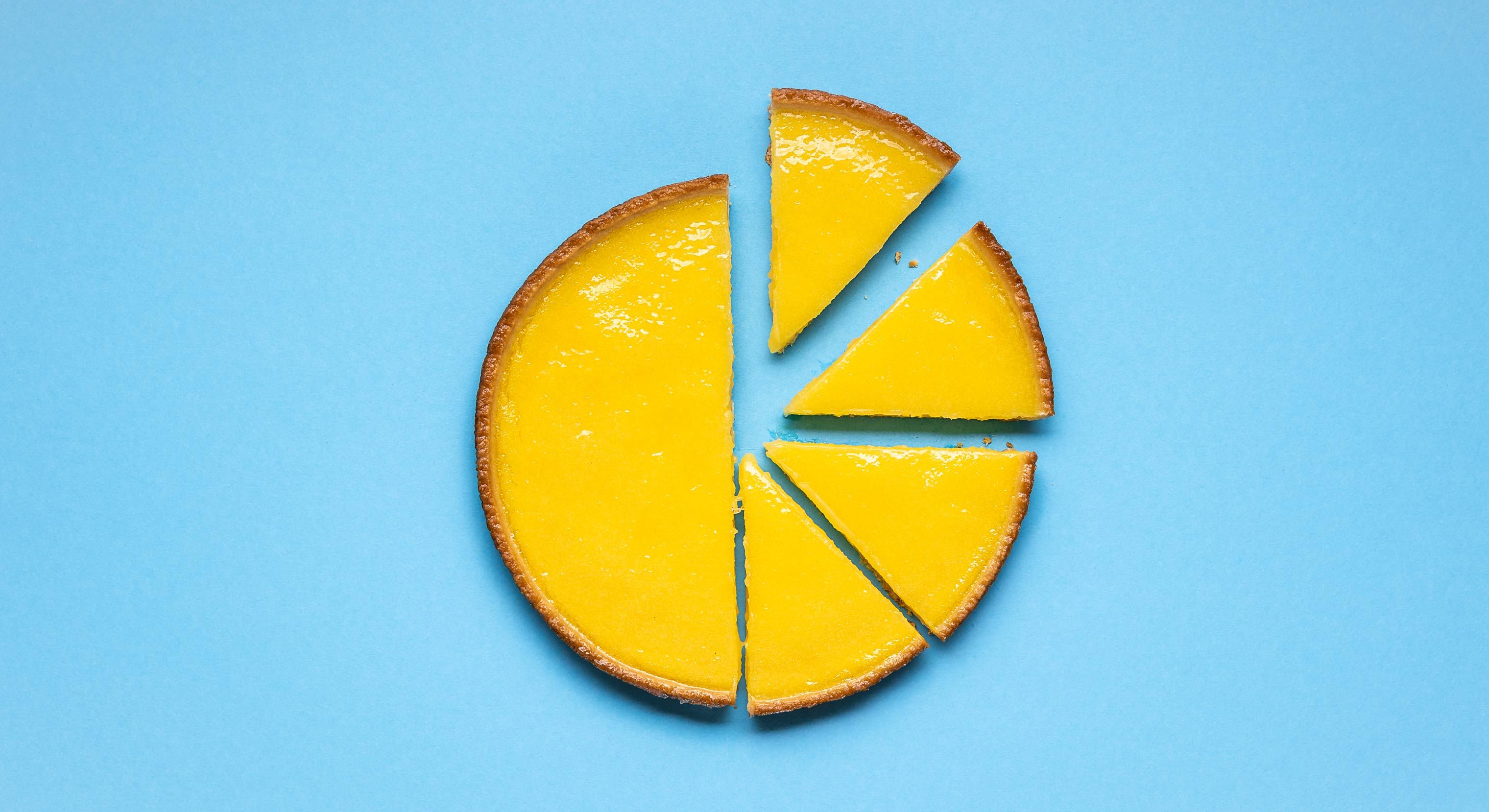 The C-Suite and even board members all have the same questions — "how much should we be budgeting for marketing this year?"

Your marketing mix is likely composed of both paid and organic initiatives, which makes complete sense. There is an abundance of marketing channels that only require spend for the people and software used to create them, such as blog posts, organic social media content, and video marketing.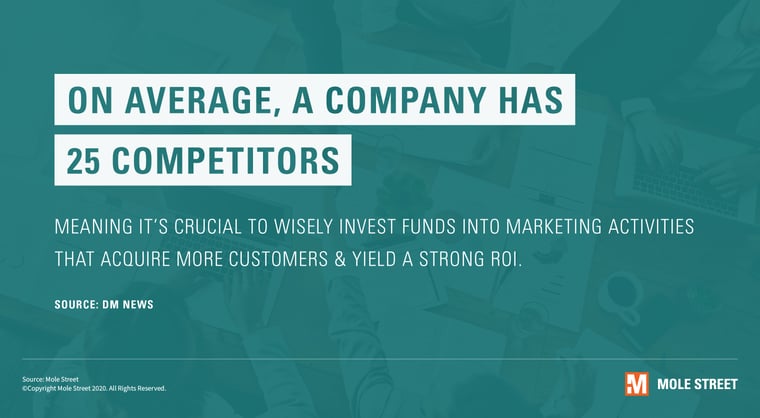 On the other hand, a company has 25 competitors on average – meaning it's crucial to wisely invest funds into marketing activities that acquire more customers and yield a strong ROI, such as online advertisements on search engines and social media.
It's a tough balance to strike, but companies need to invest enough money into their marketing budgets to reach a wide, unfamiliar, and appropriate audience without aimlessly spending on campaigns that won't pay you back.
In this article, we'll walk you through the steps you need to take in order to allocate your marketing budget appropriately, highlight some common ad spend figures, and give you tips to make your budget last – and matter.
Download Now: Free Marketing Budget Template
Digital Marketing Budget Allocation: How Much Should You Be Spending?
According to the SBA, businesses should spend up to 7-8% of their revenue on marketing, but a simple percentage-of-sales model might not be best for everyone. Some companies have marketing budgets in the billions when factoring in salaries, software, and ad spend. Others have a minimal budget and rely on annual marketing spend in the hundreds or thousands, elevated by strong word-of-mouth marketing and organic reach.
How to Allocate Budget for Digital Marketing
Whether it's the first marketing budget you've ever built, or if you're looking to give your process a refresh, take these steps to determine and allocate your marketing budget.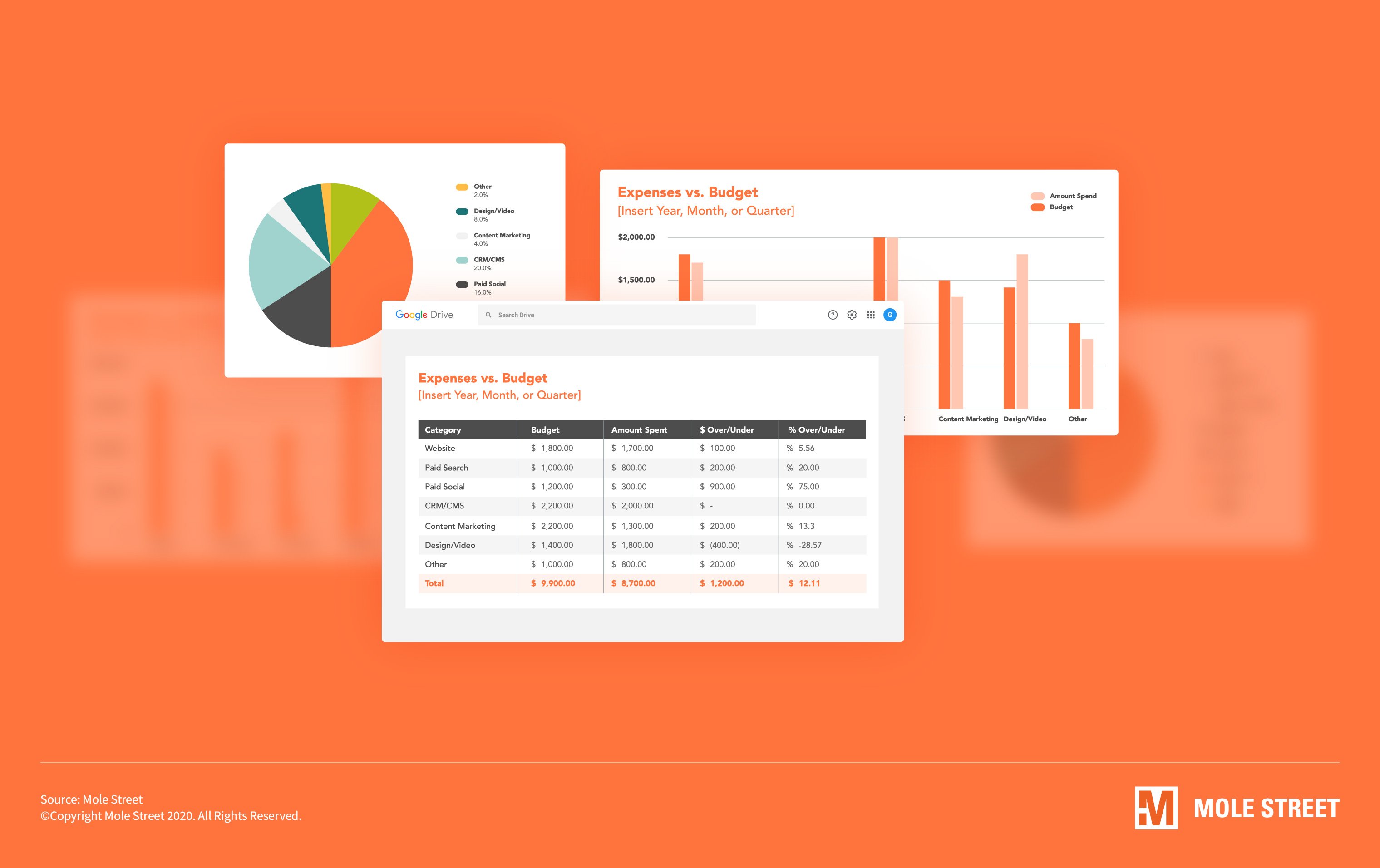 1. Use a Marketing Budget Tracker
Any legitimate organization needs to use a template to prepare its budget, track its expenses, and analyze variance between the two. Otherwise, your marketing spend cannot be properly assessed, and you'll be chasing down invoices more often than you'll be creating marketing collateral.
With a marketing budget tracker, you can visualize your data to see how your budget and spend have been allocated by category. This report will also help you when you're preparing subsequent budgets, as you can factor proposed spend, actual spend, and the results of your spend into your future planning.
To save time building out your tracking template, use Mole Street's Free Marketing Budget Tracking Template.
2. Review Your Company's Marketing Goals
Before you set your budget, make sure your company is aligned on:
What your organization's top priorities for the upcoming time period are, and...
Which initiatives marketing is expected to support – and to what extent.
For example, your company may be making a major hiring push next quarter, but aside from collaborating with the social media team on messaging and posting open roles on your social channels, this initiative probably wouldn't dip into the marketing team's budget.
However, marketing will be responsible for supporting other time-sensitive initiatives, such as:
Product Launches
Deals or Promotions
Product or Event Signups
Landing on your official budget will require a balance between these limited-time initiatives alongside ongoing conversion strategies that require a budget.
3. Review Last Year's or Quarter's Results
If you poured $10,000 into Facebook Ads last month and saw no clicks, conversion, or attributable revenue, does it make sense to run those same ads with the same budget this quarter?
No. No, it doesn't. The first thing you will want to do is immediately pause your campaigns and analyze the data.
That's why it's crucial to continuously review the performance of your marketing collateral and activities as they pertain to budget so that you allocate your funds appropriately.
In other words, pouring gasoline won't grow your fire until you already have a flame.
Some questions you should ask yourself during this review are:
What marketing activities contributed to our bottom line?

Does it make sense to maintain or grow the budget in these areas?

What marketing activities did not contribute to our bottom line, or at least as much as we had hoped?

Is there anything we can change about these ads or campaigns that could improve their performance?

Which channels' or initiatives' performance improved or worsened over time?

For those that improved, how can we continue this trajectory?
For those that got worse, is there anything we can do to reverse course, and is it worth it to attempt to reverse course?
4. Determine the Appropriate Channels
Not all promotional channels are created equal. As such, the channels you choose for your marketing strategy will look vastly different from industry to industry.
Ask yourself the following questions:
Do I need to do outreach?
Is this an inbound marketing strategy?
Do I want to target specific audience groups based on their demographics like job title and age?
Is it better to target a specific audience group based on intent and behaviors?
Is my goal awareness—therefore tracking views and traffic?
Is my goal conversion—tracking qualifying activities?
Part of budgeting is putting the right amount of money in the right places. In addition to reviewing your previous marketing efforts, you'll need to partake in other crucial market research activities – like building buyer personas, conducting customer and stakeholder interviews, and analyzing your current audience online. These steps will give you the insights you need to choose the best place to promote your product, and which ones to avoid wasting your money on.
5. Factor in Salaries, Agency Costs, and Production Costs
When the term "marketing budget" is thrown out, people tend to equate it with "advertising budget." This short-sightedness neglects what should be huge components of your organization's marketing budget, such as software fees, salaries, market research costs, costs pertaining to your website, agency fees, payroll, and freelancing fees, among so many others.
For example, you might think hiring a Video Marketing Coordinator may be a more cost-effective way to get more in-house video content released, but did you consider the equipment, software, HR fees, and travel expenses that come along with making that type of hire? These expenses can add thousands of more dollars annually to your budget that you may not have accounted for.
Keep these extra costs top-of-mind, especially when planning your budget for the future. Nothing halts productivity like making and waiting for a request for additional funding.
6. Finalize Your Budget
Now that you know what's worth investing in, where you'll be investing, and what additional costs need to be considered, you can finally solidify your marketing budget, submit it for approval, and get to spending.
As soon as you're approved, share the finalized marketing budget with your team so that they can start putting the spend to good use.
Marketing Budget Breakdown: Common Digital Marketing Expenses
To help organize your marketing budget, we've outlined a few common digital marketing expenses and how much they might cost you.
Keep in mind – these expenses can and will vary widely depending on your company size and purpose. We'd suggest consulting someone in each of these fields to give you a more accurate number.
7. Website
In today's day and age, a reliable, well-designed website that is directly responsible for generating new business is not optional.
According to WebFX, designing a proper website costs $23,000 to $175,000 upfront and anywhere from $400 to $100,000 for annual upkeep. Costs pertaining to this line item can include technical requirements like UX/UI development and testing, additional website development, and support/maintenance. Costs can also pertain to the optimal utilization of your website, such as website optimization strategy and consultation. Don't forget to account for any associated salaries for dedicated members of your website team.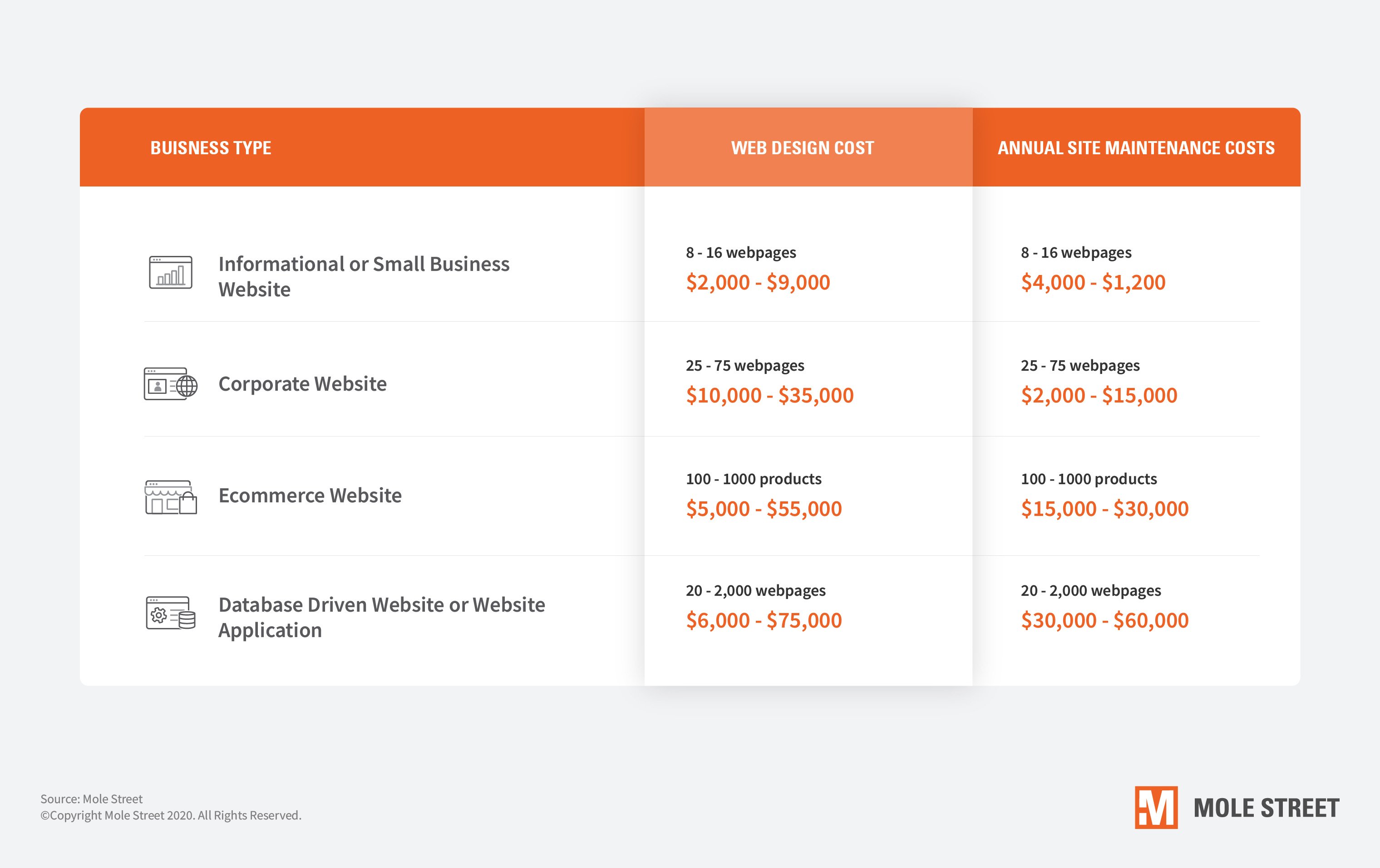 This budget line item can create sticker shock, but remember that the website creation costs are a one-time fee, and given the requirement for a strong website in 2020, it's an investment for which you'll quickly thank yourself. We recommend working with an agency that's specialized in web design to make the most out of your investment here.
8. Paid Search
The average company that uses Google Ads spends $9,000-$10,000 monthly on online ad campaigns, according to WordStream.
Additionally, WordStream reports the average cost per click on the Google Ads search network is $2.32, and 58 cents for its display network. If you're attempting to secure a certain number of website visitors or contacts each month, you can set your budget by working backwards based on your ad clickthrough rates and page submission rates to help you determine a dollar figure for this expense.
9. Paid Social
Paid social campaigns will cost companies nearly $100 billion in 2020 – and this number makes sense given the success companies have seen from the source. 65% of B2B companies have used LinkedIn ads to acquire customers, and companies reporting Facebook as the website – search or social – that has the strongest ROI on ads.
Companies will often roll up influencer campaigns into their paid social budgets as well, which can cost a few hundred to tens of thousands of dollars, depending on the influencers you work with and the size of their following.
10. Content Marketing Costs
According to HubSpot, companies spend 46% of their marketing budgets on content creation costs. Since content is typically put online for little or no charge, this cost includes freelance budgets and salaries.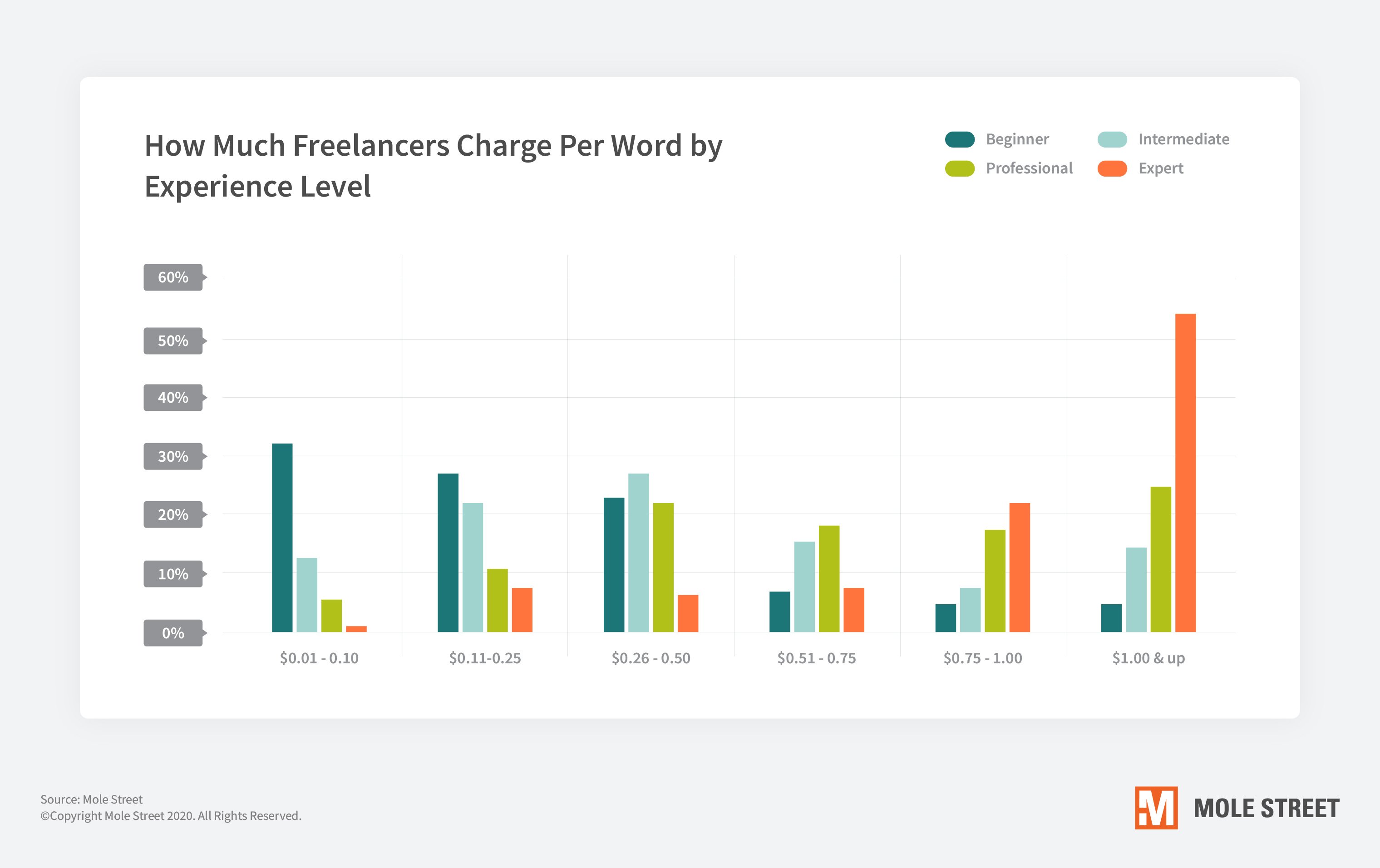 Freelance writers charge anywhere from 10 cents to a dollar per word, with 60% of expert writers charging more than $1 per word. In other words, if you rely on a team of freelancers to produce five 1,000-word posts each week, that would cost you anywhere from $500-$5,000+ per week, or $2,000-$20,000 per month, on average. In-house, hiring a content marketing specialist to manage your content will cost $54,000 on average.
Non-copy content – like video and design – can roll up into this cost as well, but we'll touch on them in a separate section.
11. CRM, CMS, and Marketing Automation Software Costs
Given the 2020 marketing software ecosystem, costs for tools such as a CRM or CMS range drastically. Some start at a free tier, while others start a tier of tens of thousands of dollars per month, with most software costs increasing gradually as more users, contacts, and features are added.
BetterBuys has compiled a list of prominent marketing software alongside the prices you can expect to pay.
12. Graphic Design Costs
Custom graphics are essential to helping a brand stand out, evolve, and thrive. This is especially true when design is paired with UX and website/product development, and how these designs pertain to your brand.
But good design doesn't come cheap.
In-house graphic designers will cost an average salary of $40,000-$50,000 according to ZipRecruiter, with senior-level designers requiring significantly higher salaries than that.
For an in-house creative team, don't forget about software fees, such as Adobe Creative Cloud or a Canva Enterprise account.
You can also freelance out your artists, but expect to pay them between $20 and $150 hourly, or you can work with a creative agency.
13. Video Costs
As your company scales, building a presence on YouTube and being able to go live on Facebook or Instagram requires high-quality video production. Anything less will send your brand's reputation into jeopardy.
In-house video marketers have an average salary of $53,000, with some being paid as highly as $145,000. Additionally, you'll have to face the up front cost of production materials like mics, cameras, backdrops, lighting equipment, and potentially even a studio, not to mention post-production editing software like Premiere and hosting software like Vidyard or Wistia. Lastly, sending your video team on-site to film case studies or your product in use could result in travel reimbursements chalked up to the budget.
Outsourcing video production will save you from all of the above – minus hosting and travel costs – but each decent video will cost you $1,200, with a more common range being $2,000-$5,000 for a standard, quality production.
14. Allocate a Portion of Your Budget to Your Existing Clients
It costs five times as much to sign a new customer than to keep an existing one. Is there an opportunity to up-sell or cross-sell?
By investing time and resources into an exceptional customer experience, you'll reduce your customer churn rates. This could require making the case for more funds into support, account management, and customer communications – but it will allow your company to scale thanks to more repeat business.
15. Make Every Decision Based on the Data
Be wary of members of your marketing team who make decisions based off of feelings and assumptions. Instead, consult the data. For example, your CEO may be concerned about a $9 cost per click (CPC), but be sure to look at the complete data picture. Instead of looking solely at the cost per click, what is the cost per acquisition (CPA)? Is the CPA appropriately positioned relative to the margin on your product?
Monitor your paid ads performance every day. While advertising platforms like Facebook can automatically drive more traffic to the best-performing ad so that advertisers get their money's worth, it's still worth checking in on your paid ads every day to ensure you're staying within budget, meeting the goals of your ads, and pausing/editing your ads when needed to minimize your spend and maximizing your ROI.
16. Hold Your Team Accountable
Between software, freelancing, and other tools, marketing expenses add up fast – and many marketers would rather apologize than ask for permission.
To avoid your team going over budget, set strict limits and guidelines to ensure as little overspending as possible. We all would love that extra amount of support, but you put a lot of care and thought into developing your budget. Your team should respect that.
Making the Most of Your Digital Marketing Budget
While it seems like a daunting task, establishing a marketing budget paves the way for your team's and company's success. Remember to keep track of your budget and expenses with a tracking sheet, and consider outsourcing certain marketing activities to an agency to manage costs better.
Another key way to make the most of your marketing budget is to ensure you are making the most of your HubSpot tools. Consider exploring a HubSpot Consulting relationship with a trusted agency partner.
Originally published July 2020. Updated May 2022.