FINPAY is one of the fastest growing national healthcare technology startups in the United States. A truly revolutionary technology-enabled service provider, the company needed a better way to demonstrate the superior impact they had on their clients' bottom line along with a scalable lead conversion strategy for their sales team. They wanted to drive more traffic, track engagement and better integrate their SalesForce CRM with their HubSpot Marketing Platform, and use inbound marketing tactics to convert visitors to SQLs.
The Challenge: Devise a healthcare content marketing strategy to generate leads and convert new business.
Our challenge was to start from square one and take calculated steps toward a rebrand of the law firm's iconography and launch of a new website and content strategy.
Mole Street's challenge was to orchestrate an inbound marketing strategy that would fill the FinPay's sales pipeline.
Objective 1: Significantly increase the number of new website visitors

Objective 2: Educate their top personas on the benefits of patient financial management

Objective 3: Generate inbound leads to ultimately increase bottom line sales
Our Approach to Healthcare Content Marketing
Our methodology included generating content for all stages of the buyer's journey and automating follow-up messaging to nurture visitors toward conversion to leads.
Onboard and train the client on the HubSpot marketing hub

Integrate SalesForce CRM

Set up customized reporting dashboards

Design and build new website pages in WordPress and post content to better communicate FinPay's service offerings and educate prospects

Develop strategic placement of CTA's throughout the site, encouraging website visitors to provide their contact information in exchange for valuable information

Automate email drip campaigns, using workflows to trigger the communication and keep prospects engaged and nurtured

Use HubSpot to track behaviors so the sales team can create better conversations with prospects and nurture sales qualified leads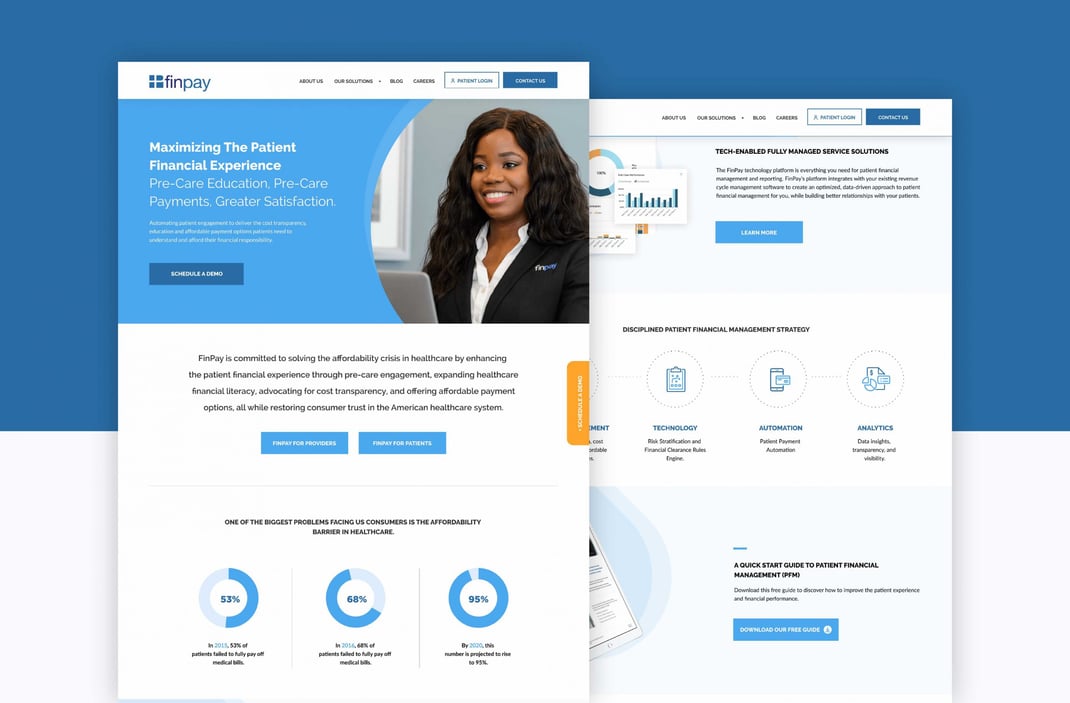 Content Marketing
Through comprehensive keyword research, the Mole Street team identified numerous areas that FinPay could compete in organic search. Based on this research Mole Street created the following content to lay the foundation for an ongoing SEO program:
New homepage

New contact us page

New pillar pages

Keyword-optimized blog posts
As a result of Mole Street's content marketing program, FinPay soared to the first page of search for "patient financial management."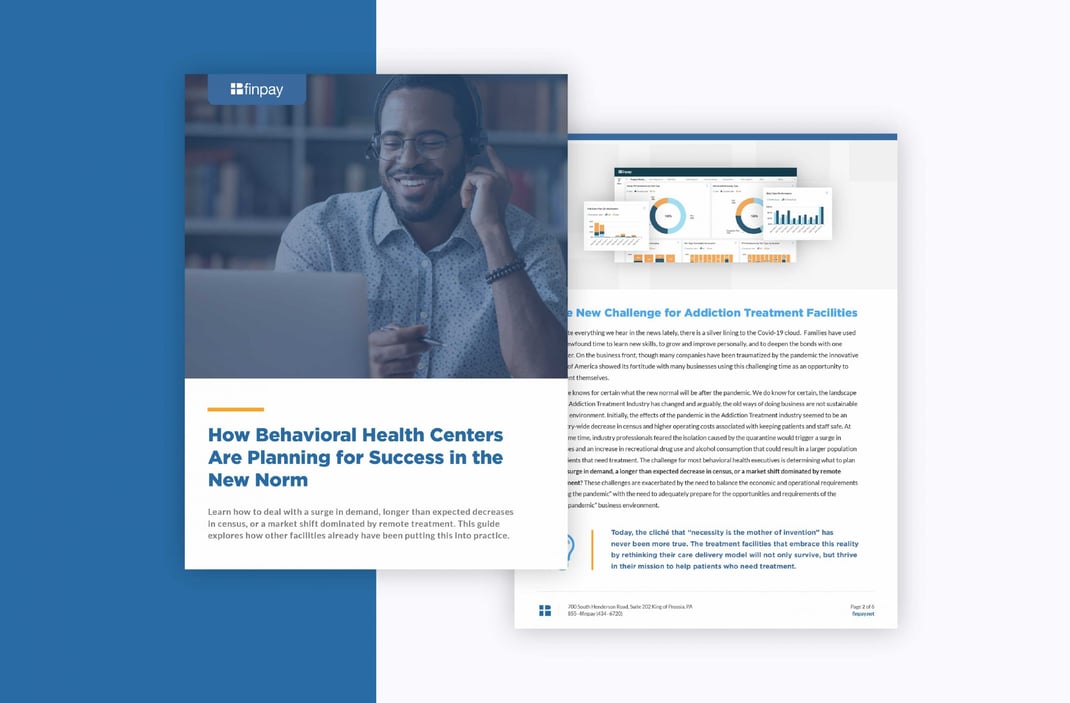 We also produced free content offers and integrated HubSpot CTAs and forms, thus developing conversion points for tracking user engagement and triggering workflow automations:
eBooks

Tip Sheets

Product demo scheduler

HubSpot CTAs and forms

Sales enablement assets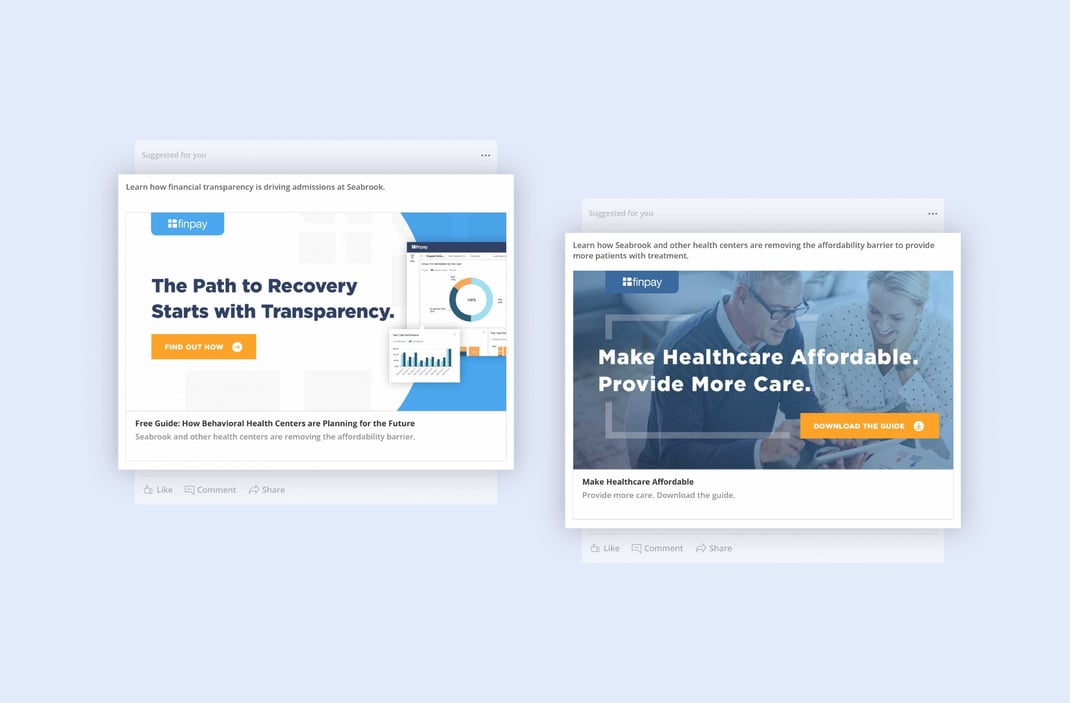 LinkedIn Marketing
To drive engagement and leads, we produced a LinkedIn marketing campaign that offered a free guide which showcased how FinPay can be utilized to improve patient satisfaction and repayment rates for behavioral health clinic target audiences. The campaign included inline lead conversion forms for downloading the free guide. The ads integrated directly with FinPay's Salesforce CRM for contact visibility.
Integration with the Salesforce
The HubSpot sales and marketing platform was a natural fit for this B2B healthcare client. Engagement with our marketing initiatives were synced with the CRM in real time, providing invaluable insights that ultimately informed sales prospecting.