Companies Are Switching to HubSpot CMS. Should You?
For enterprise and mid-market companies that are creating content for their websites, a powerful, easy-to-use content management system (CMS) is essential. The decision of which CMS to adopt typically comes down to two choices: HubSpot and WordPress.
Usually, WordPress is seen as the default choice, with 75 million websites having been built with WordPress. However, die-hard WordPress users are actually switching over to HubSpot, with the HubSpot CMS software being named the #1 Web CMS for three consecutive quarters on G2 Crowd.
Both of these website builders are feature-rich and give you the necessary tools to scale your content output and make a name for your brand online, but which CMS should you ultimately decide to use?
In this comparison guide, we'll walk through the main differences and similarities of HubSpot and WordPress to help you decide which CMS is right for your company.
Page Design
Page design is one of the areas where the major functionality of both platforms largely overlaps. For both HubSpot and WordPress, the ability to purchase and utilize page themes is available, meaning for a small fee you can build off a pre-built design scheme. Both platforms also offer a drag-and-drop feature so you don't need to bother a developer to make a minor change to your website.
The Winner: HubSpot
Here's why: One feature of HubSpot's that is not available in WordPress is adaptive testing. This makes A/B or multivariate tests possible to run right in your CMS to test colors, copy, or web page content to see what elements result in more conversions and time-on-page. HubSpot's CMS Hub Enterprise utilizes an AI-powered testing feature that pits up to five different page variants against each other, with the best variant being automatically selected a winner and shown to more website visitors. This feature should help you run more effective website tests – and faster. Its adaptive testing feature is the key differentiator here and will help make your page designs more impactful.
Setting up an adaptive test on HubSpot CMS Hub Enterprise is simple and effective.
Blog Editor
WordPress started as a blogging platform, so naturally it has a fantastic blog editor. But HubSpot's blog editor is a great challenger. Let's compare the strength of these two platforms' blog editors to see how they stack up.
Transparently, both of these platforms are similar and easy-to-use. In our experience, HubSpot is slightly more user friendly for content creators, while WordPress is often preferred by developers for the customization not found in HubSpot. On the other hand, HubSpot blog content can be edited with the look and feel of your website in the background, while WordPress requires you to open a separate tab to preview what content will look like on your website.
The Winner: HubSpot
Here's why: While the two options are relatively similar, HubSpot edges out the win here for its built-in SEO tools. CMS Hub comes with SEO recommendations – such as adding a meta description or increasing word count – to help your blog content rank better, with high-impact recommendations being highlighted first.
Plugins
Plugins are a WordPress-specific feature. Thus, they do not exist on HubSpot, but HubSpot has solutions to work around this gap.
Because WordPress is entirely open source, developers can utilize any necessary plugins to ensure their website functions as needed (i.e. an online payment plugin if your website has an ecommerce component). However, there are thousands of plugins, and they can be costly and require constant maintenance. You also surface a potential security risk when utilizing an older plugin, in addition to potentially impacting the proper functionality of your site.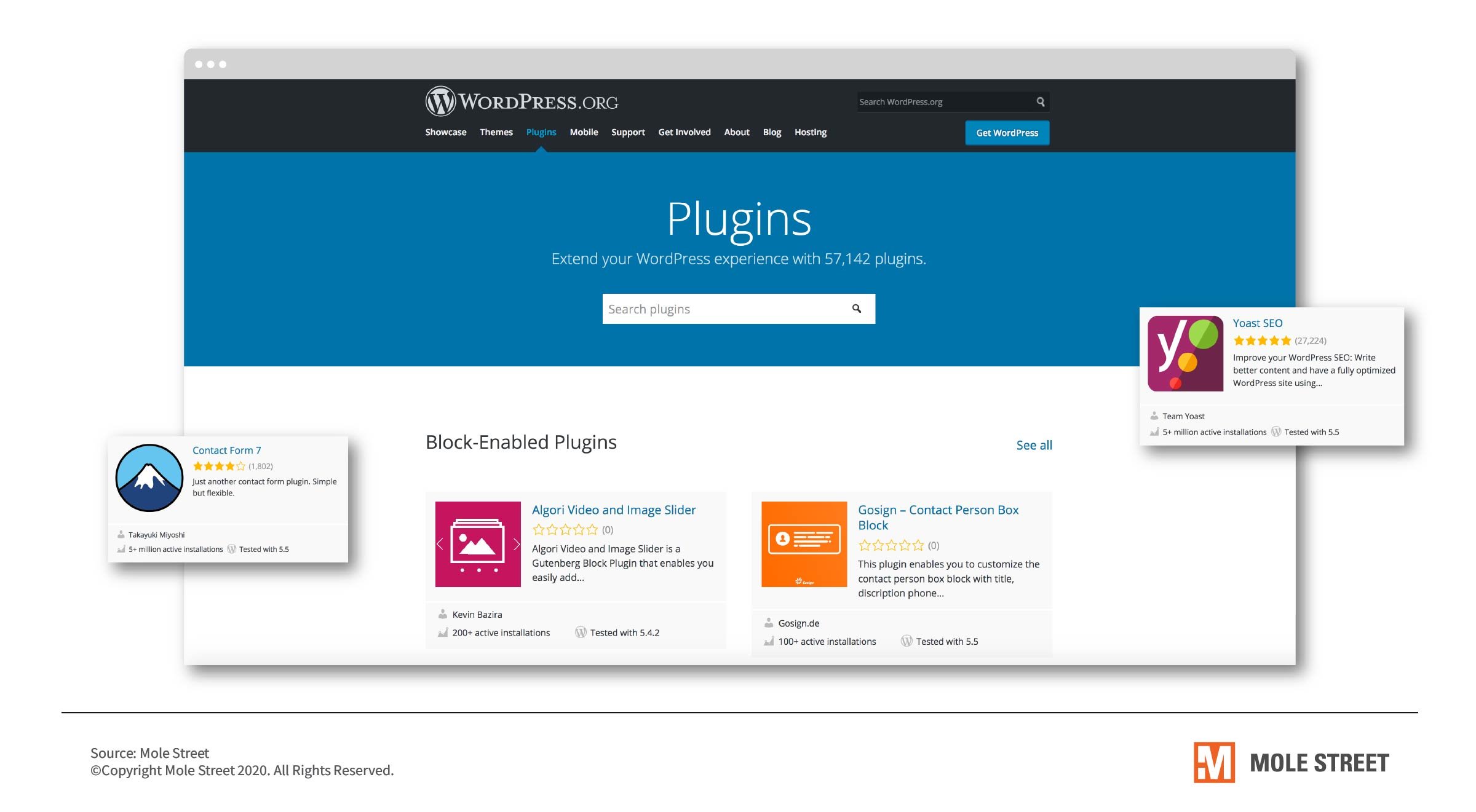 While HubSpot does not have plugins, they offer an extensive marketplace for carefully vetted apps. In that ecommerce example, HubSpot's apps include Shopify and Square.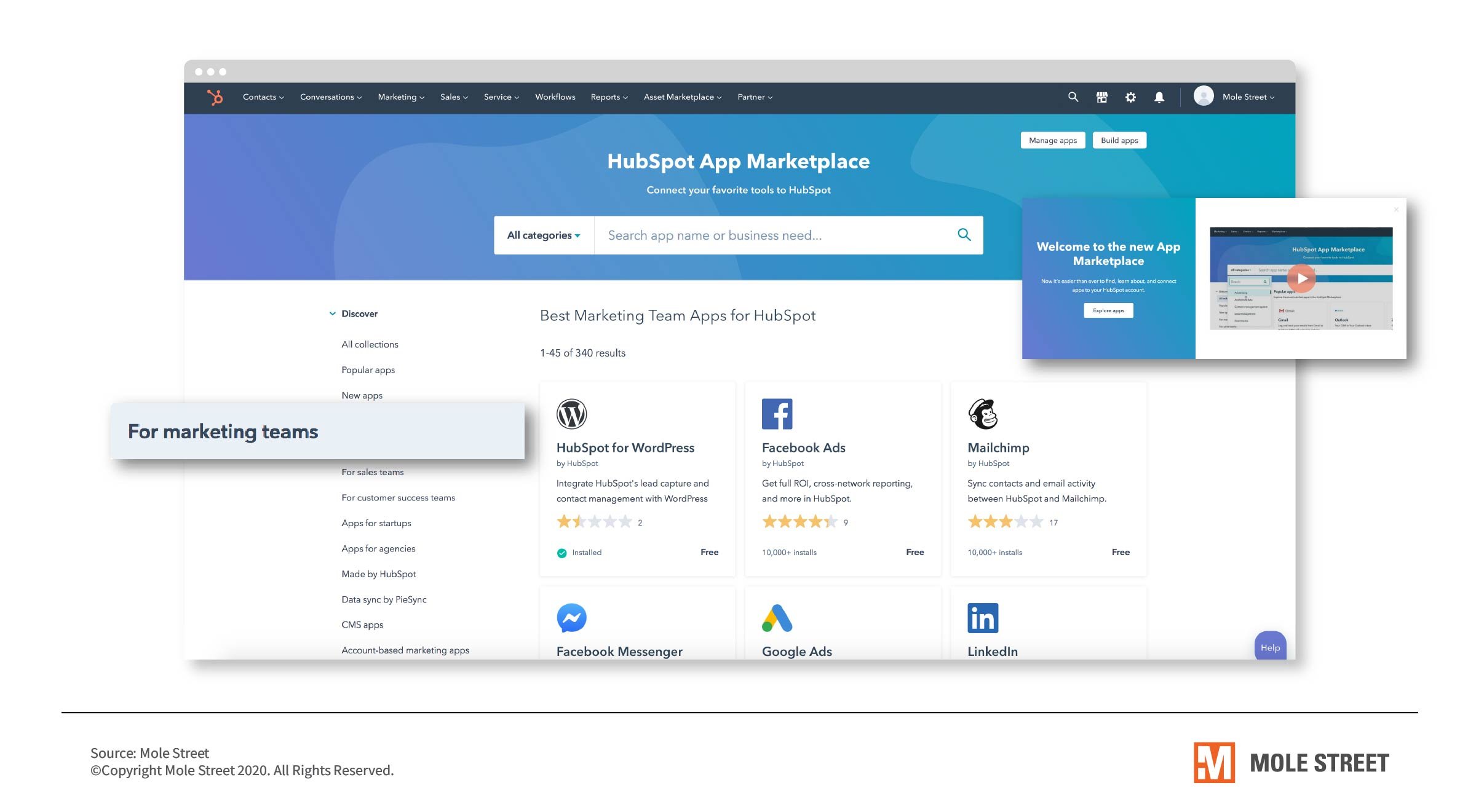 The Winner: WordPress
Here's why: The win in this category goes to WordPress. Plugins are one of the main advantages of the open source platform.
Lead Conversion
Converting your traffic into leads and contacts is one of the primary purposes of a website. Let's explore how each of these platforms make that possible:
CRM Integration
Both WordPress and HubSpot integrate with a CRM – but with a catch. WordPress needs an admin to set up the integration between the CMS and the CRM. However, HubSpot is a CRM, meaning any clicks and conversions will be available for you to analyze natively (WPEngine even suggests utilizing HubSpot as a CRM for your WordPress site).

Landing Pages
The good news is: both HubSpot and WordPress allow you to publish an unlimited number of landing pages. This means every time you want to launch another page to promote a new product or content offer, it comes at no additional cost.
The bad news is that effective landing pages on both sites will require implementation of some sort – either a paid theme from the marketplace for HubSpot, or a plugin and/or work from a developer in WordPress. We'll give the edge to HubSpot here, since plugins could require an extra layer of work to maintain your landing pages.
F

orms
Forms are the key tool for converting website visitors by giving them a path to request a demo, become a subscriber, or download an ebook. While forms are a built-in feature in your HubSpot CMS account (and send user data straight to the built-in CRM), they require a plugin for use in WordPress.
CTA Buttons
CTAs are a built-in feature in your HubSpot software, which gives you the freedom to design, build, and place calls-to-action on your website. Users of the HubSpot software can also analyze the page-level view and click performance of CTAs.
CTAs are also available in WordPress, but CTA button design and placement are contingent on the WordPress theme you select for your business.
The Winner: HubSpot
Here's why: In all four areas, HubSpot emerges victorious with native, powerful solutions for lead generation.
Reporting
HubSpot's reporting is built-in, allowing you to see views and submissions on each page over a customizable time frame. The data ties back to your CRM and can be analyzed with reporting dashboards, lists, and attribution reports.
If you prefer, HubSpot CMS users can also access and analyze data through Google Analytics for even more in-depth reporting.
While basic analytics can be accessed through the CMS, HubSpot also offers a reporting add-on for more in-depth analysis.
WordPress has no built-in analytics feature, meaning users must use a third-party reporting or analytics tool like Google Analytics.
The Winner: HubSpot
Here's why: HubSpot gives users the option of one or both analytics tools – an integrated choice requiring no additional setup or outsourcing to Google Analytics, while WordPress pigeon holes users into one option.
Governance
Who calls the shots? As your team increases in head count, you need to make sure that:
1. Everyone who needs access to your CMS has that access.
2. Specific people have certain publishing rights, admin roles, and permissions.
WordPress allows an unlimited number of admins, with a further breakdown of roles as follows:
HubSpot has a slightly different setup for permissions. Users can either be added individually, or by bulk upload with a .csv file. Instead of granting someone a role in HubSpot like you would in WordPress, individuals (or teams) are granted permissions to view, edit, or publish certain elements of your website based on a super admin's granting of those permissions.
This video explains the process pretty clearly:
The HubSpot super admin remains the only role that can create other super admins. HubSpot also requires their accounts to pay per admin.
The Winner: WordPress
Here's why: Because both tools have similar abilities to granting someone permissions, we give WordPress the slight edge since admins don't cost an additional fee. However, HubSpot does get bonus points for grouping permissions by team, meaning those who can grant permissions to new users can simplify the process by simply adding a user to a team.
Hosting & Security
When it comes to hosting (and the security that comes with it), WordPress users have hundreds of providers to choose from – including WordPress itself. Some popular hosting providers include WP Engine and WMPU DEV. Each provider comes with varying pricing plans and levels of advanced security.
For HubSpot, you can also connect your externally-hosted website to the CMS (which you can learn how to do here), but you can also host your full website with HubSpot if you set up a redirect in your DNS provider. HubSpot also has extensive security procedures in place to protect your data – from application security, to datacenter protections, to software security.
The Winner: Tie
Here's why: Both HubSpot and WordPress have advanced security options through external or internal hosting platforms. Candidly, the two are pretty interchangeable in this category.
Pricing
The bottom line many of you came to have answered – how much do they cost?
HubSpot's Professional CMS pricing currently starts at $240 per month when billed annually, with the Enterprise CMS billed at $900 per month. This fee includes hosting, while themes can be purchased from the HubSpot Asset Marketplace.
WordPress, on the other hand, is free. However, like with HubSpot, customers will need to pay for any themes, which may run up to $200. Customers also need to pay for hosting and plugins, which cost $3.95 per month and up to $1,000, respectively.
The Winner: WordPress
Here's why: Simply because the CMS itself is free.
The Verdict: Which Platform is the Winner?
The Overall Winner: HubSpot
Here's why: We've been using WordPress for nearly a decade here at Mole Street, but ever since we started using HubSpot, we've been recommending it to our clients in the enterprise and mid-market space.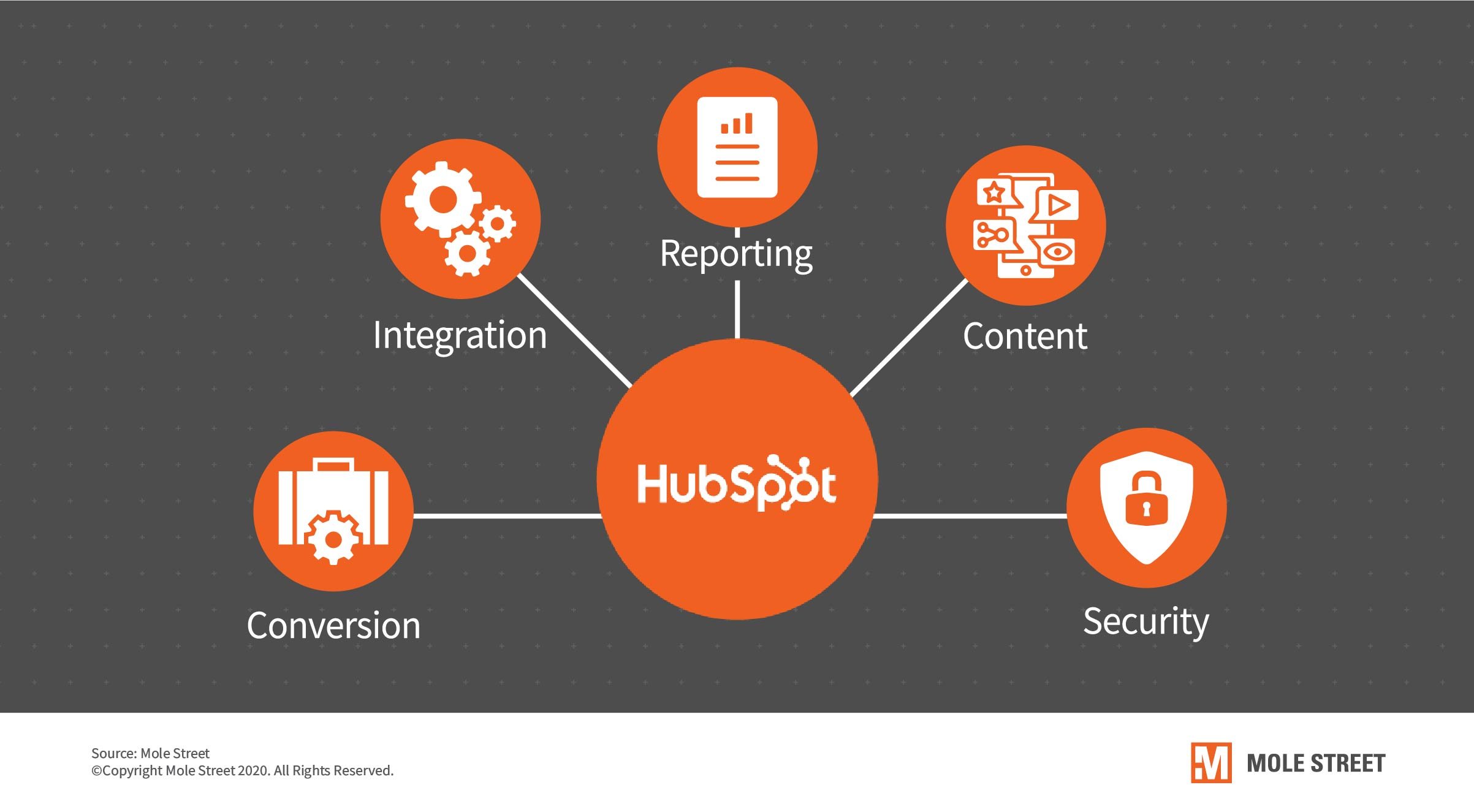 While we appreciate the open source functionality of WordPress, there are too many marketing-critical features in HubSpot that make it worth the cost in our eyes. These features make it easier for companies using their website as a marketing tool to gain and prove the ROI of their marketing activities. Some of the features we value the most are:
Integration with CRM: Because it's also a CRM, HubSpot allows you to track viewer engagement on your website on their journey from strangers to customers.
Lead Conversion: HubSpot's lead conversion tools turn your website content into a driver of new contacts into your CRM.
Reporting: HubSpot's reporting helps you uncover information, such as revenue and contact attribution, to improve your website experience.
Dynamic Content: Smart content that appears based on visitor demographics or behavior – or based on strong conversion performance – automates multiple aspects of your marketing work and collects insights.
Security: Because you'll need to rely on plugins in WordPress for many features that are available natively in HubSpot, you may face security risks with WordPress.

Switch to HubSpot With a Platinum HubSpot Agency Partner
A migration to a new CMS is a massive, time-consuming project – but in our first-hand experience, the HubSpot CMS is immensely powerful, and we can't imagine doing our marketing without it.
While we're big proponents of HubSpot here at Mole Street, we recognize that your company needs to make the transition quickly and efficiently so you spend more time creating remarkable marketing content and less time migrating it.
That's why we offer marketing and HubSpot Consulting Services as a HubSpot partner agency. We help companies get onboarded onto HubSpot and hit the ground running with a new CMS.
Click here to download a free guide on how Mole Street will work with your organization to become fully ramped on HubSpot's CMS, or click here to learn more about how Mole Street's consultation process, tech support, and preferred pricing models are structured to fit your business.