How to Get Your Sales Team to Really Use HubSpot

With its tools and automation, its synchronization with marketing and CRM software, and its remarkable ease-of-use, HubSpot is a dream solution for any org that values sales efficiency.

Now, if you could only get your sales team to use it.

Whether it's the sales rep who hates technology and just wants to sell, or the rep who thought your old sales software "worked perfectly fine and didn't need to be changed," it can be taxing to train and inspire your sales team to use HubSpot

Thankfully, once they see HubSpot's power to support your existing sales process, your salespeople will be quick to rely on HubSpot in their sales process.

In this article, we'll explain the purpose and features of the many tools in the HubSpot Sales Hub and its CRM software. By providing this information to your reps, you'll help them see the value of HubSpot and be able to provide them with tips on how to hit the ground running with the tool so you know that they're really using it.
How do I use HubSpot for Sales (& get my team to use it to)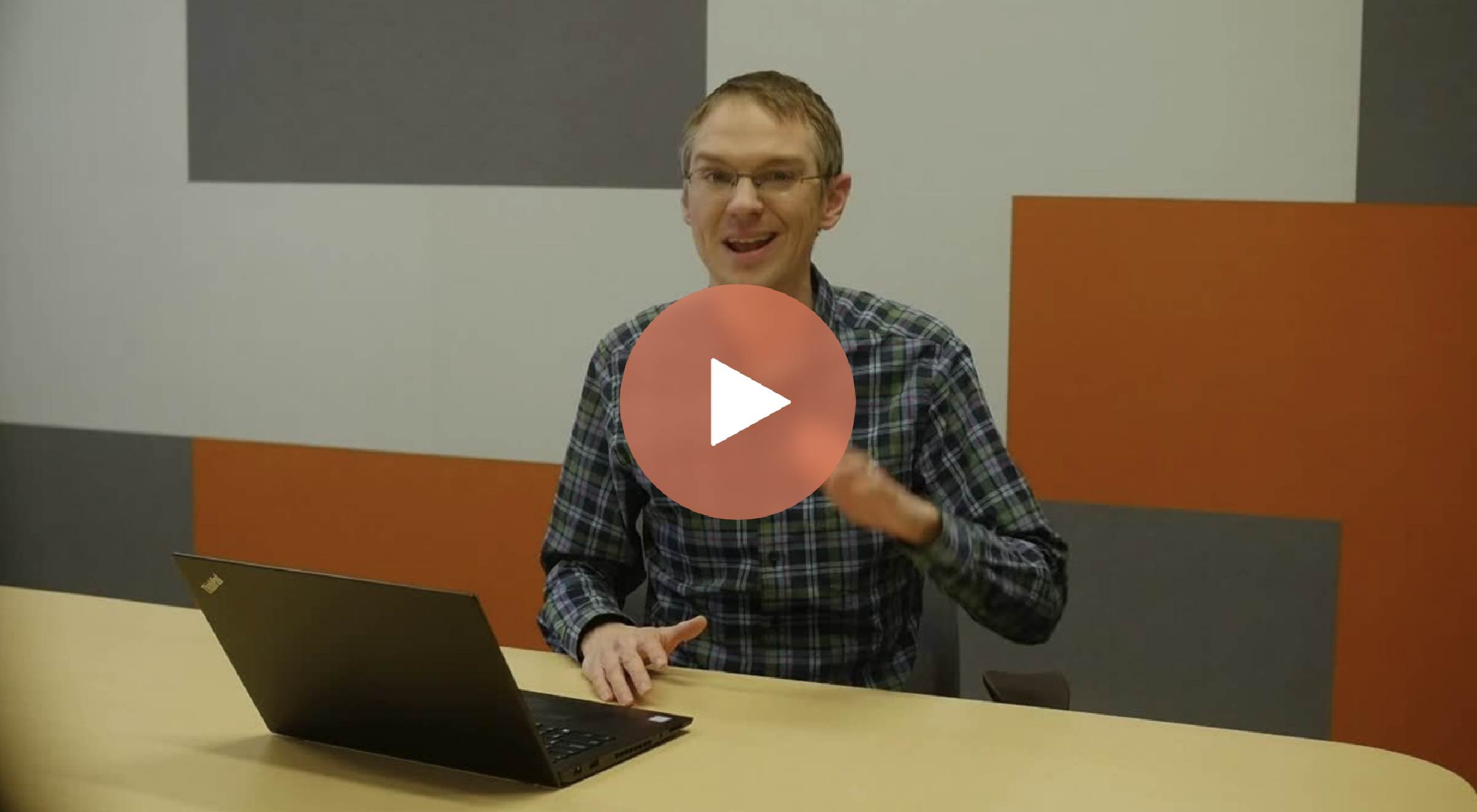 Each salesperson should start with the

HubSpot Sales Software Certification Course

to learn how to use the platform. Next, standardize departmental procedures for performing the following tasks within the Sales Hub:
Researching
Prospecting
Qualifying
Communicating
Closing
Reporting
Some of the ways that HubSpot can seamlessly flow into and enhance your organization's existing sales process are outlined below
Researching
Salespeople spend just 35% of their time actually selling, meaning that if researching prospects was automated or made simpler, reps could dedicate more hours of their workday to actually making the sale.
When it comes to researching, you can get your sales reps to use HubSpot for its integration with social selling tool LinkedIn Sales Navigator, which removes an extra step from the lead researching process.
Integration with LinkedIn Sales Navigator
HubSpot's integration with LinkedIn Sales Navigator allows reps to research qualified contacts with a LinkedIn profile right within the HubSpot CRM and Sales Software tools. Reps can get more research done to fill the pipeline with qualified prospects – and faster, too.
In addition to identifying the companies, roles, and industries of contacts, you can also send an InMail to contacts' LinkedIn accounts straight from HubSpot, making outreach more personal than a standard, faceless email out of the blue.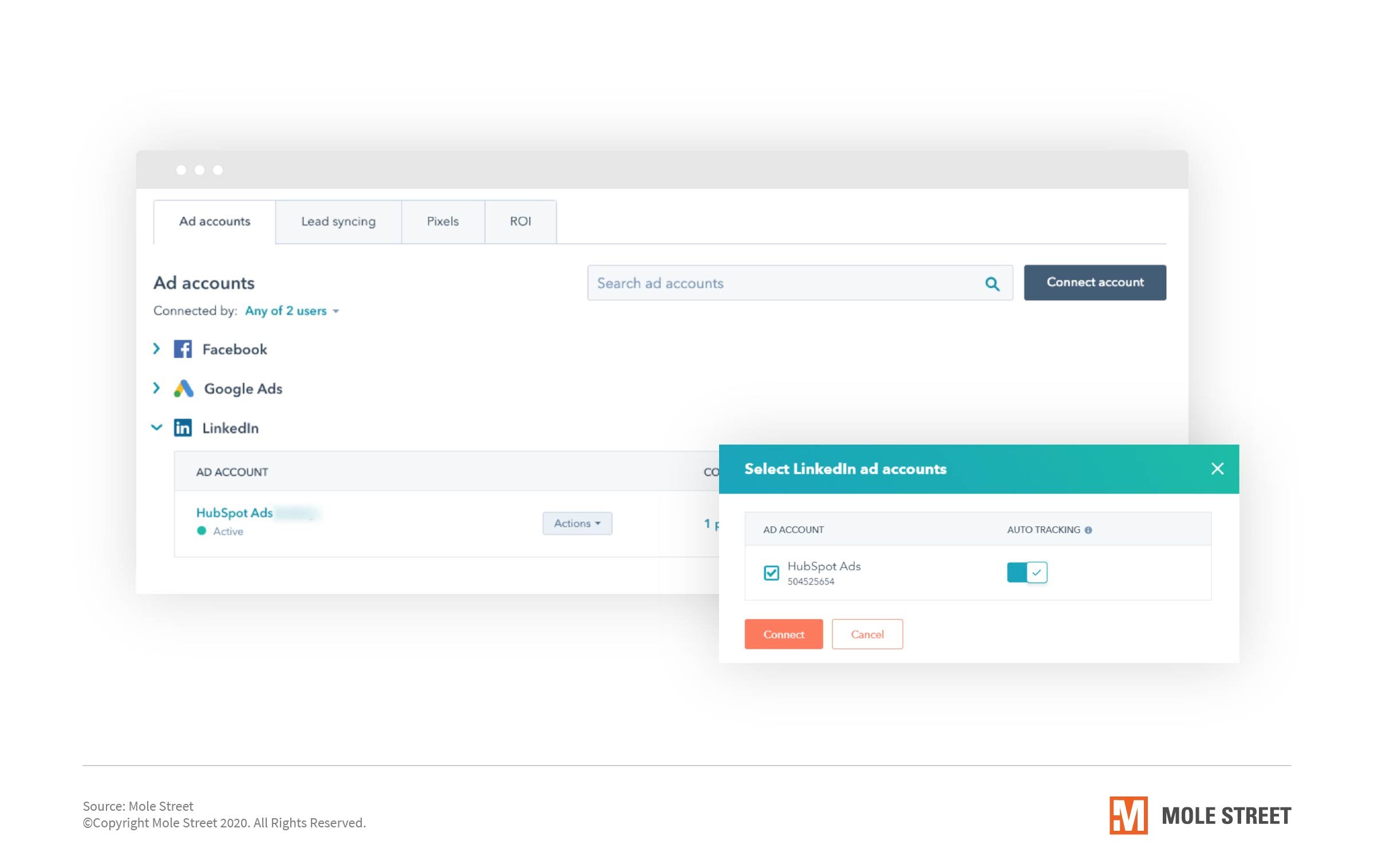 Prospecting
Whittling down your list of potential contacts into prospects also takes a ton of time – and stress. Weeding through a list of dozens or hundreds of names at a time and determining their potential purchasing intent is one of the more laborious and thankless parts of the job.
Salespeople want a solution to help them prioritize which leads are worth going after and when – and yes, HubSpot has a tool to make that process simpler, too.
Predictive Lead Scoring
The HubSpot predictive lead scoring tool (available in Sales and/or Marketing Hub Enterprise only) surfaces the most qualified leads to your sales team so that reps know when to reach out and what to reach out about.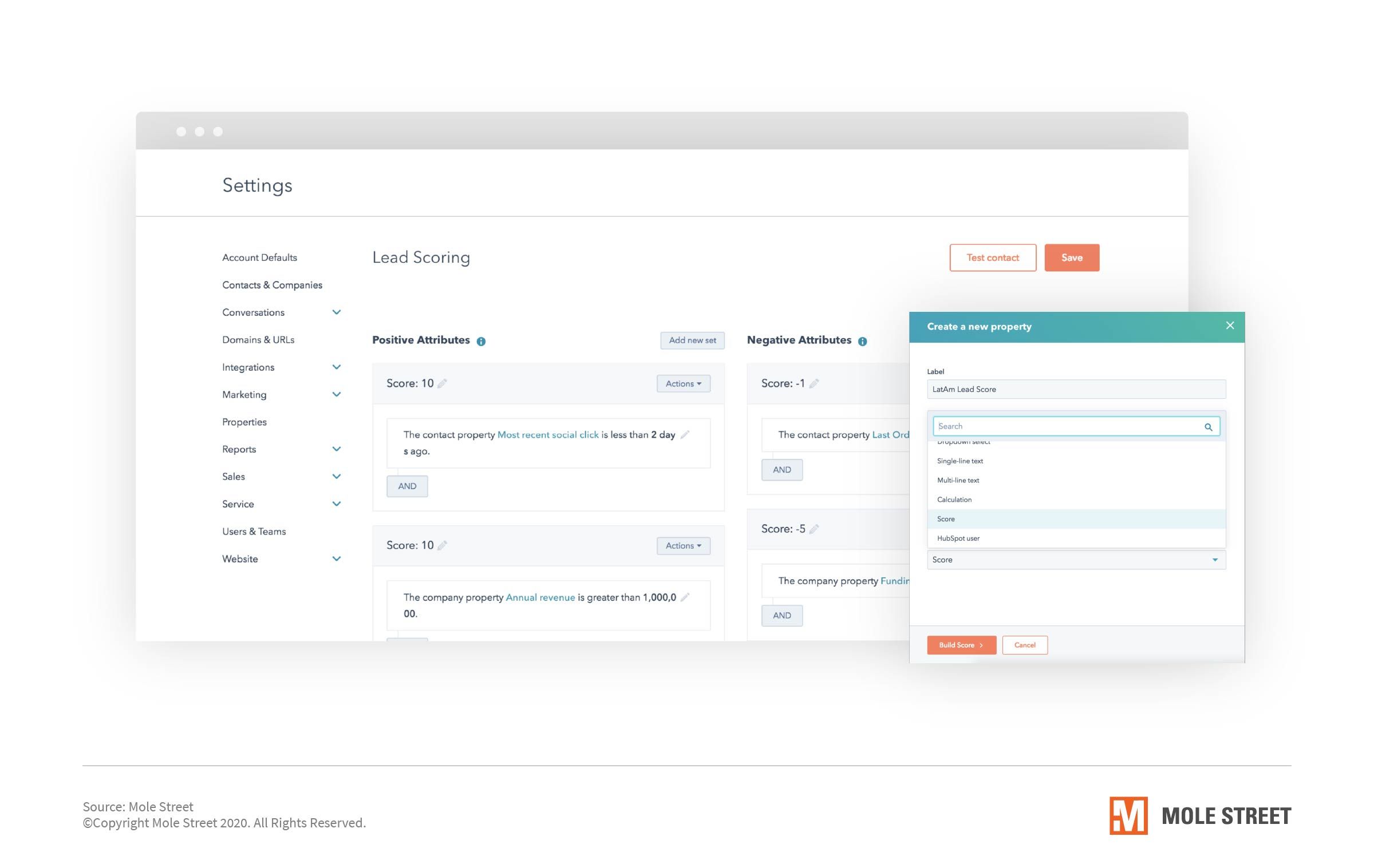 The tool uses predictive machine learning algorithms based on criteria and behavior you deem valuable to assign a metric to each contact in your CRM. Sales leaders can work with the marketing team to determine which website page visits, points of their most recent visit, engagement with emails, and form submissions indicate purchasing behavior from leads.
Based on these factors, the lead scoring tool will quantify a prospect's likelihood to close within the next 90 days to become a customer.
For a detailed walkthrough on how (and why) to use the lead scoring tool, have your reps watch this HubSpot Academy lesson on Understanding Lead Scoring.
Qualifying
HubSpot can also be used to qualify your leads so your reps can take a more active role in moving contacts through the pipeline. A few features in the HubSpot CRM tool that allow you to manage your properties include:
Creating Custom Properties. This feature lets you store data and get more granular through additional properties for your own business-specific reasons. You can add these new properties as form fields moving forward so your marketing team can gather more data (which your sales team can then analyze).
Editing Properties. If you want properties to be more restrictive (i.e. changing the "Industry" field in forms from a blank prompt to a pre-set list of options), this is a must-have feature.
Cloning, Moving, or Deleting Properties. This feature makes property management for qualification simpler. Cloning properties allows you to make a new property with the same setup as another, while moving properties allows you to group similar properties together, and deleting properties simplifies qualifying for reps by deleting unnecessary or irrelevant properties.
Restoring Deleted Properties. If your sales ops team needs to resuscitate a deleted property, HubSpot makes that possible, as well.
All of these features make property management – and by extension, qualification of leads based on properties – a more customizable and specific process for your reps. Making them aware of this feature will surely spark excitement, as reps will be able to analyze certain success-indicating factors before reaching out.
Communicating
Not only does communication take up much of your sales reps' days, time spent thinking through communication also adds up. This happens when salespeople spend time and effort planning out what to say, how to say it, and when (or how often) to communicate to each individual prospect.
Luckily, HubSpot's many sales communication tools simplify this process – giving salespeople more time back in their days.
Here are a few of the most noteworthy featured:
Sales Outreach
HubSpot empowers salespeople with a sales email templates tool that allows for a repeatable but customizable process for reaching out to prospects with proven language. Salespeople can leverage their team's bank of successful prompts from this tool and make customizations to the content in the template. If you're trying to get your sales team to actually use the tool, let them know they'll be spending less time staring at a blank email draft and more time reaching out to more people.
Sales Automation
Aside from outreach templates, the excellence of HubSpot's sales features really shines in its automation tools – notably with sequences and workflows. These automated features in the HubSpot software literally remove the manual work for salespeople when it comes to timeliness of correspondence, seamlessly and naturally moving prospects through the funnel without the sales team having to set reminders.
Workflows



Traditionally set up by the marketing team, workflows are a marketing automation tool that tee up inbound leads to speak to sales with increasingly product-focused emails. For example, once a contact fills out a form to download a content offer, that contact could be enrolled in a workflow to show them similar content offers, followed by customer case studies, followed by an invitation to speak to sales.
While your sales team may not be as actively involved in the creation of workflows, it's encouraging for the team to know how in-sync marketing and sales activity are when it comes to HubSpot.
Here, you can learn more about setting up workflows to move leads through the purchase funnel.
Sequences



A feature for Sales Hub Enterprise and Professional, sequences automate outreach to contacts – with contacts being unenrolled from the sequence after taking an action to connect with a sales rep.
After you create a sequence in HubSpot, you can edit it by adding actions and task reminders. These could include sending an email template (or creating a new one) as outlined above, timing out delays so as not to overwhelm your leads, or setting reminders for the sales rep to take a more personalized action. These sequences can also be edited at any time.


Enrolling a contact into a sequence is as simple as finding the contact in your CRM, clicking the email icon, clicking "Sequences," and picking the sequence which you want your contact assigned to. For bulk contact enrollment, simply go to your list of contacts, check the checkbox for all contacts you want to enroll, and click "Enroll in Sequence" to get the ball rolling.
Closing
The end goal of the sales cycle – the deal.
The layout and interface of the HubSpot's Deals Pipeline tool is a salesperson's dream for viewing and closing sales. It's clear, organized, and actionable – showing where each deal is and allowing reps to move them through your organization's buying cycle. This takes the tech work of closing a deal and turns it into a simple drag-and-drop procedure.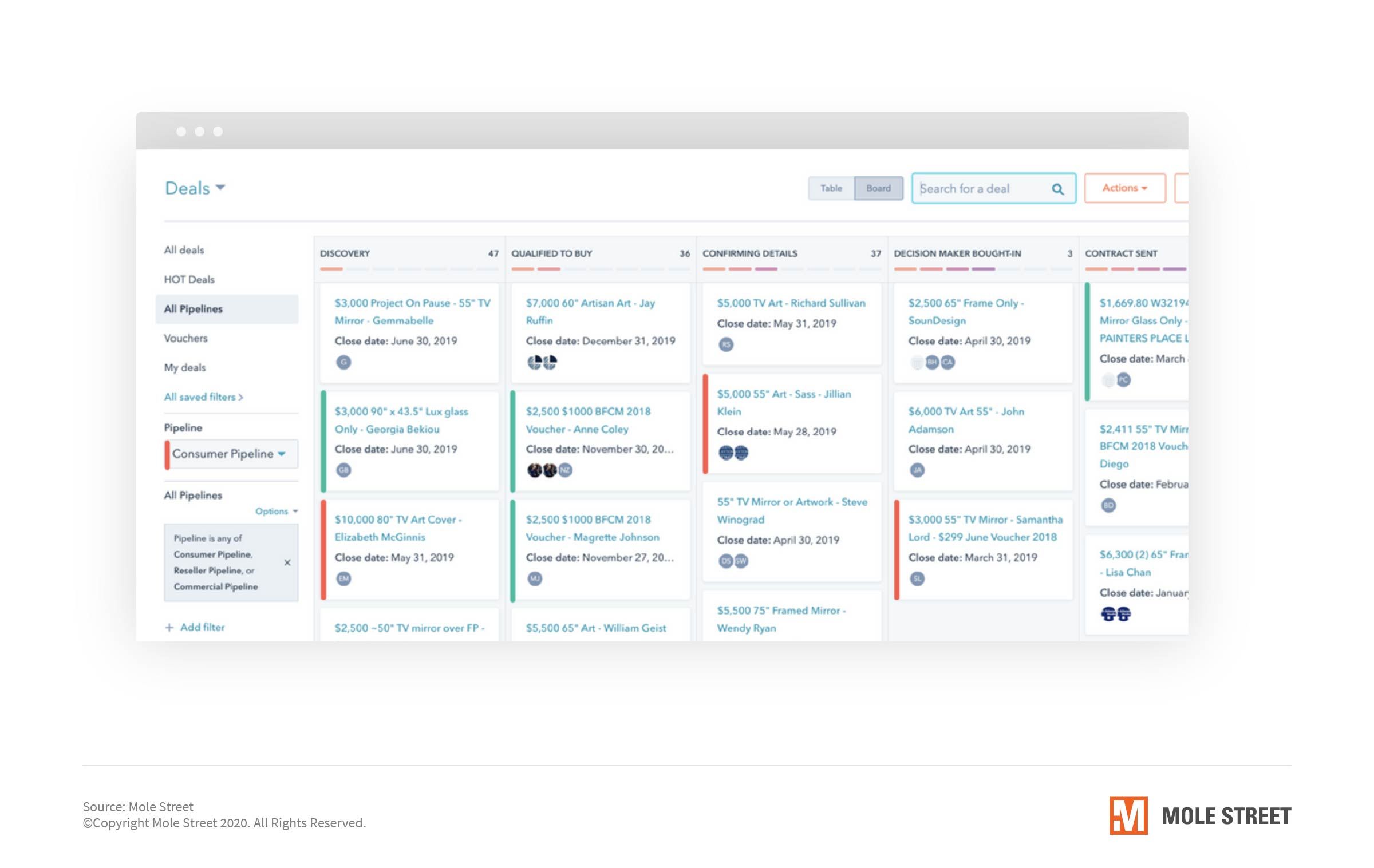 You can learn more about using the Deals tool in this free HubSpot Academy lesson.

Deal Stages
To make the Deal Pipeline work for your organization, HubSpot has a Deal Stages tool allowing users to create stages that make sense for each individual HubSpot customer. While the feature comes with a pre-set pipeline with seven deal stages, companies can add, edit, or delete any stages to make salespeople's jobs easier and make your company's sales reporting more specific to the org.
For example, the default pipeline has stage three as "Presentation Scheduled" and stage four as "Decision Maker Bought-In." Your sales team might determine it's worth it to add a stage in between these steps for "Presentation Held." This ability to customize should give your sales team confidence, knowledge, and excitement, knowing their sales tool is setting them up for success and allows for customization.
Reporting
HubSpot provides 90+ reports (and the ability to build up to three dashboards), giving reps the power to collect and analyze the metrics that matter the most to them and their teams. Some of the most popular options for sales include:
Deals Forecast Reports to show potential revenue.
Funnel Reports to show the progress of contacts moving through the pipeline.
Sales Activity Reports to measure sales rep productivity.
Stage Probability Weighted Forecast Reports to gauge the likelihood of hitting sales goals.
Deal Pipeline Waterfall to understand changes in the pipeline.
Deal Change History Reports to monitor changes to deals in the sales pipeline.
The richness and diversity of reporting options in HubSpot helps sales leaders see into each team's and rep's performance, providing reps clarity and keeping things competitive between reps.
Analyze Productivity
For HubSpot customers with a Sales Hub Professional or Enterprise account, it's possible to zoom in on sales' performance like never before.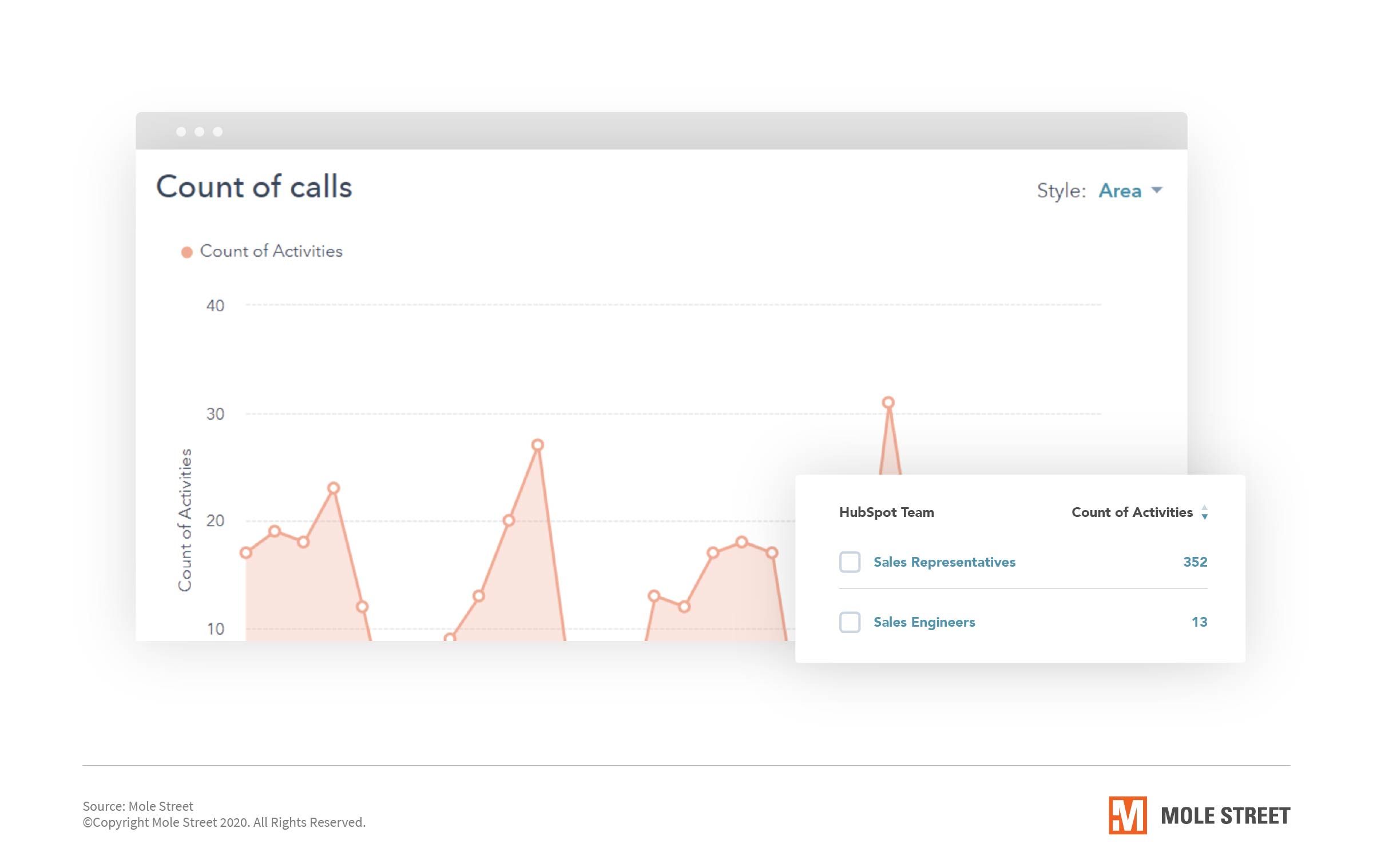 To analyze your sales department's productivity, click "Reports," then "Analytics Tools" in your HubSpot account. Then, click "Sales Team Productivity."
From there, you can filter by date range and frequency to analyze deals, meetings, calls, tasks, emails, or all activities. This gives sales leaders total visibility into the why sales is – or is not – hitting its goal, and shines a light on areas that need improvement in order to close more total deals. Specifically, prospects' reactions to communication and actions from the sales team could be making or breaking the company – and HubSpot provides the intel to help you reach conclusions.
Report on Revenue
HubSpot's new multi-touch revenue attribution tool gives your sales team the ability to draw a bottom-line impact to the work they have done and report on revenue that they helped to close. This visibility should give sales reps the drive to adopt the HubSpot tool, as reporting shows the direct impact they have had on the company.
Common breakdowns used in the revenue reporting feature include
Deal Leaderboard, which highlights sales team members who have closed the most revenue.
New Deals Created, which showcases the reps who have created the most deals.
Deal Forecast by Owner, which shows how much revenue is forecasted to be closed by each rep.
Customize Your Dashboard with the Help of a Platinum HubSpot Agency
Sales reps often look at a sales software in one of two ways – a nuisance that complicates the selling process, or a valuable tool that accelerates it. To sway reps who need a bit of encouragement – and to speed things up for those who already have it – consider partnering with a HubSpot Partner Agency to get your sales reporting dashboards set up appropriately and help your team maximize its use of HubSpot's Sales and CRM software.
Mole Street is a certified HubSpot Agency Partner at the Platinum level – meaning we're here to help your company train its sales team on HubSpot software, connect your sales and marketing departments, and generate stronger results from marketing initiatives that carry over into sales success.

Ready to make the most out of your HubSpot software? Learn more about Mole Street's services and how our HubSpot consultants can help your business thrive using HubSpot.