What Is MarTech and Why Is It Important to Your Business?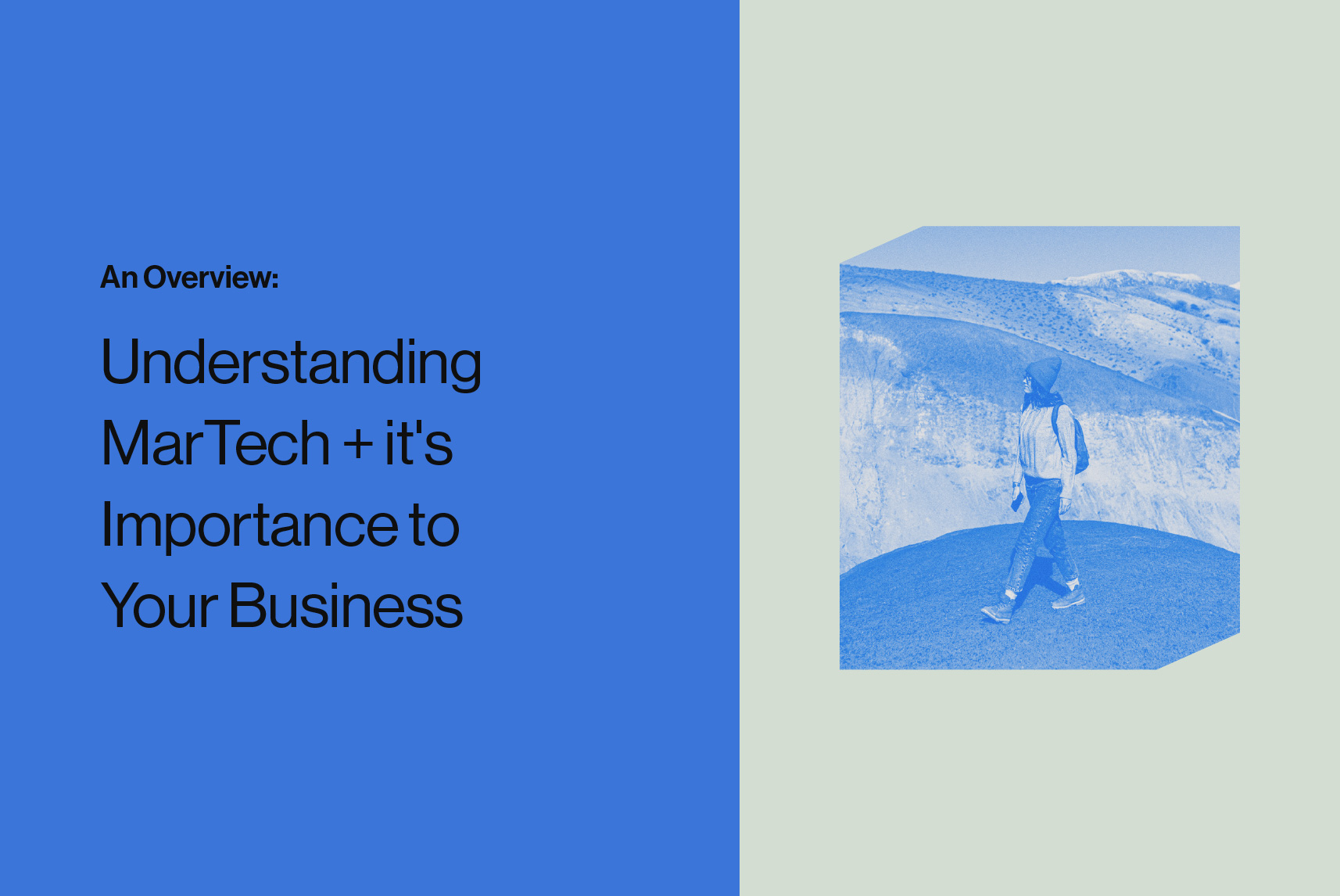 Discover why MarTech is crucial to your business and learn what makes a successful MarTech stack.
Marketing technology, or MarTech, refers to the software and tools businesses use to optimize marketing activities. CRM software, email marketing solutions, and content marketing platforms all fall under the MarTech banner and help marketers work more efficiently and effectively.
By automating repetitive tasks such as publishing social media posts and sending regular newsletters, MarTech frees up time for strategy and other important work. By streamlining communications and helping teams understand the ideal customer profile, it can also help align marketing and sales functions — a historically difficult task.
To help you decide which tools to adopt for your business, this article explores the role of MarTech in ambitious and high-growth companies, reviews its benefits, and analyzes common issues with marketing technology stacks.
Why is MarTech important?
If the previous few years have taught us anything, it's that global events can easily disrupt business. Moreover, those that embrace the tools and solutions to get ahead are more likely to survive periods of economic downturn.
MarTech not only allows companies to organize tasks, analyze data, and make useful predictions, it's also a proactive way to ensure business continuity throughout changeable economic conditions. It's the glue that binds a fully integrated business. In bridging different digital systems for the company and creating a positive digital experience for the client, it's a wonder that any modern online business survives without it.
What is a MarTech stack?
Many activities fall within the remit of "marketing," and multiple tools are required to complete them. A MarTech stack is a suite of technologies that empowers marketing teams to achieve their goals.
Every business will have unique goals and priorities which lead them to focus on certain tasks, funding opportunities, and data. As such, no two MarTech stacks look the same and must be tailored to your company's needs, aspirations, and budget.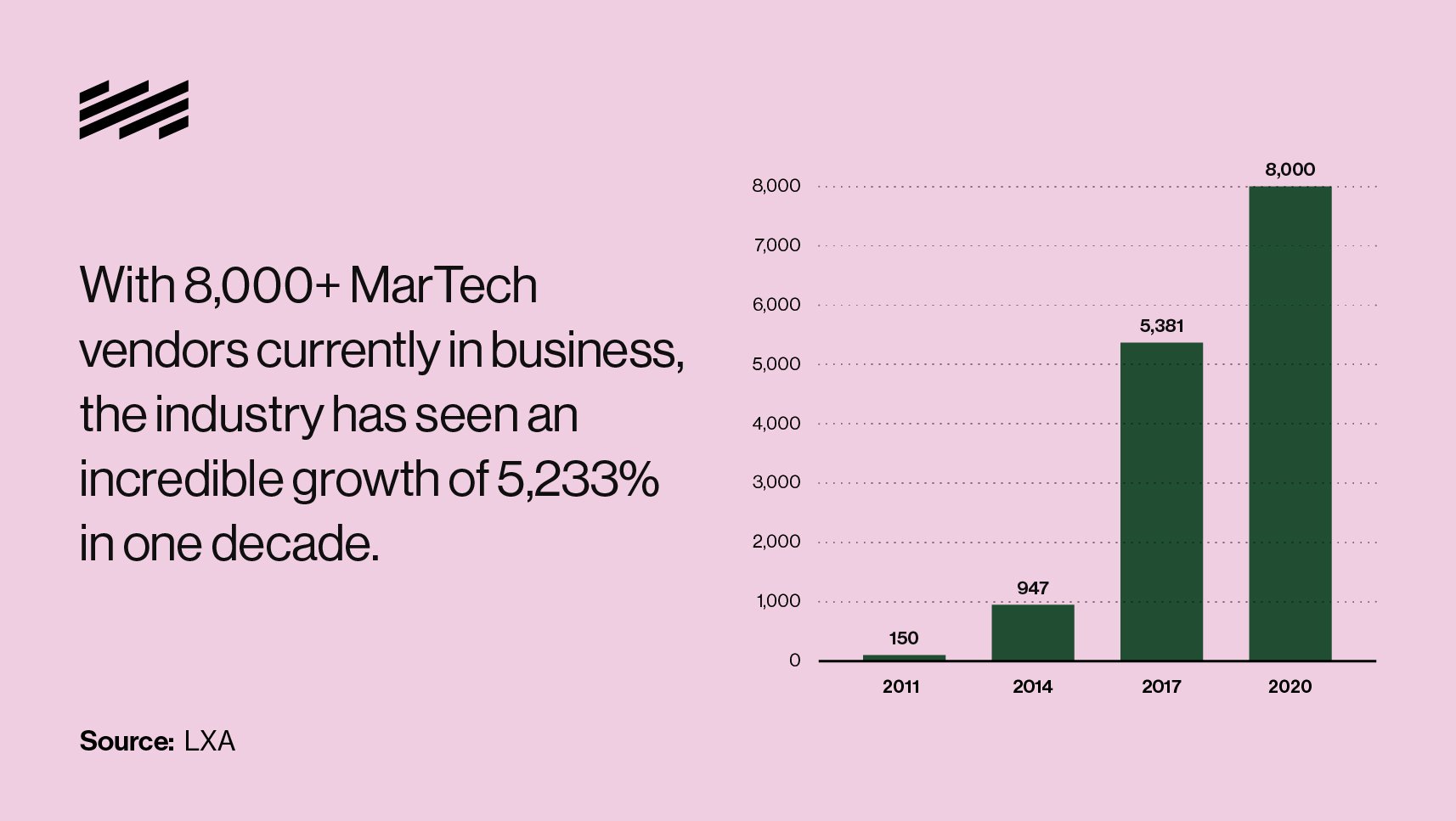 Building Your MarTech stack
There are nearly 10,000 marketing solutions available, and ever-increasing funding and innovation means that this figure is on the rise. With over 8000 MarTech vendors currently in business, the industry has seen an incredible growth of 5,233% in one decade.
More technology means greater choice, which is good news for modern businesses. However, this variety can also make it harder to find the best-fit solutions.
To build the most effective MarTech stack for your business, you'll need to look closely at your business goals and model — these should indicate the types of marketing tools you'll need to succeed.
Some requirements will be familiar to most businesses — for instance, the need to measure customer engagement, manage social media, and identify prospective clients. But others will be unique to your sector, target market, or business size.
It's vital to choose marketing tools that not only suit your business needs now but will also support it as it scales. Moreover, your MarTech stack should cover all relevant levels of the organization in an integrated fashion — it should allow a seamless workflow across the company.
How a MarTech Stack Removes Marketing Hurdles
The right marketing technology (and its proper deployment) can help businesses navigate a wide range of problems, from lead generation to performance review.
Here are two key benefits of a comprehensive MarTech stack.
1. Deploy marketing campaigns remotely
With the right MarTech stack, remote teams can execute successful campaigns and collaborate as effectively as they would in a shared office.
Various types of MarTech software ease the strain on remote teams. For example, platforms for marketing orchestration allow colleagues to share workflows and other resources. Meanwhile, digital asset management makes data encryption and file-sharing outside of the office straightforward and efficient.
In the ideal scenario, everyone on the team — regardless of location — will have the access and skills needed to deploy and monitor their own campaign tasks. Collaboration will be as seamless as in-person interactions, and supervisors will be able to monitor task progress and provide support in key areas. Fortunately, MarTech makes all this possible.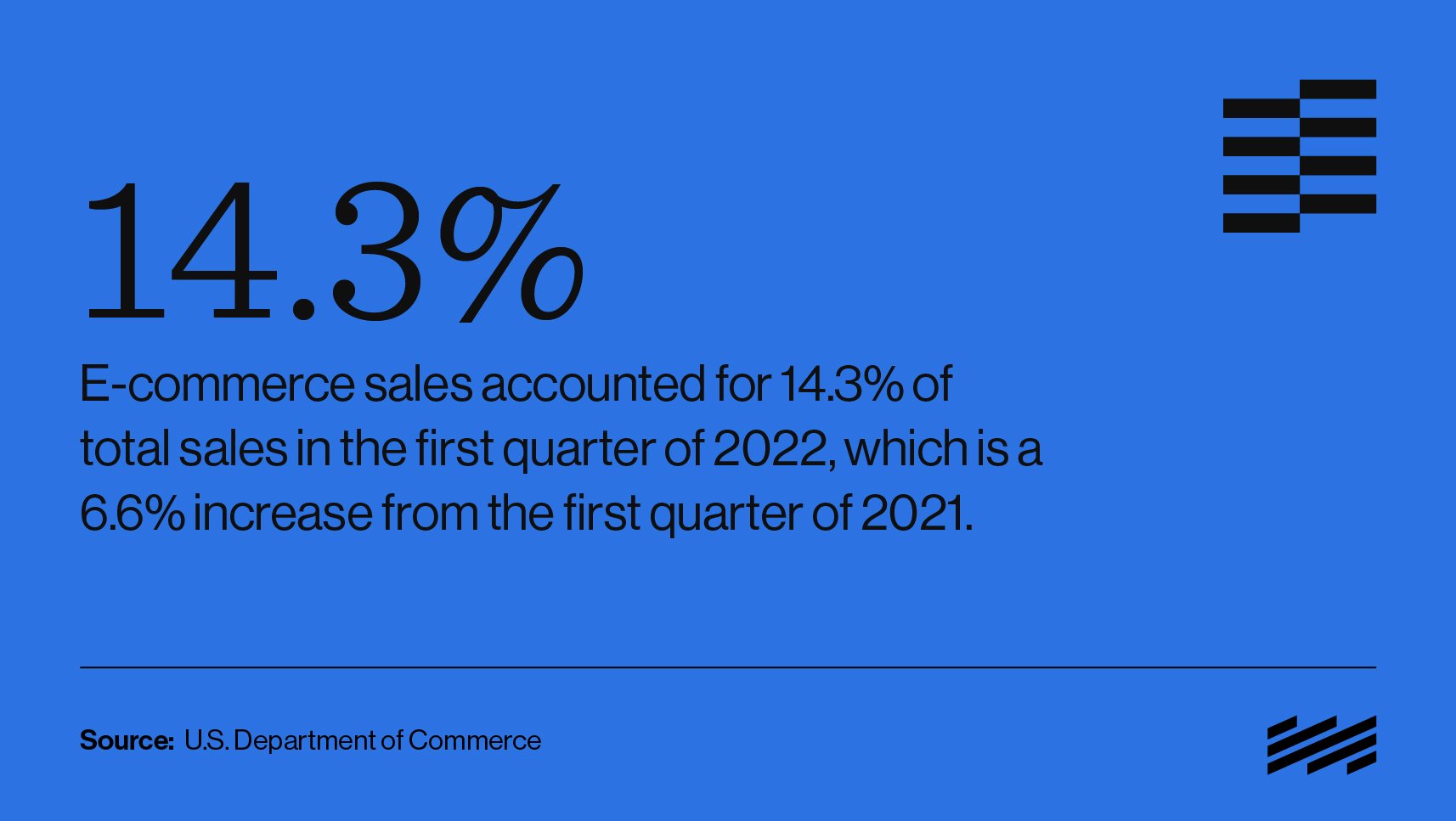 2. The in-person to digital transition
Sectors that rely on face-to-face transactions, like travel, hospitality, and retail, have suffered greatly in the past couple of years. Despite this, demand to purchase products and services in these sectors remained. As such, brands had to innovate and adapt.
Businesses rapidly transitioned from in-person services to digital products and experiences. The U.S. Department of Commerce announced that e-commerce sales accounted for 14.3 percent of total sales in the first quarter of 2022 — a 6.6% increase from the first quarter of 2021.
More brick-and-mortar businesses are focusing on entirely digital customer journeys. And with the growing number of marketing technology tools available to us, it's possible to collate a stack that facilitates this transition.
When selling on a digital platform, it's essential to fully understand the customer journey. Data is vital in ensuring your site reaches the right people and converts traffic into sales. An effective MarTech stack allows you to monitor and analyze the customer journey and continuously amend to achieve the best results.
Common Issues with MarTech Stacks
We've explored the benefits of a MarTech stack but one that's outdated or poorly optimized to your goals can undermine the best marketing strategies.
Some of the most significant issues include:
Lackluster analytics
80% of today's marketers make their decisions based on data, and doing so properly yields excellent rewards. However, while it's essential to utilize reporting and analytics software, it's equally important to ensure that software adds context to your data and points you towards the next step in your marketing strategy.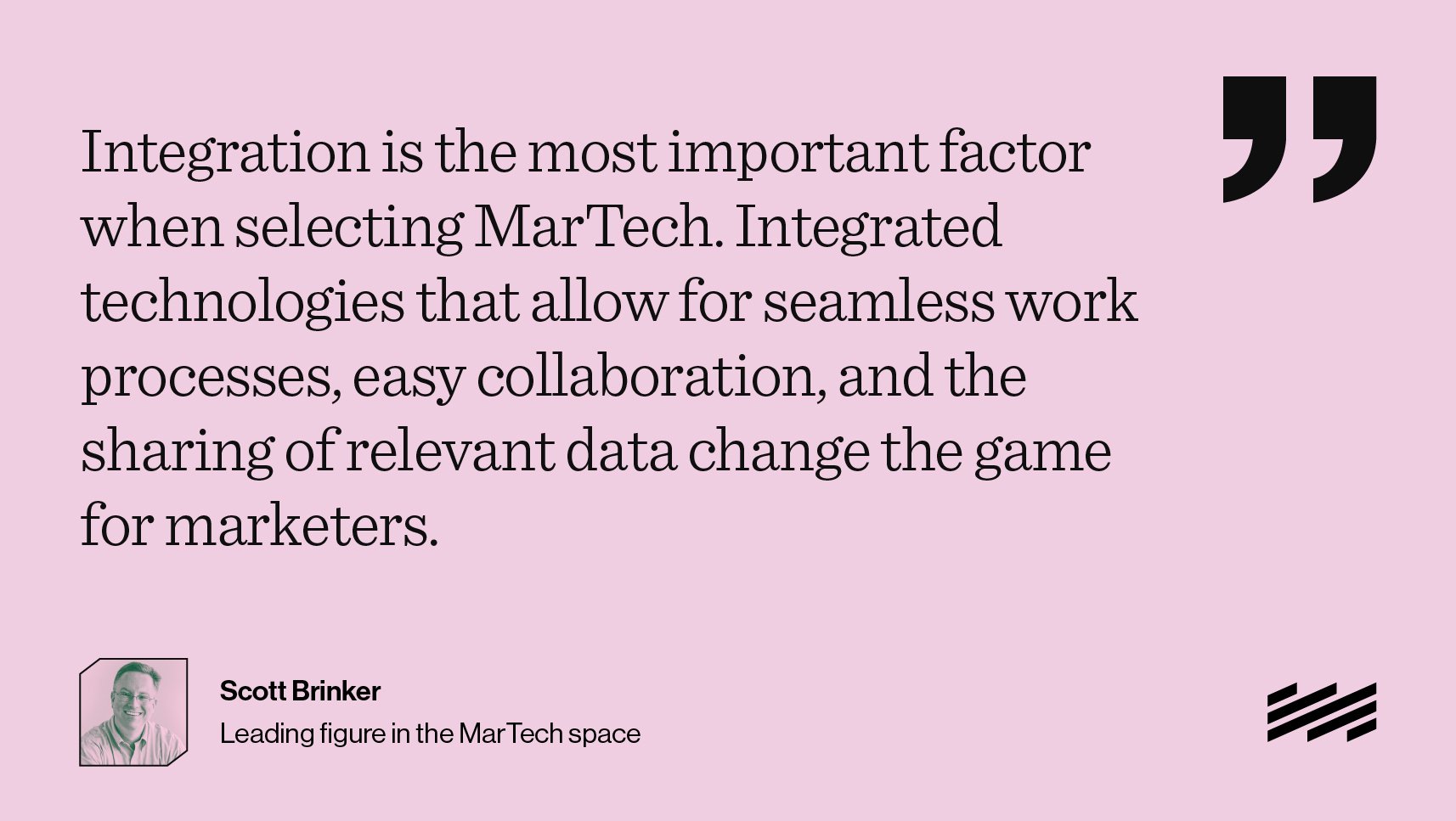 Lack of integration
Legacy tech tools can be difficult, or even impossible, to integrate. This creates operational silos where members of your marketing team are each experienced in one or two specific marketing tools.
Scott Brinker, a leading figure in the MarTech space, has said that integration is the most important factor when selecting MarTech. Integrated technologies that allow for seamless work processes, easy collaboration, and the sharing of relevant data change the game for marketers.
Lack of transparency between marketing and sales
Marketing and sales teams must be on the same page. MarTech stacks can help or hinder this connection. What happens when sales reps can't see the marketing strategies behind their leads? And what if the marketing team can't see where their leads are going? Ultimately: a weak customer acquisition process, fewer new clients, increased marketing costs, and lost revenue.
Too many disparate tools for one task
Many marketers use an array of software tools to achieve just a few objectives. For example, you might use one tool for posting to social media, another for sending email marketing, and yet another for building campaign landing pages.
This causes inefficiency that can cost your company time and money.
It's also worth considering that many SaaS platforms come with a monthly subscription cost. It makes little sense to pay for multiple tools that only do one job when a single tool — like HubSpot — can handle almost any essential marketing task and do it well.
What to Include in Your MarTech Stack
Hold up your existing marketing technology stack against the following points to see how an integrated platform can fill the gaps and make your marketing operations more effective.
HubSpot CRM is our example of an integrated platform — as an effective all-in-one solution, it's the CRM of choice at Mole Street and successfully embraces all of the elements in question.
Best-in-class marketing automation
Automation makes efficient, cost-effective enterprise marketing possible.
What exactly is marketing automation? It's using a capable MarTech stack to handle what were once manual, menial tasks in a completely automated, hands-off fashion. These tasks include
Social media posting, emailing content, reporting, running lead nurture and customer reactivation campaigns, and more can all be automated, freeing up time so teams can focus on other tasks. For example, creating more content, engaging authentically with leads, and hitting targets — all with less friction and fewer operational bottlenecks.
HubSpot has earned its place as a premier marketing automation platform for businesses. It enables teams to:
Send programmed email campaigns out to nurture leads over time.
Regularly post on social media.
Implement automatic workflows to trigger immediate actions for new leads and potential deals (Teams will receive instant notifications of the next step).
All-in-one content marketing
Content is vital in boosting online visibility. But for it to really serve a business and increase marketing return on investment (ROI), it calls for more than simply stringing together a few blog posts.
A good content marketing strategy involves careful planning, creation, publishing, and tracking of results. This applies whether the content consists of social posts, blog posts, videos, infographics, or white papers. It's also vital to connect content to sales goals and a well-defined strategy for moving prospects through the sales funnel.
HubSpot allows you to implement and manage your content strategy all in one place and:
Plan out your editorial calendar
Seamlessly produce content pieces that look great and are consistent with your digital brand
Track the results of your content in terms of leads, engagement, and sales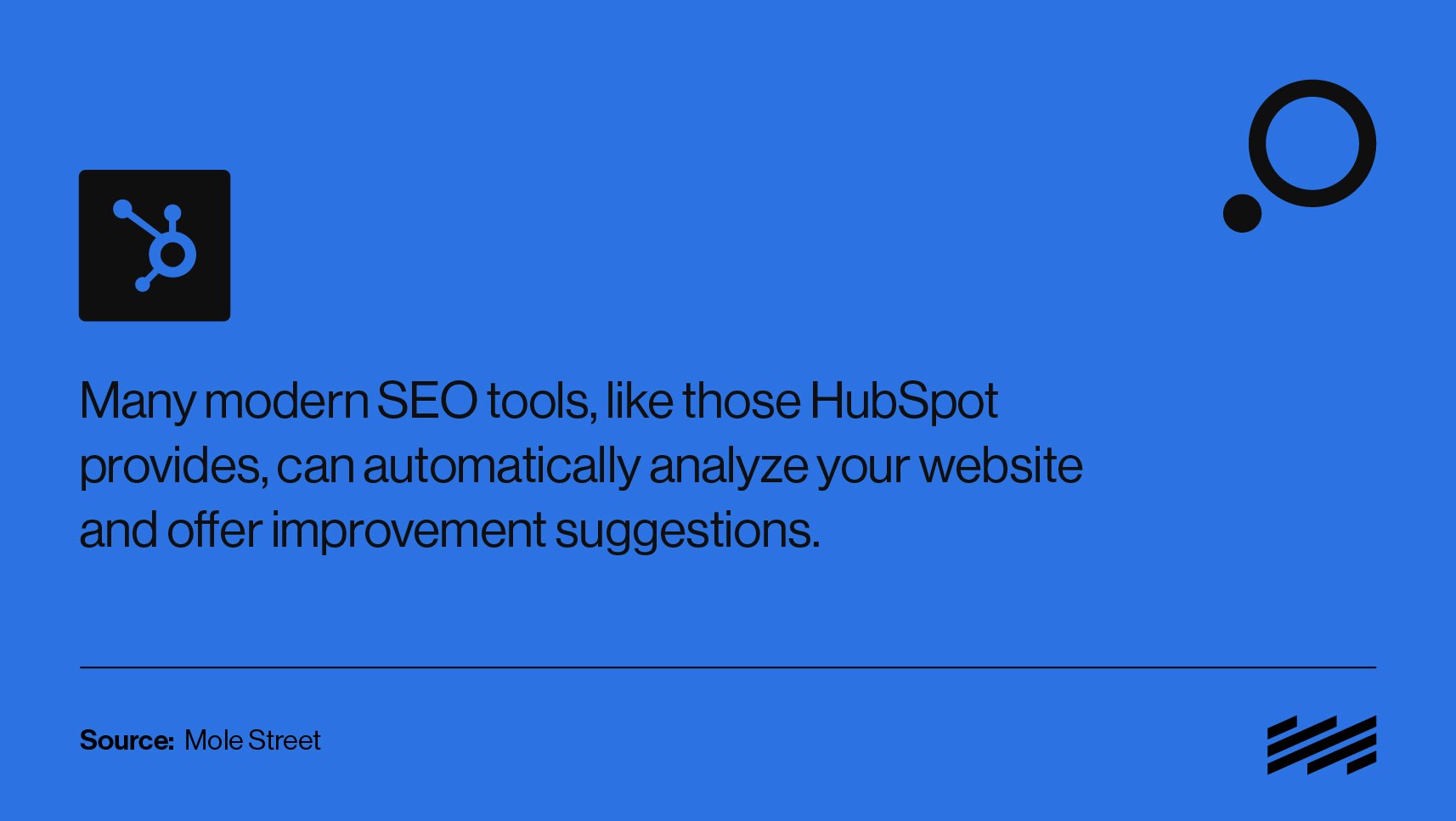 Built-in SEO tools
Competing in organic search is critical to getting found online. A MarTech stack must help marketers optimize content for search.
Many modern SEO tools, like those HubSpot provides, can automatically analyze your website and offer improvement suggestions. By implementing the suggested changes for your on-page and off-page SEO, your content will reach more high-intent searchers.
HubSpot includes several beneficial built-in SEO tools.
The HubSpot SEO Recommendations Tool gives specific tips for improving your website's overall standing in search engines.
The HubSpot Website Grader gives you clear insights into your site's mobile responsiveness, page speed, image sizes, link integrity, and security — all of which influence search engine rankings.
The Optimize Panel lets you zoom in on specific page elements you can optimize and make recommended changes in real-time.
Drag-and-drop website CMS
Marketers need to build out websites and other digital properties quickly and without hassle. Your MarTech stack should undoubtedly include a tool that can help with this — and HubSpot is more than capable.
As a content management system (CMS), HubSpot is extremely easy to use and offers drag-and-drop functionality for quick content and web page creation.
It also allows you to:
Leverage integrated SEO tools while creating blog posts without needing third-party plugins.
Use built-in form functionality for lead capture on any landing page you choose.
Intuitively place calls-to-action (CTAs) on your website to drive action where it's most important.
Adaptive testing
Testing is the only way to ensure your digital marketing properties are truly meeting business goals. Enterprise firms with hundreds or thousands of daily website visitors should choose a MarTech stack that includes robust testing capabilities.
Part and parcel of HubSpot Enterprise is adaptive testing. You can use it not only to create variations of your web pages for A/B tests but also to automatically direct more traffic to the winning versions. This means less time spent on guesswork and more time engaging leads.
Account-based marketing
Enterprise companies are uniquely positioned to target larger, more meaningful prospects through smart account-based marketing initiatives. This is another excellent reason to consider investing in HubSpot Enterprise.
HubSpot serves as a digital home for all outreach efforts, and its tools help businesses prioritize the most promising accounts. It includes lead scoring, lead nurturing, email marketing, and analytics capabilities. These features ensure an account's status is always apparent to the right person.
Integration with customer relationship management (CRM)
A good customer relationship management (CRM) solution is essential for nurturing and qualifying leads. Sales staff should be able to quickly and easily view a lead's progress, so they can plan and execute the next stage of the sales process.
HubSpot features built-in CRM capabilities and smoothly integrates with popular software tools that contribute rich data on lead info and status. For example, its integration with LinkedIn Sales Navigator allows sales teams to import data directly into the HubSpot environment. Here, it's easy to reference relationship histories and follow up with prospects.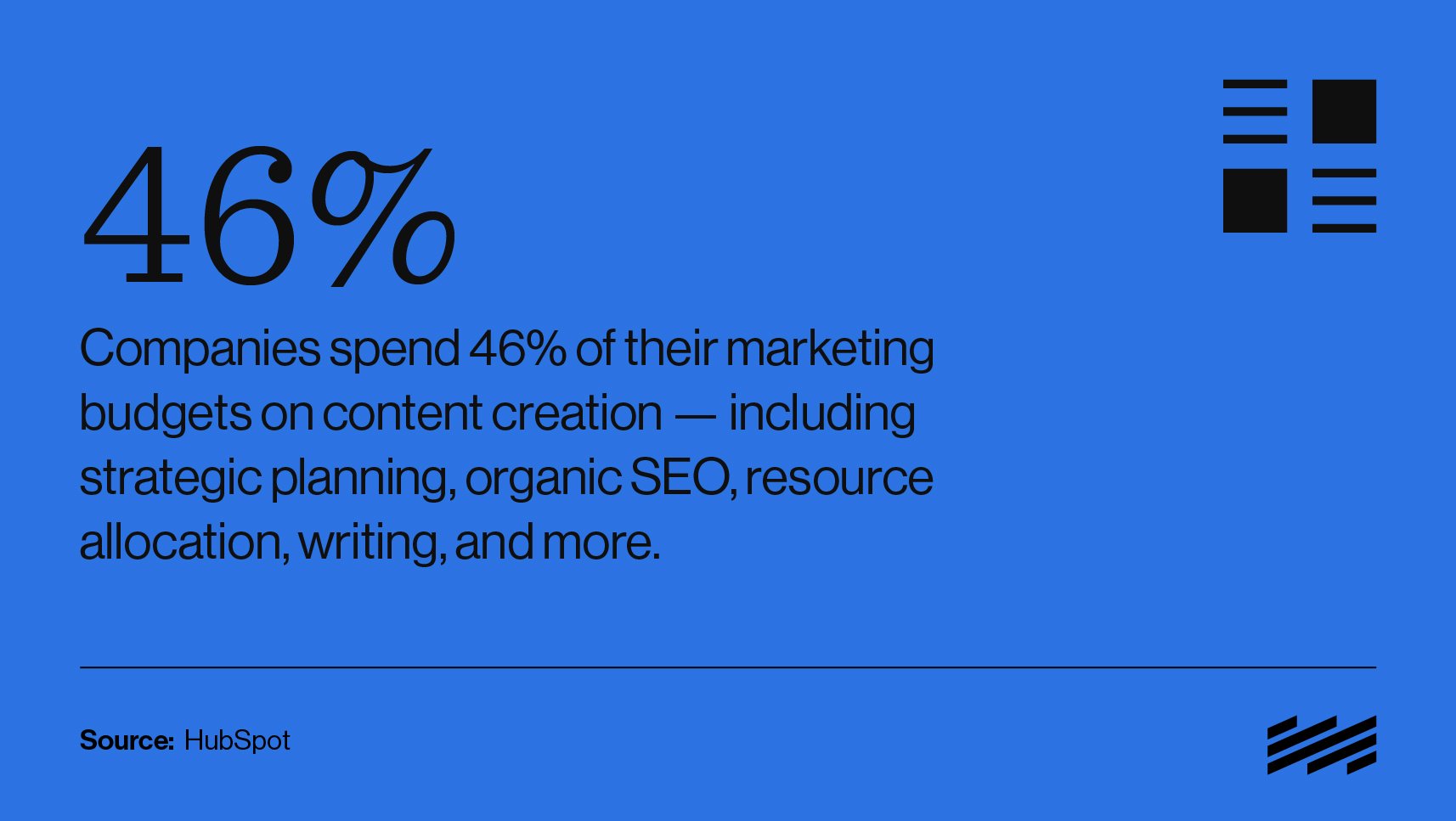 HubSpot also has advanced features such as predictive lead scoring, custom properties that help with lead qualification, automated workflows, and sequences that warm up leads before the next personal contact. A Deals Pipeline tool displays the prospect's place in your company's sales cycle while reporting features help you monitor revenue and make reliable sales forecasts.
Want to see where the gaps in your MarTech stack might be hurting your ROI? Download this free MarTech Stack Needs Assessment Worksheet for immediate insight into the marketing holes you need to plug in your marketing.
Ease the Transition with a HubSpot Agency
We've looked at why MarTech is vital to any business. Compiling an effective MarTech stack that offers your brand resilience in an ever-changing world is no small feat. But it's not impossible — and you can accomplish it with fewer tools than you might imagine.
The right technology is crucial. It can help you in all areas — from awareness-building via social media and content to lead-nurturing and influencing leads to make a purchase and remain loyal to your brand. And thanks to recent global events, digital transformation is no longer an option for businesses.
We've shown how one MarTech tool, HubSpot, is uniquely suited to realize many — if not all — of the marketing tasks that are mission critical to business success. It enables you to increase marketing team productivity and measure activities more accurately.
The best way to make the switch is to avoid going it alone. Instead, consider working with an Elite HubSpot agency partner can guide you through the process. Mole Street is fully equipped to support your transition from a confusing array of software tools to an all-in-one solution.
Contact us, and we'll share how HubSpot's capabilities can make your brand more resilient and profitable.
Originally published October 2020, updated November 2022