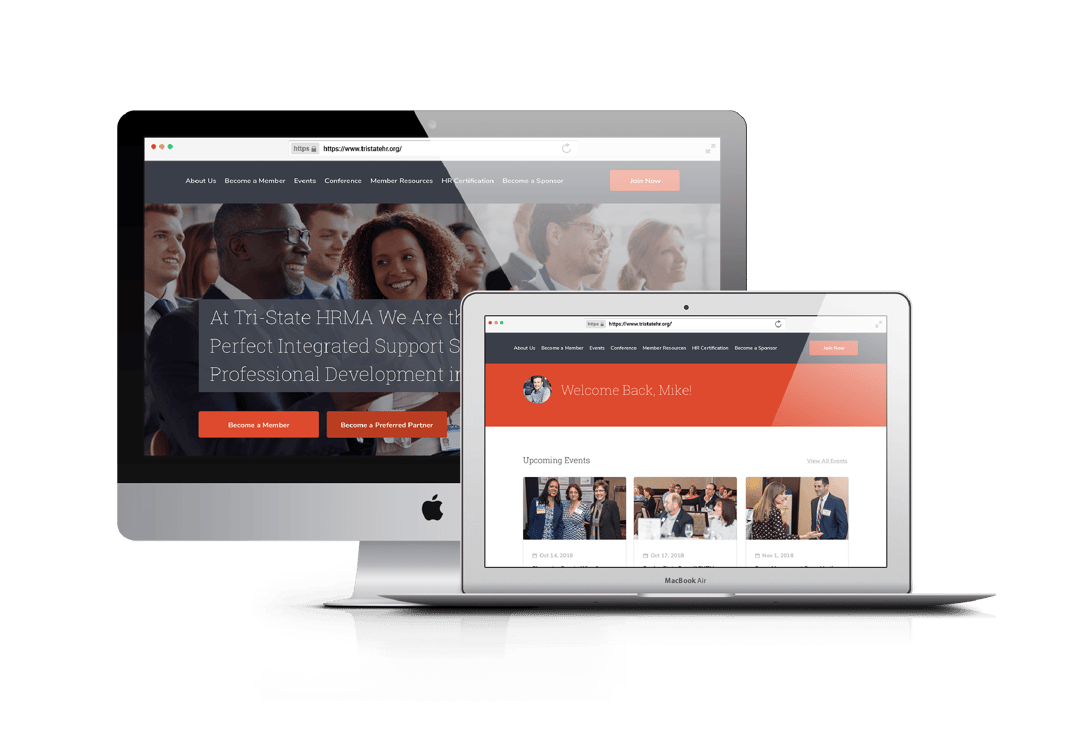 Tri-State HRMA—a highly reputable human resources association of nearly half a century—desperately needed a new membership website to exceed expectations and embody its commitment to excellence. Operating under a decades-old CMS, Tri-State's website discouraged members from fully realizing their membership benefits, impeded the collection of membership dues at cart checkout, and created a mountain of daily manual tasks for administrative staff.
To help Tri-State HRMA delight its 300+ members, Mole Street set out to:
Reimagine the member portal, giving users the freedom to fully enjoy member benefits such as access to an online networking database, thought leadership presentations, and quarterly newsletters

Install a smart checkout process that recognizes when a member is logged in and automatically assigns discounted pricing to them, without needing the help and oversight of administrative staff

Automate the renewal process so that the member's preferred payment method is automatically charged at the start of each new year

Build out a proper digital homebase for Tri-State HRMA's high profile annual conference

Explore new brand identity for Tri-State HRMA, complete with new logo and brand guidelines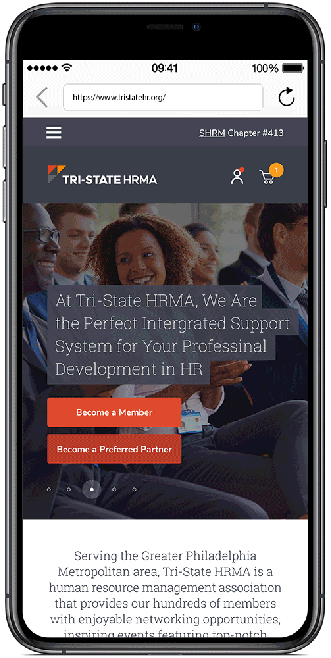 Our Approach
Member Portal:
The most important differentiator in the new website is the completely reimagined member portal. The new website houses a comprehensive portal of members-only content:
View all active job listings and apply to open positions

Read members-only blog content

View recent newsletters & download thought leadership presentations by date

Expand your network with the comprehensive member directory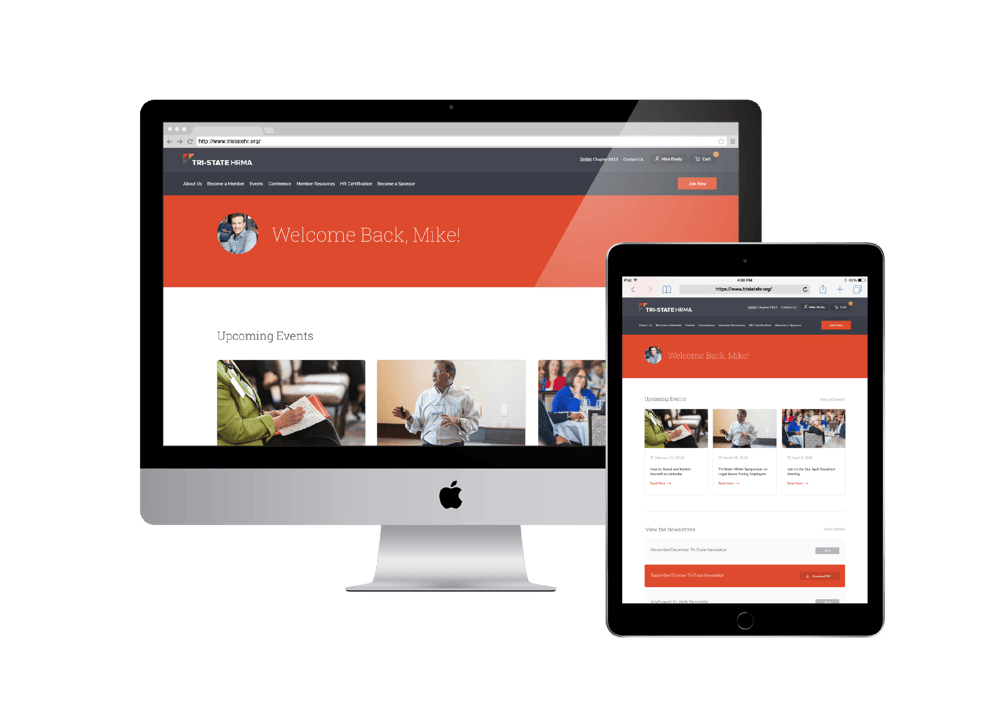 User Types:
The website has a logged-in experience specific to user types:
Members: Can view all areas of the member portal when logged in

Board Members: Can view all areas of the member portal when logged in plus board meeting minutes and financials

Superadmins: Can view all areas of the member portal plus the WordPress dashboard for updating of web content and management of memberships

Employers: Can submit a new job opening, view their past job posts, and mark a job as fulfilled

Guests: Can view all website pages in logged out view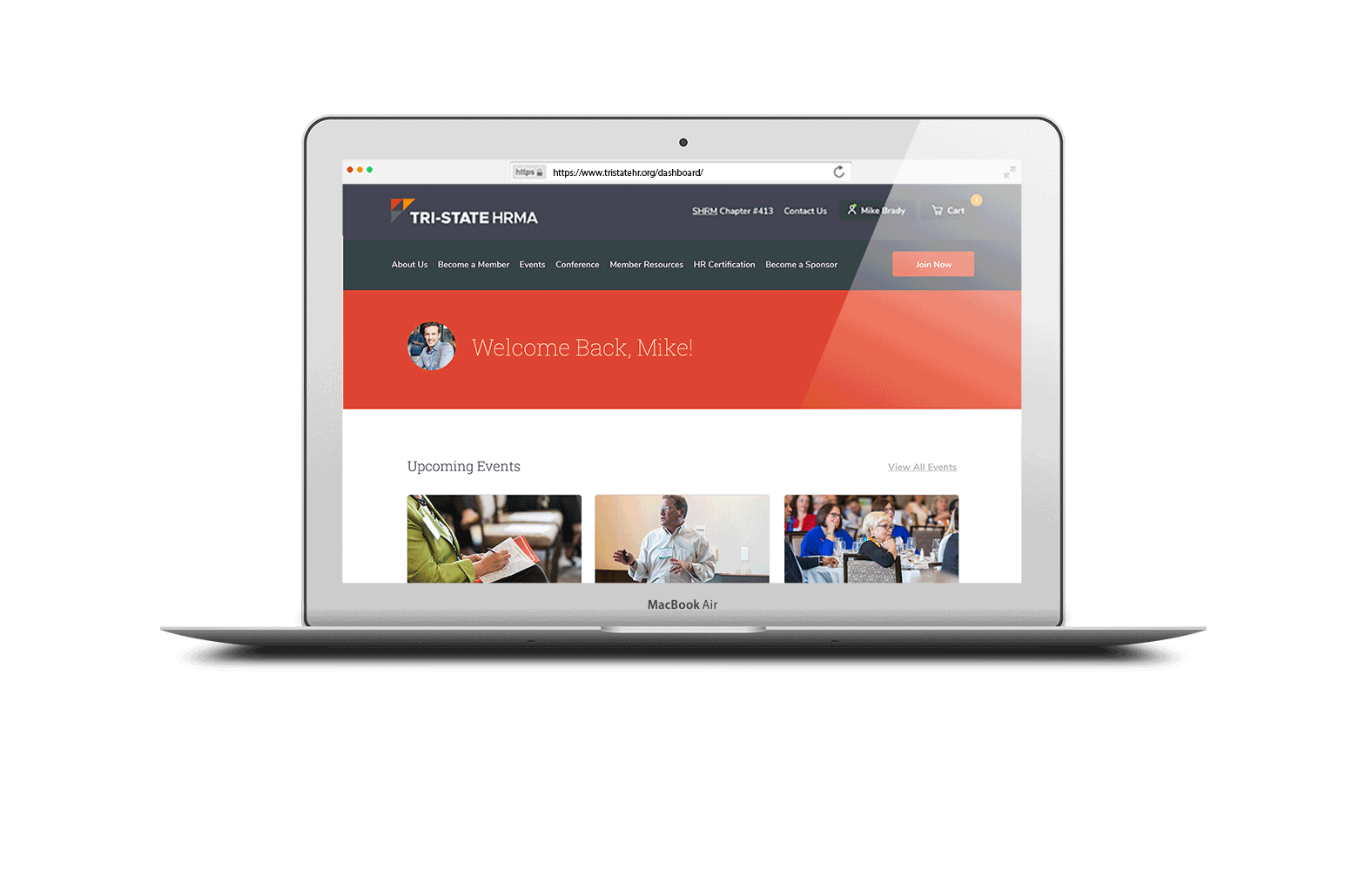 Cart Checkout and Management of Dues:
To create a positive checkout experience for members and guests, Mole Street developed a custom WordPress website with the trusted e-commerce platform, WooCommerce, for sales of annual membership and monthly events.
When logged in, the shopping cart includes a smart checkout process that recognizes the level of membership of the user and automatically applies the appropriate discounts to his or her cart, allowing members to enjoy discount perks of being a member, and minimizing calls to administrative staff to receive appropriate discounts.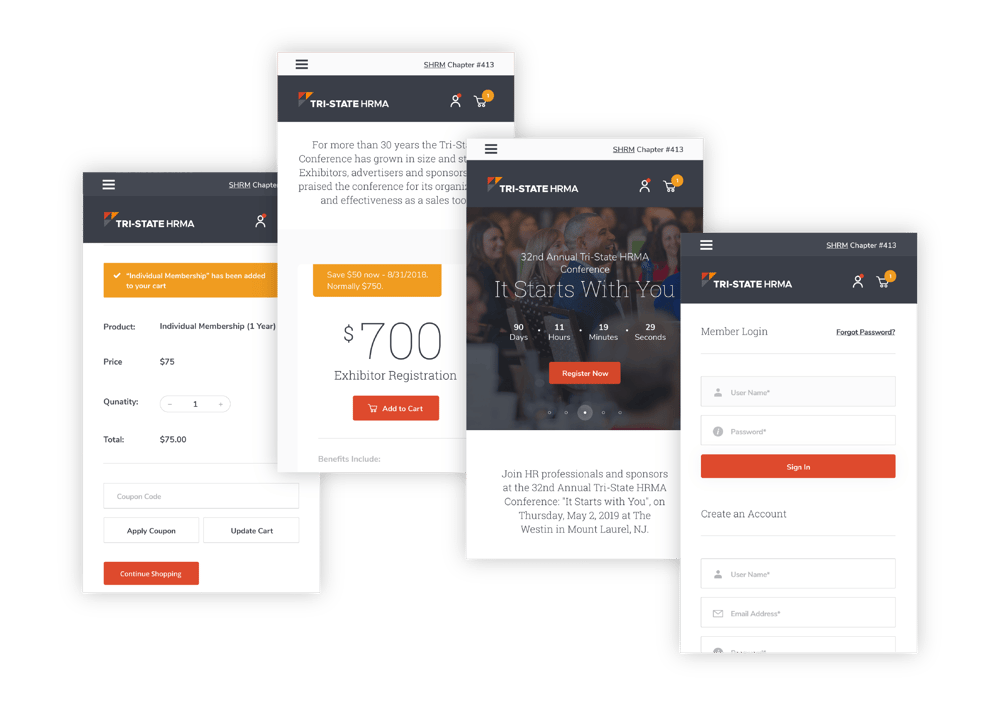 Auto-Renewal:
One of the most paramount upgrades for the new website is the inclusion of auto-renew. The new website automates the annual renewal process, collecting member dues on the first of each year, according to each member's preferred payment method on file.
This creates a positive experience for busy members: they no longer have to remember to turn in their dues at the start of each year. And it cuts down on administrative staff communications, as admins no longer have to chase down members for their dues.
Dedicated Annual Conference Pages:
Recognizing a need for a homebase for Tri-State HRMA's Annual Conference, we designed a conference website that houses details and registration collection for the annual event. The conference website has its own pretty URL: https://www.tristatehr.org/conference/ and can be accessed from the main Tri-State website or directly.
To keep things simple and organized for Tri-States administrative staff and members, the conference website shares the same WordPress dashboard and member portal as the main Tri-State website.
This means that when a user is logged in, they can enjoy the premium member benefit of discounted admission to the annual conference, applied automatically to their cart at checkout on the conference website. It also means that administrative staff have just one CMS to manage, and can make edits and updates all in one place.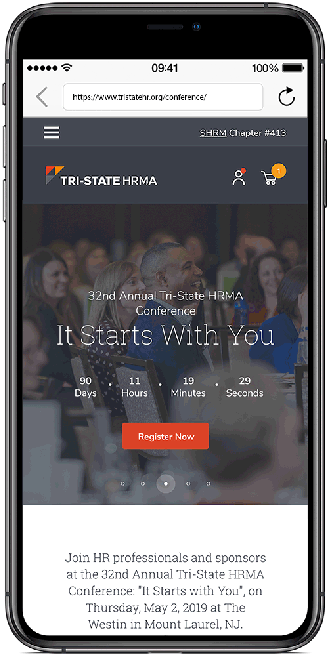 The conference website allows for a variety of engagement, not previously available with the client's old website:
Who/What/Where/When: View the schedule, speakers, and event-day info

Member Perks: Automatically-applied discount on conference admission for logged in annual members

Sponsor Checkout: Sponsors can choose the level of sponsorship that works for them and complete checkout without requiring an administrator's manual collection of the sponsor donation
Exhibition Checkout: Exhibition-level attendees can choose their top 3 selections for an exhibition space, which gets sent to the admins for final approval
Brand Identity:
Mole Street designed a new logo for Tri-State HRMA, carrying over the triangle icon from its previous iconography and updating the color palette from fire engine red and 100% black to a sophisticated red-orange, corporate grey, and inviting mustard color for secondary elements like callouts, tags, and buttons. The three triangles in the new logo represent the three pillars of the brand: People, Purpose, Passion.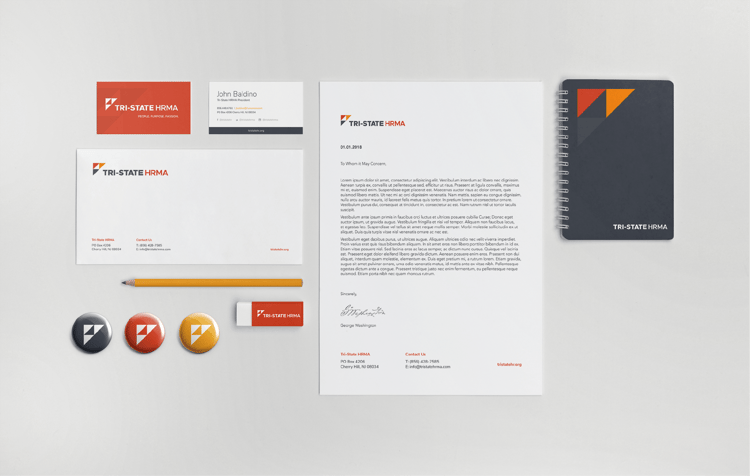 Identifying the importance of an original photo and video shoot to capture the soul of the brand, Mole Street captured event photography and video at the annual conference. This photography and video is utilized through the website to tell the story of the "human" part of "human resources association."