Muller Brazil LLP is a personal injury law firm founded in 2012. Already a national leader in the vaccine injury space, our client was poised to expand into new PI service verticals including auto accidents and workers' comp. The creation of a new HubSpot website with integrated CRM was the first step in laying the groundwork for driving organic traffic and nurturing new leads.
The Challenge
Build a B2C website to educate and convert new prospects
Our challenge was to start from square one and take calculated steps toward a rebrand of the law firm's iconography and launch of a new website and content strategy.
Objective 1: Rebrand Muller Brazil LLP

Objective 2: Produce owned media: a new website and blog campaigns

Objective 3: Earn organic traffic and search rankings

Objective 4: Support the paralegals and attorneys with contact data from the CRM

Objective 5: Onboard and consult Muller Brazil on HubSpot marketing and sales hubs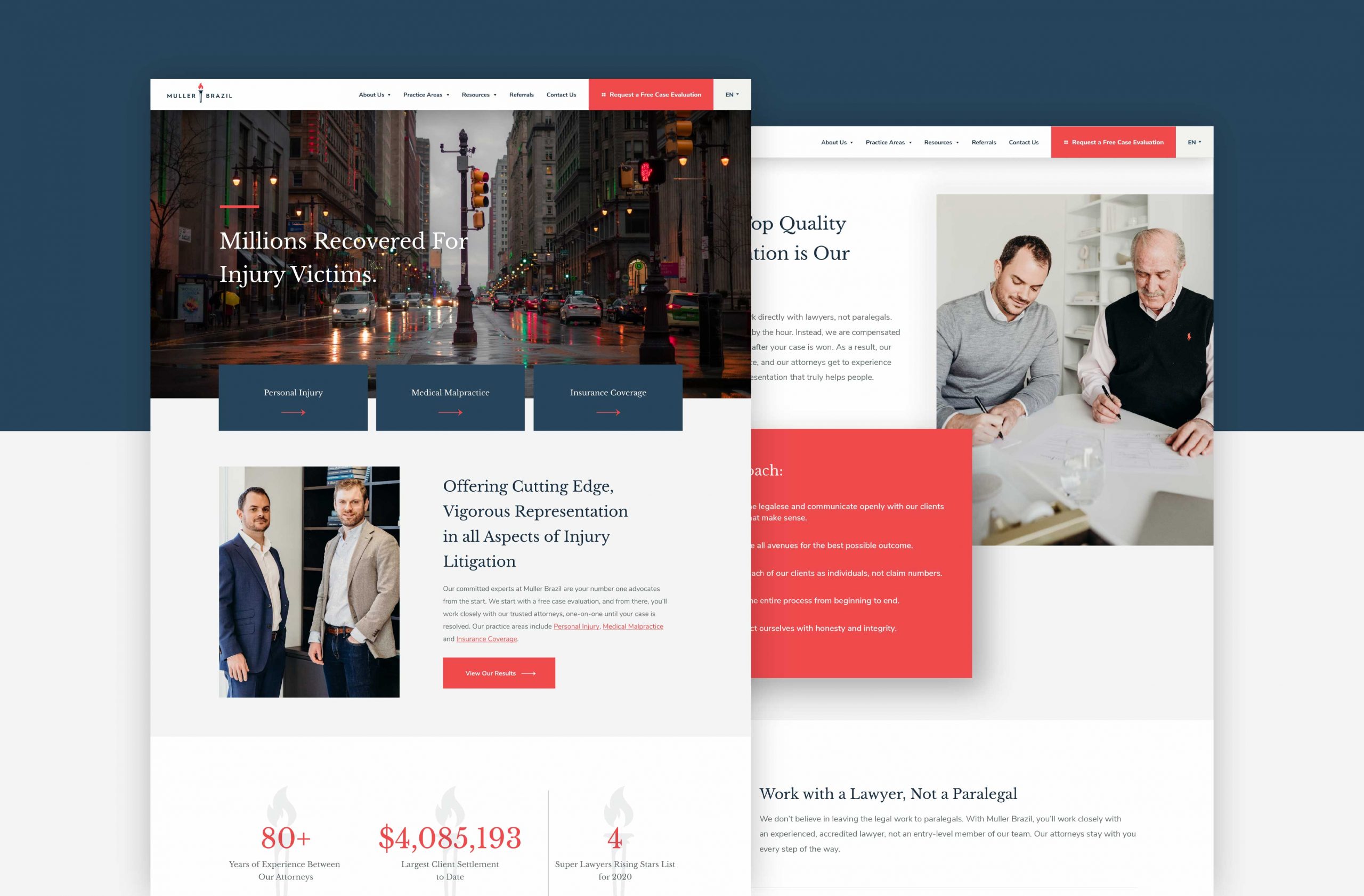 Our Approach to HubSpot Website Design for Law Firms
Personal injury law is a highly competitive industry—both offline and digitally. Many of our client's competitors had more than a decade of website activity, strategic keyword targeting and thousands of backlinks. In starting from ground zero, we knew we couldn't take any shortcuts in content strategy for the website.
Design professional brand identity for Muller Brazil LLP

Design and develop a new website using a custom theme on the HubSpot CMS

Conduct keyword and competitor research

Design the website sitemap and onpage strategy

Build an ongoing blog editorial calendar with keyword strategy and content briefs

Connect the CRM and train the Muller Brazil team on using the HubSpot marketing and sales hubs
Brand Identity
We created a new brand identity for Muller Brazil in order to help differentiate them from their sister brand, My Vaccine Lawyer, and help them stand out in a competitive space. Muller Brazil are personal injury lawyers who set out to champion their clients, and this authenticity is represented through the torch that is at the center of their branding. The torch is representative of being a guiding light during a difficult time. We chose a strategic color palette consisting primarily of navy and red, which feels fresh and modern, while still reflecting a sense of professionalism. We also mindfully developed the Muller Brazil brand to be flexible. By creating a library of elements, such as a logo with and without the tag line, a logo mark with just the torch icon, etc, ensures that the proper logo mark can be used in the appropriate circumstance.
Create a fresh and sophisticated brand to disrupt a competitive space
We approached a new logo and brand with the following defining strategies:
Color scheme

New typeface

Built brand guidelines

Help differentiate between their sister brand, My Vaccine Lawyer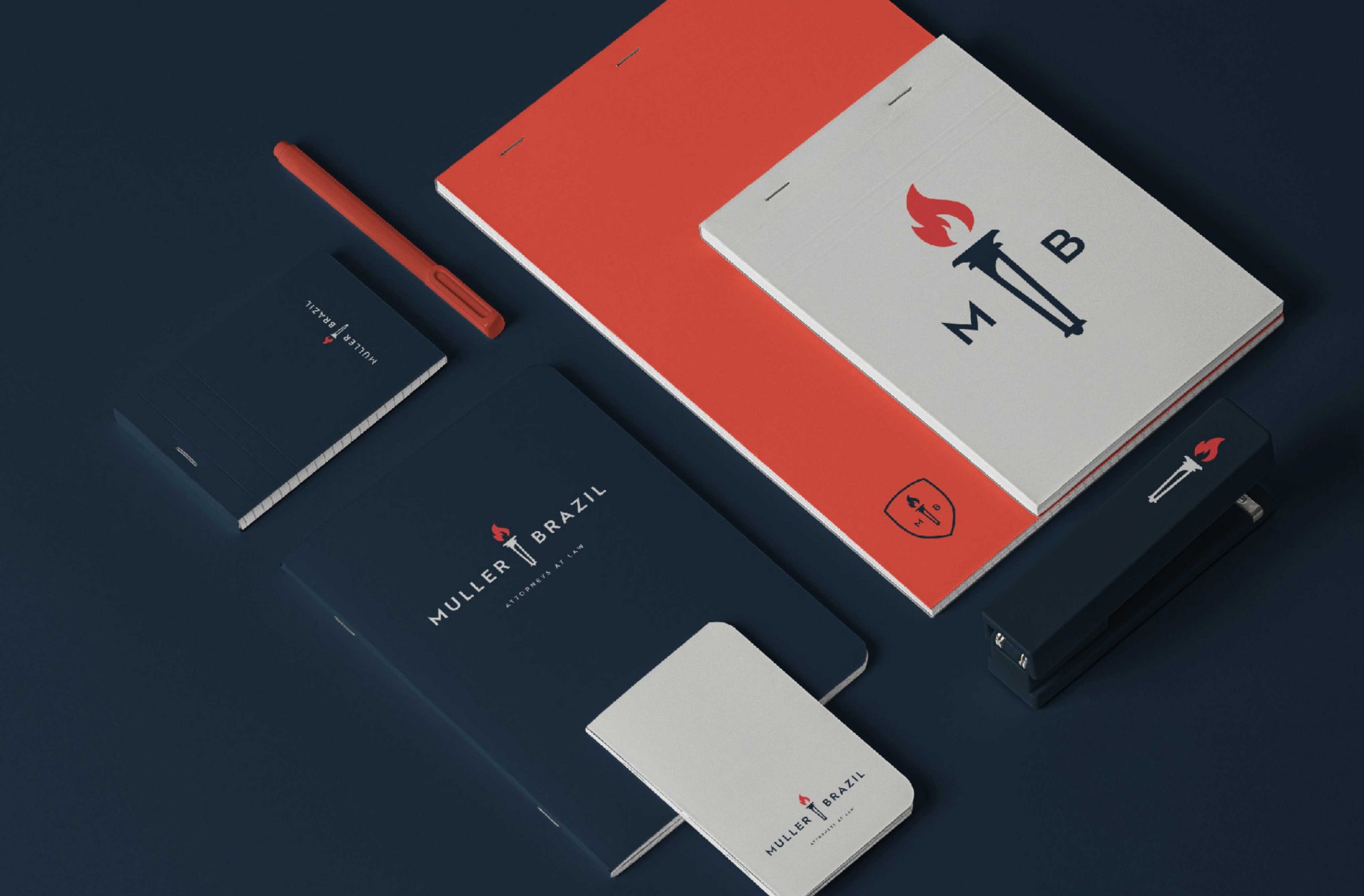 Hubspot Website Design and Development
UX/UI
First and foremost, the website was designed with accessibility in mind and the copy was set to a fifth-grade reading level to communicate to the average person who has experienced a personal injury.
We included in our design:
Large, high contrast text for legibility and accessibility

Chunked content to support comprehension of the information

Clearly organized navigational items including a pillar page for each practice area

Standardized button and row styles to aid in ease of use
SEO Best Practices for Attorney Websites
With a target market in the Northeast of the United States, specifically Delaware, Pennsylvania and New Jersey, Muller Brazil was in a fiercely competitive market for personal injury law. It was important for us to build the framework for an ongoing SEO program while also identifying the opportunities for page rankings.
We started with comprehensive keyword research and thorough competitor analysis to identify the opportunities and challenges in organic search for personal injury law.

We produced a sitemap that included a pillar page for each practice area and permalink for each attorney

Onpage strategy included keyword targeting, page titles, header tags, internal linking, meta descriptions and image tags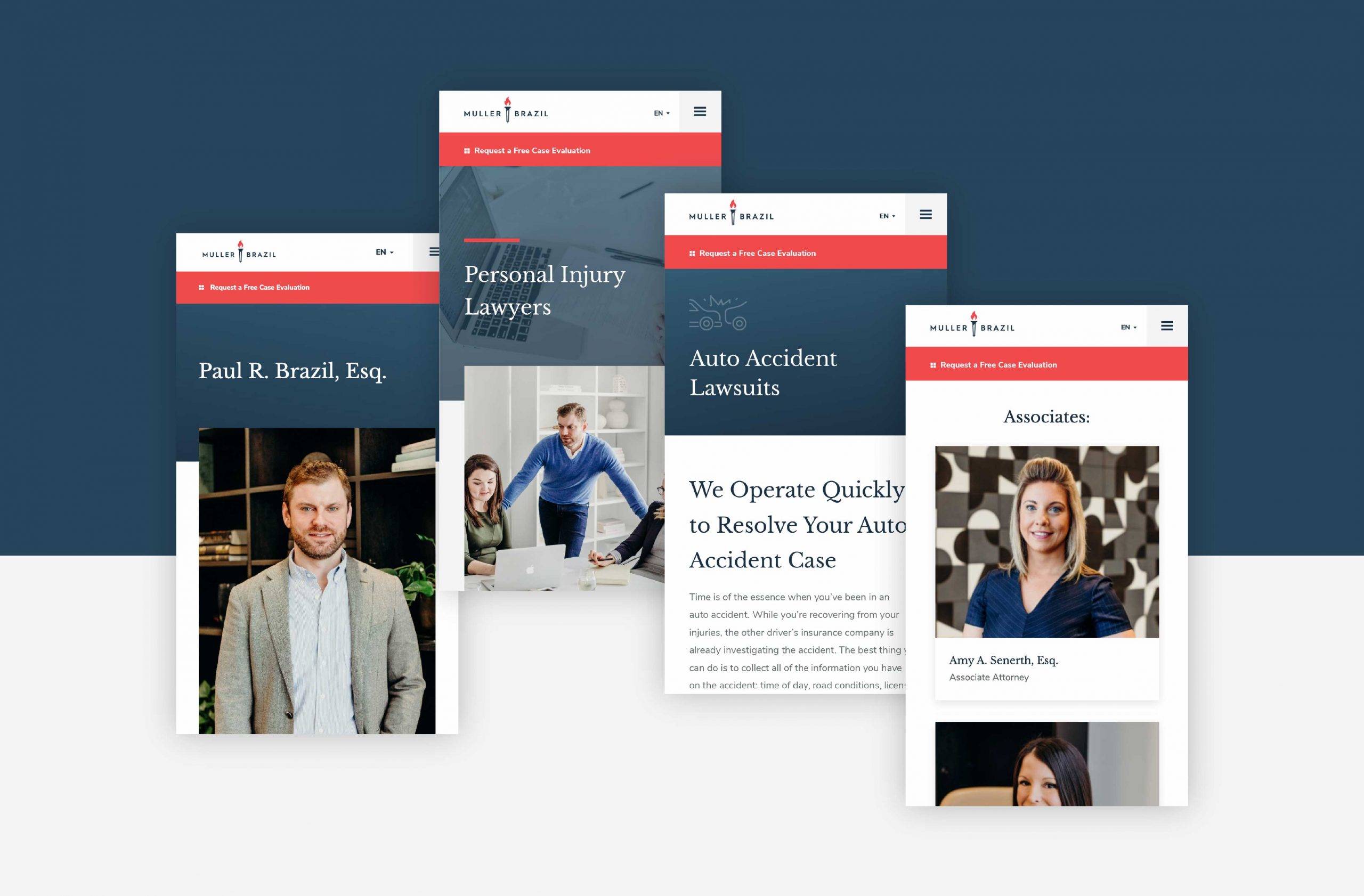 Ongoing Content Strategy
Through competitor analysis, we noticed that competing for backlinks was the most difficult challenge due to the longstanding reputation of other law firms. To this end, we saw that our biggest opportunity was in producing content to support an organic search strategy. While other attorney websites had a high quantity of traffic, very few of them had quality blog content, and as a result their keyword rankings were scattered.
To strengthen the SEO value of the website, we created an annual calendar of blog topics. Each blog was strengthened through keyword strategy and onpage content.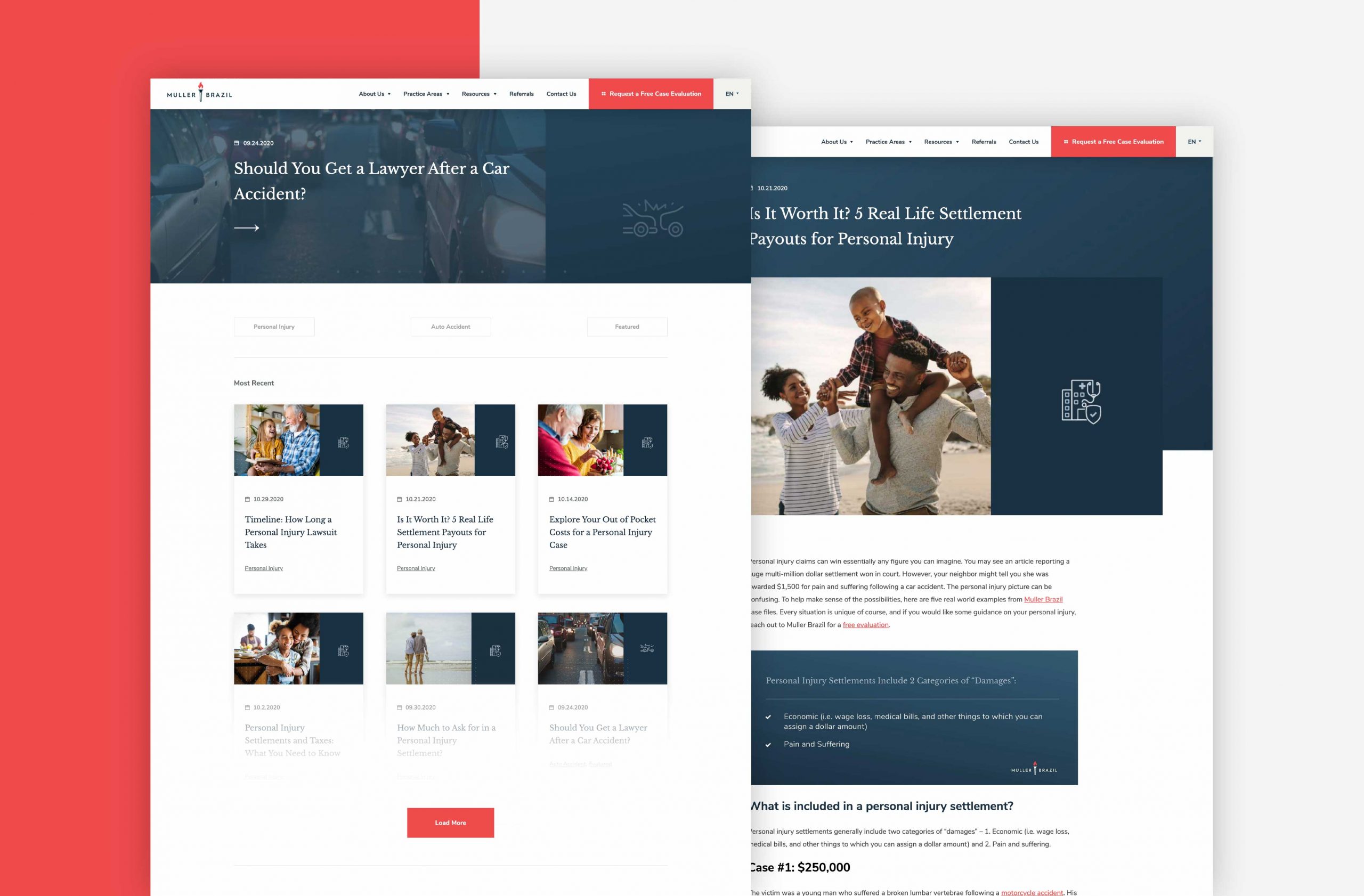 Integration with the HubSpot CRM
Because we chose HubSpot for the CMS platform, integration with the CRM is robust. User actions and behaviors are recorded under each contact and sales teams can use the information to inform their communication with prospective clients. Additionally, the marketing team can seamlessly generate reports to review the overall performance of their site and marketing campaign efforts.
Original Photography
Muller Brazil are a team of personal injury lawyers who set out to champion their clients, and this authenticity was something that inevitably went in the direction of original photography. As a team of young professionals who set out to differentiate themselves from their competition, we portrayed this through original photography with a laid-back authenticity that still maintains a level of professionalism. Working with professional portrait and lifestyle photographer, Sloane Tucker, we location scouted and produced a 1-day shoot at Convene at Cityview to capture lifestyle shots of the Muller Brazil team, along with individual headshots for each team member.
"[The website] sets us as a step above the rest of the competition."
Ryan Waddell, Director of Marketing, Muller Brazil