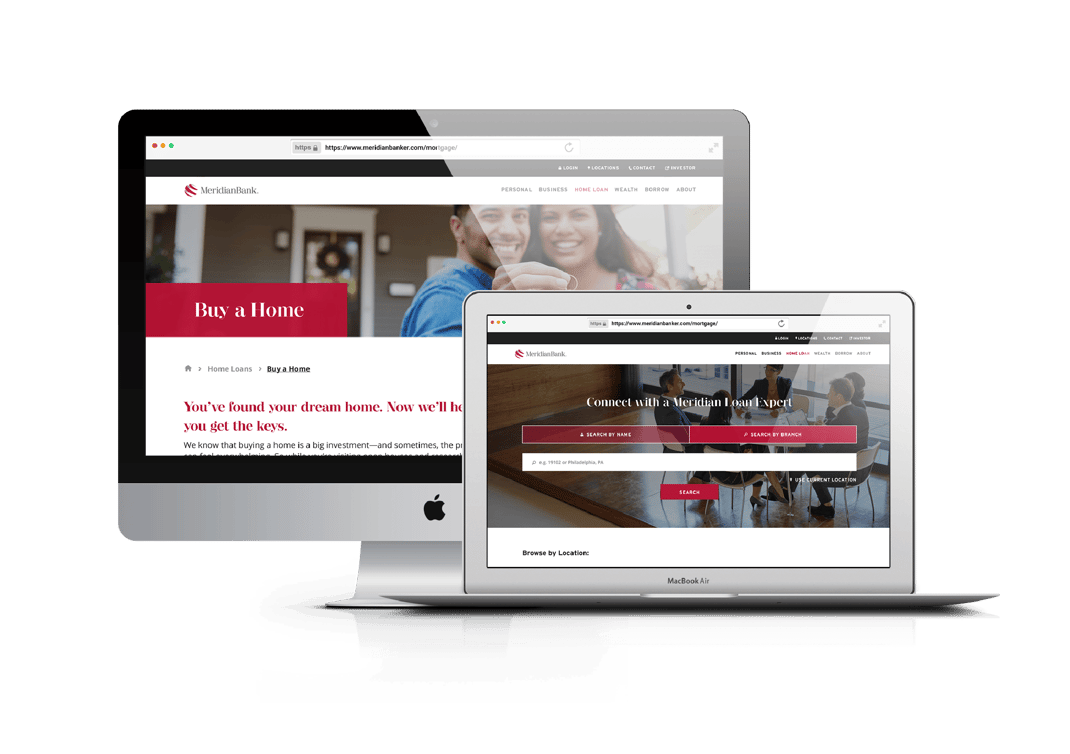 Meridian Bank, a regional financial institution in the Northeast, was looking for a solution to deploy new website features for its Mortgage division without disrupting the daily online activities of its personal and business banking clients. With real estate's high season quickly approaching, the clock was ticking to launch a suite of new features for loan officers to use to engage new clients.
With just 9 weeks from Phase I kick-off to launch, Mole Street employed an agile (phased) approach to web design and development in order to:
Develop a search engine for website visitors to discover Meridian Bank loan officers in their area

Create a personalized, highly shareable landing page for each loan officer to nurture new client relationships

Begin transitioning sections of Meridian Bank's website from difficult-to-update Expression Engine platform to widely-accepted WordPress CMS

Build out pillar pages for the Mortgage service vertical to launch after the high season (Phase II)
Our Approach
Search Function:
Loan officers at Meridian Bank were having a hard time with visibility. In an attempt to be found online, loan officers were relying on an archaic real estate template website and third party websites like Zillow to get their name out there.
Our first solution was to create a centralized database of all officers at all branches. The search engine allows users to find loan officers in their area by inputting their city and filtering by the nearest first. The search results are organized by branch name, with each officer's landing page in the feed underneath.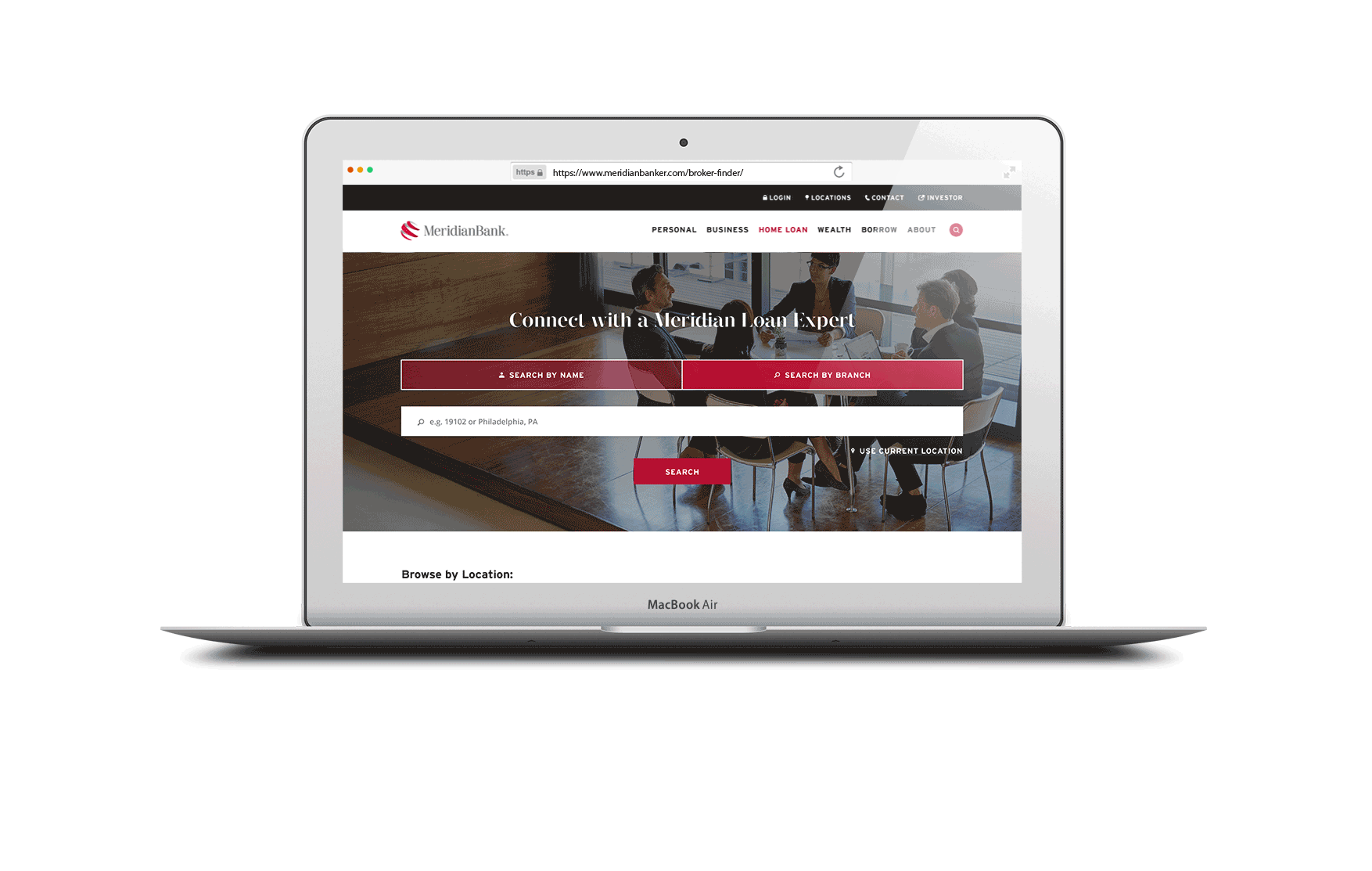 Personalized Landing Pages:
"We're all selling corn," said one of the branch managers, "So how do we differentiate ourselves?" Our next step was to design and develop a personalized landing page for each officer. While it's true that mortgage deals available are limited to a definitive list of government and bank-approved programs, we decided that showcasing a loan officer's experience and reliability would help to strengthen relationships with client prospects. Calls to action on the landing page allow users to "Request a Free Consultation" or "Start Your Application" directly from the link.
The landing pages housed key information about each loan officer:
Loan Officer Bio

Specializations

Awards + Achievements

NMLS #

Phone, Email

Branch Address and embedded Google Map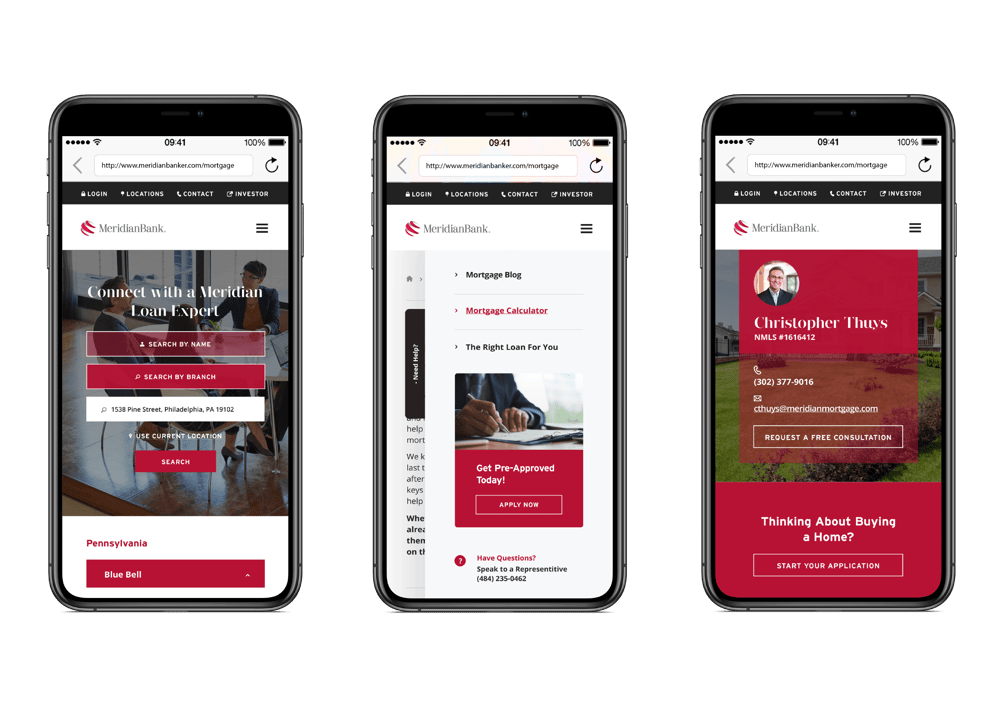 Custom WordPress Development:
When we met the Meridian Bank client, they were frustrated with their website CMS. Expression Engine was proving difficult to update and manage, and they knew they wanted to move away from a platform as a whole.
An agile approach to this website project has allowed us to transition the client vertical by vertical from Expression Engine to WordPress, without causing significant website downtime or client and employee frustration. Key areas of the existing website remain live while we makeover other verticals, piece by piece. The result is an intuitive, easy-to-update website using the #1 preferred CMS in the world.
Atomic Design:
We approach all of our custom WordPress website projects with the strategy of atomic design. Atomic design allows us to:
Accelerate the design process through the design of reusable components

Produce a template-rich page structure for commonly used page layouts

Create economies in development

Ensure consistency during QA Period

Empower future governance: website admins can update, add, and replace content without engaging a web developer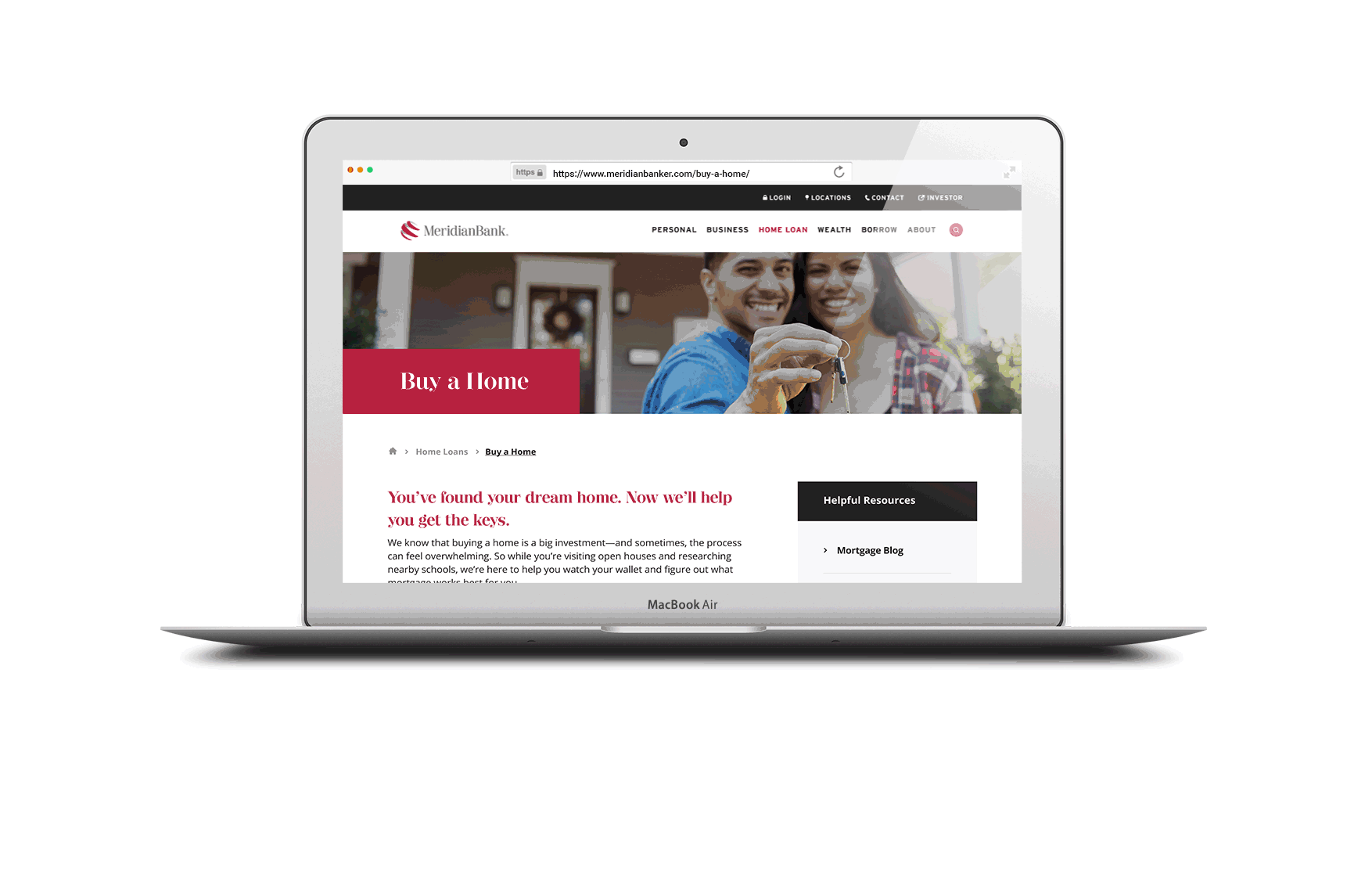 This website build includes the following reusable components:
Page header

Body copy

Awards row

Specializations row

Client testimonials

Branch feed

Global Sidebar, top nav & footer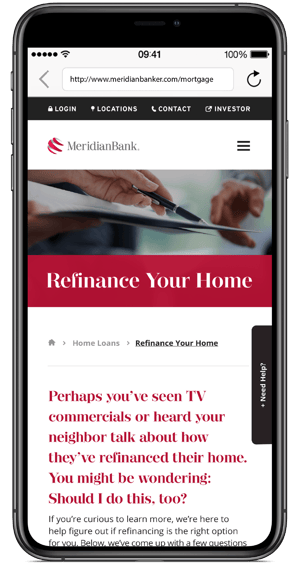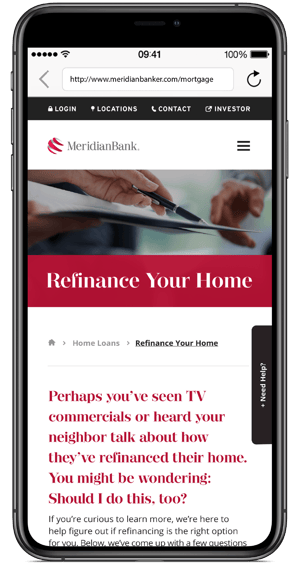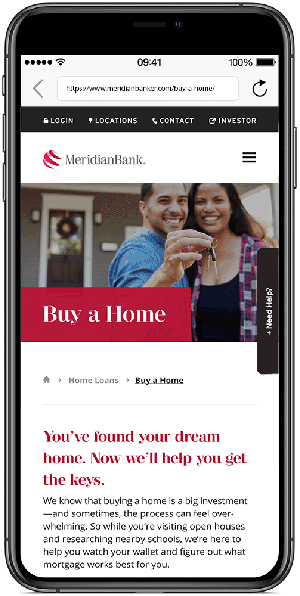 The Meridian Bank website includes the following reusable page templates:
Loan Officer page template

Pillar page

Blog feed

Blog single post

Thank you page
Mortgage Pillar Page:
With the search engine deployed and operating during high season, next it was time to explore pillar pages for the Mortgage service vertical. Previously, Meridian Bank had relied on an antiquated real estate website template to tell the story of their Mortgage services. Knowing that real estate clients—especially first time homebuyers—have a ton of anxiety and questions about the process, the template website was doing the company a huge disservice. It lacked information to educate client prospects and was difficult to navigate: two areas of major frustration for users.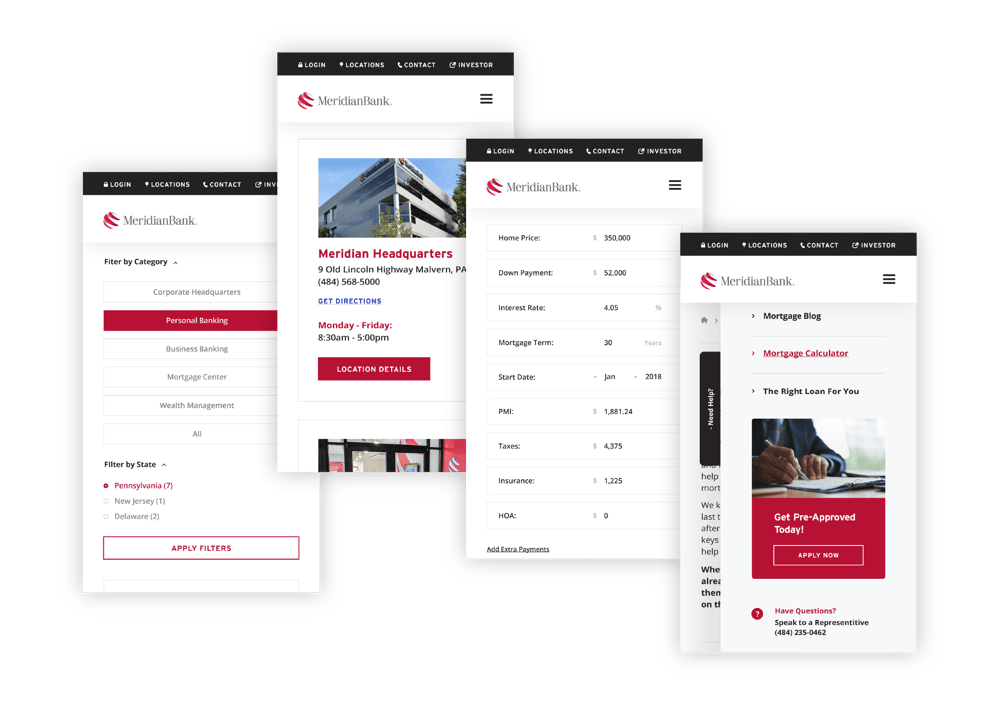 Through stakeholder interviews, competitor analysis, and user interviews, we came up with the content strategy for the pillar pages, which includes:
Buy a Home pillar page

Refinance pillar page

"The Right Loan for You" page with list of programs available

Mortgage blog

Mortgage calculator

Mortgage glossary
Written in plain language, with internal links to additional resources, these pillar pages lay the foundation for educating homebuyers while they're in the decision-making stage. The body of the page speaks to the main aspects of the home buying process while a helpful sidebar provides further reading, and in some cases, even definitions of commonly used terms in real estate.
Calls to action drive users to choose the next step that's right for them:
Request a free consultation

Get prequalified

Apply now for a loan