CityLife Health, a multi-city urgent care walk-in clinic serving low-income neighborhoods, was repositioning its core competencies to serve the Medicaid population exclusively while looking to increase visits to its four locations in Pennsylvania and New Jersey to prove ROI to the clinic's insurance company partners. Their website lacked targeted urgent care SEO and up-to-date information pertaining to their refreshed service offerings. As a result, poor-quality leads were resorting to contacting the call center with basic questions, creating customer dissatisfaction and ambiguity around the brand.



Website Design and Development
173% Increase in Qualified Call Leads

Year over year, the urgent care clinic's call volume increased more than 2.5 times with patients in need of their services
292,000+ Google Map Visits

Realized in 2017 and 2018 from local search, these visits helped patients find clinic locations and get driving directions
35% Increase in Organic Traffic

Within 90 days of completing technical SEO on the website and local citations across the top 50 top aggregator websites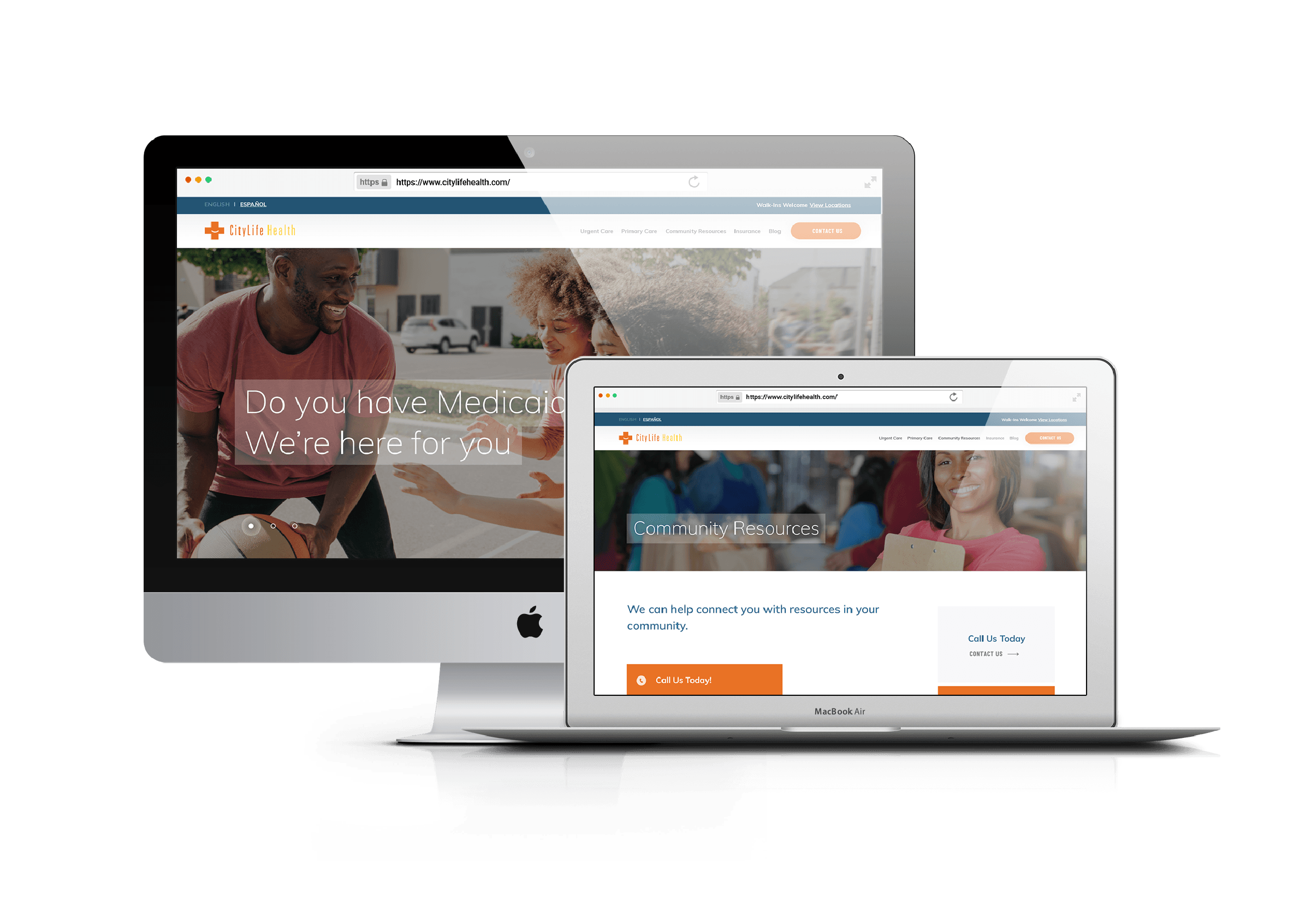 The Challenge
To help CityLife Health obtain qualified leads, the brand needed an identity aligned with the company's new service offerings and to dominate local searches for urgent care clinics. Since SEO for Google relies heavily on user experience, the team at Mole Street prescribed the following steps:
Design and develop a new website with an improved user experience

Formulate and implement a targeted local urgent care SEO strategy

Craft and execute a content strategy aligned with CityLife Health's new patient personas

Support local search with Google My Business verification

Complete website aggregator listings for all Pennsylvania and New Jersey clinics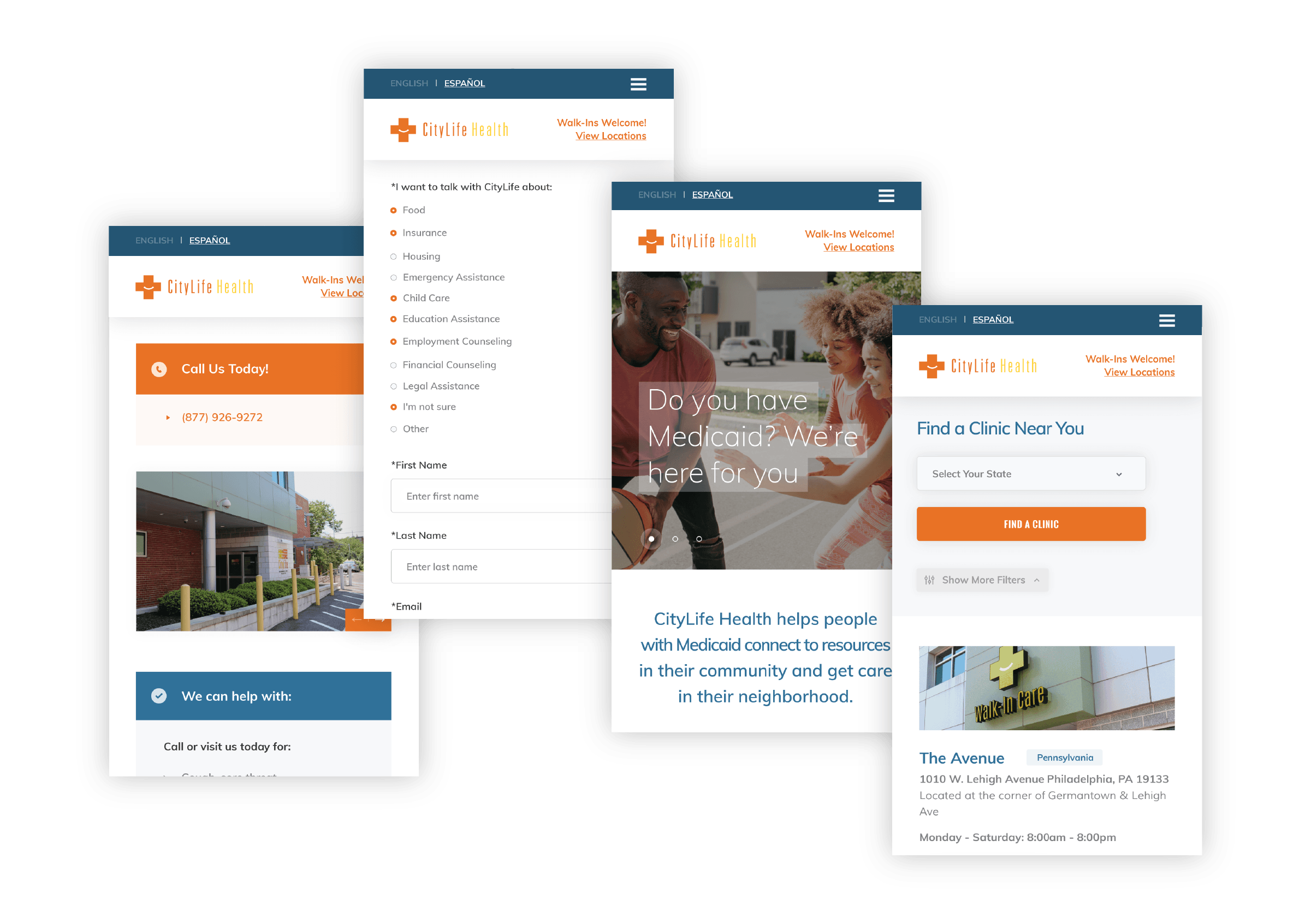 Our Approach
With 83% of the urgent care clinic's current website traffic coming from mobile devices, we knew that mobile browsing was the predominant way in which patients would discover the brand. We also understood from focus group testing that much of the Medicaid population within the target geographical area had mobile phones with data plans, but did not have computers with internet connections at home.
Refine the brand's identity with a new name (i.e., CityLife Health), logo, and visual style guide to inspire patient confidence and unite clinics in Pennsylvania and New Jersey under one umbrella

Transition from a single-page website to a multi-page website to set the foundation for comprehensive urgent care SEO and content strategies

Identify and target keywords demonstrating an immediate need, such as urgent care, emergency clinic, walk in clinic, quick care, and immediate care

Create and build a custom, mobile-first website that is easy to update as the company continues to evolve its service offerings and open new locations

Introduce lead capture opportunities in the form of call tracking and form fill inquiries
SEO Highlights
87% Website Traffic from New Visitors

13% returning visitors
1.1s Average Website Page Speed

Page size under 3 MB (1.8 MB average)
28% Website Traffic from Organic

In 2017 and 2018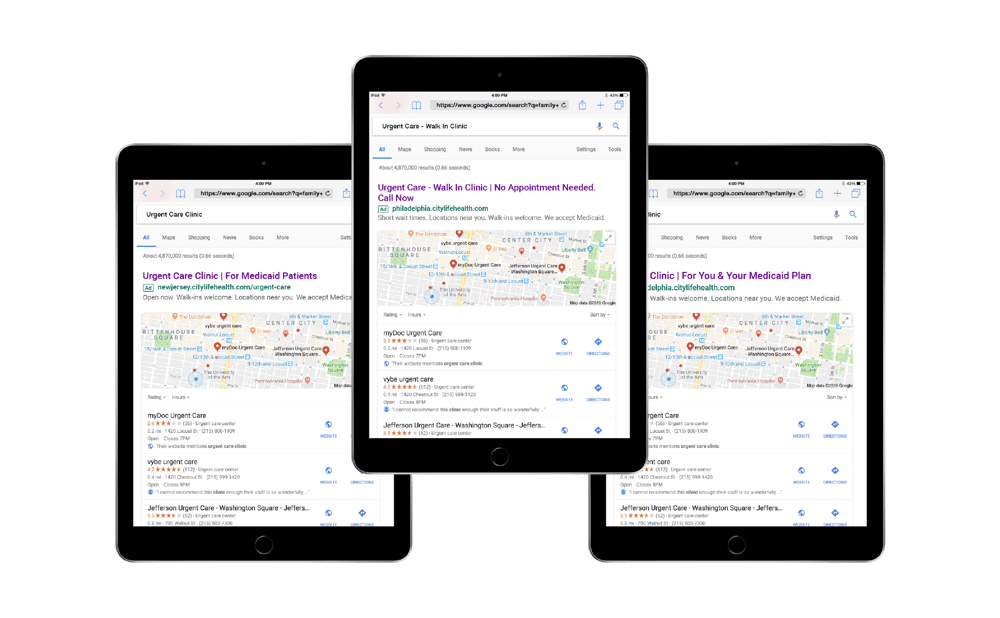 Since
CityLife Health's
refreshed service offerings were so new, we knew we wanted to launch the website far in advance of operational maturity in the brand's newer markets. Launching a professional new website was a strategic move to create brand confidence in the digital world first, and then delight patients in-person during their visits to the clinic locations.
We designed and developed the website according to SEO best practices including, but not limited to:
Custom website with multiple pages each targeting unique keywords aligned with core competencies

Development of a blog for content marketing to support keyword and linking strategies

Location pages for each clinic to support local urgent care SEO

301 redirects from old website URLs to new

Tracking codes for measuring performance

Mobile responsiveness

XML sitemap

SSL certificate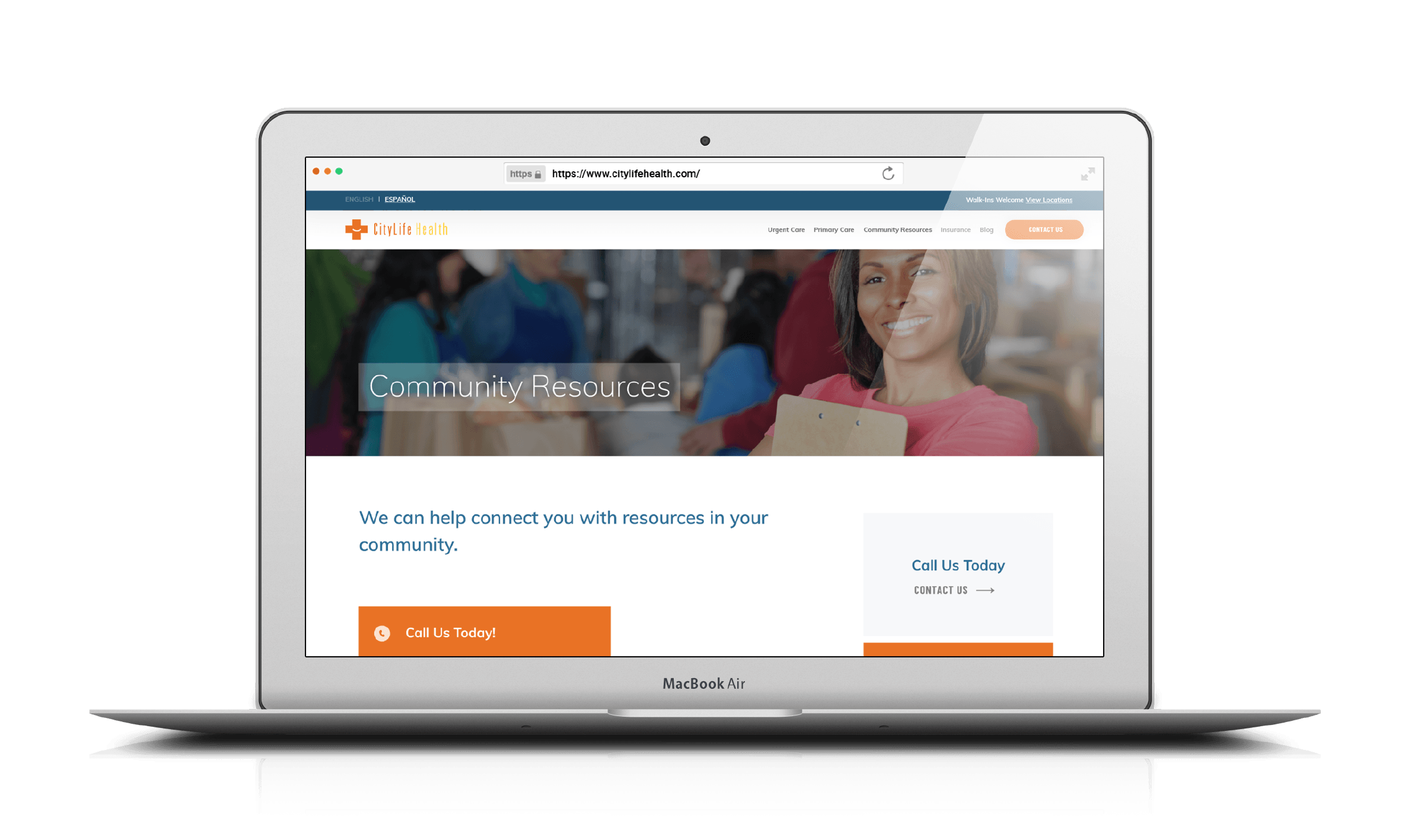 Urgent Care SEO Meets Content Strategy
Through discovery sessions with CityLife Health, we landed on the following core competencies requiring SEO and content support:
Urgent care

Primary care for children and adolescents

Primary care for men's and women's health

Primary care for chronic conditions

Community resources (e.g., care coordination to direct patients to third-party organizations that can assist with basic needs like food, housing, insurance, child care, education, and financial counseling)
We created a pillar page for each of these service areas. Knowing that the majority of the target demographic was operating at a first-to-third-grade reading level, we avoided long sentence structures and instead leaned heavily on bulleted lists.
Next, we rounded out the website with content to answer the top questions people asked the call center::
Where are you located?
Do you take my insurance?
To do this, we created an Insurance page that clearly lays out the insurance plans accepted in Pennsylvania and New Jersey. We also created a locations feed with key wayfinding information, including addresses, hours of our operation, phone numbers, embedded Google maps, and reiterations of the services provided at each location.