CityLife Health, a walk-in clinic for Medicaid patients, was looking to increase visits to its four locations in Pennsylvania and New Jersey to prove ROI to the clinic's insurance company partners. Our challenge was to drive patient leads to the clinic's call center to convert call inquiries into clinic visits. With a comprehensive search strategy to land CityLife on page one of local search results, we increased call leads by 173% year over year.


173% Increase in Call Leads

Year-on-year. We increased the clinic's call volume by more than 2.5 times.
45% of All Tracked Calls to the Clinic are from Google Ads

In 2017 and 2018.
29% of All Tracked Calls

From Google Ads Mobile Click-to-Call Extension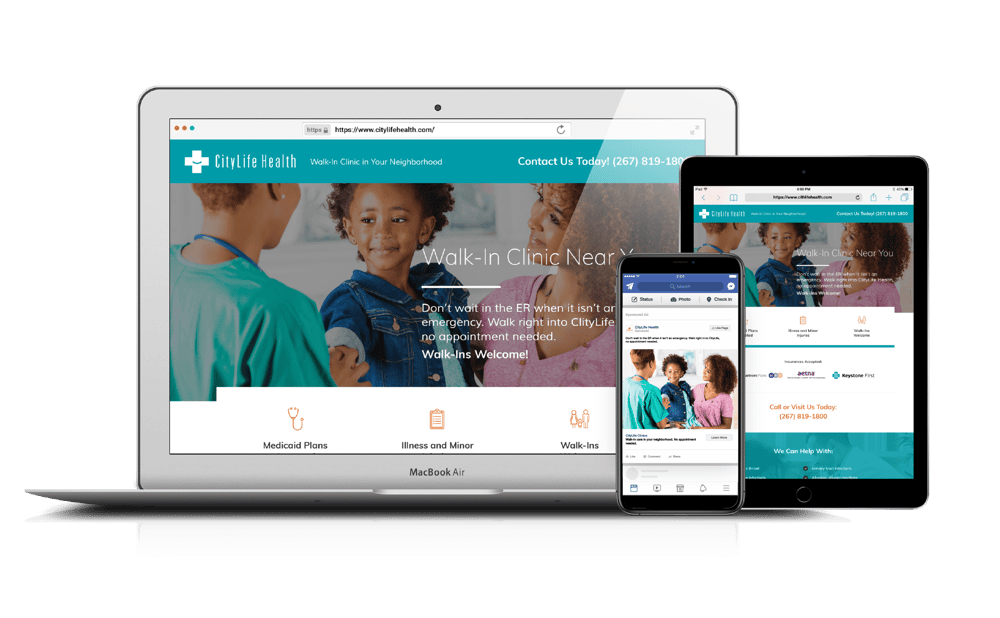 The Challenge
To help CityLife Health collect patient leads, our goal was to dominate page one of local search:
Email Marketing

Provide a Google Ads strategy for capturing leads searching for "urgent care" and "walk-in care" in designated zip codes surrounding each clinic.

Design a new website and content strategy for search engine optimization.

Complete a technical SEO setup for the new website.

Support local search with Google My Business verification and completion of local listings across 50 top aggregator websites.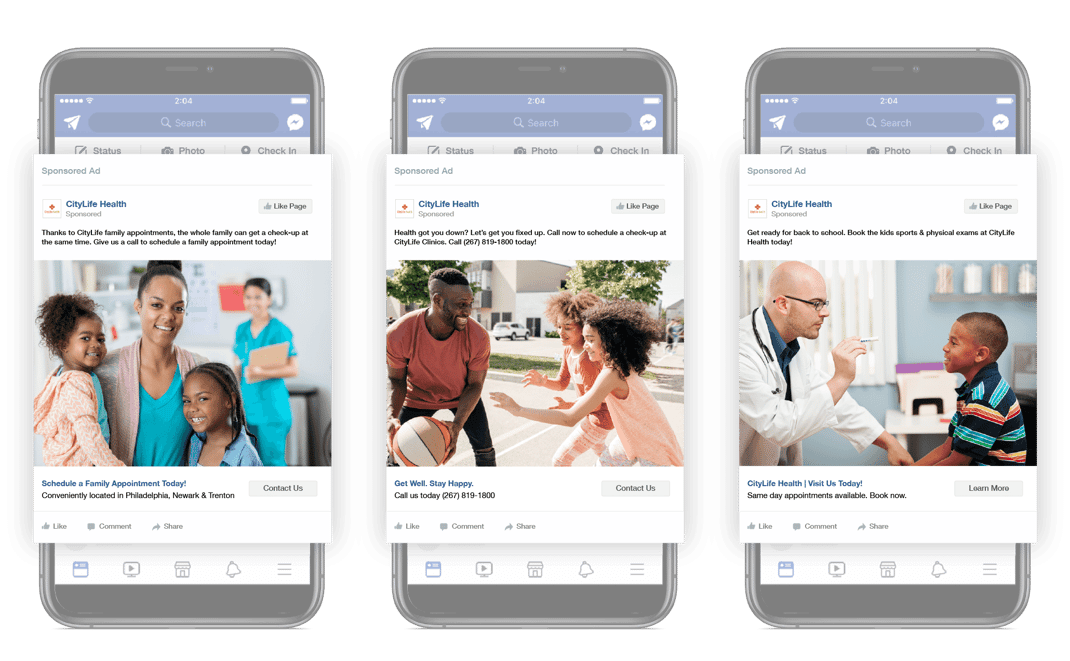 Our Approach
Google Ads:
With 83% of CityLife's website traffic from mobile devices, we knew that mobile browsing was the predominant way that the clinic's target market would view our Google Ads. We also understood from focus group testing that much of the Medicaid population within our target geography had cell phones with data plans, but did not have a desktop with router at home.
Mobile Click-to-Call option was a critical extension in our Google Ads and accounted for 29% of all-time tracked calls.

We selected targeted keywords that showed an immediate need for care, including: urgent care, emergency clinic, walk in clinic, quick care, and immediate care.

Our geography was highly-targeted and restricted to the precise zip codes where our target demographic is found, and excluding neighborhoods within Philadelphia, Trenton, and Newark where the Medicaid population is not present.

The ads schedule began early in the morning to capture the waking hours when there is a spike in calls to the clinic.

Negative keywords included the names of neighborhoods outside of our catchment zones, dental/dentist, pain management keywords, and medicare.

Our budget was set to position us as the forerunner, capturing 26% impression share and the top seat compared with CityLife Health's competitors.
Results:
32% of All Website Visitors are from Google Ads
Compared with 16% Direct Traffic and less than 10% traffic from other referral sources
26% Impression Share

The closest competitor has 18% impression share in Google Ads.
More than 292,000 Google Map Visits

Directly referred from Google Ad extensions in 2017 and 2018. Conversion actions taken include "get location details" "driving directions" and "show nearby locations."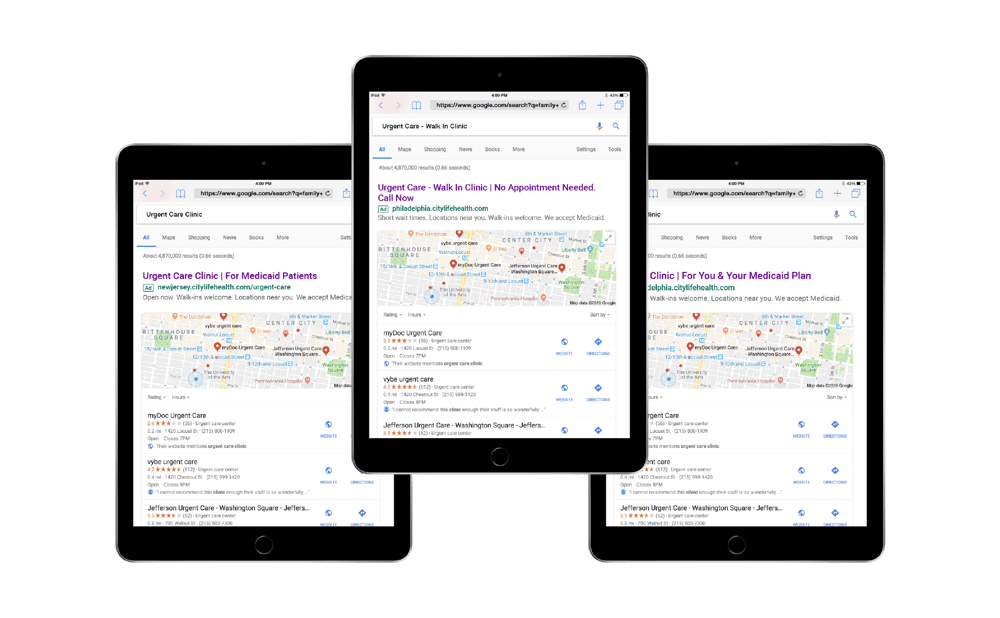 Onpage and Technical SEO:
We designed the CityLife Health website according to SEO best practices including:
Multi-page custom WordPress website to elaborate on key service offerings

Development of a blog for future content creation to support keyword strategy

Location pages: One for each clinic, to support local SEO strategy

XML Sitemap

Average page speed of 1.1 seconds

Page size under 3 MB (1.8 MB average)

SSL Certificate

Mobile-responsive

Google Analytics tracking code

301 redirect from old website URLs to new
Local SEO Setup:
To support local search, we verified Google My Business locations for the clinics and created local listings for all of the Pennsylvania and New Jersey clinics across the top 50 top aggregator websites.
87% of All Traffic are New Visitors
Compared with 13% returning visitors
28% of All Web Visitors are from Organic Traffic
When combined with Google Ads traffic, our search strategy accounted for 60% of all web traffic in 2017 and 2018.
35% increase in Organic Traffic

Within 90 days of completing technical SEO and local citations