D-Tools, an industry-leading estimating and design SaaS provider for AV and low voltage systems, was gearing up to make a definitive shift – moving from Marketo to HubSpot for its marketing software.
Plus, to maximize ROI on HubSpot, D-Tools needed a refreshed inbound marketing strategy to generate more visibility, traffic, and leads online.
D-Tools decided to partner with Mole Street Agency for both of these tasks, and the results proved enormously successful.
258.3% increase in new visitors through organic search
year-on-year
Achieved position 1 in SERPs within 6 months
for high-value proposal software, system design and sales management software keywords
237.6% increase in organic searches
year-on-year
The Challenge: HubSpot for SaaS
D-Tools has been trusted by nearly 7,000 companies across 80 countries with its award-winning estimating and management software for AV and low voltage system proposals, designs, and project management. Still, D-Tools noticed two problems: its website and marketing strategy were due for a refresh, and its marketing enablement software – Marketo – wasn't equipped to help the company scale in all of the ways it needed to.

That's where Mole Street Agency came in. Mole Street excels at helping companies develop their brands online with professionally designed websites and a unique approach to content strategy. Plus, as a Platinum-level member of HubSpot's Solutions Partner Program, Mole Street ensures a smooth transition for companies that aim to migrate to the optimal marketing enablement software and the best CRM for SaaS, HubSpot.

Seeing as D-Tools was in the market for a new marketing strategy and a new software to make that strategy work, Mole Street came in to usher in a new era of inbound marketing for this SaaS company.
The Mission: HubSpot Implementation Services and a Scalable Program for Inbound Marketing
Partnering with D-Tools during the company's switch from Marketo required two distinct tasks to be completed:
Supporting the SaaS company's onboarding process with HubSpot implementation services.

Producing a scalable, organic search-driven growth and inbound marketing program to help its website attract and convert more visitors.
Because HubSpot is feature-rich with software for multiple marketing programs, the simultaneous completion of these tasks is ideal for an organization hoping to achieve both. Ultimately, Mole Street placed its efforts on the following areas:
HubSpot Consulting Services: With its experience in implementing HubSpot for SaaS, Mole Street migrated D-Tools off of Marketo and onto a HubSpot's Marketing Hub while preserving the company's work and brand.

New Website: The agency employed website design and development resources to develop new site architecture, UX/UI, and creative on HubSpot's CMS Hub.

Inbound Marketing Program: Mole Street revamped D-Tools' content strategy, organic blogging initiative, and case study program, supported by an in-depth keyword strategy.

Search Engine Optimization: Mole Street conducted technical audits and implemented a new URL structure for a more competitive website.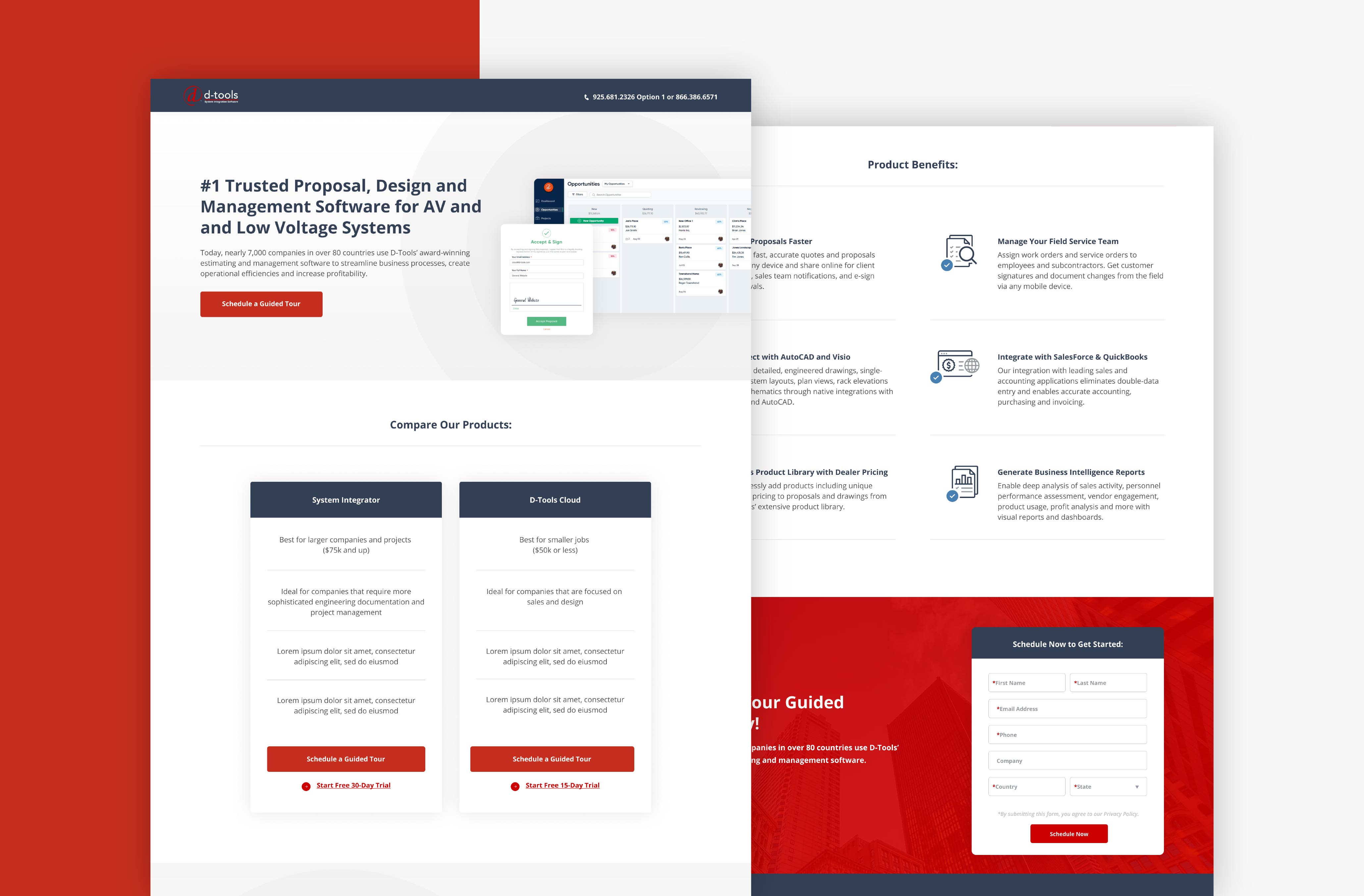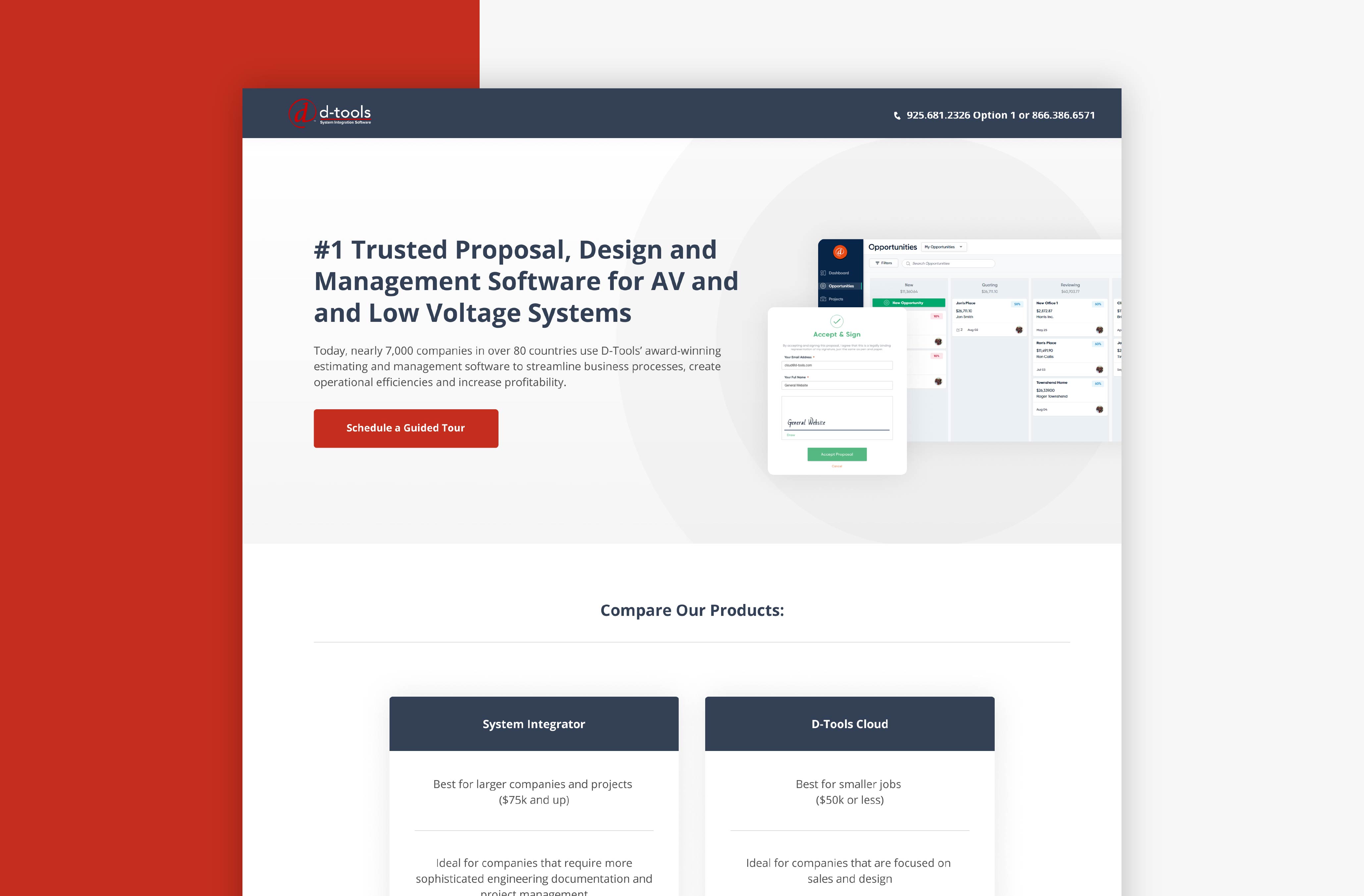 Turning the Plan Into Action: HubSpot Consulting Services
The Mole Street team knew D-Tools needed its systems in place before the more promotional marketing work could begin. That's why Mole Street created customized HubSpot training to empower D-Tools employees with the knowledge they needed to run the company's marketing campaigns on HubSpot. These training sessions primarily focused on using the HubSpot software to publish content, optimize for search, and automate workflows – among other imperative tasks.

Switching from Marketo to HubSpot after years on the former can be time-consuming, but Mole Street's training expedites that process and makes the transition more efficient.

Mole Street also collaborated with the D-Tools team to design on-brand and eye-catching marketing collateral templates, such as those for the company's website landing pages and monthly email newsletters. Mole Street's extensive experience in website development, HubSpot, and graphic design paved the way for its client to market to its buyer personas both consistently and creatively.
HubSpot CMS Website Design and Development
Giving a home to those aforementioned, newly-designed landing page templates was part of a larger initiative for Mole Street – redesigning the entire D-Tools website with HubSpot's CMS (content management system) Hub. The task required an overhaul of the site's existing setup onto the best CMS for SaaS with a stronger focus on conversion, search engine optimization, and site architecture, among other elements.
First, the website needed to better encourage buying behavior. When visitors interested in buying from D-Tools landed on the site, Mole Street wanted to maximize the possibility that any purchase intent was acted on. This was accomplished by reorganizing the site's top navigation to visually align with the buyer's journey and by launching a side-by-side product comparison table and a pricing page on that nav. The team also repositioned client content in the top navigation and the footer to prioritize new client acquisition for D-Tools.
Second, the website needed a refreshed information architecture so that the site would align with the new approach to search engine optimization (SEO), content, and conversion, and would support the updated on-page SEO elements like header tags, internal links, and meta descriptions.
Finally, the website needed an updated look, which the Mole Street team created with a new, atomic design. The design featured reusable row types and page templates, which made the job of website administrators easy when it comes to ensuring a universal look to the site and changing appropriate on-page elements with drag-and-drop functionality. More importantly, website visitors were greeted with a consistent, appealing website look whenever they went to any page on d-tools.com.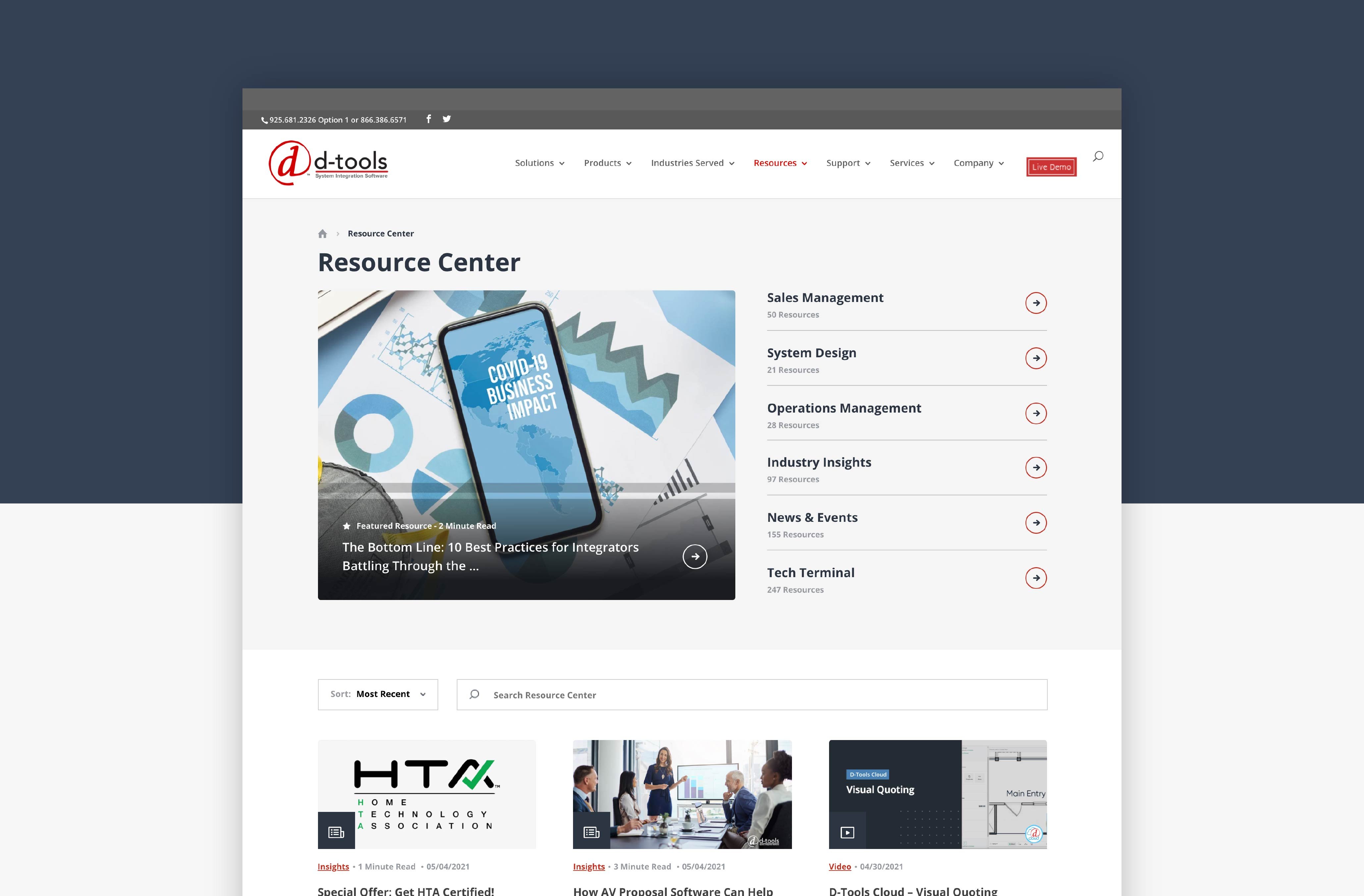 Inbound Marketing Program
Most notably, Mole Street helped to turn D-Tools' website into a content and conversion machine, resulting in a 258% year-over-year increase in new visitors through organic search – and the agency used HubSpot to make it happen.
Any great content program relies on a plan – and Mole Street collaborated with D-Tools to understand its competitive landscape, buyer personas, and customer needs to create, rank with, and convert traffic on pages about the right topics.
Stemming from a robust, keyword-driven editorial calendar, Mole Street helps D-Tools create and publish compelling and educational content on topics that its target market wants and needs to read about, such as proposal software, security, and field service management. Furthermore, Mole Street aids in the creation of downloadable, lead-generating content for these blog readers to further their understanding of the topic's subject matter – expanding D-Tools' database of warm content leads.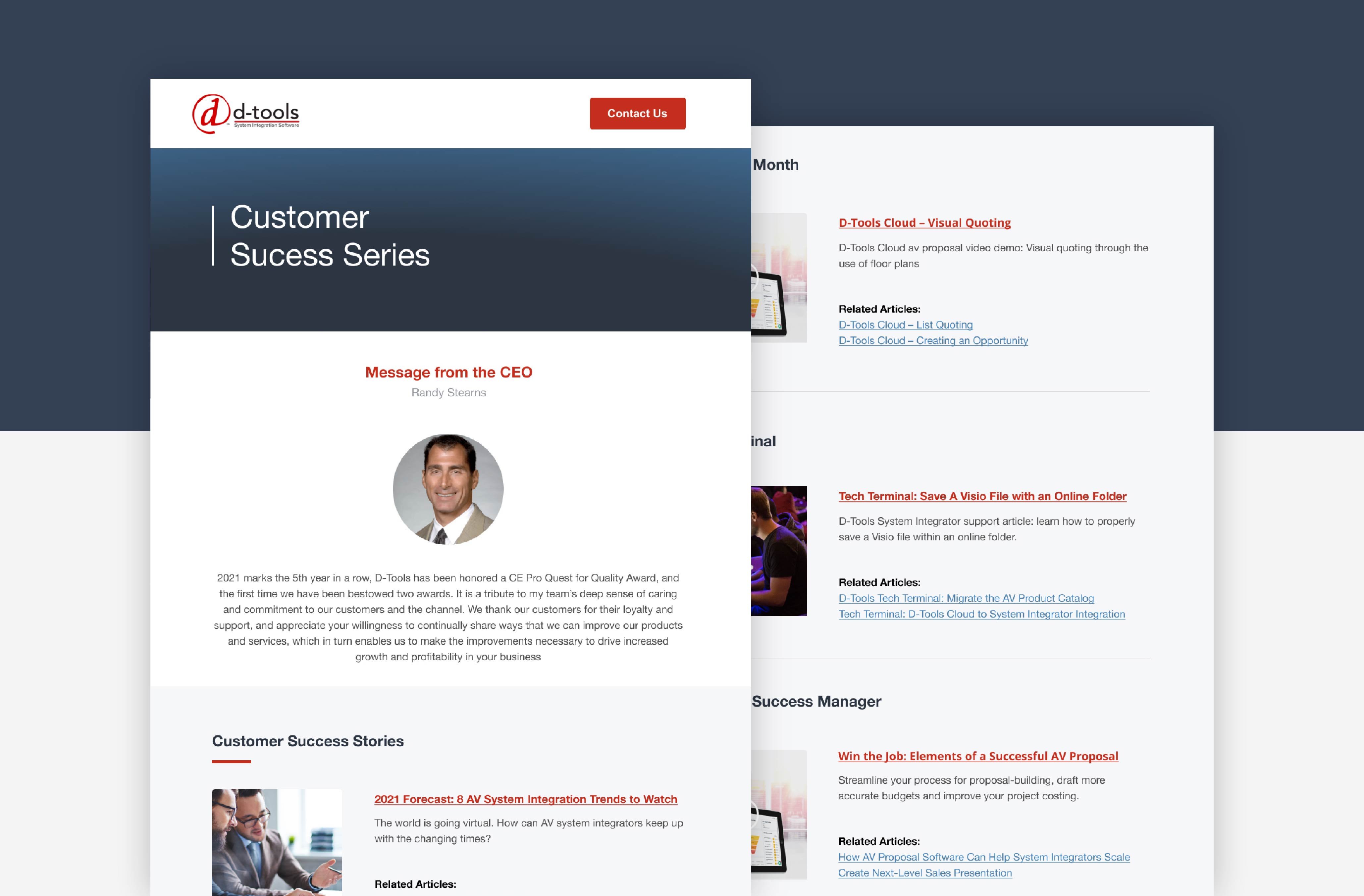 Search Engine Optimization (SEO)
To fuel organic growth further, Mole Street ran a technical SEO audit to help D-Tools' site run more smoothly. Major changes included deleting unnecessary website pages, rebuilding and reorganizing the site's industry resource center, and conducting a systematic overhaul of the site's URL structure to fit pages into an intuitive, folder-based system.
These SEO adjustments, alongside the aforementioned content strategy work, resulted in a 162% increase in organic sessions to the D-Tools website, in addition to achieving position #1 on the SERPs of multiple high-intent, industry-specific keywords.
Custom HubSpot Reporting Dashboards
The site was built. The content was written. The design was redone.
But all of that work would mean nothing if the time and resources spent establishing an online presence for D-Tools for success wasn't worth it – and that's where HubSpot's dashboard and reporting software comes in.
The Mole Street team built custom reports and dashboards for D-Tools to uncover and understand its online performance metrics. In addition to HubSpot's marketing analytics software – which highlights more basic KPIs like traffic – the reporting tool gives creators the ability to develop customized, multi-touch attribution reports for contacts and revenue. These reports provide D-Tools with specific metrics the team needs, right within the HubSpot portal.
The Reaction: A Testimonial from D-Tools' CMO
The triple-digit growth in organic performance (i.e., 258.3% increase in new visitors through organic search and 237.6% increase in organic searches year-on-year) is hard to argue with, but ultimately, we here at Mole Street are only satisfied if the companies with whom we work feel the same way.
Luckily, the team at D-Tools – like many of our other clients – were enthusiastic about the work we did, the method in which we worked with them, and all of the results they saw. D-Tools Chief Marketing Officer Tim Bigoness said that partnering with Mole Street Agency has been "by far the best decision [he has] made in the 15 years [he's] been with the company."
Most importantly to us, Tim and his team at D-Tools have appreciated the manner with which we approach our projects and client relationships, stating "the team at MoleStreet goes above and beyond the typical client engagement, and I can honestly say that they have become a part of our team."
Ultimately, Tim shared that he would recommend working with Mole Street "without hesitation."
What It's Like to Work with Mole Street: Immediate ROI
"We have seen an immediate ROI – our web traffic has increased exponentially, and that was in less than a quarter of working together and implementing the team's suggestions. In addition to helping us implement HubSpot and roll out a comprehensive content strategy, [Mole Street Principal] Brendan Walsh and his team have become trusted advisors and are now helping us put together an entirely new website."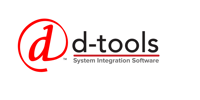 Tim Bigoness, Chief Marketing Officer, D-Tools
Sprint with Us for 2 Weeks / 20 Hours
Regardless of if your team has been using HubSpot for years or if it's just looking to get started, our HubSpot platform experts can help your team use HubSpot in your organization better. Between building custom reports, creating a library of templates for your content, and aiding your team in understanding and executing an inbound marketing strategy, Mole Street is a Platinum Certified HubSpot Partner Agency ready to work with your team in a myriad of ways to get set up with the best CRM and CMS for SaaS.
We can help you with sales and marketing alignment, acquiring and qualifying leads, and building reports that matter to decision makers within HubSpot. Contact us today to discuss our 2-week / 20-hour HubSpot consulting package. Sprint with us for two weeks and let's get your HubSpot engine running better for you.