Marketing Automation Benefits: 10 Reasons to Use It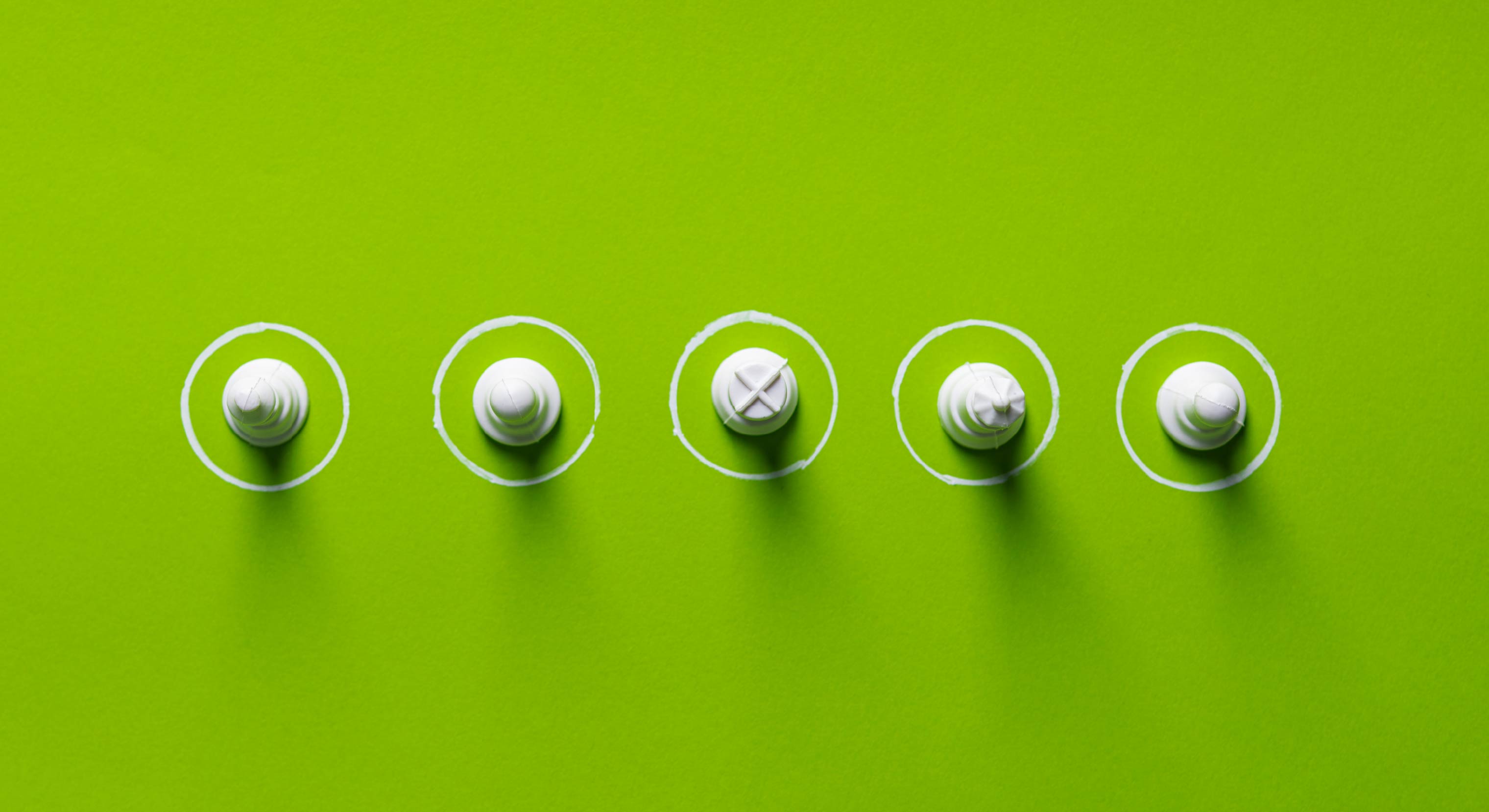 Are you running your marketing program, or is your marketing program running you?
Originally published in July 2020. Updated in December 2022.
When your business demands results but your marketing team is at capacity, marketing automation has plenty of benefits to help you reach your department's goals. Rather than add more to your headcount, add more automated workflows.
Having the right automation tools in place ensures that employees can focus on the more creative and procedural tasks for which they were hired, like creating content, brainstorming campaign ideas, collaborating with product, and project management, rather than manually sending emails, building lists and reports, and posting on five different social media accounts. Without smart automation, the brains behind your marketing team are bogged down with slow systems and manual busy work.
Enter: marketing automation – the solution to supporting your marketing systems and freeing up your teams' time to focus on bigger, more impactful initiatives.
In this post, we define marketing automation and explain its primary uses so you can decide which areas of your business can benefit most from marketing automation and prioritize accordingly.
Learn More About Mole Street's HubSpot Consulting and Marketing Automation Services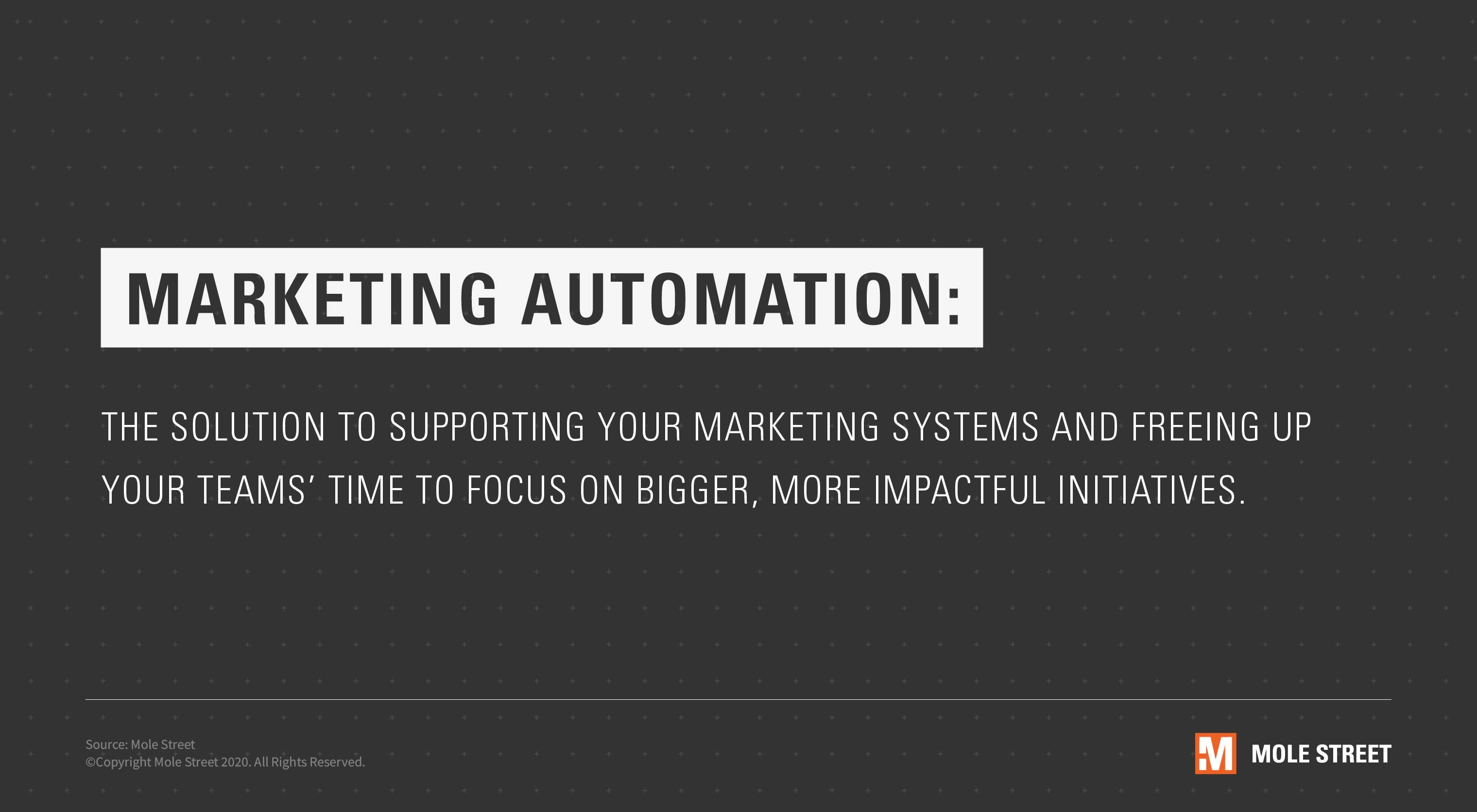 Top 10 Marketing Automation Benefits
Marketing automation offers countless benefits to businesses when leveraged correctly. This section outlines a few of the most notable for enterprise and midmarket companies.
But first, what is marketing automation?
Marketing automation refers to the use of technology, tools, and software to automate marketing activity. By automating certain tasks, marketers free up time and resources to focus their efforts on less menial work to tackle problems and create new content and processes.
What is marketing automation primarily used for?
Email Marketing Automation
Marketing Funnel Automation
Nurturing Leads
Automating Reports for Marketing and Sales
Scheduling Social Media Posts in Bulk
Freeing Up Marketers' Time
Client and Customer Engagement
Benefit #1: improve engagement and awareness
Your marketing team members were hired to be creative and raise awareness for your company and its products/services. Marketing automation can help them do that in two key ways.
First, marketing automation software can get more content out to more places than your team would be able to without it. Tools like social media, content, and ad publishing can be done from a central location, with performance metrics monitored in the same place.
Second, by its nature, marketing automation reduces the amount of repetitive and manual work your marketers need to do on a daily basis. This frees up their time to research, develop, and launch more creative campaigns that will stand out.
As a result, your social media and PR teams can spend more time on audience analysis than post scheduling, and will have ample time to pitch your content and company news to more publications. Awareness of your company will spread when you have automation tools in place because your team will be able to spend more time doing the work for which they were hired.
Key Features
Scheduling Ads
Scheduling Social Media Posts
Scheduling Blog Posts
Deploying Communication With Target Audiences
Engaging with Subscribers
Prioritize If...
Your team spends more time doing manual deployment of content instead of creative campaigns.
Benefit #2: streamline lead generation
The foundation of inbound marketing is lead generation – the practice of turning anonymous website visitors into identified contacts that can be eventually nurtured into a position to buy a company's product or service.
Marketing automation software amplifies an organization's lead gen potential with three key tools: calls-to-action (CTAs), forms, and chat bot.
CTAs urge your email readers and/or website visitors to take a specific action, like downloading a content offer or getting a demo. A CTA can be placed on website pages, blog posts, and emails. They're typically placed to increase onsite conversions by prompting someone to fill out a form on a page or via a chat bot to become a contact for your business by exchanging relevant content for contact information.
Once contacts fill out a form on your site and have consented to being contacted by your company, you can enroll them in automated nurture streams and workflows.
Key Features
Calls-to-Action
Forms
Chat Bot
Prioritize If...
You need to get more contacts into your database.
Benefit #3: seamlessly qualify and prioritize leads
One of the more exciting parts of being part of a growing company is acquiring more leads than you know what to do with.
That's also one of the biggest problems.
Marketing automation software has features that help your marketing team qualify and prioritize leads to ensure your sales team only reaches out to prospects at the right time for them. This practice, known as lead scoring, involves your software assigning points to specific marketing activities. For example, visiting a blog post might be worth one point, but downloading an ebook might be worth ten. Activities taken in this light result in a contact becoming an MQL, or marketing qualified lead.
Once a certain lead score threshold (set by your team) is passed, sales can review the lead's behavior and determine if it's the right time to make the call. At this stage, the contact becomes an SQL, or a sales qualified lead.
Marketing automation software also provides the tools to help your leads hit that ideal lead score faster, such as email workflows to send tailored content to your leads based on their behavior on your website. You can also integrate this scoring with your CRM so sales and marketing can duly monitor leads.
Key Features
Lead Scoring
Custom Workflows
CRM Integrations
Prioritize If...
You want to send the right leads to sales at the right time.
Benefit #4: reduce time spent reporting
One of the most insightful features of modern marketing software is the depth and power of real-time reporting. This feature is a perfect marketing automation priority if you need a better understanding of which marketing strategies are producing desired user behaviors, and which campaigns are falling flat.
Popular reports include revenue attribution and contact sourcing, which are typically based on list membership. By using software with smart (or active) lists that automatically update when a new contact has met the set criteria, the lists – and the reports that reference them – will update in turn, reducing the amount of manual reporting and data sourcing your team needs to do, and freeing them up to analyze and draw conclusions from these reports.
Key Features
Automated Reports
Multi-Touch Attribution
Contact Lists
Prioritize If...
You need to build more reports faster and have too many contacts to do it manually.
Benefit #5: reduce churn
Automation software keeps your customers engaged.
For SaaS companies, software reduces churn or contract cancellation by allowing marketers to communicate appropriately with existing customers. For example, customers can be excluded from emails intended for leads to ensure someone who is already paying for your software doesn't get a sales email. You can also queue them up to get product updates and company news so customers know how to make the most of your software.
For ecommerce sites, you can re-engage customers who have purchased before with recommendations for their next buy based on their previous purchase, turning what could be a one-time customer into a regular re-orderer.
Key Features
Customer Follow-Up Emails
Trigger-Based Emails
Prioritize If...
You want to regain online customers and/or reinforce brand to existing customers.
Benefit #6: win back lapsed customers
Customers churn. It happens.
It stinks, but it happens.
On average, churn rates for SaaS hovers around 5% – but marketing automation can help you get that number down.
While workflows are predominantly used to nurture new contacts into new customers, you can also use this marketing automation feature to turn old customers into return customers. Enrolling churned customers into a workflow aimed at bringing them back is a perfect use case for marketing automation software.
Picture this: once customers' cancellations are confirmed, they're enrolled in a workflow that sends an email one month after the cancellation, asking the customer to come back in exchange for a 20% discount, or a CTA to talk to a salesperson to reopen their contract. If that doesn't work, try sending a survey instead, asking customers if the company they replaced you with is living up to its expectation, or if they stand by their reason to churn in the first place. You'll be able to use the insights from that survey to further lower churn.
Key Feature
Email Workflow for Churned Customers
Prioritize If...
Your churn rate is high and you want to regain the business of previous customers.
Benefit #7: improve lead nurturing
Leads are great for your business – but only if you're able to effectively nurture them into MQLs, SQLs, and eventually customers. By enrolling your leads in the right workflow for them, you'll increase your chances of properly nurturing them into customers.
The benefit of this feature is that you can create multiple nurture streams that are segmented based on behaviors and personalized to the recipient. For example, let's say you have three different product lines, and a popular ebook to support each one of them. Accordingly, you can set up three separate workflows, and based on the ebook the lead downloads, you can enroll that lead into the one workflow out of three that corresponds to that person's appropriate buyer's journey. That way, leads only receive content relevant to them, priming them with appropriate information and positioning them well for an inevitable purchase.
Key Features
Custom Workflows
Lead Scoring
Prioritize If...
You need to increase your lead-to-customer rate.
Benefit #8: upsell more customers
One of the key themes of this article is how marketing automation software connects the actions your leads take and turns those interactions into actionable insights for your marketing and sales teams.
The benefits are no different for existing customers. Your marketing automation software can trigger emails and notifications to customers when it makes sense to try to upsell.
For example, let's say you sell an HR software priced at different tiers. One of your existing customers downloads a guide pertaining to employee onboarding, which is a feature in your second tier of pricing. This could mean your current customer is ready to talk about upgrading, and they can be enrolled into a nurture stream for existing customers on the topic, rather than a nurture stream for new contacts.
This creates a more personalized workflow customized for existing customers, which can increase the success of your upselling efforts.
Key Feature
Prioritize If...
You want to increase annual or monthly recurring revenue per customer.
Benefit #9: reduce time spent using social media
Social media automation has been a game changer for digital marketers. With a social media publishing tool like Sprout Social, companies can create and schedule a social media post at any time in the future – on multiple accounts – with the click of a button.
With social automation, marketers can spend 30 minutes scheduling social media posts for the whole week, rather than going to each site and manually posting every time they want to get the word out. By getting more content out in less time, your social media marketers can invest more energy into analyzing each channel and formulating an optimal social strategy.
Key Features
Scheduling Social Media Posts in the Future
Scheduling Social Media Posts for Multiple Sites
Prioritize If...
Your social media team spends more time publishing than strategizing.
Benefit #10: optimize your website experience
You know that you need to update your website regularly, but it's essential to make changes that improve the website experience and result in more conversions. The only way to confidently determine the optimal website experience is with A/B testing elements of your website, such as copy, H1s, images, and other content. As your website traffic grows, you'll be able to reach statistical significance for these tests and land on a winner faster than ever.
Key Features
A/B Testing
Traffic Analysis
Prioritize If...
You want to increase conversion rate for a website with growing traffic.
Marketers rely on marketing automation software to streamline tasks like sending lead nurturing content, triggering emails through workflows, and posting on social media.
Is Marketing Automation Worth the Investment?
For many companies – particularly fast-growing companies and scale-ups, marketing automation is a welcomed necessity for their marketing teams. While there is a heavy investment of time and resources into researching, demoing, choosing, purchasing, implementing, and mastering the use of a marketing automation software, the benefits are often enormous and immediate.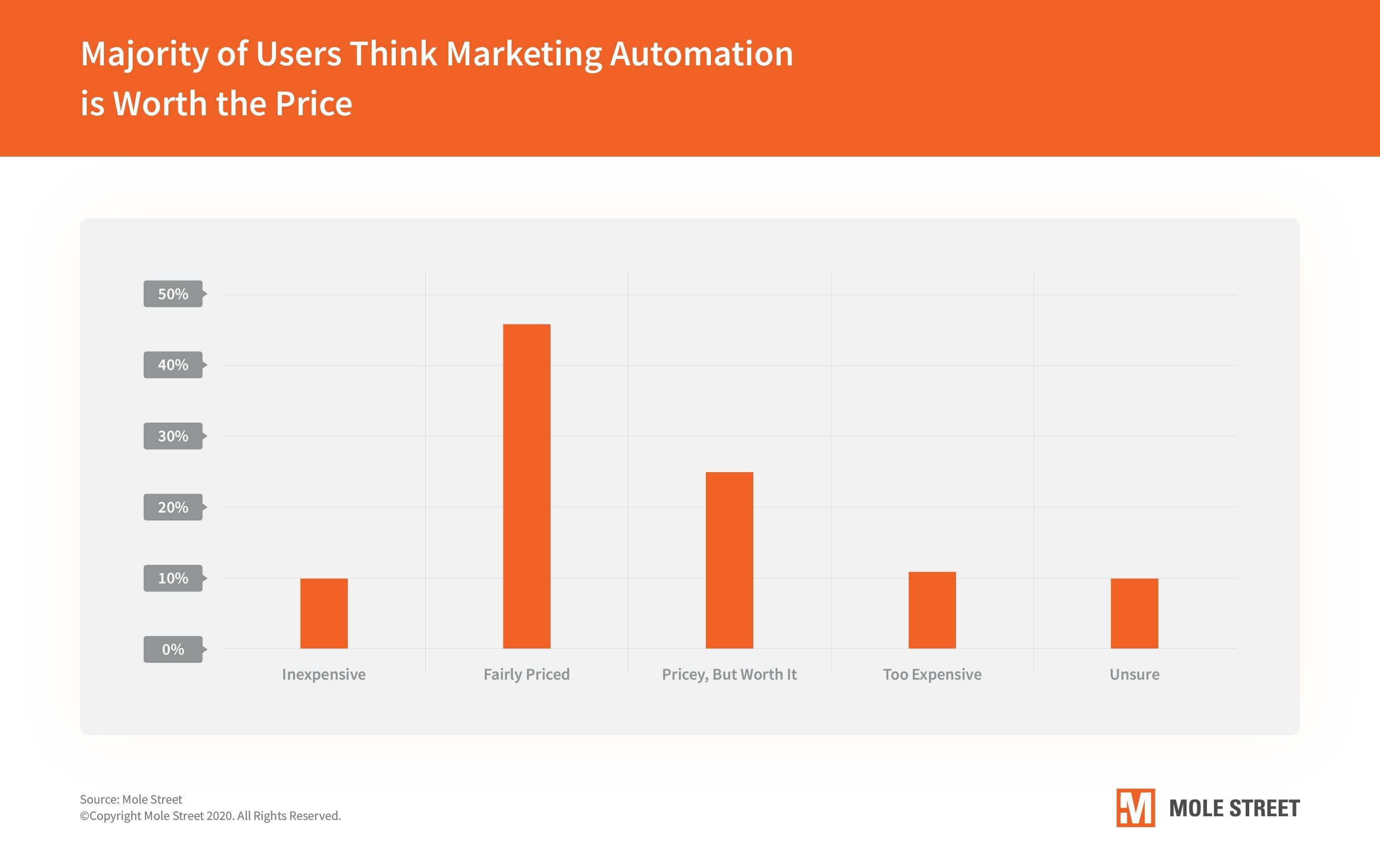 That said, it should be made clear that marketing automation software is an investment in every sense of the word. A reliable, powerful marketing automation software can cost hundreds of thousands of dollars annually, depending on the size of your team and the features you require. Even with a price tag that high, the plurality of marketing automation software users think their software is fairly priced. This feeling of worth is understandable, given the role automation can have in all aspects of your marketing strategy – from lead generation, to social media strategy, to upselling existing customers.
Does My Business Need Marketing Automation?
While not all businesses require automation software, most – if not all – will benefit from having marketing software. Many marketing automation software solutions start off at a low-price or even free tier for their basic solutions – such as HubSpot, which offers automation for its email, ads, and lead capture tools for free.
How do you know when it's time for your company to invest in marketing automation? If you're still unsure, here are a few questions to ask yourself about your company to see if marketing automation software is a necessity.
Is your marketing team growing in size, but still spending time on menial tasks that take longer than you think they should?
Do you or members of your marketing team feel strapped for time and resources?
Do you or members of your marketing team feel like they're missing out on opportunities to be creative, such as copywriting, creating content, or analyzing marketing metrics?
Do you feel like you could (or should) be handling email, social media publishing, advertising, and/or lead nurturing more efficiently?
Are you rapidly adding more contacts to your CRM?
Are your pipeline conversion metrics, such as lead-to-MQL or MQL-to-customer, staying flat or dropping?
Is your group of contacts diversifying in their needs and demographics, requiring more customized nurturing paths?
Are you lacking a central place to store and analyze the performance of your marketing content and campaigns?
Do you feel like there's a more effective method of turning strangers into customers than the current system you have in place?
If you answered yes to any of the following questions, your business is probably a good fit for a legitimate marketing automation software.
HubSpot vs Marketo vs Pardot: What is the Best Marketing Automation Tool?
While there is no perfect marketing automation tool for every business, popular choices include HubSpot, Marketo, and Pardot for all-encompassing marketing needs. There are other tools specific to individual marketing channels, like Sprout Social and Hootsuite for social media marketing automation, and Constant Contact and Mailchimp for email automation – so a focused marketing automation tool may be the best fit if you're aiming to automate one specific aspect of your marketing.
HubSpot
HubSpot marketing automation software was initially the most popular option for SMBs, but now has tailor-made options for Enterprise organizations. Boasting number one in market share for marketing automation software, HubSpot was also recently named the top marketing automation software for enterprise organizations based on G2 Crowd reviews.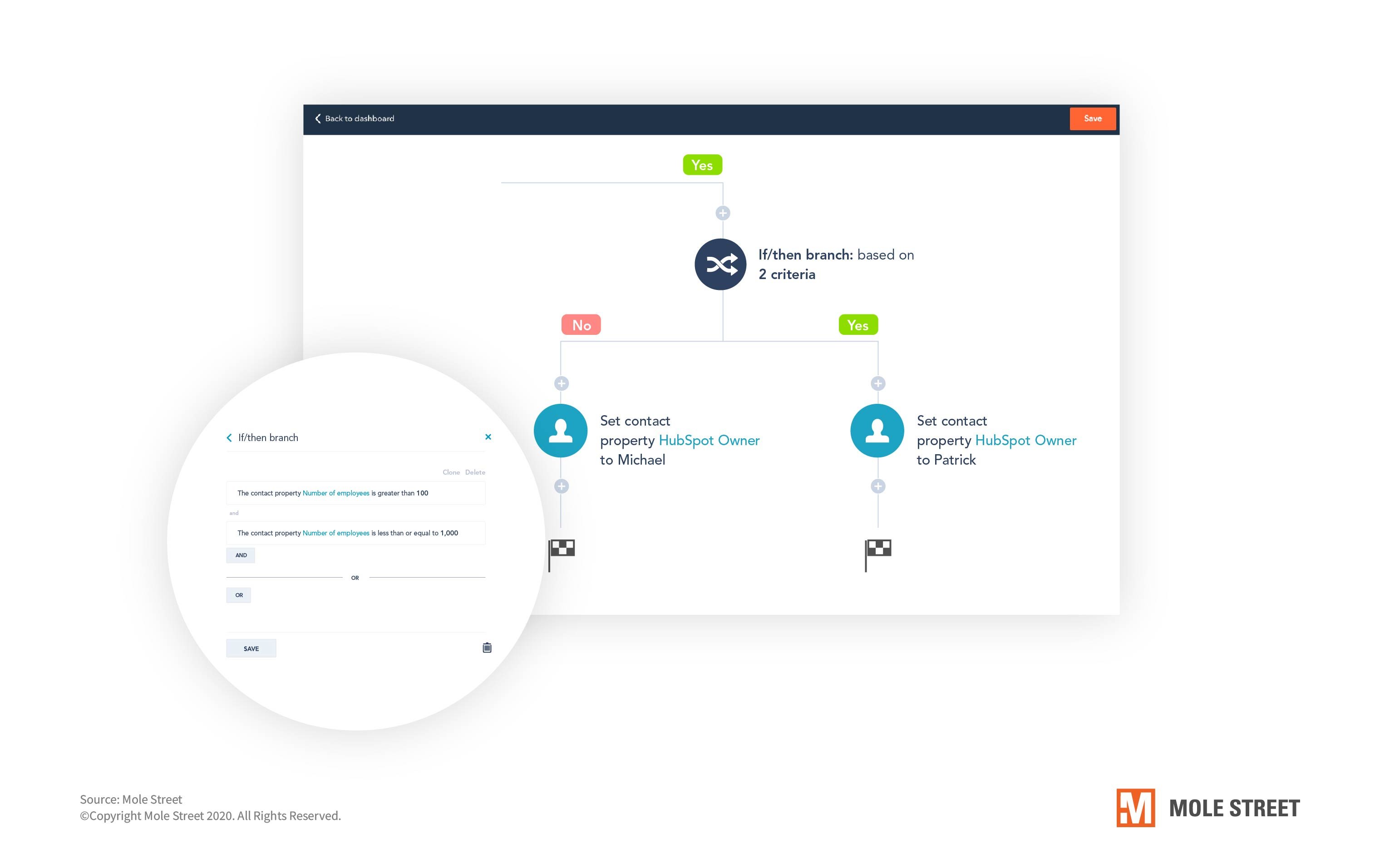 Key features include:
Automatic Workflows
Email Marketing
Lead Management
Social Media Automation
Calls-to-Action
Built-in CRM
Ads
Salesforce Integration
A/B Testing
Account-Based Marketing (ABM)
Click here to learn more about HubSpot's marketing automation software. If you're an existing HubSpot user, consider working with an Elite Certified HubSpot Partner Agency to maximize your use of the software.
Adobe Marketo
Adobe Marketo is a marketing automation software that boasts several of the same features as HubSpot; however, it requires an integration with a CRM to make the most of its software, while HubSpot has its own built-in CRM.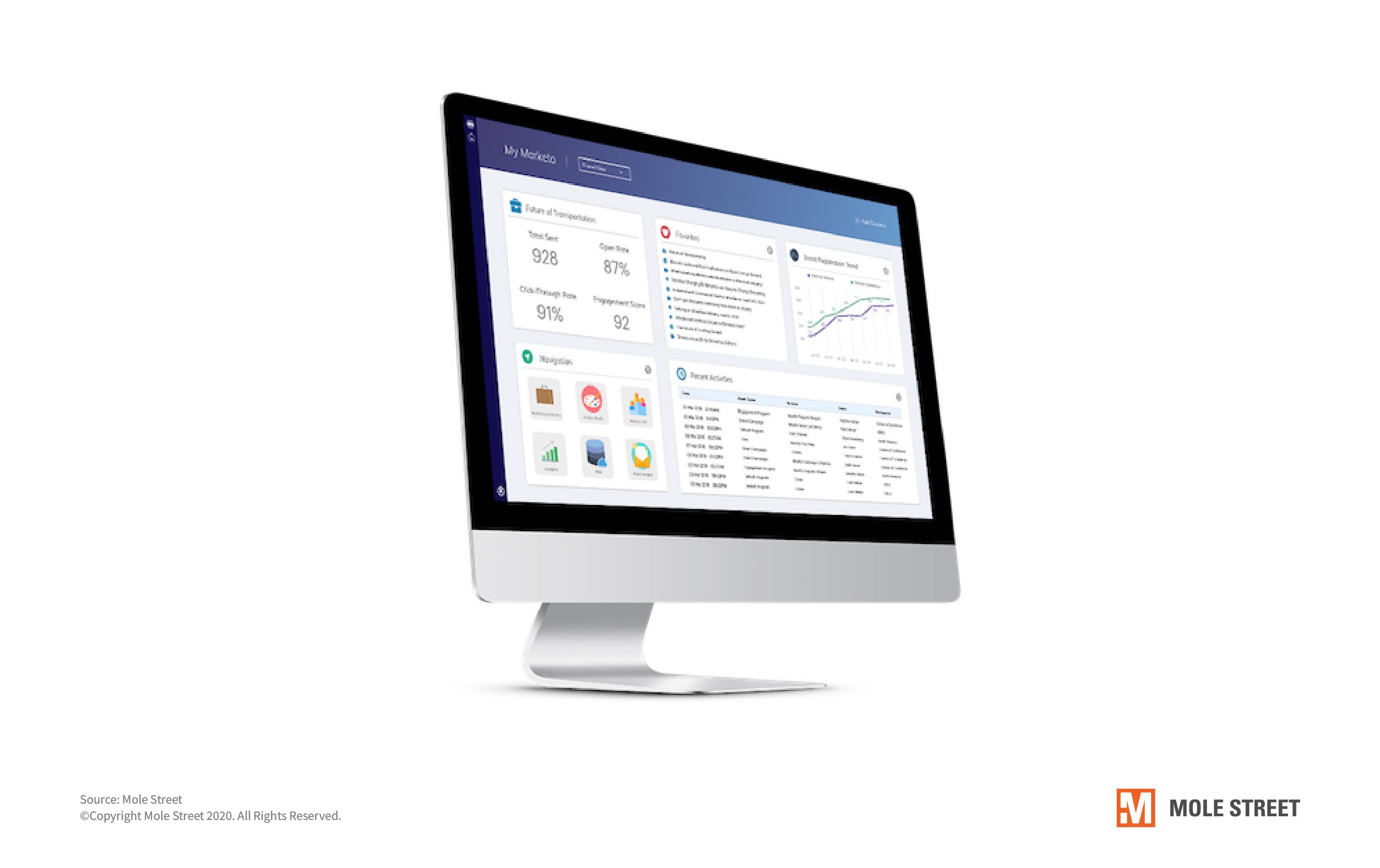 Key features include:
Lead Management
Email Marketing
Consumer Marketing
Customer Marketing
Mobile Marketing
Revenue Attribution
Click here to learn more about Marketo's take on marketing automation.
Pardot
Pardot is a marketing automation software from Salesforce, promising to help you get more leads, know leads better, and make every dollar of your marketing budget count. Like HubSpot, it integrates with a native CRM in Salesforce, but Pardot was actually acquired by Salesforce, meaning the automation software was not built with the Salesforce CRM integrated. Also, it has been compared negatively to HubSpot for its less unique features and fewer integration opportunities.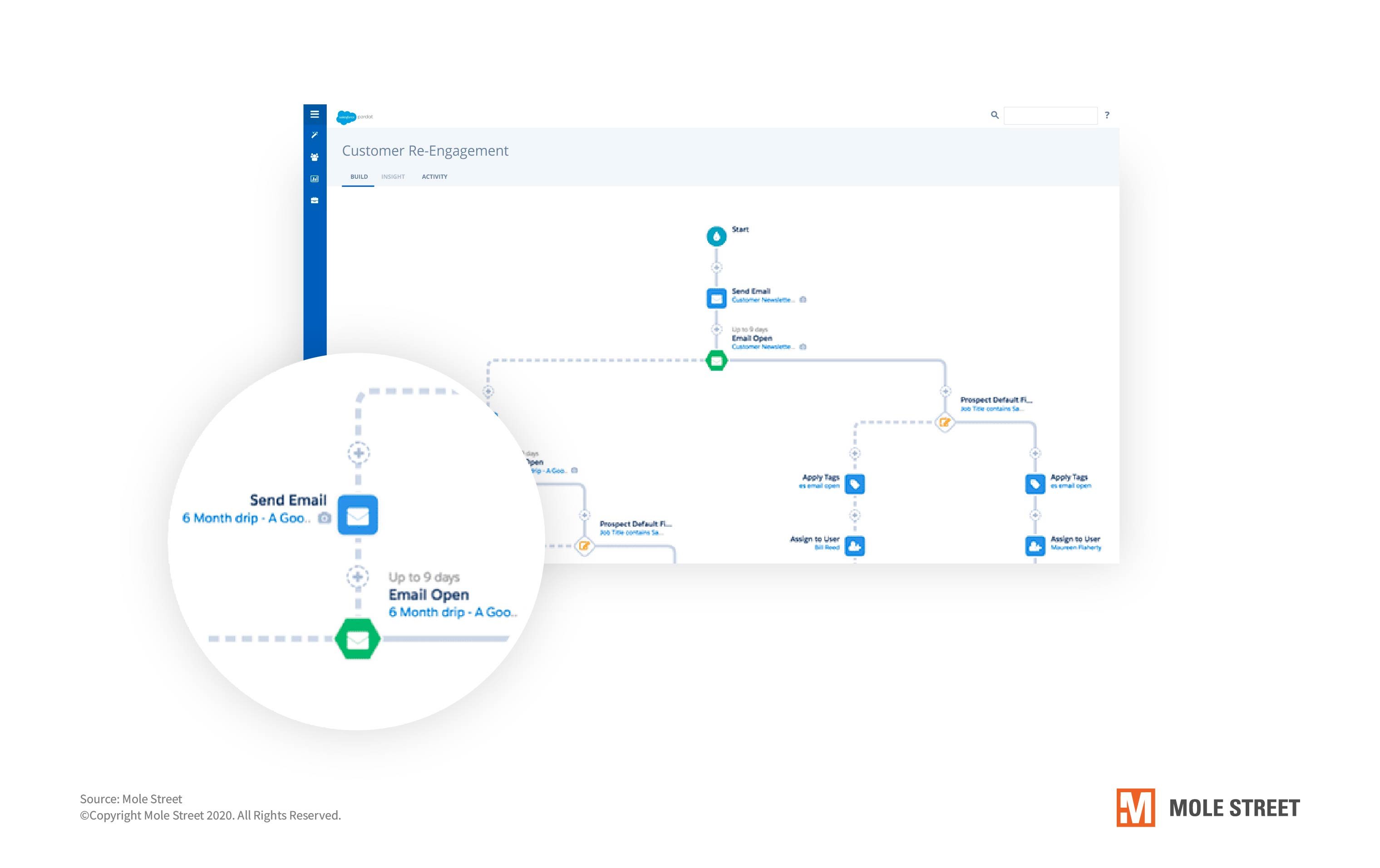 Key features include:
Lead Management
Lead Generation
Email Marketing
Sales Alignment
ROI Reporting
Artificial Intelligence
Click here to learn more about Pardot's marketing automation software.
Should You Partner With a Marketing Consultancy?
The biggest benefits of marketing automation companies is the time their tools save your team and the conclusions their software helps you reach.
So, why not take those benefits one step further and work with a marketing agency to manage, create content for, and report on your marketing automation software?
Here at Mole Street, we work with companies to make the most of their marketing automation software. As an Elite member of the HubSpot Solutions Partner Program, we're equipped to help your company use HubSpot's marketing automation software in the best way for your business. Click here to learn how we do that, or hear from one of our successful clients below.
As an Elite HubSpot Consultancy, Mole Street can help you wherever you are with your marketing automation software – whether you're a quickly scaling company and need to understand how to use HubSpot, or need help applying your existing knowledge of HubSpot software for larger campaigns and initiatives.
When working with your company and HubSpot, Mole Street can help you use marketing automation to:
Generate more traffic and leads
Track the ROI of your marketing activities
Align with your sales team
Plan your content strategy
We're excited to hear from you about how we can help you maximize your marketing automation output and ROI. Click here to get in touch with us.