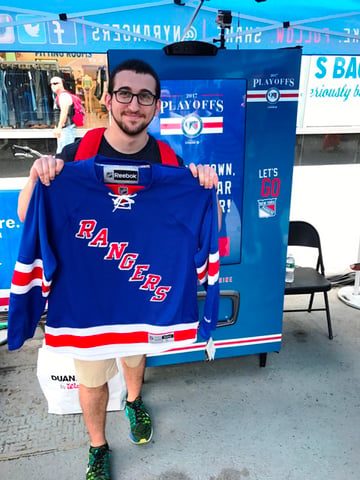 The Challenge
When the New York Rangers approached Mole Street for experiential marketing, they were looking for a unique and innovative live activation to engage with fans at Madison Square Garden as well as onsite at Playoff game viewing parties at RangersTown and the Pennsy. The Rangers had just made it to the Eastern Conference semifinals and were matched up against the Ottawa Senators.
Results
The cheer machine provided an opportunity for additional fan engagement, even while the team was on the road.
Over the course of 6 games 2,800 fans interacted with the cheer vending machine in-person.
Each fan got a t-shirt and the opportunity to win additional prizes like autographed merch and backpacks.
10 lucky fans won tickets to the Playoffs.
Our Approach
Within a one-week turnaround time, Mole Street designed, built and executed a cheer-activated vending machine. Voice-activated with a touch screen console, fans one-by-one could show their true loyalty to The NY Rangers by cheering as loudly as they could into the vocal meter. The cheer machine dispensed a t-shirt and encouraged fans to inspect their prize to see if they received an additional perk. Brand ambassadors stood by to answer fan questions, encourage fan engagement with the machine, and hand out additional prizes.