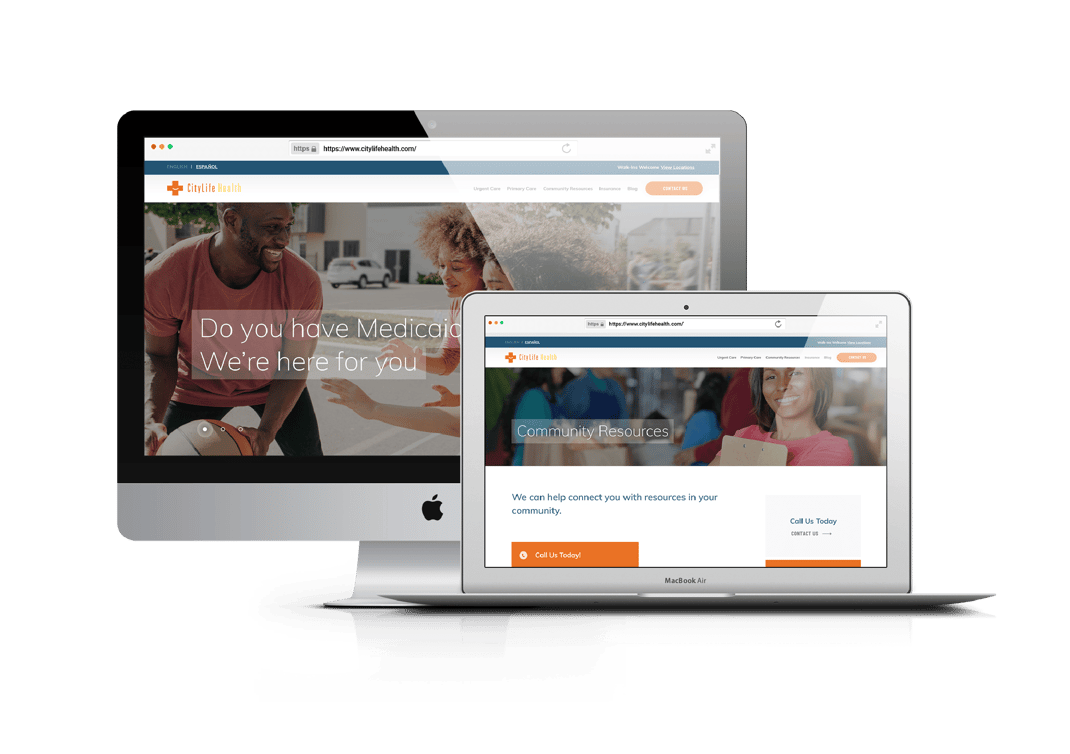 CityLife Health, a multi-city walk-in clinic in low income neighborhoods, was repositioning its core competencies to serve the Medicaid population exclusively. Their website lacked up-to-date information about their refreshed service offerings. As a result, poor-quality leads resorted to calling the CityLife Health call center with basic questions, creating customer dissatisfaction and ambiguity around the CityLife brand.
Refresh the content strategy to align with CityLife Health's new service offerings

Design a professional website to inspire patient confidence in the digital world first, that would then become the thread of continuity in the clinic second

Explore brand identity to align with the company's new name, logo, and target personas

Transition from a single-page website to a multi-page site that sets the foundation for a comprehensive SEO program

Build a custom WordPress website that is easy to update as the company evolves its service offerings and opens new locations

Introduce lead capture opportunities in the form of call tracking and form fill inquiries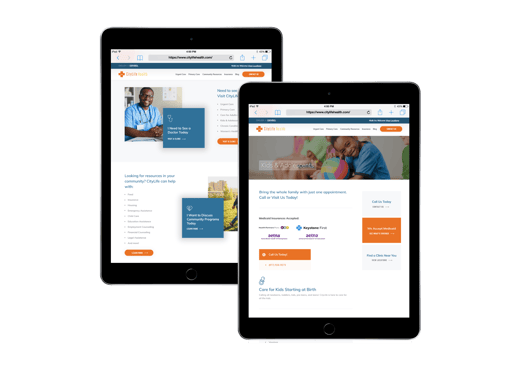 Our Approach
Content Strategy:
Through discovery sessions with CityLife Health, we landed on the following core competencies:
Urgent Care

Primary Care for kids & adolescents

Primary Care for men's and women's health

Primary Care for chronic conditions

Community Resources: Care coordination to direct patients to third party organizations that can assist with basic needs like food, housing, insurance, child care, education, and financial counseling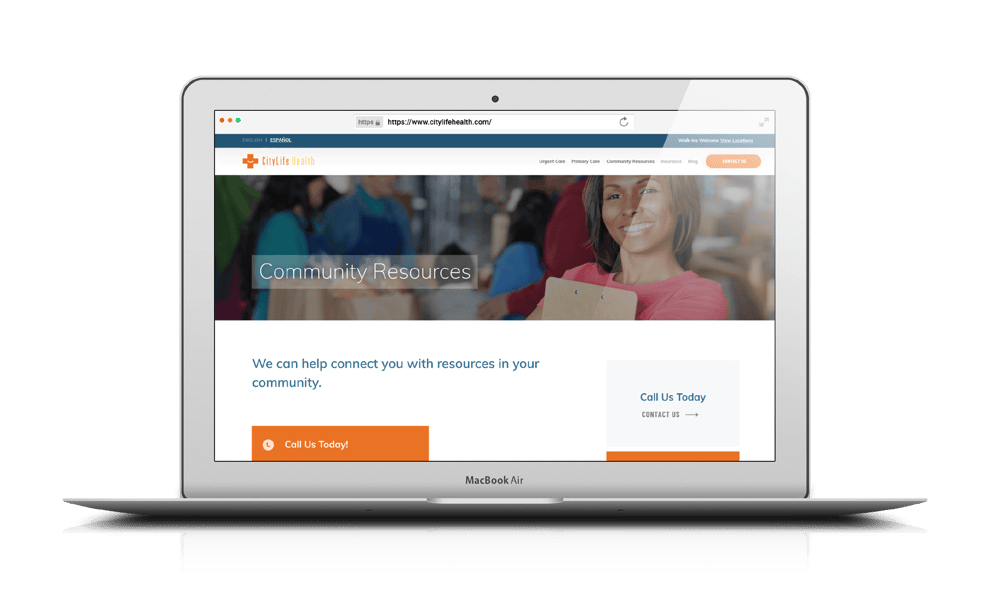 We created a pillar page for each of these services. Knowing that the majority of the target demographic was operating at a first to third grade reading level, we avoided long sentence structure and instead leaned heavily on bulleted lists to describe the services available at CityLife Health.
Next, we rounded out the website with content that answers to the top questions that people ask when they connect with the call center:
Where are you located?

Do you take my insurance?
To do this, we created an Insurance page that clearly lays out the insurances accepted in Pennsylvania and New Jersey. We also created a Locations feed with key wayfinding information: address, hours, phone, embedded Google map, and reiteration of the services provided at the location.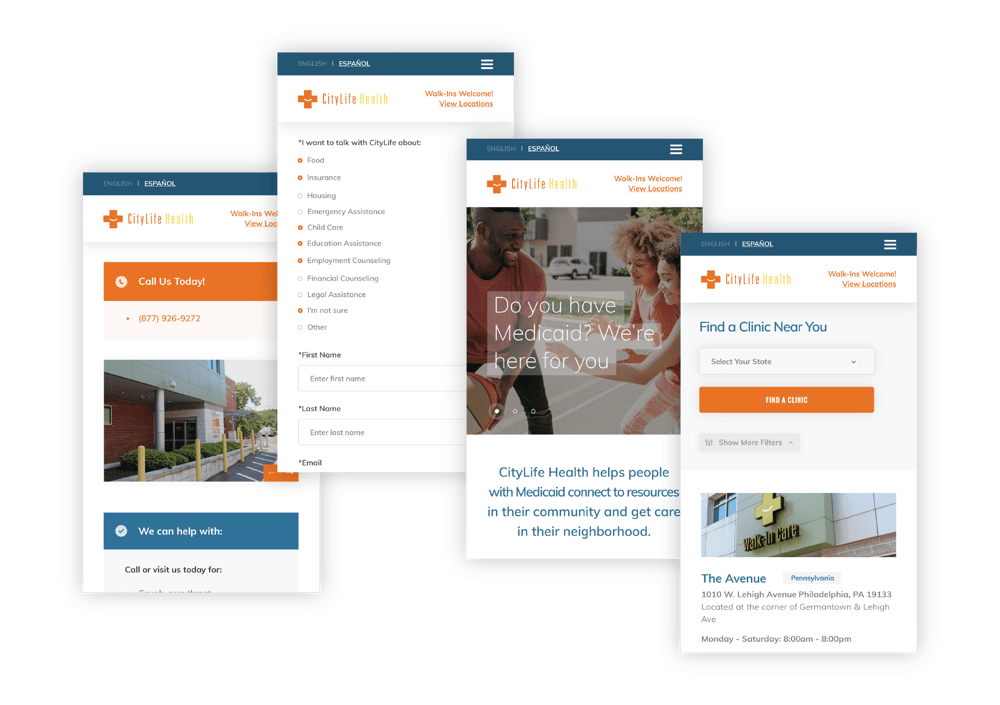 Since their refreshed service offerings were so new, we knew we wanted to launch the website far in advance of operational maturity in the clinic's newer markets. Designing a professional-looking custom website was a strategic move to create confidence for patient prospects in the digital world first, then delight patients during their visit to the physical clinic.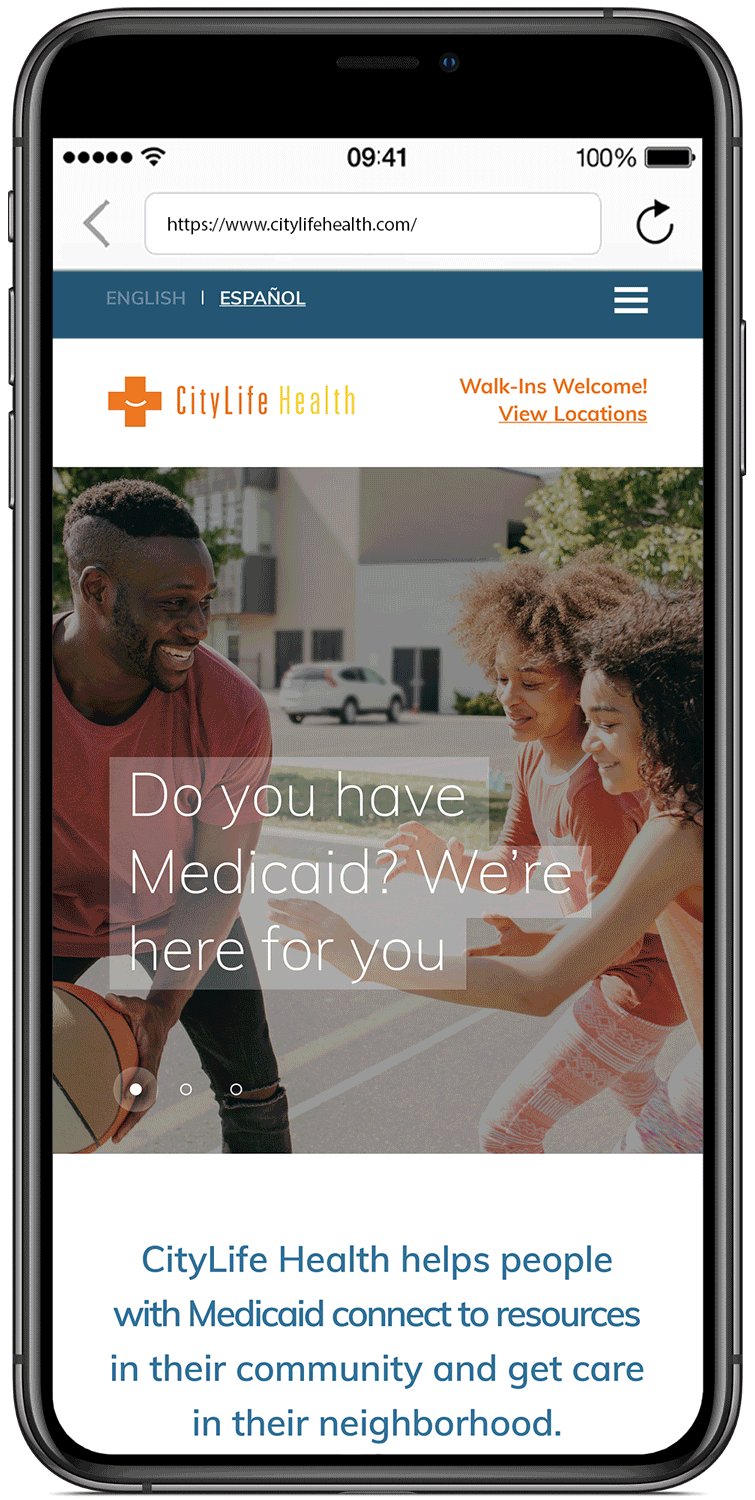 Brand Identity:
When we kicked off the project, the CityLife Health client was operating under their previous name and logo. Through initial discovery conversations, it immediately became clear that we needed to explore a new brand identity for this client in parallel with our content strategy phase.
The client approved the name CityLife Health and empowered Mole Street to explore a universal logo and design language that would unite their clinics in Pennsylvania and New Jersey under one umbrella brand.
Laying the Groundwork for an SEO Program:
To create the framework for a comprehensive SEO program, we designed the website to include the following:
Multi-page custom WordPress website to elaborate on key service offerings

Development of a blog for future content creation to support keyword strategy

Location pages: One for each clinic, to support local SEO strategy

XML Sitemap

Average page speed of 1.1 seconds

Page size under 3 MB (1.8 MB average)

SSL Certificate

Mobile-responsive

Google Analytics tracking code

301 redirect from old website URLs to new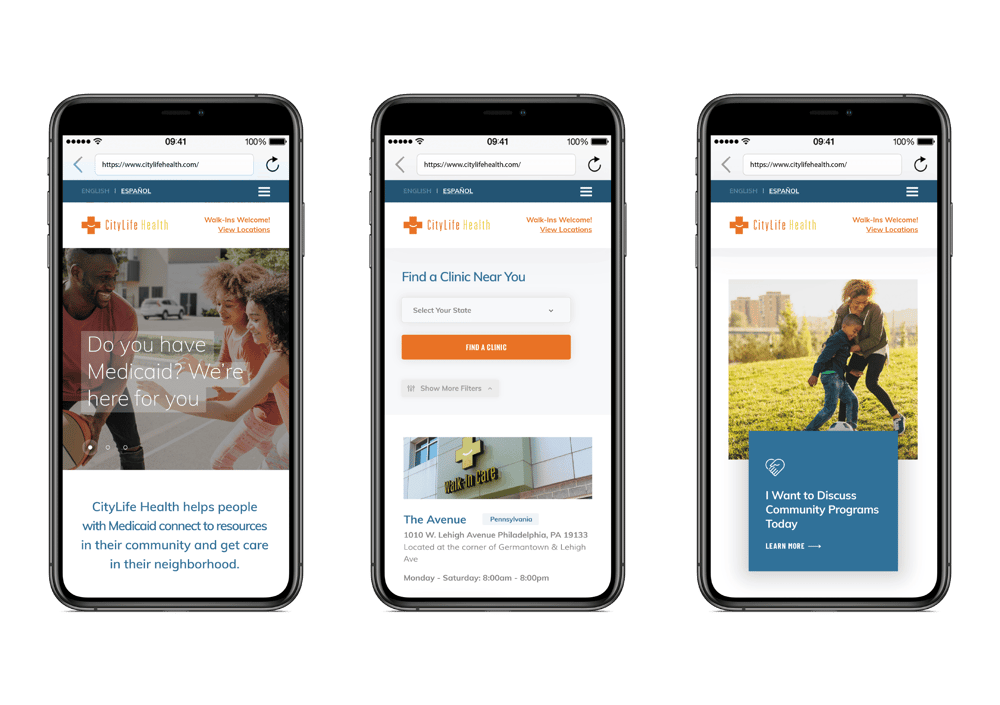 We approach all of our custom WordPress website projects with the strategy of atomic design. The result is an intuitive, easy-to-update website using the #1 preferred CMS in the world.
Atomic design allows us to:
Accelerate the design process through the design of reusable components

Produce a template-rich page structure for commonly used page layouts

Create economies in development


Ensure consistency during QA Period

Empower future governance: website admins can update, add, and replace content without engaging a web developer
Lead Capture:
Collecting and attributing new patient leads to digital marketing efforts was of key importance to CityLife Health and of equal importance to Mole Street. Approaching all of our websites from a business mindset, it's never enough for us to simply educate users. We want to engage with users. We set up the new CityLife Health website with the following two lead capture opportunities:
Form for inquiring about community resources

Call tracking
While it's just a start, looking forward, we aspire to collect all of CityLife Health's digital marketing efforts under HubSpot to provide more lead capture and nurturing opportunities and create infinitely more transparency into the return on investment for this client's digital marketing efforts.