The Blue Bell Inn, a historical landmark in Blue Bell, PA, had been known for years by local senior constituents for its nostalgic American menu and early bird special. When The Blue Bell Inn approached Mole Street, they wanted to attract a younger, modern demographic and increase the F&B sales in 4 main areas: private events, Sunday brunch, lunch, and happy hour.

Growth Marketing Strategy



41% of 2018 Covers

Were first-time patrons
2X Private Event Holiday Bookings

Doubled the # of private event bookings for holidays
17% Increase in Brunch Covers

Year-On-Year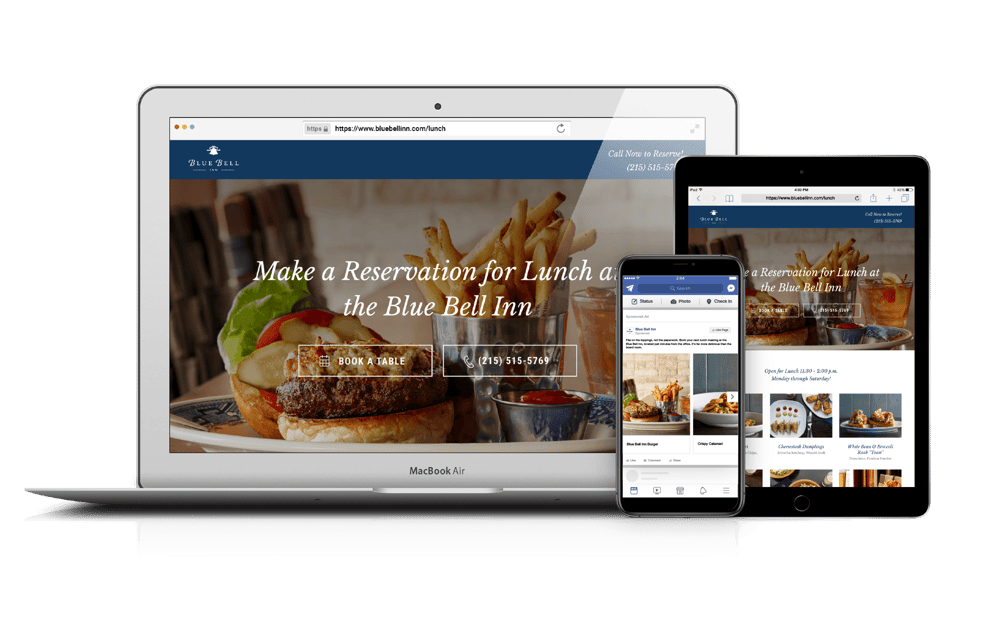 Growth Marketing Tactics Drive Big Engagement
After launching the new Blue Bell Inn website, we implemented a growth marketing plan to rapidly experiment with digital marketing channels and identifying top strategies for maximizing engagement, reach, and conversion actions like phone calls to the restaurant.
Since September 2016, we have seen massive success using growth marketing tactics such as:
Email Marketing

Blogging + Content Strategy

Organic Social Media Posting

Check Stuffers + In-Restaurant Management

Sponsored Facebook Ads
Smart Audience Targeting
One of the keys to the success of the growth marketing program has been smart audience targeting. By exploring many audiences and quickly identifying the most engaged groups, we have been able to gear our marketing toward interested prospects and avoid wasted spend on segments that are disengaged.
Results:
32% Average Open Rate
In email marketing, compared with 20% industry average
Optimized Monthly Ad Budget

Highly targeted spend minimizes waste and keeps cost low
Low CPC of $1

Average Cost Per Click on Facebook. Some as low as $0.13
Top Audiences for Email Marketing:
Opt-Ins through the website

Opt-Ins through OpenTable reservations

Private Event Clients

Special Event Guests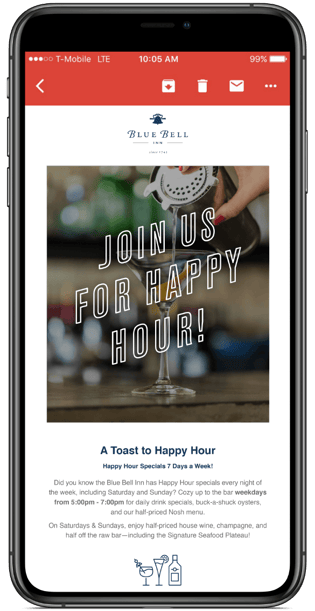 Boosted Facebook Posts + Sponsored Ads:
Custom Audience: Export of OpenTable reservations

Lookalike audience based on OpenTable reservations audience

Engaged with the Facebook ad in the past 365 days

Lookalike audience based on people who have engaged with the Facebook page

All website visitors in the past 180 days

Lookalike audience based on people who visited the website in the past 180 days

"People in my area"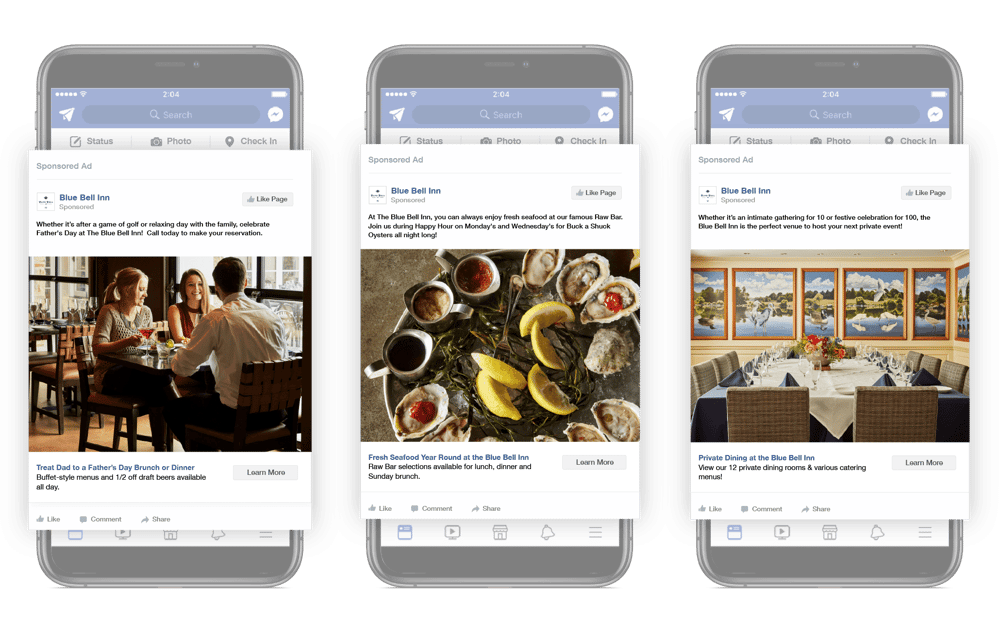 Campaign-Based Approach Delivers Immediate Results
The restaurant business is seasonal, but that doesn't mean that results will be stagnant. Our campaign-based approach to growth marketing keeps patrons engaged all throughout the year. When a timely message is present, like promotion of an upcoming holiday or special event, we focus all of our marketing efforts for 30-60 days on that campaign, then immediately pivot to focus on evergreen campaign content like public dining (lunch, brunch, dinner, happy hour).
Lunch-focus campaign featuring new seasonal menu items

Dinner-focused campaign highlighting new dishes

Brunch campaign

Happy Hour-focused campaign, promoting food and beverage specials and live entertainment

Spring holidays campaign: Valentine's Day, Mother's Day, Easter, Father's Day

Winter holidays campaign: Thanksgiving, Christmas, New Year's

Special Events throughout the year like wine and beer tastings

Private Events campaign focused on the building the restaurant's private event bookings like engagement parties, showers, and retirement parties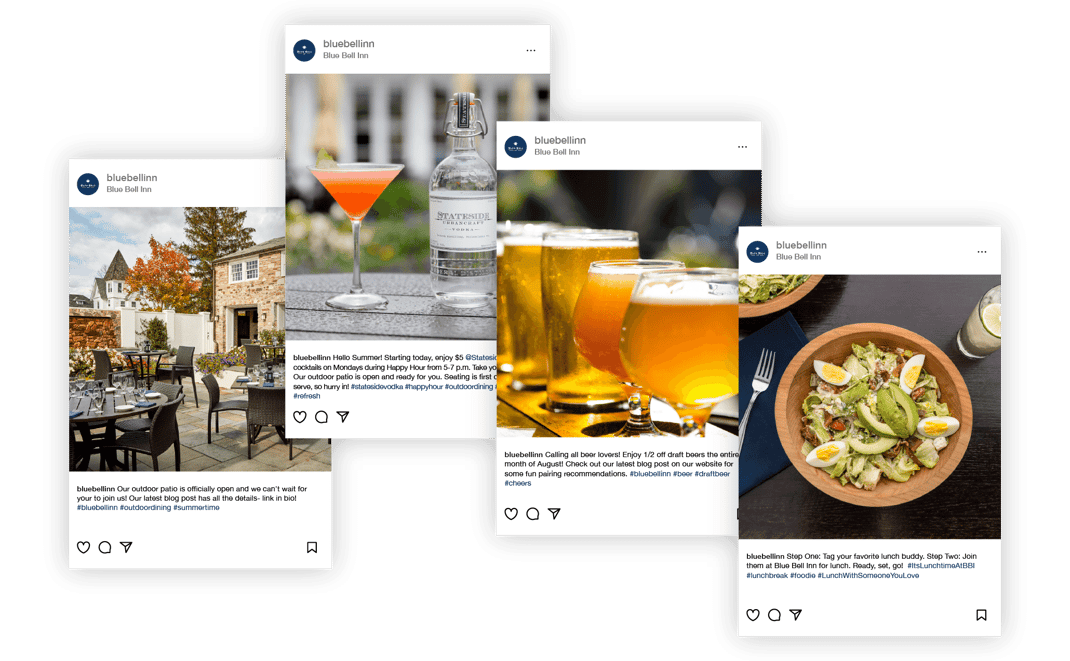 Organic Content Marketing
By producing timely, value-adding content, we are able to connect with Blue Bell Inn's patrons throughout the year using media like:
Email Marketing

Blogging

Organic Social Media
Results
7X Increase in Web Traffic
Within 1 year of working with Mole Street
65% New Callers
To the restaurant year-on-year
59% of Callers

Find Blue Bell Inn through organic search