Organic and Paid Social Working Together

Written by Brian LaPann , Principal at Mole Street and Mole Street Artists
Are you are trying to decide between an organic or paid social media strategy? Maybe you should be asking yourself a much simpler question: "Why not both?"
Organic social and paid social go together like a burger and fries or bacon and eggs. On their own, they're pretty great but combined they make for one dynamic duo. It's important to understand that both organic and paid social media are needed to be genuinely successful in your digital marketing efforts.
Let's explore a few ways organic and paid social can work together:
1. Raising Brand Awareness
Organic social is a great way to establish general brand awareness. This means, with organic social you can let people know who you are, show your unique brand personality, educate, motivate and entertain your audience. Organic content allows your followers to learn what your company is all about and serves as shareable, inspirational content without pushing a sales pitch.
Here are a few ideas for organic posts that can reinforce your services and inspire engagement online:
Share blog posts or case studies from your company website.

Share a relevant or helpful infographic

Remind people of your regular hours, holiday hours, address & phone number

Create lightweight posts that delight your audience

Ask for your follower's opinion or ask for help

Share relevant videos or photos
Once you've established your brand with organic content you can use paid content to raise brand awareness beyond organic reach. However, creating organic content is a vital step in increasing brand awareness, that way when a potential customer finds your brand through paid advertisement, the already established organic content on your page will keep the customer engaged. Think of it this way – if you run an ad on Facebook driving the user to your Facebook page and they land on it only to find out that you haven't been sharing content organically — they may bounce. Letting your followers or new page fans know that you care and that you're active on social media is yet another reason why organic social is crucial.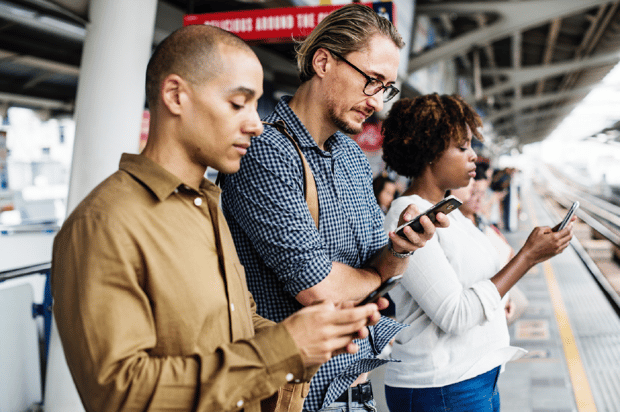 That said, paid content is no joke. Curalate found that 76 percent of U.S. consumers have purchased a product they've seen in a brand's social media post. Using paid tactics also enables you to gain insights about the audience that best receives your messaging. In understanding these tactics, you're better able to push organic messaging that aligns with your target audience's interests and demographics. This can be found in Facebook's Audience Insights tool. We recommend digging into this tool to identify common themes within your audience that you can turn into social media content, or even larger digital marketing pieces of content like a blog. More on Audience Insights below!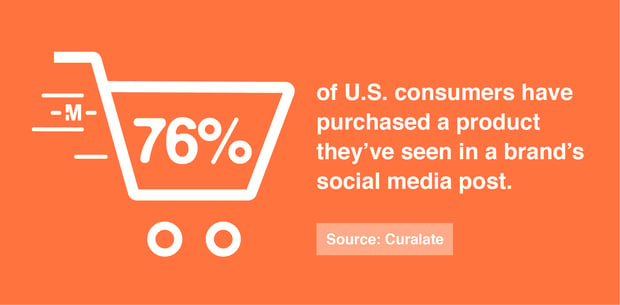 2. More Accurate Audience Insights
As we just mentioned, most social media platforms these days have very intuitive analytics and reporting dashboards. These reports provide great insight into the audience interacting with your page, as well as where your organic content has been successful. The insights can give you a smart and comprehensive view of your audience before investing in a paid social media campaign. The more time you spend creating organic content, the more accurate your ad audience will be when you decide to invest money into paid social. Organic content shows you where to invest your paid content, which eventually comes full circle when you use paid social campaign insights and analytics to support your choices for some of your brand's organic content themes and messaging. One of the biggest benefits of this is that these insights translate far beyond the social landscape. When we dig into Facebook Audience Insights or Instagram data we're able to better understand which content our audience is truly engaging with. From there, we can get a better sense of audience interests and create more tailored content on our website in the form of blog posts, resource content or landing pages that speak directly to our audience. Using organic and paid social together targets your audience more accurately than using one without the other, or none at all!
3. Organic & Paid Social Together Can Create Remarketing Audiences
After you've established your audience insights you can use organic and paid social a step further to remarket to more specific, targeted audiences. Have you tried running Paid Social ads in the past, only to find that it delivered 0 new client conversions? This is likely due to your audience targeting. Remember that people need to get warmed up to your brand before they feel comfortable converting into a customer. Try creating remarketing audiences like recent website visitors and people who have recently engaged with your page. Set an objective of engagement. After this ad set has run for a time, create a new remarketing audience and set your objective as a more direct-response type of goal such as traffic or conversions. Remarketing is a powerful targeting method you can use after you gather your audience insights by using organic and paid social.
4. Organic and Paid Social Combined Deliver Better Results
Why does it pay off to combine organic and social media efforts? Because by doing so, and by doing it right, you're able to deliver the desired results. Whether you aim to reach more audiences, generate new followers and page like, or get more actionable audience insights on your ideal customer, both efforts deliver better results. A recent study by Castrol Moto proves this idea:
Castrol Moto, the motorcycle division of Castrol, conducted a one-year experiment using both organic and paid social media campaigns on Facebook. The goal was to boost engagement with their brand. You can read a more detailed explanation about the study here & here but the biggest takeaway is . . . "With [Castrol Moto's] social media marketing campaign combining both organic and paid tactics, Castrol Moto added over 30,000 new fans." So, you shouldn't use one effort over the other and you most certainly shouldn't neglect either (source).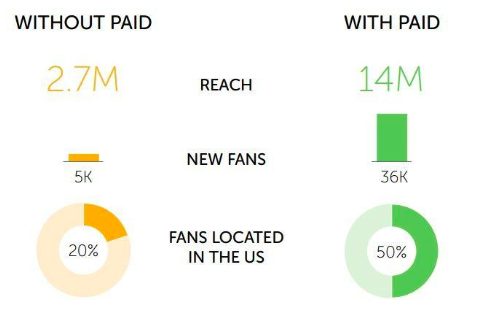 Source: Contently
So, rather than having to choose between paid or organic social media strategy, or deciding to not engage in either, we encourage you to consider how well both work together. With both strategies, you can learn more about your audience and raise awareness and conversion for your brand. As more brands create social content, having a combined organic and paid strategy at the ready will keep you competitive, perhaps even ahead of the curve.
At Mole Street, we provide both organic and paid social media management for businesses ranging from healthcare to finance and hospitality. We'd love to discuss social media opportunities for your business and ways to leverage this impactful digital marketing outlet!
Mole Street is a full-service design and digital marketing agency in Philadelphia, and a recent HubSpot Agency Partner! Get in touch with us today to discuss digital marketing and marketing automation for your website.