While many marketing teams have found success on platforms like Facebook and Instagram, the often utilized social media site of salespeople is LinkedIn due to the platform's B2B focus and built-in tools for sales teams.
Still, marketing teams continue to prioritize sites like Facebook and Twitter, which see about four and eight times the number of monthly active users as LinkedIn's 260 million, respectively. However, this disconnect results in a missed opportunity. A social media presence on LinkedIn can be a lead and revenue driver for a business in addition to being a brand builder — and it all stems from knowing how to to use LinkedIn for sales.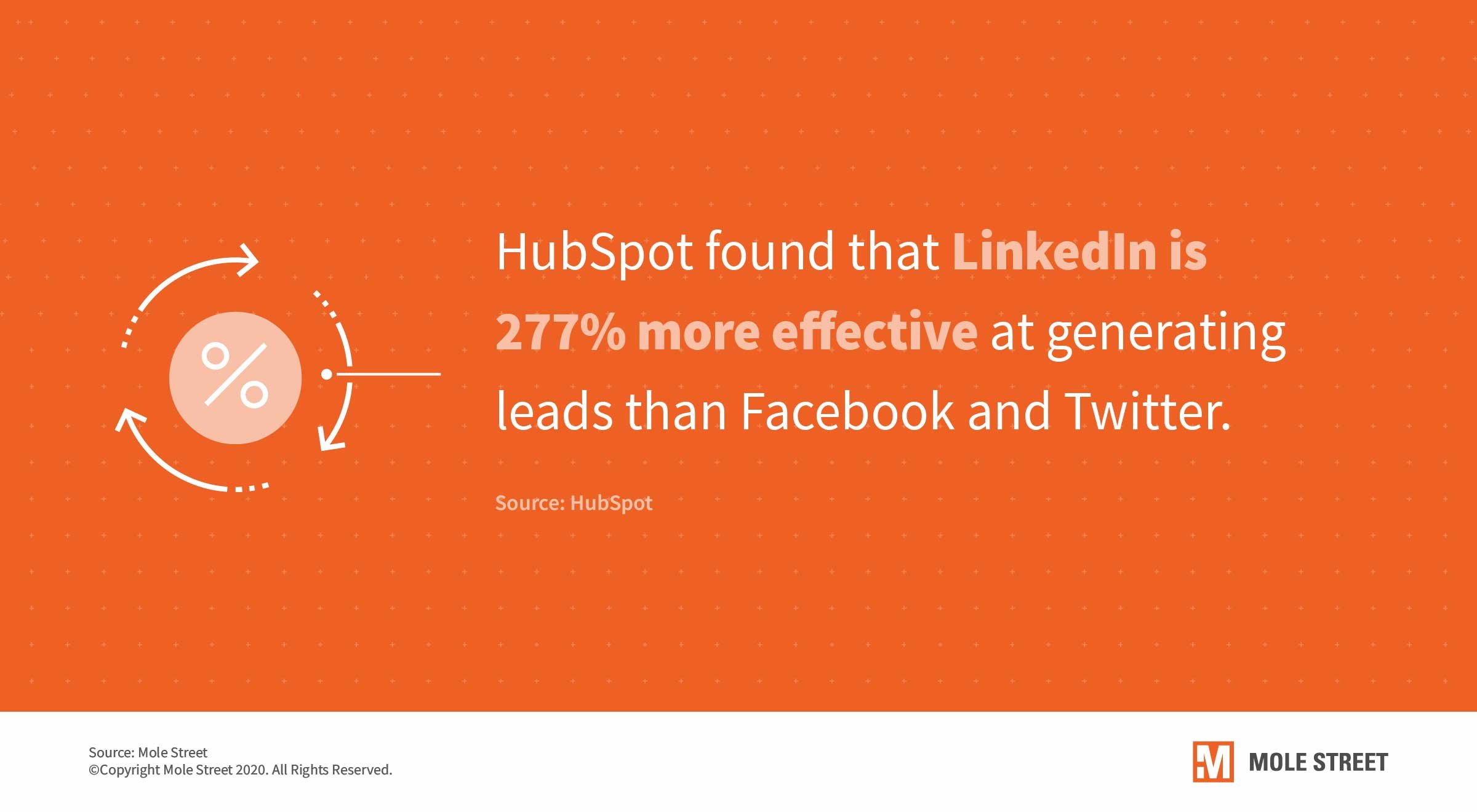 How to Use LinkedIn for Sales
In this article, we'll walk through a step-by-step process for creating a LinkedIn advertising strategy that will keep your marketing team creative, your sales team productive, and your social media ROI stronger than ever.
Set Up Target Audiences
Before making (and spending money on) a LinkedIn ad, take the time to set up a target audience of companies and/or contacts. This crucial first step helps you gauge your potential audience size by looking at contacts and companies that you believe would be a good fit to join your customer base and determining your potential overall reach.
Targeting an audience can be accomplished in two different ways on LinkedIn: company targeting, and contact targeting.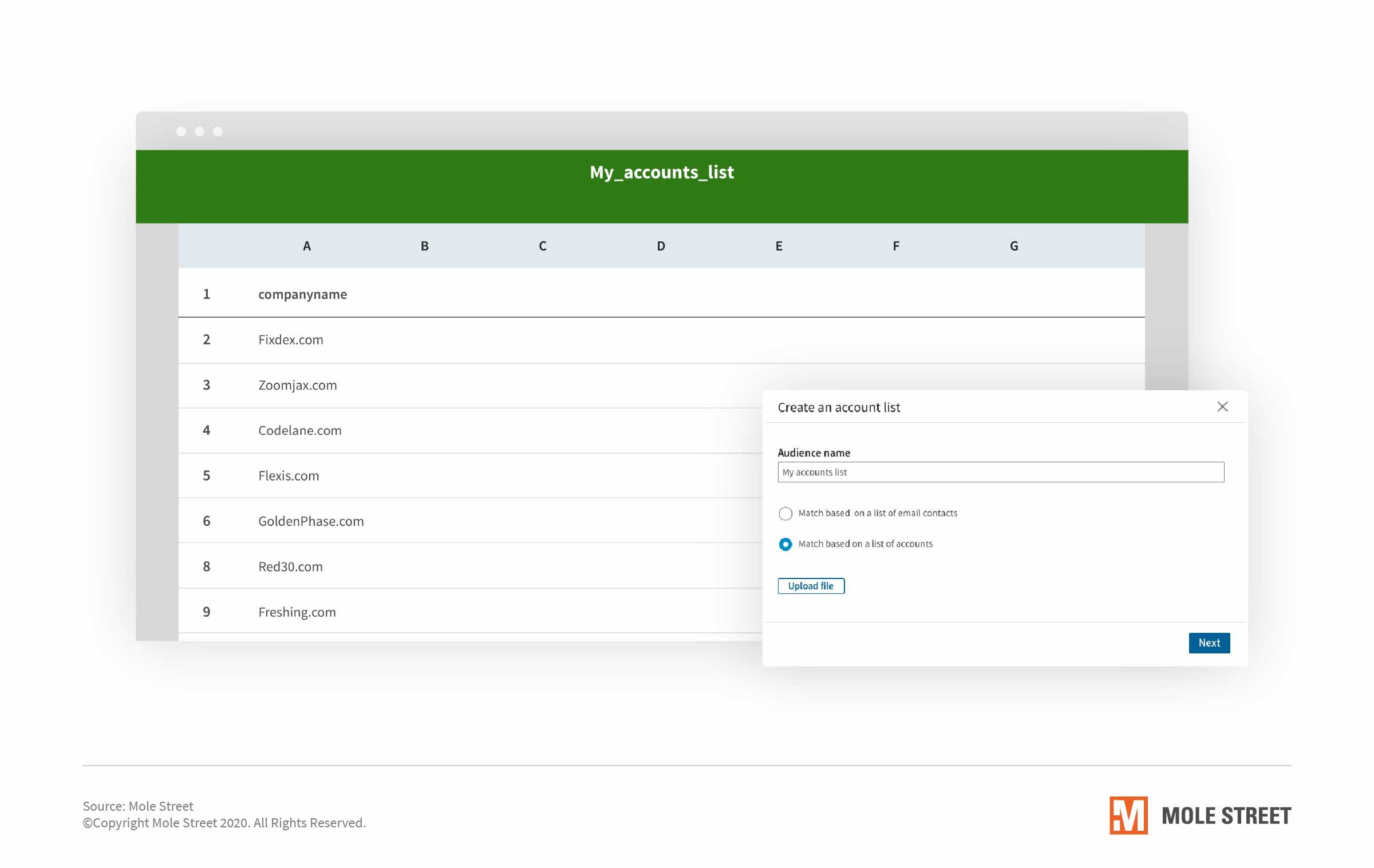 Company Targeting
Is your sales team busy doing everything it can to find a contact at that company that would be a dream client, but they're unsure how to make a natural connection? Or maybe they've hit a dead end with an employee from that company, and want to reach out to someone who may be a better fit. Through Company Targeting, your ads can appear in front of representatives and decision makers from the businesses and organizations you want as your customers.
Companies can run account-based marketing campaigns on LinkedIn, target by professional demographics, and drive more conversions with Company Targeting. Here's a step-by-step process on getting started with Company Targeting, according to LinkedIn.
Download LinkedIn's

account targeting list template

.
On the template, list out the companies you want to target

—

you can list up to 300,000 possible companies!
On LinkedIn, go to Campaign Manager, then Account Assets, then Matched Audiences.
Click Create Audience, then List Upload.
Go to the Matched Audiences page to view the list(s) you've uploaded.
Add the list to an existing ad campaign in LinkedIn to ensure you capture a wide, qualified base on contacts from companies you're targeting.
By taking this approach, you expedite your ABM and showcase your brand to more people from more companies that you're actively trying to partner with.
Contact Targeting
Contact Targeting casts a wider net than Company Targeting, and you're targeting contacts who you typically already have a connection to.
One way to do this is by uploading a contact list — a process similar to the one outlined above, but where you'll submit a list of up to 300,000 contacts (the idea being if you have access to the contact's name and/or email address, they're familiar with you — and potentially vice versa). LinkedIn recommends including company influencers and decision makers in these lists in order to achieve the strongest results from your ads.
Contact Targeting can also utilize data integrations to sync contacts from one of LinkedIn's data integration partners, such as HubSpot. Through these integrations, lists will automatically populate in Campaign Manager to ensure a successful sync between your CRM and your LinkedIn advertising manager.
Develop the Ads
You've got your audience established — now it's time to get creative. As an advertiser on LinkedIn, you've got a few different ad formats you can choose from — and they all fall under the bucket of sponsored content.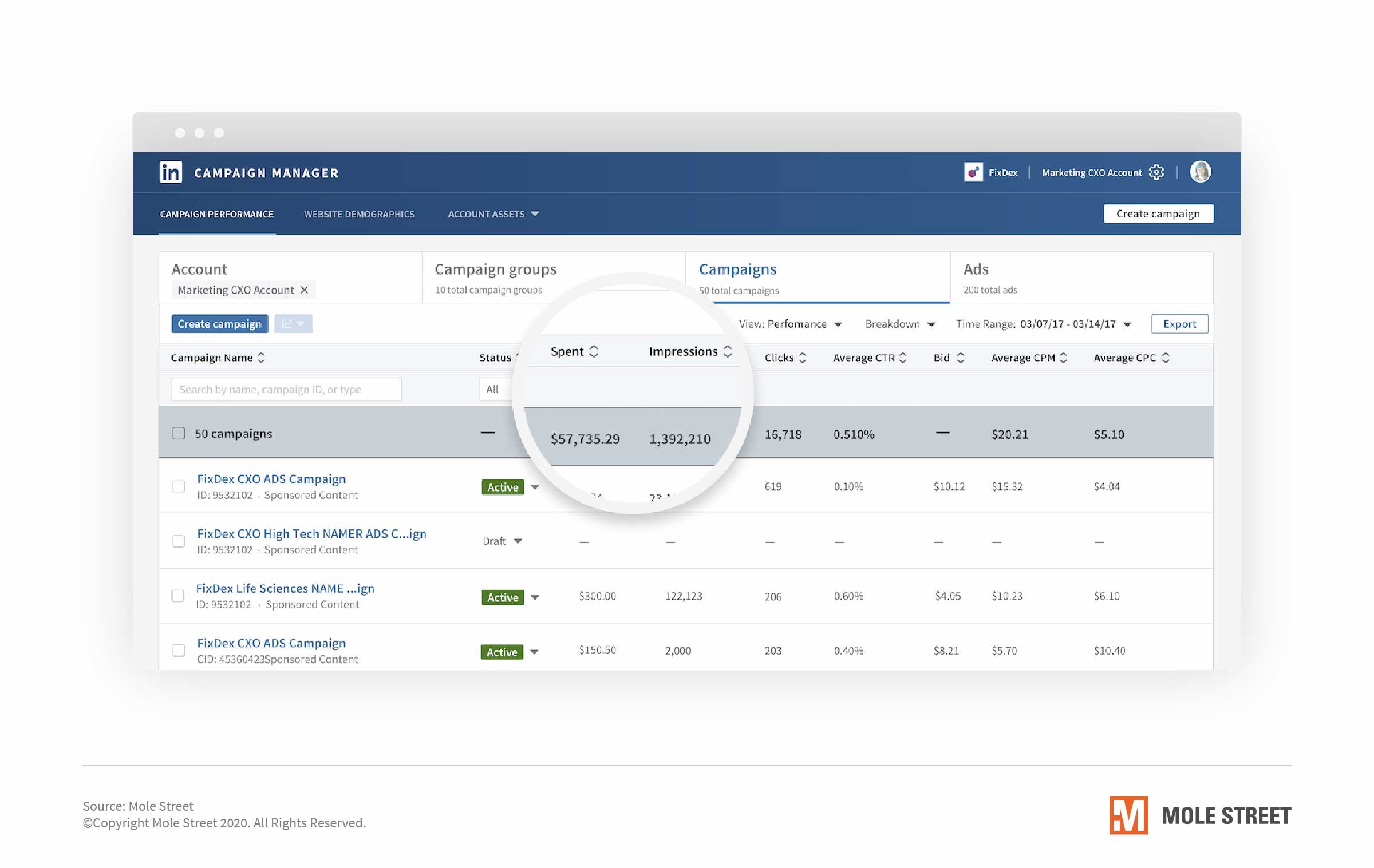 LinkedIn Sponsored Content
Sponsored content — or native advertising — on LinkedIn is how you can advertise to more professionals on LinkedIn, thus generating more qualified leads that your sales team can connect with.
Step 1 is to run your native ads after choosing and designing the ad format you want to employ. Needless to say, LinkedIn users are on the site to learn and network, so your business-friendly content is more likely to be warmly received when it appears in a prospect's LinkedIn feed than on another social netowrd.
Step 2 is to use LinkedIn's built-in Lead Gen Forms tool to confirm a contact's interest. The feature allows these contacts to submit info pulled from the profile with a click — and alert your salespeople that a lead is warm.
Step 3 is to measure and optimize the performance of your content. LinkedIn's Campaign Manager gives you insights into how much money you've spent, how many impressions your content has received, and the average CPM and CPC.
When choosing your ad format, LinkedIn gives you three options from which to choose:
Single Image Ads

are the most static

—

yet classic

—

option. They certainly require the lowest lift from your design team, but still give you flexibility in the images you choose, the text used in the ad, and the CTA you employ on the ad.
Video Ads

are much more eye-catching than the single image option, but require the support of animators, editors, and even producers to make something noteworthy

—

particularly if you're making the video from scratch.
Carousel Ads

are the interactive choice for advertising. Carousels are less eye-catching, yet arguably less interruptive than video ads. They're also right in the middle of the other two options when it comes to graphic design needs

—

they don't require a video team, but might take your designer a little longer to get you deliverables compared to a single image.
Part of standing out on LinkedIn is knowing how to choose the right ads. Be prepared to test multiple variants of your ads by using different ad formats, copy, and destination links. Finding the optimal ad will take weeks — or even months — but preparing yourself (and your team) for that reality will result in a stronger winning variant that will set up your sales team for long-term success from these ads.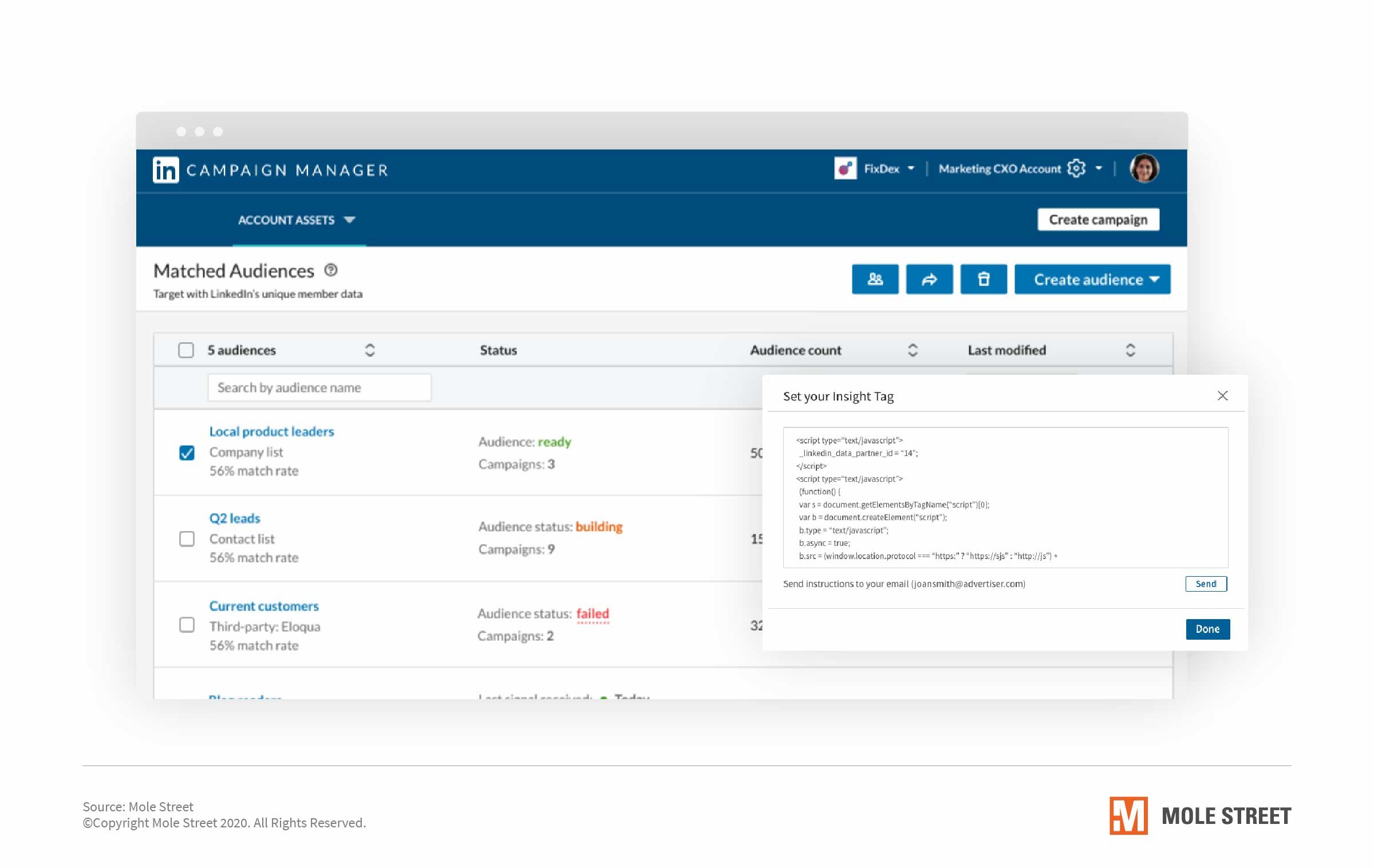 Nurture Your Audiences
By this stage, you've built an audience and determined what you'll say (and how you'll say it) to them. Depending on how familiar your audience is with your brand and your website, you can use different kinds of retargeting ads to re-engage your prospects.
And don't forget — HubSpot users can create retargeting audiences right in the HubSpot interface. Doing so saves time by integrating these LinkedIn interactions directly into your sales, marketing, and CRM software to expedite the buyer's journey and give your sales team more insights. You can learn more about integrating LinkedIn retargeting with your HubSpot account here.
Retargeting Ads
The first option is website audience retargeting, which makes it possible to create an audience based on whether or not a contact has visited your website. For this step, you'll need to install the LinkedIn Insight Tag on your website to track conversions and effectively retarget on LinkedIn.
The second option is video audience retargeting, which builds an audience of those who watched anywhere from 25% to 97% of your video advertisements. As the campaign manager, you can also see how recently those in the group viewed the ad in the past 30 to 365 days — information you can then pass off to sales for context on how long a prospect has been familiar with your brand and business.
Next is lead gen form audience retargeting. This option allows you to look at an audience of those who have "opened or submitted your lead gen forms." These people have filled out — or have been very close to filling out — a form in order to access a piece of content or learn more about your company. Because they have taken an action that suggests intent in the purchase funnel, these leads will be most welcome by sales.
Fourth is company page audience retargeting. Those in the aforementioned group who have viewed a lead gen form of yours (but have not submitted it) may still be somewhat unfamiliar with your company. On the other hand, this group is composed of individuals who have viewed (or clicked on the CTA on) your LinkedIn company page. These people have seen everything from your logo, to your location, to your industry — so your nurturing ads will likely make more sense to this audience.
Lastly is event audience retargeting. If you host a LinkedIn Event, you can build an audience that includes those attendees. This group is arguably the most primed for a sales discussion, as they've observed your team in action and may have even conversed with them.
Lead Generation Ads
The core principle of a great inbound content marketing strategy is informing and delighting strangers with incredible content, with the ultimate goal of turning those strangers into loyal, trusting customers. Therefore, your lead-generating LinkedIn advertising campaign must be anchored by amazing content offers.
For more information on how to build a content marketing strategy, check out our recent article.
Because LinkedIn is a virtual business setting, we suggest promoting content that fits that bill appropriately. Some content to create and sponsor on LinkedIn might include:
A relevant industry trend report, filled with primary data and helpful statistics.
An actionable template that would aid your customers in a common aspect of their jobs/lives.
An in-depth guide on how to improve prospects' working models.
Content further down the funnel if it's justifiable

—

such as a buyer's guide or an ROI calculator.
After the offer is live, it's time to promote it using LinkedIn's Lead Generation Ads platform.
LinkedIn's Lead Generation tool helps you promote your business's content to a qualified audience of professionals who have visited your website, are existing contacts, or fit into your ABM campaigns. There are three ways to capture the attention of these potential leads:
Newsfeed Ads: The traditional content when you think of a social media ad is likely

sponsored content

for newsfeeds. Promoting content this way makes the content feel more natural to LinkedIn users who are scrolling through their feed.
Message Ads: For a more direct approach,

Sponsored InMail

allows you to reach out directly to a contact's LinkedIn inbox. While this method might come off as intrusive to more reserved LinkedIn users, it increases the likelihood of your target audience seeing the message and engaging with your offer.
Desktop Ads: Finally, a pay-per-click option exists through

text ads

. These ads are off to the side of the main content on LinkedIn, but stay with users during the time on the LinkedIn desktop site and provide a simpler option for advertising.
If a prospect does engage with your ad, LinkedIn's Lead Gen Forms feature eliminates the news to manually fill out a form, thus removing extra steps and increasing the likelihood of conversion on an ad directly through the LinkedIn interface. You can learn more about this helpful feature in the video below.
Pro Tip: If you're using HubSpot, LinkedIn integrates directly with the marketing, sales, and CRM software. Once contacts fill out a lead gen form on LinkedIn, they'll be automatically added to your HubSpot CRM — learn more about this time-saving process in this blog post.
Work with a Professional Marketing Agency
Integrating LinkedIn advertising into your marketing strategy is a wise choice — and if you run your campaigns effectively and closely monitor and optimize performance, it's a lucrative one.
This move is particularly wise if you're using HubSpot, since the LinkedIn integration with HubSpot means you can run your ads through HubSpot and sync new contacts from LinkedIn ads into your CRM.
The best way to maximize your use of and ROI from HubSpot is to work with a certified HubSpot Agency Partner, which will help you:
Generate more traffic and leads from LinkedIn ads.
Connect marketing and sales with a healthy pipeline from LinkedIn marketing.
Track the ROI of your LinkedIn ads.
Plan your LinkedIn content strategy.
Train your team on best practices.

...all within the context of HubSpot.
Ready to build a marketing, LinkedIn advertising, and HubSpot strategy for your organization? Get in touch with us to hear how Mole Street can help your team hit its targets.