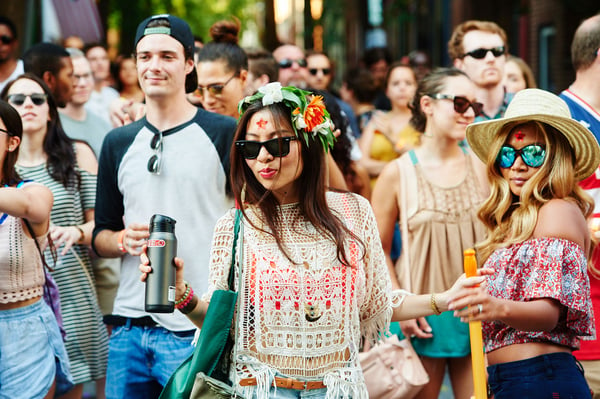 Let's start with a few fun facts.
98%
Consumers say they are more inclined to purchase the brand after an experience.
87%
Consumers make a purchase after the event. Source
70%
Consumers who make a purchase become a regular customer.
Contrary to popular thought, events aren't just a single blip in time.
They leave an impression that lasts well into the consumer decision journey, prompting your target to search for more info online, tell a friend and even buy your brand at retail.
Brands like The Atlantic are incorporating live experiences as part of their annual marketing plans. Bob Cohn, COO and co-president of The Atlantic says of their New York Ideas festival:
"For us, this has been not just a brand-building exercise. It's actually an integral part of our business. We've been able to view the live business through the same prism that we view the digital and print businesses."
Over here at Mole Street, we know personally how unique event productions can result in amazing returns. Let's go back in time for an example:
It's September 2015 and The City of Philadelphia Mural Arts Program is getting ready to launch a 40-piece art installation by 14 international artists including Shephard Fairey. Mural Arts hired Mole Street to create an opening party that would position Open Source as a must-see for all Philadelphians with a passion for art, culture and activism. We started by booking a well-known national act, Ernest Greene of Washed Out.
We hosted the Open Source Opening Party at The Bok School—a former vocational high school built in 1938 and transformed the first floor into an art prom with an exclusive cocktail hour for Mural Arts' dedicated supporters and VIPS. An electric dance party ensued in the high school gym as live art was created by 5 visual artists positioned throughout the space.
To market the experience, we designed and executed a social media campaign which highlighted the DJ set by Washed Out and the unique space at the Bok School. Onsite we supported the campaign by utilizing an Instagram hashtag printer which allowed attendees to post and print photos from the event using the unique event hashtag #opensourcePHL.
Results
800+ attendees, donors, supporters, young friends, artists, VIPs and community activists
3,478,979 impressions were generated from the event and social media campaign in just 10 days
Top 2 influencers in attendance had 99,500 followers and 35,800 followers respectively

All it took was a great idea, great event planning, and ultimately a great event. This is just one of many instances of how we use events to enhance brand identity. Contact Mole Street to find out how we can do this for you.